Kim Jong Un To Meet With South Korean President In April
Another significant development on the Korean Peninsula.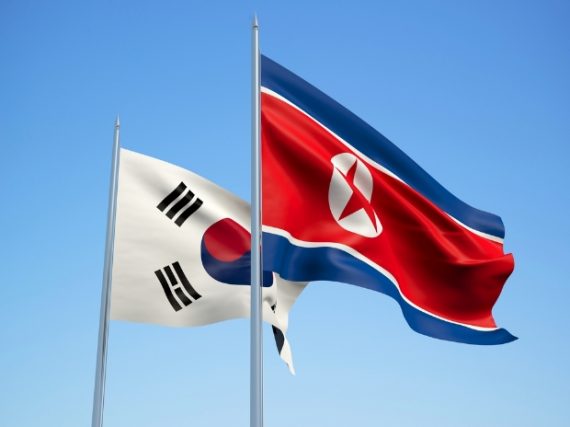 The leaders of the Republic of Korea and the Democratic People's Republic of Korea will meet in South Korea in just about a month:
SEOUL, South Korea — North Korea's leader, Kim Jong-un, and President Moon Jae-in of South Korea will meet for the first time on April 27, officials said on Thursday, setting a date for talks meant to continue the recent détente on the Korean Peninsula and pave the way for discussions between Mr. Kim and President Trump.

Early this month Mr. Kim agreed to a meeting with Mr. Moon, part of a flurry of diplomacy around Pyongyang's nuclear program that began with the North's participation last month in the Winter Olympics in Pyeongchang, South Korea. Senior negotiators from both Koreas met Thursday at Panmunjom, the so-called truce village on the countries' border, to agree on a date and discuss other aspects of the summit meeting.

The two Korean leaders will meet at Peace House, a South Korean building inside Panmunjom, according to a joint statement the negotiators issued at the end of their talks on Thursday. Peace House lies south of the demarcation line that bisects Panmunjom, which means that Mr. Kim would become the first North Korean leader to set foot in the South since the Korean War.

Unification Minister Cho Myoung-gyon, the South's chief delegate to the Panmunjom talks, hinted at progress toward including denuclearization in the agenda for the Kim-Moon meeting. But he said the two Koreas might need another round of high-level talks in coming weeks to settle the matter.

"The South and North agreed on efforts to make the summit successful, sharing its historic significance in denuclearizing the Korean Peninsula, settling peace there and improving inter-Korean relations," Mr. Cho told reporters.

The meeting will be the third ever held between leaders of the two Koreas. Mr. Kim's father and predecessor, Kim Jong-il, met with the South Korean presidents Kim Dae-jung and Roh Moo-hyun in 2000 and 2007, respectively, in Pyongyang, the North Korean capital.

South Korean envoys who met with Kim Jong-un in Pyongyang early this month said he had expressed willingness to negotiate with the United States about normalizing ties and giving up his country's nuclear weapons in return for security guarantees. Mr. Kim also promised to suspend all nuclear and missile tests while talks were underway, the envoys said.

Mr. Kim offered then to meet directly with Mr. Trump, who quickly accepted. No date has been set, but Mr. Trump said he was willing to meet Mr. Kim by May, after Mr. Moon's discussions with him.

This week, Mr. Kim surprised both South Korea and the United States by secretly visiting Beijing, in his first trip outside North Korea since taking power. He met with President Xi Jinping of China, the North's traditional communist ally, in a bid to mend frayed ties before meeting Mr. Moon and Mr. Trump.

In his discussions with Mr. Xi, Mr. Kim reaffirmed his intention to meet with the two leaders, according to Xinhua, the Chinese state news agency. Later Thursday, the North's official Korean Central News Agency for the first time confirmed Mr. Kim's plan to meet with Mr. Moon, without disclosing the time and venue of their meeting. It has yet to announce a planned summit meeting with Mr. Trump.

Mr. Moon's office, in its first comment on the Beijing meeting, said on Thursday that it was a welcome development, calling it "highly significant" that Mr. Kim had reportedly confirmed his willingness to discuss denuclearization and meet with the American and South Korean presidents.
All of this, of course, is the latest development in what has been an admittedly remarkable cooling process on the Korean peninsula that followed a year in which the rhetoric out of Pyongyang, and between the leaders of North Korea and the United States was heating up to the point where people were openly speculating about the idea of a second war on the Korean Peninsula, which would be an unmitigated disaster for everyone concerned. That process began on New Year's Day when Kim Jong Un appeared to extend an olive branch to the Republic of Korea.  The speech was somewhat non-specific regarding exactly what Kim had in mind, although he did mention a few specifics such as North Korean participation in the upcoming Winter Olympic Games. It was in the immediate aftermath that speech that we saw the first joint talks between the two nations in nearly a decade. These meetings led to several developments such as the re-establishment of a military hotline between the two nations that had been shut down by the DPRK and an agreement that allowed North Korean athletes to participate in the Winter Olympics, with both nations marching together during the Opening Ceremonies at the start of the games. The two nations also agreed to have a joint women's hockey team during the games. Additionally, North Korea was represented at the Opening Ceremonies by a delegation led by Kim Jong Un's sister and during the Closing Ceremonies by a delegation led by a top General. Perhaps most significantly, the period since January 1st has not seen any additional nuclear or ballistic missile tests on the part of the North Koreans and the United States and South Korea decided to postpone their annual joint military exercises, which would have otherwise taken place at almost the same time as the Olympics themselves.
This cooling off has also seen some significant, and surprising, developments on the international front. The most notable of these, of course, is the announcement earlier this month that President Trump had accepted an invitation to meet with Kim Jong Un sometime later this year, with some speculation that it could take place as early as May. That announcement was accompanied by the news that Kim had reportedly said that he would accept the idea of denuclearization as a goal of such talks, but it seems clear that what Kim, and the Chinese, have in mind when they talk about denuclearization is quite different from what the Trump Administration has in mind. Most recently, of course, Kim spent several days in Beijing meeting with Xi Jinping and other Chinese officials. As I said in my post on that meeting, it seems clear that the purpose of that meeting was to reassure Kim that, despite recent years in which China appeared to be losing patience with the Kim regime, China still had his back and to reassure the Chinese that Kim was not about to spin out of China's orbit.
This meeting won't be the first time that the leaders of North and South Korea have met, but it will mark the first time that a North Korean leader has visited South Korea, although that visit will only be to a location on the southern side of the Demilitarized Zone rather than Seoul itself. Nonetheless, it will mark another surprising development after a year in which it seemed as though the Korean Peninsula was closer to war than it had been at any time since the armistice was signed more than sixty years ago. Whether it lasts, and whether anything comes of all this person-to-person diplomacy is a different question.