Kim Jong Un Strengthens His Hand While China Reminds The U.S. That It Remains A Player
After several days of speculation, it was confirmed that the leaders of North Korea and China had met in Beijing. This was meant as much for external consumption as it was the relationship between the two nations.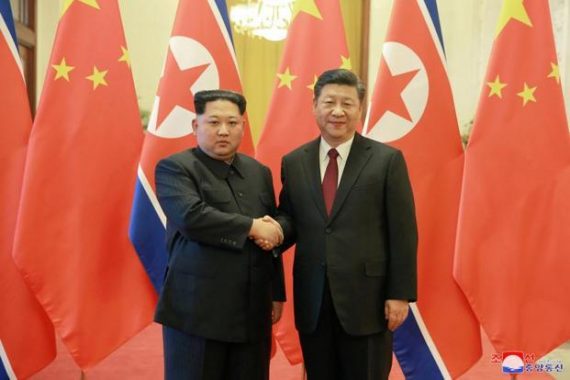 Kim Jong Un made his first trip outside North Korea since taking power in 2011 and, not surprisingly, it was a trip to Beijing:
BEIJING — North Korea's enigmatic young leader, Kim Jong-un, made an unannounced visit to Beijing, meeting with President Xi Jinping weeks before planned summit meetings with American and South Korean leaders, Chinese and North Korean state news media reported on Wednesday.

The visit amounted to Mr. Kim's international debut: It was the 34-year-old leader's first trip outside North Korea since he took power in 2011, and his first meeting with another head of state. The surprise discussions added another layer of complexity to the rush of global diplomacy around North Korea's nuclear weapons program.

Mr. Kim told the Chinese leader that he was open to dialogue with the United States, including a potential summit meeting with President Trump, and was committed to the denuclearization of the Korean Peninsula, according to an account published by China's news agency Xinhua.

"If South Korea and the United States respond with good will to our efforts and create an atmosphere of peace and stability, and take phased, synchronized measures to achieve peace, the issue of the denuclearization of the peninsula can reach resolution," Mr. Kim said, according to Xinhua's summary of his meeting with Mr. Xi.

Hours after the meeting was announced, Mr. Trump said on Twitter that he looked forward to meeting Mr. Kim, and that there was "a good chance" that the North Korean leader would "do what is right for his people and for humanity."

Mr. Kim's trip unfolded in extraordinary secrecy and security; it was confirmed only after he left Beijing on the same armored train that stirred speculation when it arrived mysteriously in the Chinese capital on Monday. (Both Mr. Kim's father and grandfather, the North's former leaders, used similar trains for foreign trips.)

Mr. Kim made the trip at the invitation of Mr. Xi, North Korea's state-run Korean Central Television reported soon after the announcement in China. Mr. Kim was accompanied by his wife, Ri Sol-ju, as well as by his senior advisers, it said.

The visit suggested that Mr. Kim values or needs China's approval — and possibly its advice — as he seeks to capitalize on a risky diplomatic opening with Mr. Trump after more than a year of tension and threats.

Mr. Xi, for his part, said that China supported efforts to defuse tensions on the Korean Peninsula and he praised Mr. Kim for the recent improvement there.

"This year there have been promising changes in the situation on the Korean Peninsula, and we express our appreciation for the major efforts that North Korea has made in this regard," Mr. Xi said, according to Xinhua.

The tone was a significant shift. Over the past six years, relations between the two leaders have been widely reported as chilly. Mr. Kim rebuffed overtures from China, and purged officials who had previously served as the main channels to Beijing, including his uncle, who was executed.

At a banquet this week, though, Mr. Kim praised North Korea's friendship with China, saying he wanted to "continue the traditional" ties, Xinhua said.

China described the trip as an unofficial visit, though it published photographs of the youthful leader with Mr. Xi and the two leaders' wives, and of their tour of the Chinese Academy of Sciences.

In Washington, the White House press secretary, Sarah Huckabee Sanders, told reporters that the Chinese government had contacted administration officials on Tuesday to brief them about Mr. Kim's visit. The briefing included a personal message from the Chinese leader to Mr. Trump.

Mr. Trump said on Twitter early Wednesday that Mr. Xi had told him the visit "went very well," and that Mr. Kim looked forward to his meeting with Mr. Trump. "In the meantime, and unfortunately, maximum sanctions and pressure must be maintained at all cost!" Mr. Trump said.

Yang Xiyu, one of China's leading experts on North Korea, said that Mr. Kim was clearly trying to repair the North's deeply strained relations with Beijing, its traditional ally and benefactor, while opening new ties with its enemy South Korea.

Even so, Mr. Yang said, that did not signal that Mr. Kim was willing to give up his nuclear arsenal, though he has told South Korean envoys that he was prepared to discuss the possibility.

"He is starting a new game where he could make concessions on denuclearization," Mr. Yang said. "At most, he will cut the grass, but he will not pull out the roots."
On some level, the very fact that Kim left North Korea for an extended period of time should send a significant signal about the state of affairs in the DPRK. For many years during the start of his reign after the death of his father, analysts sensed that the younger Kim was contending with potential challenges to his rule from forces in the party and potentially the military given the fact that he had taken power at such a young age and without having served at his father's side for nearly as long as his father had served at the side of Kim Il Sung, the founding member of the Kim regime. During those early years, there were several reports of political rivals, including members of the Kim family itself, being arrested and executed, quite often in a brutally effective manner. It's also been suggested that the more aggressive military tone that the regime took in those years, as well as the radical steps forward in nuclear and ballistic missile testing, were meant as much to secure Kim's position in power internally as they were to send a message to the wider world. During those early years, the idea of leaving the country for an extended period of time was likely out of the question due to the possibility that Kim's potential rivals might have used his absence as an opportunity to seize control of the state. With his rivals largely eliminated, and his position further secured thanks to the advances he pushed for in the nuclear and ballistic weapons programs, it seems clear that whatever concerns Kim may have had regarding his hold on power are behind him.
As for why Kim would make sure his first foreign trip would be to China, as CNN's James Griffiths notes, the answer to that question is rather obvious:
Since North and South Korea reopened diplomatic ties in February, Pyongyang has been pushing for a Korean solution to the ongoing crisis on the peninsula, which analysts say is a way of driving a wedge between Seoul and Washington.

But recent moves have also left China, North Korea's most important ally, somewhat marginalized.

The two countries have been allies since the Korean War, when Mao Zedong sent troops to support Kim's grandfather Kim Il Sung, and still maintain a mutual defense treaty, under which they pledge to "immediately render military and other assistance by all means at its disposal" in the event of war or foreign attack.

Since Kim Jong Un took power in 2011 however, the relationship has become increasingly strained. Kim purged several key officials with close ties to Beijing, including his uncle, Jang Song Thaek.

He also angered China by pursuing missile and nuclear testing against Beijing's stated goal of a denuclearized Korean Peninsula.

"The North Korean Chinese relationship has not been very good in recent years, particularly over China's acceptance of international sanctions and degree of implementing thecm," said James Hoare, an associate fellow at Chatham House and former UK diplomat in North Korea. "These will be subjects the North Koreans are keen to talk about."

Foster-Carter agreed, adding Pyongyang may be hoping China will ease up on sanctions following the summits with South Korea and the US.
Tong Zhao, a North Korea expert at the Carnegie Tsinghua Center for Global Policy in Beijing, said Pyongyang "wants to have some insurance against this upcoming summit meeting with President Trump."

"They know the meeting is very important but also very risky, there are a lot of uncertainties," he said. "If the meeting fails the US could declare that diplomacy has failed and shift to a more coercive approach or even a military strike."

"A stable and positive relationship with China would prevent the US from launching a military strike," Zhao said.
As an initial thought, it's not surprising that Kim would make sure that his first meeting with a foreign leader was with the leader of China. For one thing, the past several years have seen some evidence that the relationship between Beijing and Pyongyang has been tense due largely to Chinese unease at the aggressive actions that the North Koreans have been taking. This has manifested itself in actions such as the increased willingness of the Chinese leadership to go along with international sanctions against North Korea in response to its increased nuclear and ballistic missile testing and the aggressive tone it has taken toward its neighbors and against the United States.
At the same time, though, the Chinese have been careful not to go as far as they could in slapping the DPRK's hand and going along with American efforts to put pressure on the regime. For example, Beijing continues to buy coal from the North Koreans and to give them access to oil and other needs that they would not be able to function without. The main reason for this, of course, is that it's been apparent for some time now that China's overarching concern with respect to Korea is not so much to restrain the DPRK as to avoid chaos on the peninsula and, most especially, to avoid the possibility of a united Korea allied to the United States and the idea of American troops stationed north of the 38th parallel if not right across the Yalu River itself. For the time being at least, that means maintaining the stability of the Kim regime, and for China that will only change if and when Kim has outlived his usefulness or has proven to become more of a destabilizing force than a stabilizing one.
Toward that end, the Chinese likely have a keen interest in whatever may unfold in the upcoming, albeit as yet unscheduled and still very hypothetical, talks between North Korea and the United States. This is where the relevance of the meeting comes into play for both the North Koreans and the Chinese. For the North Koreans, showing that the DPRK still has the support of its longtime allies in Beijing helps Kim Jong Un strengthen his hand for whatever may lie ahead with respect to these talks. For the Chinese, the meeting between Xi and Kim serves as a reminder that they remain major players in whatever may unfold on the Korean peninsula and likely guarantees that the North Koreans will be careful not to agree to anything without being sure to have the backing of their allies in China.