U.S. Was Poised To Strike Iran Last Night, Then Trump Pulled Back
The planes were apparently in the air, and the ships in position, for an American attack on Iran last night. Then the order to pull back came in.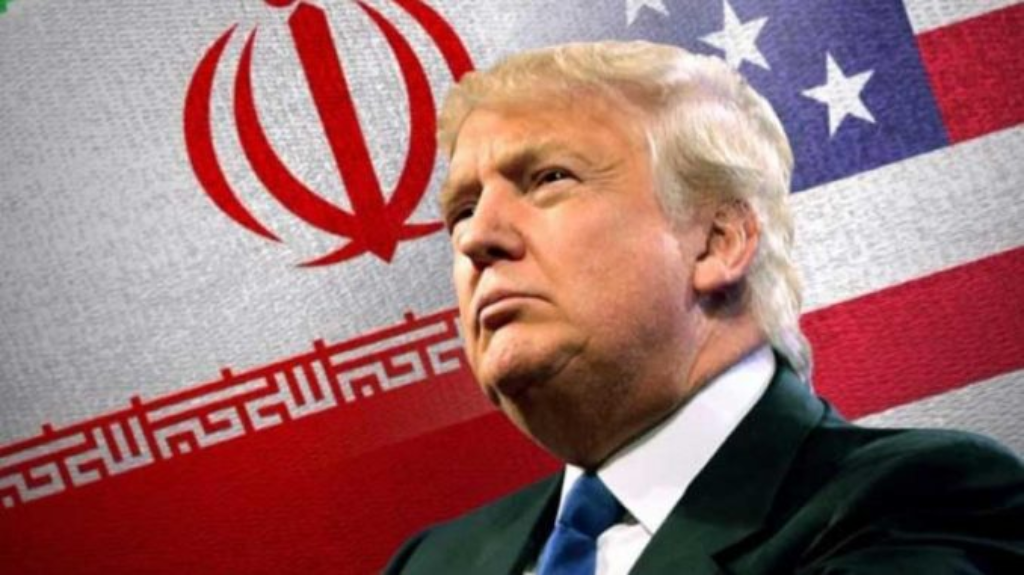 The New York Times is reporting that the United States was poised to strike Iran in apparent retaliation for the downing of an American reconnaissance drone earlier this week as well as attacks against oil tankers, but then the attack was abruptly called off:
President Trump approved military strikes against Iran in retaliation for downing an American surveillance drone, but pulled back from launching them on Thursday night after a day of escalating tensions.

As late as 7 p.m., military and diplomatic officials were expecting a strike, after intense discussions and debate at the White House among the president's top national security officials and congressional leaders, according to multiple senior administration officials involved in or briefed on the deliberations.

Officials said the president had initially approved attacks on a handful of Iranian targets, like radar and missile batteries.

The operation was underway in its early stages when it was called off, a senior administration official said. Planes were in the air and ships were in position, but no missiles had been fired when word came to stand down, the official said.

The abrupt reversal put a halt to what would have been the president's third military action against targets in the Middle East. Mr. Trump had struck twice at targets in Syria, in 2017 and 2018.

It was not clear whether Mr. Trump simply changed his mind on the strikes or whether the administration altered course because of logistics or strategy. It was also not clear whether the attacks might still go forward.

Asked about the plans for a strike and the decision to hold back, the White House declined to comment, as did Pentagon officials. No government officials asked The New York Times to withhold the article.

The retaliation plan was intended as a response to the shooting down of the unmanned, $130 million surveillance drone, which was struck Thursday morning by an Iranian surface-to-air missile, according to a senior administration official who was briefed on the military planning and spoke on the condition of anonymity to discuss confidential plans.

The strike was set to take place just before dawn Friday in Iran to minimize risk to the Iranian military and civilians.

(…)

The possibility of a retaliatory strike hung over Washington for much of the day. Officials in both countries traded accusations about the location of the drone when it was destroyed by a surface-to-air missile launched from the Iranian coast along the Gulf of Oman.

Mr. Trump's national security advisers split about whether to respond militarily. Senior administration officials said Secretary of State Mike Pompeo; John R. Bolton, the national security adviser; and Gina Haspel, the C.I.A. director, had favored a military response. But top Pentagon officials cautioned that such an action could result in a spiraling escalation with risks for American forces in the region.

Congressional leaders were briefed by administration officials in the Situation Room.

The destruction of the drone underscored the already tense relations between the two countries after Mr. Trump's recent accusations that Iran is to blame for explosions last week that damaged oil tankers traveling through the strait, the vital waterway for much of the world's oil. Iran has denied that accusation.
Earlier in the day, during a press availability with Canadian Prime Minister Justin Trudeau, Trump hinted at the possibility of retaliation but also appeared to leave open the possibility that the strike against the drone may not have been approved by higher-ranking Iranian officials:
On Thursday, Mr. Trump insisted that the United States' unmanned surveillance aircraft was flying over international waters when it was taken down by an Iranian missile.

"This drone was in international waters, clearly," the president told reporters on Thursday afternoon at the White House as he began a meeting with Prime Minister Justin Trudeau of Canada. "We have it all documented. It's documented scientifically, not just words."

Asked what would come next, Mr. Trump said, "Let's see what happens."

Iran's government fiercely disputed the president's characterization, insisting that the American drone had strayed into Iranian airspace. Iran released GPS coordinates that put the drone eight miles off the country's coast, inside the 12 nautical miles from the shore that Iran claims as its territorial waters.

But in his public appearance, Mr. Trump initially seemed to be looking for a way to avoid a potentially serious military crisis. Instead of directly accusing the leaders of Iran, Mr. Trump said someone "loose and stupid" in Iran was responsible for shooting down the drone.

The president said he suspected it was some individual in Iran who "made a big mistake," even as Iran had taken responsibility for the strike and asserted that the high-altitude American drone was operating over Iranian air space, which American officials denied.

Mr. Trump said the episode would have been far more serious if the aircraft had been a piloted vehicle, and not a drone. It made "a big, big difference" that an American pilot was not threatened, he told reporters.
This interchange took place in the early afternoon on Thursday, at a time when the military was likely moving forward with plans for the attack that was ultimately called off, although it is unclear if the President had made up his mind about the attack at that point. In any event, these comments seem to suggest that the Administration was perhaps looking for a way out of the crisis created by the downing of the drone that would allow the President to avoid military action without appearing to be weak in Iranian eyes and perhaps lead them to take more provocative action. In any case, given the timing it was clear that the initial "go" order was given at some point before or after the appearance with Trudeau and that it wasn't until several hours later that the mission was called off.
What's not clear from the report is what the basis might have been for backing away from the brink at what seems as though it was literally the last minute. Was there a logistical problem with the attack plan that we don't know about, for example? Or, perhaps a question regarding the exact location that the U.S. drone was in when it was attacked? Or, did the President simply act from whim or self-doubt and ended up changing his mind? Of all the possibilities the last one seems to be the least likely, to be honest. Say what you will about Trump, but self-doubt and reflection do not seem to be words that are appropriate in describing him. So far, the White House isn't commenting on the matter, but it's also worth noting that no government officials asked the Times to withhold this from publication for some reason. This raises the possibility that the entire episode was designed to send Iran a message that further attacks on American forces, especially an attack on a manned plane or vessel, would bring more serious retaliation.
Daniel Larison notes that it's a good thing that Trump back away from a plan that likely would have significantly increased tensions in the Persian Gulf, but reminds us that backing away never should have been necessary:
It is good that the president called off the insane plan to attack Iran, but there should never have been anything to call off. It is better that the president reversed himself at the last minute, but why was the reversal necessary? I said earlier that we would remain on the knife's edge as long as Trump was committed to his bankrupt Iran policy, and tonight we can see just how thin the blade of that knife is. We very narrowly dodged the bullet of starting a war with Iran tonight, and it would have been a war started for the stupidest of reasons.

We happened to get lucky that Trump's changeable nature worked in favor of stopping an illegal attack on Iran for the moment, but there is no telling if that will hold for more than a few days. The fact that Trump had previously signed off on an unauthorized and unnecessary military operation is a damning indictment of his judgment and proof of his contempt for the Constitution and Congress.
I agree with Larison that it was a good thing that this attack was apparently called off at the last minute, regardless of what the reason for that decision was. It's been some thirty years, during a similar crisis over attacks in shipping in the Persian Gulf and the Strait of Hormuz, that the U.S. last hit Iran militarily, and that was a relatively minor attack aimed at removing some of the locations that the Iranians were using to threaten shipping back then. This time, the attacks on ships appear to be due to mines rather than rocket attacks, and while that is equally as serious given the American and international interests involved in keeping the shipping lanes free and clear, it's of a slightly different nature than launching anti-ship missiles at vessels. In any event, this pause in the attack gives both sides a chance to step back and consider the implications of further escalation and what that could mean for the region and the world.
Larison also goes on to note that any such attack without Congressional authorization would be illegal:
It is not up to the president to launch an attack against another state. Trump had no authority to order an attack. This episode is a good example of why the decision on when and where the U.S. goes to war is not entrusted to the arbitrary whims of a single man. The Constitution gives Congress the authority to decide such things, and only they can make that decision. This near-miss gives new urgency to the effort in Congress to repeal the 2001 AUMF and to block any funds for U.S. military action against Iran. The president's advisers evidently prevailed on him to order an attack, and if they can do it once they can presumably do it again. The reversal tonight is at best temporary, and we would be extremely foolish to think that Trump has the fortitude or desire to withstand the pressure to escalate that the rest of his administration is putting on him.
As a matter of law, Larison is of course completely correct. Without Congressional authorization, the President currently has no legal authority to launch an attack on Iran like the one that was canceled at the last minute last night. Allegedly, the Iran hawks inside the Administration, specifically including National Security Adviser John Bolton and Secretary of State Mike Pompeo, have come up with the an argument that an attack on Iran would be justified by the eighteen-year-old Authorization for Use of Military Force that was passed by Congress in the wake of the September 11th attacks. This same AUMF has been used by both the Obama and Trump Administrations to justify American action against ISIS as well as troop deployments and other military action in nation stretching from Yemen to Central Africa.
As I have noted in the past, that particular argument is absurdly flimsy when applied to ISIS and it would be utterly ridiculous to interpret the AUMF as authorizing attacks against Iran some 18 years after it was passed. In any case, this legal argument is apparently why we heard earlier this week about Administration attempts to draw a connection between Iran and al Qaeda, a connection that has no basis in reality. Notwithstanding all of that, as James Joyner noted just yesterday, if the Administration wanted to move forward with an attack without prior Congressional authorization there is very little that Congress can do about it.
In any case, it's unclear where things go from here. We could see the President change his mind again and allow the attacks to go forward notwithstanding how unwise and unjustified such an attack would be, for example. For whatever it's worth, though, there are reports this morning that American officials have sent word through middlemen that the U.S. is prepared to talk to Iranian representatives in an effort to cool down tensions in the region. Whether that is genuine, and whether the Iranians would be willing to talk, remains to be seen.
As they say, stay tuned.
Update: In a series of tweets this morning, President Trump appeared to explain what happened last night:
Left unstated is whether the President would be open to a more proportionate response.