New Scott Walker Allegations Have Little Legal Merit, But Could Affect Re-Election Bid
As a legal matter, the new allegations against Wisconsin Governor Scott Walker don't amount to much. But, will they impact his bid for re-election.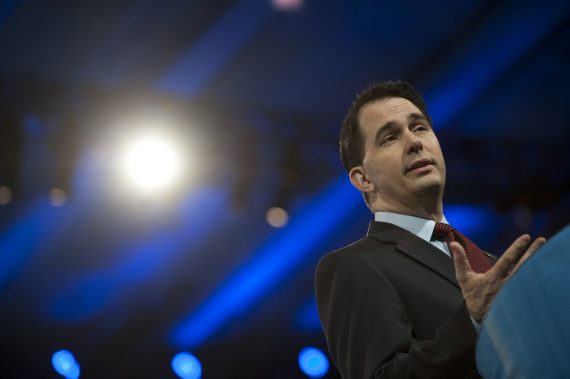 Late on Thursday, the Wisconsin political world, and by some extension the national political world was rocked by allegations contained in a report released by prosecutors in Wisconsin that, according to some interpretations at least, purported to allege that Governor Scott Walker was at the center of an effort to violate campaign finance laws:
CHICAGO — Prosecutors in Wisconsin assert that Gov. Scott Walker was part of an elaborate effort to illegally coordinate fund-raising and spending between his campaign and conservative groups during efforts to recall him and several state senators two years ago, according to court filings unsealed Thursday.

The allegations by five county district attorneys, released as part of a federal lawsuit over the investigation into Mr. Walker, suggest that some of the governor's top campaign aides directed the political spending of the outside groups, most of them nonprofits, and in effect controlled some of them.

The documents made public on Thursday threatened to cloud the political prospects of Mr. Walker, who is seeking election to a second term this fall and is mentioned as a possible Republican presidential candidate in 2016. They provided a rare view of the inner workings of a far-flung network of conservative nonprofit groups that have come to play a decisive role in national and state elections, secretly moving hundreds of millions of dollars into campaigns by avoiding traditional political action committees, which typically face tougher disclosure requirements.

Prosecutors say Mr. Walker and his aides violated Wisconsin donation limits and disclosure rules by supervising a blitz of political spending by other organizations that could accept unlimited secret donations, including money from corporations.

Some of the groups, in Wisconsin and elsewhere, appear to serve as little more than conduits to funnel money from donors around the country to an array of allied organizations with ties to specific constituencies, such as gun owners or abortion opponents. Prosecutors say that the groups in Wisconsin worked closely with Mr. Walker's allies both in the state and in Washington, and that Mr. Walker's campaign consultants advised him on political strategy and television advertising while also raising money and directing the activities of an array of at least a dozen outside groups.

"That coordination included a nationwide effort to raise undisclosed funds for an organization which then funded the activities of other organizations supporting or opposing candidates subject to recall," the prosecutors wrote.

While the newly released documents describe "a wide-ranging scheme to coordinate activities of several organizations with various candidate committees to thwart attempts to recall Wisconsin Senate and gubernatorial candidates," no criminal charges have been brought, and the case has stirred an intense legal debate over what exactly constitutes illegal coordination in such cases.
The Milwaukee Journal-Sentinel posted additional details:
Madison — Prosecutors allege Gov. Scott Walker was at the center of an effort to illegally coordinate fundraising among conservative groups to help his campaign and those of Republican state senators facing recall elections during 2011 and 2012, according to documents unsealed Thursday.

In the documents, prosecutors laid out what they call an extensive "criminal scheme" to bypass state election laws by Walker, his campaign and two top Republican political operatives — R.J. Johnson and Deborah Jordahl. No one has been charged, but this marks the prosecutors' most detailed account of the investigation yet.

The governor and his close confidants helped raise money and control spending through 12 conservative groups during the recall election campaigns, according to the prosecutors' filings.

The documents include an excerpt from an email in which Walker tells Karl Rove, former top adviser to President George W. Bush, that Johnson would lead the coordination campaign. Johnson also is Walker's longtime campaign strategist and the chief adviser to Wisconsin Club for Growth, a prominent conservative group.

"Bottom-line: R.J. helps keep in place a team that is wildly successful in Wisconsin. We are running 9 recall elections and it will be like 9 congressional markets in every market in the state (and Twin Cities)," Walker wrote to Rove on May 4, 2011. Rove runs American Crossroads, which backs Republican congressional and presidential candidates.

Beginning in March 2011, there were "open and express discussions" of the need to coordinate the activities of entities like Americans for Prosperity, Wisconsin Club for Growth, the Republican Party of Wisconsin, the Republican State Leadership Committee and the Republican Governors Association, special prosecutor Francis Schmitz wrote. Conference calls were held between the Walker campaign, the governors association and the business lobbying group Wisconsin Manufacturers & Commerce, he wrote.

The scope of the criminal scheme under investigation "is expansive," Schmitz wrote. "It includes criminal violations of multiple elections laws, including violations of Filing a False Campaign Report or Statement and Conspiracy to File a False Campaign Report or Statement."

Walker, who is running for re-election and is considered a possible 2016 presidential candidate, responded Thursday by criticizing the case that prosecutors were trying to build.

"You've got two judges, both a state judge and a federal judge, who said that they didn't buy into the argument that has been presented at this point," Walker said, speaking to reporters after presenting awards at the Water Council's summit in Milwaukee. "I think their words speak pretty strongly both at the federal and state level."
Not surprisingly, the political left has jumped all over this story as if it were definitive evidence that Walker was at the center of a criminal conspiracy, a reaction which is entirely unsurprising. Walker has been a political target on the left since virtually the day he took office and, with the help of a Republican controlled legislature made changes to the collective bargaining rules for public employees. Those changes resulted in everything from the Democrats in the Wisconsin State Senate fleeing Madison for refuge somewhere across the border in Illinois in an effort to prevent the Senate from conducting business, to protests that resulted in a sit-in at the State Capitol that lasted for weeks, to recall elections directed at Walker, his Lt. Governor, and several members of the Wisconsin State Senate. In the end, these efforts proved to be unsuccessful. The changes to the law were passed, the legal challenges to those changes were defeated, and Walker won his Recall Election with a more votes than he had received when he ran for Governor originally in 2010. On the right, of course, Walker became something of a political hero both because of the changes he was enacting and the fact that he had become such a target for the left. Although Walker has not spoken directly on the matter, his name has been mentioned frequently as a potential candidate for President in 2016, assuming of course that he wins re-election in November.
While the allegations that this latest document release make against Walker and those around him sound serious, it also seems clear that, at least at the moment, the idea that the Governor is any serious legal jeopardy has little of any merit. The one fact that both the Times and the Journal-Sentinel gloss over in their reports, and which has gone largely unmentioned in the mass media reports on this document dump, for example, is that a Federal Judge shut down the criminal investigation against Walker and the others involved here because it was legally frivolous. That initial order was blocked by a panel of the 7th Circuit Court of Appeals, but the Judge in question, Federal District Judge Rudolph Randa, issued a new opinion several days later:
Randa issued a seven-page decision Thursday saying the prosectors' earlier appeal was just that — he called one argument they made the "height of frivolousness." His decision also reissued his injunction.
Now, the appeals panel must decide whether to dismiss the case or keep it alive.

Meanwhile, the two sides disagree on whether lawyers may begin deposing witnesses.

"We're very much looking forward to discovery, which begins immediately," said Rivkin, who presents Wisconsin Club for Growth.

While deposing witnesses and gathering evidence, Rivkin said his team of attorneys will be looking at whether the prosecutors involved in the five-county investigation engaged in any partisan activity or consulted with political figures.

The plaintiffs will also be focused, Rivkin said, on determining the source for leaks in the probe.

"We're not going after the media," he said. "We're going after the leakers."

But Crocker, Schmitz's lawyer, suggested that Rivkin is jumping the gun, particularly in light of the most recent order.

"However, Fran Schmitz has no reservations about providing his testimony at the appropriate time and he looks forward to addressing the false allegations that continue to be made in this litigation," Crocker said in an email.

Randa's first injunction told prosecutors to return material they had seized from conservative groups and destroy their copies of it. The appeals court found he couldn't issue such an irreversible order in the early stages of the case, and Randa's latest order does not include that provision.

Rivkin, the attorney for the Wisconsin Club for Growth, said he will seek monetary damages from prosecutors for violating the group's constitutional rights. Randa wrote in Thursday's order he would not consider such a request while the appeal is pending, so that issue will be put off at least for now.

Hans von Spakovsky, a fellow at the conservative Heritage Foundation and a former member of the Federal Election Commission, supports Randa's decisions. He said he believes the Wisconsin Club for Growth would be able to recover attorneys fees but not the damages they are seeking.

To do that, they would have to prove prosecutors intentionally acted maliciously, he said.

"That is a very high bar," he said.
 You can read Judge Randa's May 6th Order and May 8th Order on Scribd, where I have posted them.
In addition to the rulings at the Federal Court level, a State Court Judge also issued a ruling in January quashing subpoenas that had been issued to conservative political groups and others in connection with the investigation. Additionally, most legal observers have commented that it seems unlikely that anything that Walker or his associates is alleged to have done in the latest set of documents, even if taken in the worst possible light, actually violate Federal or State law. Indeed, the argument that this investigation has been, from the beginning, little more than an attempt at partisan mudslinging leading up to a third election for Wisconsin Governor inside of three years was at the heart of the argument made to Judge Randa, and ultimately a large part of the reason that he halted the investigation. While that decision is on appeal an could theoretically be revered, the fact that it is rare for a Judge at any level to shutdown prosecutors in this manner makes the fact that Randa, who has served as a Federal District Court Judge since 1992, did so here is a strong indication that the arguments of the moving parties were persuasive and may be difficult to overturn on appeal. So, any suggestion that Walker is in legal jeopardy here, or even that he did anything illegal, seems to be pretty much without merit.
That being said, the fact that this story may not have much legal impact doesn't mean it's unimportant. Wisconsin is among the top targets of the Democratic Governor's Association this year and this is only likely to make them more interested in spending money to help Democratic nominee Mary Burke. The latest polls show the race to be essentially a dead heat, with the most recent poll from Marquette University, conducted more than a month ago now, showing Walker with a 3 point lead in a poll with a 3.5 point margin of error. The RealClearPolitics Average, meanwhile, has Walker with a 2.0 point lead and an average of about 6.6 percent of those polled in the undecided camp. In other words, as the moment at least, this race could go either way.
As a general rule, I would suggest that people looking at this race be careful not to underestimate Scott Walker. Notwithstanding the fact that pre-election polling had him in the lead, there were many observers who doubt that he would be able to pull out a win in the 2010 election that put him in office, for example. Similarly, when Walker faced a recall election in 2012, there were many of his political enemies who thought that they would be able to unseat him even when polling was showing him leading quite comfortably. In the end, Walker ended up winning that recall election with 1.3 million votes, which was more than the 1.1. million votes he received in the General Election in 2010.  Given that history, and the fact that we are clearly heading into yet another midterm election where Republicans are likely to be favored, I would suggest that the smart money should be on Walker winning in November notwithstanding the efforts of his political enemies to defeat him on the third try.
That being said, this new report is likely to become part of the campaign against Walker by Burke and her surrogates and supporters. So, we will have to wait and see if it has any impact on the race. Given the fact that many of these allegations are old, and that Walker doesn't seem to have done anything illegal, though, my bet would be that the impact of this report is going to end up being quite minimal. If that turns out to be the case and Walker is re-elected, then I suspect that we will see his stock rise very high very quickly in the GOP as Republicans search for a candidate.
Photo via The Huffington Post