Scott Walker Survives Recall Election In Wisconsin
A contentious political battle that has lasted a year has come to an end.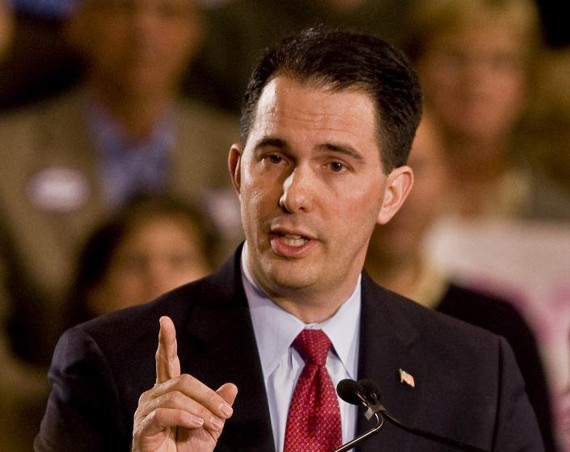 After a year of political battles over reforms to state law regrading public employee unions and fights over recall elections,  Scott Walker has become the first American Governor to survive a Recall Election:
Scott Walker, the embattled Republican governor of Wisconsin, survived a recall vote on Tuesday, based on early returns and exit polls, defeating a union-led effort to remove him from office for pushing laws to restrict the collective bargaining rights of state workers.

The state's labor movement had marshaled widespread anger earlier this year to force a recall vote just two years into Mr. Walker's four-year term. Democrats collected close to one million signatures in the petition drive to oust him.

That effort led to the closely-watched rematch between Mr. Walker and the Democratic opponent he beat in 2010, Tom Barrett, the mayor of Milwaukee. In the voting Tuesday, Mr. Walker once again bested Mr. Barrett for the state's top job.

The results were a victory for the national Republican Party and conservative groups from around the country, which had rallied behind Mr. Walker with tens of millions of dollars. Mr. Walker will now complete his term.

And they were a blow to the labor movement and Democrats, who had sought to link Mr. Walker to a conservative movement that they said is hostile to workers rights.

But the red-hot frustration among workers that led to the recall appeared to subside over recent months as the race between Mr. Walker and Mr. Barrett became less about unions and more about the general economic mood of the country.

Neither President Obama nor Mitt Romney, his Republican challenger, campaigned for their party nominee in Wisconsin in the final weeks, prompting speculation that neither wanted to assume the risks of a loss.
Given the returns that are coming in tonight, it's fairly clear that this wasn't even a close matter. Walker, and his Lieutenant Governor Rebecca Kleefisch, survived their recall elections quite handily. Still undetermined as of tonight are the fate of four Wisconsin State Senate seats that were also up for recall. However, given the fact that the Wisconsin legislature is officially out of session for the year and the State Senate is up for re-election, it's unclear what the results for those four seats tonight will actually mean.
Based on the returns we're seeing at the time this post is being written, it would appear that Walker is winning the recall vote by a wider margin by a wider margin than he won his election as Governor in 2010. This is somewhat surprising given the fact that, all day, reports on the ground were indicating that turnout in areas like Milwaukee and Madison, which presumably would be friendly territory for Walker's opponent Thomas Barrett, were fairly high. Indeed, at one point in the afternoon, a comment from a voting official in Madison reported that turnout was at 119%.  Initially, that might sound like a nutty comment, but it's worth remembering that Wisconsin is one of the state's that has same-day voter registration, meaning that someone can register to vote on the day of an election. With news like that, it wasn't long before many on the right started talking about voter fraud. Those of us who look at politics through a rational lens, meanwhile, were wondering if it meant that there was an anti-Walker surge that polling had not detected.
As it turned out that was not true. Walker will stay in office, as will his Lieutenant Governor. There will be many conclusions that people will try to draw from this result, including perhaps yours truly, but in the end what this really ought to mean is that the Wisconsin political battle is over. Governor Walker's reforms were controversial and they set off a political battle in the State of Wisconsin and around the nation. However, at least as far as Wisconsin is concerned, the debate seems to be over.
In his victory speech tonight, Governor Walker was both victorious and conciliatory, and he sent signals that he wishes to reach out to both sides of the legislative aisle to do the business that Wisconsin needs to be done. Obviously, there will be political battles in the future, but it strikes me that the people of the Badger State have come to the point where it's time to bury the hatchet. And, perhaps, that's true of all of us.