Scott Walker Continues To Lead Wisconsin Recall Polling
Barring an upset, Scott Walker looks likely to survive his recall election tomorrow.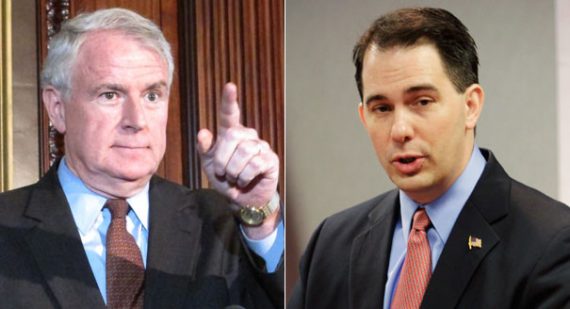 With one day of campaigning left, Governor Scott Walker continues to lead in the polls, but the final outcome is likely to depend on which side has the better get-out-the-vote operation:
A new poll finds Republican Wisconsin Gov. Scott Walker with a narrowed lead over Democratic challenger Tom Barrett ahead of Tuesday's recall vote.

A Public Policy Polling survey released Monday shows Walker with the support of 50 percent of likely voters, ahead of Milwaukee Mayor Barrett at 47 percent.

But Walker's support is down from a 50-to-45 percent edge in the same poll conducted three weeks ago and down from the 7-point 52-45 lead Walker held in a Marquette Law poll released last week.

Barrett leads Walker, however, among independent voters, with 48 percent support to 46.

Walker holds a net positive approval rating at 51 percent favorable to 47 unfavorable, topping Barrett, who posts 46 percent favorable and unfavorable numbers.

Tuesday's vote could come down to which side can better turn out supporters.

"What's going to determine Tuesday's outcome is pretty simple," Dean Debnam, president of Public Policy Polling, said in a statement. "If Democrats turn out in the same numbers that they did in 2008, Tom Barrett will win a surprise victory. And if they don't, Scott Walker will survive."
While the slight up-tick in Barrett's support in this PPP poll compared to the one three weeks ago is of interest, it's invalid to compare this poll to one conducted by a different polling organization, something that PPP itself does in the blog post announcing the poll's release. As a matter of proper poll analysis, it simply isn't valid to compare poll results from two different pollsters because you're dealing with two different polling methodologies and two different samples based on two different projections of what likely voter turnout will be on the day of the election. For that matter, it's pretty clear that PPP is over playing the difference between the poll released last night and the one taken three weeks ago. A two point bump for Barrett is well within the margin of error and likely can be disregarded. More importantly, there's been no real change in the poll internals:
Walker has a 51/47 approval rating. He's up with men (55-42), whites (52-46), seniors (58-39), and especially voters in the Milwaukee suburbs (70/29).

Barrett has a 46/46 favorability rating, improved from 43/46 on our first poll after the  primary. He's winning with women (52/46), minorities (58-36), youngvoters (53-39),  those in Milwaukee County (61-35), and ones in greater Madison (59-37).

This is a close race, closer than it was a couple weeks ago. Scott Walker's still the  favorite but Barrett's prospects for an upset look better than they have in a long time
If by "better than they have in a long time," PPP means "marginally improved," then they have a point. If they mean that this poll shows an upset in the making, they're simply wrong. Dean Debnam is right in the quote above that turnout is what will be driving this election, and it is entirely possible that Democratic turnout will be marginally higher enough that Barrett will be able to eke out a victory. However the optimistic scenario that PPP posits, that turnout tomorrow will be similar to what Wisconsin saw in 2008, seems to be wildly off base if only because it is generally a universal truism that off-year and special elections have lower turnout than General Election Day in Presidential years.
The slightly ironic thing about this entire recall campaign has been the fact that the issue that supposedly animated all of the political turmoil in the Badger State, the bargaining rights of public employee unions and Walker's reform legislation, has barely been an issue at all. Partly, this is because the Democrats ended up nominating the candidate least identified with the Labor Union's complaints against Walker, much to the chagrin of many labor activists. This came after several big-name Democrats, including former Senator Russ Feingold and Congressman David Obey, declined to take Walker on, and it's been followed up by national Democrats largely staying away from the race, or arguing that a Barrett loss would have no national implications, as it has become clear that Walker isn't nearly as vulnerable as first appeared.
For proof of that, take a look at the RealClearPolitics chart of the polling in Wisconsin, there hasn't been much of it but the pattern is clear: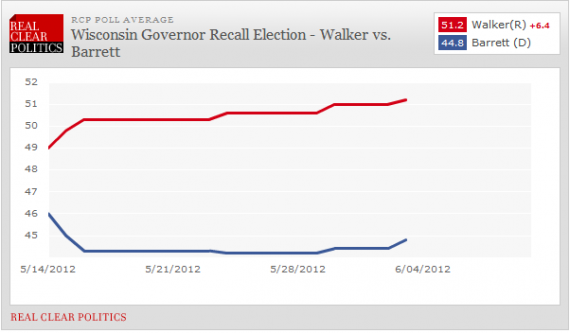 Barrett hasn't really been close to Walker from the start, so if he does win here it's going to cause all the pollsters to re-evaluate their poling models for Wisconsin. More importantly, Walker has a +6.4 lead in the RCP average. Unless pretty much every single pollster is wrong, it strikes me that the signs all point to a Walker victory tomorrow night.