Is Scott Walker Too White To Get Elected?
TNR makes the worst possible case for a proposition that's almost certainly right.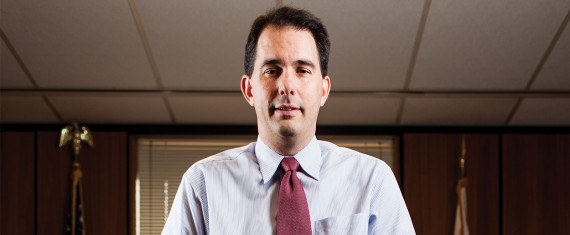 Conservative commentators are raising eyebrows at The New Republic cover story titled "The Unelectable Whiteness of Scott Walker." More interesting is the theme conveyed by the subtitle "A journey through the poisonous, racially divided world that produced a Republican star."
Ann Althouse, Moe Lane, and John Hinderacker not unreasonably consider the article, which is built entirely on innuendo and presumption, to be a smear. Althouse goes further, accusing TNR of "racism" for using "whiteness" as a slur. That strikes me as rather silly, given that it's rather implausible that an article written by a white man for a white-owned, white-edited publication whose audience is almost entirely white harbors anti-white racial animus. Indeed, no non-idiot would argue that being white renders one unelectable in America; rather, the argument is that appealing only to whites—and, really, the subset of whites who live in the suburbs and rural areas—makes one unelectable to national office.
Regardless, while I actually agree with the premise that I just outlined, the article itself is, to put it charitably, not very good.
The opener is rather bizarre, having nothing to do with Walker:
On early August of 2011, a few days after Congress passed a deal to end the debt-ceiling showdown that brought the nation to the brink of credit default, a conservative talk-radio host in the Milwaukee suburbs went on an extended riff about Gwen Moore, the first African American elected to the House from Wisconsin.

Moore had missed the debt-ceiling vote, and her office explained that she had been unable to make her way through the massive crowd that gathered to celebrate Gabrielle Giffords's triumphant return to the floor. This account provided an opening for radio host Mark Belling.

"She's been in the Congress now for about ten years. During that time, she … has managed to be known for absolutely nothing," Belling said. "Gwen Moore simply occupies a seat. A very large seat. … The woman is so fat and out of shape, she literally can't get to the floor to vote anymore. … It's time to vote and here's Gwen: 'I'm out of breath! Blew-ee, blew-ee!' " (Here Belling affected the exertions of an overweight black woman.) Or, he continued, perhaps there was another possibility: "What do you think the chances are she was sitting on the toilet? … Maybe Gwen was sitting there on the crapper and this was one that was not working out too well for her or something. 'Blew-ee!' 'Congresswoman, you've got to vote.' 'I am sittin' on de toilet!' " Belling concluded: "Gabrielle Giffords was shot in the head, got there, and voted. … Gwen Moore can't waddle her way across the street."

For Belling, this kind of performance was hardly out of character. Back in 2004, he'd been briefly suspended for referring to "wetback" voters in Milwaukee's Hispanic neighborhood. It was, perhaps, a sign of his audience's uniform outlook that the diatribe against Moore went unnoticed by anyone who might have objected to it, including Moore herself.
Now, I don't find toilet humor particularly funny and have never heard of Moore or Belling, much less heard Belling's show. But while making jokes about a fat woman's being too out of shape to get to the floor to vote may be offensive, it's not obvious why it's racist. Indeed, it's quite possible that it went unnoticed, not because Belling's show is such a cesspool—although, again, it's possible that it is—but because it's rather banal. Given that I'm quite sure that there are examples of more blatant racism on local talk radio, I'm befuddled as to why this was the lede.
In any case, the riff did not keep the state's governor, Scott Walker, from appearing on the show a few days later. Belling's treatment of Walker was notably more deferential. "Have you," he asked, "sat back and thought about what has been accomplished by yourself and the Republican legislature? Has it really sunk in that you've transformed a fiscally reckless state into perhaps the most fiscally sound state in the nation? Has it sunk in, I guess is what I'm saying, do you realize what's been accomplished?" Walker replied that no, his achievement had not sunk in, because he had been "so busy doing it."
Again, it's not obvious why a fairly innocuous, if juvenile, bit about an elected representative would keep the governor from appearing on a popular program aimed at his constituency. And, given that there are surely more prominent examples of a "poisonous, racially divided world," it's taking way to long to get to a point. Indeed, while I've become persuaded that there is such a thing as "code words" and "dog whistles" that signal in-group solidarity without explicitly mentioning the out-group, the "fiscally sound/fiscally reckless" dichotomy surely is not an example of either.
That accomplishment—effectively eliminating collective bargaining for most public employees in the state, facing down the angry protests that followed, surviving a rancorous recall election—has vaulted Walker into the top tier of Republican presidential contenders for 2016. He is the closest person the party has to an early favorite, and not simply because of Chris Christie's nosedive from grace or because Jeb Bush is still waffling about his intentions. Walker has implemented an impeccably conservative agenda in a state that has gone Democratic in seven straight presidential elections. Unlike Mitt Romney, or, for that matter, John McCain, he is beloved by the conservative base, but he has the mien of a mainstream candidate, not a favorite of the fringe. His boosters, who include numerous greenroom conservatives in Washington and major donors around the country, such as the Koch brothers, see him as the rare Republican who could muster broad national support without yielding a millimeter on doctrine.
Six paragraph into an explosively subtitled cover story, then, we still have zero evidence. Finally, though, we start to zero in:
This interpretation of Walker's appeal could hardly be more flawed. He has succeeded in the sort of environment least conducive to producing a candidate capable of winning a national majority. Over the past few decades, Walker's home turf of metropolitan Milwaukee has developed into the most bitterly divided political ground in the country—"the most polarized part of a polarized state in a polarized nation," as a recent series by Craig Gilbert in the Milwaukee Journal Sentinel put it. Thanks to a quirk of twentieth-century history, the region encompasses a heavily Democratic and African American urban center, and suburbs that are far more uniformly white and Republican than those in any other Northern city, with a moat of resentment running between the two zones. As a result, the area has given rise to some of the most worrisome trends in American political life in supercharged form: profound racial inequality, extreme political segregation, a parallel-universe news media. These trends predate Walker, but they have enabled his ascent, and his tenure in government has only served to intensify them. Anyone who believes that he is the Republican to save his party—let alone win a presidential election—needs to understand the toxic and ruptured landscape he will leave behind.
Fair enough. Alas, we're treated next to several more paragraphs that do nothing to advance this thesis. Were this a student paper, I'd have already stopped reading. For you, however, I'll trudge on and just skip to the bits that should actually have been in the article.
It wasn't until the '60s that African Americans started to drift into Milwaukee in large numbers. For the next 20 years, the city offered safer streets and better schools than Chicago, and its industrial base was faring better than in many other urban areas. By 1990, Milwaukee's black population had shot up to 30 percent. Today, it stands near 40 percent, while Hispanics make up another 17 percent.

This delayed arrival would prove highly consequential. Not long after a substantial African American community took shape, Milwaukee's industrial base began to collapse and its manufacturing jobs disappeared. This left almost no time for the city to develop a black middle class or a leadership elite. Within short order, Milwaukee had some of the most glaring racial disparities in the country. Today, it has the second-highest black poverty rate in the United States, and the unemployment rate is nearly four times higher for blacks than for whites. The city had never been exactly welcoming to African Americans—its tight-knit enclaves of Germans, Jews, and Poles had fiercely resisted housing and school integration. But the decline of the black ghetto so soon after many of its residents had arrived made it easier for white Milwaukeeans to write off the entire African American community, or to blame it for the city's troubles. White flight, like the Great Migration, came late to Milwaukee, but it came fast and fueled with resentment. Between 1960 and 2010, the population of the three formerly rural counties around Milwaukee County (Waukesha, Ozaukee, and Washington, or the "WOW" counties, for short) nearly tripled, to 608,000.
That's sociologically fascinating. Several more paragraphs develop the point that there's a racial divide in the greater Milwaukee area, ultimately circling back to the introductory idea that talk radio in the city is less than edifying. The key 'graph:
Over time, the two shows became known by a single name: "SykesBelling." In the halls of the statehouse, Milwaukee City Hall, and area county governments, elected officials, particularly insufficiently conservative Republicans, lived in dread of denunciations by the hosts and the tsunami of angry calls from listeners that would follow. Sykes is credited with, among other accomplishments, having blocked public funding for needle-exchange programs and having helped drive into bankruptcy an urban mall after harping on security issues there. In April 2013, he played a clip of "It's Free (Swipe Yo EBT)," a viral video produced by a right-wing activist in which an African American woman raps about liquor stores where one can allegedly use a food-stamp card. Returning to the same theme later in the year, Sykes declared, "The number of Americans who receive means-tested government benefits— welfare—now outnumbers those who are year-round full-time workers." No other midsize city has this kind of sustained and energized conservative forum for discussion of local politics. The only counterweights on the left are Wisconsin Public Radio, with its implicit but restrained liberalism, a lefty F.M. talk show in Madison with limited reach, and two African American talk-radio stations in Milwaukee, one of which recently went out of business.
None of this is Scott Walker's fault, however, nor is any claim made that it is. So, several thousand words into a piece arguing that Scott Walker is too beholden to racial politics to get elected to national office, all we have is the notion that there's a racist undercurrent to politics in Milwaukee. Finally, we get to the smear of Walker himself:
In 1990, at age 22, Scott Walker launched his first campaign, for the state Assembly seat held by Gwen Moore. It was a Democratic-leaning, majority-white district stretching west from Marquette; Moore recalls hearing that Walker thought he had a shot at winning because he was younger and better-looking than the Republican she had beaten two years earlier. "He had a certain kind of vanity," she says. Walker ran on an anti-crime platform, pushing what Moore refers to as "dog-whistle literature." This included one mailing that featured an image of a big gun, "implying that the neighborhood was going to go to hell" if Moore won.
So . . . a bitter former opponent says that Walker used "dog whistle" imagery in his campaign against her. What else?
Walker lost, and soon thereafter settled with his wife, Tonette, in more amenable political territory. Three years later, he ran in a crowded GOP primary field for the local state Assembly seat in the historically Republican inner suburb of Wauwatosa. This time, he won. The party, which under the leadership of Governor Tommy Thompson was pushing hard for welfare reform and private-school vouchers in Milwaukee, made Walker its point man on criminal justice. He authored a bill calling for "truth in sentencing" (eliminating time off for good behavior) and championed prison privatization, though he also surprised some Democrats by supporting legislation to improve defendants' access to DNA evidence. As chairman of the elections and rules committee, he advocated for voter-I.D. laws, long seen as an effort to limit minority access to the polls.

But Walker didn't really seem all that interested in making an impact in Madison—colleagues from both parties recall him as an amiable backbencher. Instead, he seemed most intent on cultivating a constituency via the airwaves. Jensen, then the speaker, started sending Walker on television and the radio talk shows when he couldn't make it and quickly realized that his colleague had an unerring ability to stay on message. "He's the kind of guy you can wake up at three a.m. and ask him a question, and he'll have a nice sound bite for you," says Jensen. Charlie Sykes adds, "He is probably as media savvy as any politician we've ever dealt with here in Wisconsin."
More innuendo and guilty by association. Presumably, Walker spent considerable time making public statements via the airwaves. Yet, we're given not a single Walker quotation demonstrating that he plays racial politics? You'd think that there would at least be something that looks bad stripped of its context. But all we get is that he appeared on a very popular radio show that seems to stray into that territory.
The partisan gulf between Milwaukee and its suburbs in presidential elections has now grown wider than in any of the nation's 50 largest cities, except for New Orleans, according to the Journal Sentinel series.

In such an environment, "there's no persuasion going on at all," says GOP pollster Gene Ulm, who often works in Wisconsin. In fact, there is not a single competitive state Senate seat left in the entire Milwaukee media market. Both parties focus entirely on turnout, and with impressive results. The WOW counties were in the top eleven nationwide for turnout in 2012, with Ozaukee first at 84 percent. Similarly, among urban counties, Milwaukee County ranks near the top, at 74 percent. (The national average was just over 60 percent.) In midterm elections, Republicans often win because the WOW counties vote no matter what, an achievement that Mark Graul, a Republican consultant, attributes in large part to the motivational power of Milwaukee talk-radio stations. However, in presidential-year elections, when turnout is up everywhere in the state, Democrats win—in fact, they have won every single major statewide race in presidential years since 1984. Even Walker admits that he isn't working the middle much anymore: "It was always a divided state but it used to be (that) you'd explain it as '40/40/20,' and 20 percent was the persuadable middle," he told the Journal Sentinel. "That percent has shrunk now to 5, 6 percent maybe … or five or six people."

It is as if the Milwaukee area were in a kind of time warp. Like the suburbanites of the '70s and '80s elsewhere in the United States, the residents of the WOW counties are full of anxiety and contempt for the place they abandoned. "We're still in the disco era here," says Democratic political consultant Paul Maslin. This has affected the politics of the state in myriad ways. The nationwide trend of exploring alternatives to prison hasn't reached Wisconsin—it has the highest rate of black male incarceration of any state in the country. Sykes told me he could track the desertion of the city through the discussions of Milwaukee public schools on his show. "Through the 1990s we were very interested in education reform, and then it was like a button was switched, and those were someone else's kids," he said. "That's when I realized we weren't a Milwaukee station anymore."
This is all very interesting. And sad. But all it demonstrates is that Milwaukee—and Wisconsin writ large—are an extreme case of the national trend towards polarization that we've been talking about the entire history of this site, now in its twelfth year. And, circling back to the TNR title, it's worth noting that Walker was in fact elected in such a climate. Although, alas, in the fashion one might expect:
Walker won the general election against Milwaukee Mayor Tom Barrett with 52 percent of the vote. Some prognosticators expected that Walker might fare better than previous Republicans in Milwaukee County, given that he had spent eight years governing it. In fact, he did no better than the Republican norm, with 37 percent. But in the WOW counties, he exceeded even the GOP's usual sky-high numbers. In his inaugural address, he took the audience on a long rhetorical tour of the state—"Superior to Kenosha; Sturgeon Bay over to Platteville …" He did not mention Milwaukee.
We all know what happened next:
Barely more than a month after taking office, Walker introduced legislation to eradicate collective bargaining for all public employees except police and firefighters. Fourteen Democratic state senators fled the state to prevent Walker from assembling the quorum necessary for a vote, and tens of thousands of protesters descended on the state capitol for an occupation that lasted three weeks. Nationally, the tumult was described as a kind of alien visitation on Wisconsin's paradise of Upper Midwestern civility. In fact, the episode had simply brought the polarization between the WOW counties and liberal Milwaukee and Madison out into the open for the first time.
Now, I opposed these efforts. Given that he did this out of the blue, not having campaigned on this platform, it struck me as an outrageous change in the social construct without the citizens having a chance to vote on it after lengthy debate. And I say that as one who thinks public employees (of which I have again subsequently become one) should not have the right to strike. Regardless, however, none of this is evidence that Walker is racist, uses racial animus as the key to his electoral strategy, or that he's unelectable.
There's essentially nothing in the rest of the piece that provides any real evidence of racism even connected to the Walker machine, aside from a mention of a supporter email that is at least vaguely racist.  The piece closes as it began, circling back yet again to the Milwaukee talk radio scene:
On Sunday morning, as the convention concluded with a closed-door prayer breakfast, I headed to my hotel and flipped on the television, just in time for Charlie Sykes's weekly show. One of Sykes's panelists raised the issue of "an incident in the fifteenth aldermanic district where supporters of a liberal candidate bought meals for voters." The fifteenth district is mostly black, the candidate is black, and the former acting mayor who provided the lunches to voters is black. But the panelist didn't mention any of that. For his audience, who live beyond Fond du Lac Avenue and its check-cashing outlets and shuttered storefronts, over the city line where the humble frame houses and bungalows give way abruptly to McMansion subdivisions with names like Harmony Hills and River Heights, he didn't need to.
So, really, that's the theme here. There's a racial divide, everyone knows there's a racial divide, and therefore anything white conservatives say is presumed to be grounded in this racial divide and therefore evidence of racism.
The odd thing is that, while I reject that premise, I have little doubt that race is a major factor in American politics. It's just too big a part of our history and culture not to be.  The fears and frustrations of suburban whites, in Milwaukee and elsewhere, about crime, failing families, poor schools, the welfare state, and more are both real and at least partly seen through a racial prism. Some of that's what we would have called racism even in 1974—that is to say, outright animus based on skin color. Most of it is just the cultural vestiges of racial history that are much more subtle and yet undeniably real.
Yet, even with that viewpoint and a deep skepticism of Walker as a presidential candidate coming into the article, I found the piece incredibly frustrating and not the least bit persuasive about its ostensible thesis.
I don't think Walker will be the Republican nominee, much less get elected president, in 2016. But I don't think race will have any more to do with that than it will for any other plausible GOP candidate. Rather, Walker isn't charismatic by presidential standards and doesn't seem to have any obvious traits that make him stand out from the field. Being a governor, rather than a member of this historically unpopular Congress, is a huge plus. But there are a lot of Republican governors with less baggage on more likelihood of appealing to the general public.
The bizarre thing about all this is that the central premise of the article—that appealing solely to a subset of the white electorate is making it increasingly unlikely that the Republican Party will win back the presidency—is almost indisputably right. That TNR wasted a cover feature making the argument so poorly is truly baffling.