WI Standoff Poised to End (or, Maybe Not–UPDATED)
The Democrats appear ready to come home (or, as per the update, maybe not).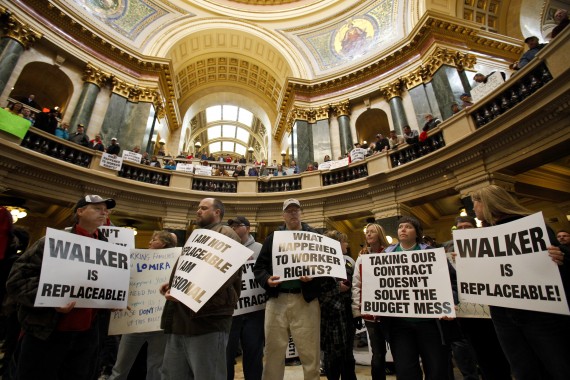 Both the WSJ and the NYT are reporting that that Democratic State Senates in self-imposed exile are poised to return back to Wisconsin.
From the WSJ:
Sen. Mark Miller said he and his fellow Democrats intend to let the full Senate vote on Gov. Scott Walker's "budget-repair" bill, which includes the proposed limits on public unions' collective-bargaining rights. The bill, which had been blocked because the missing Democrats were needed for the Senate to have enough members present to vote on it, is expected to pass the Republican-controlled chamber.
Given that none of the Republicans in the State Senate were willing to budge, this outcome was bond to happen at some point.  Regardless of whether one thinks quorum-busting is a legitimate technique or not, one thing is clear:   it is a strategy that is difficult to sustain indefinitely.  It is expensive to go hang out in a hotel for weeks on end and, further, one gets tired of being away from one's family, friends, and home after a while.
As such, the tactic appears to have failed to put sufficient pressure on Governor Walker and the state's Republicans, so no compromise will take place and the will of the majority of the legislature will prevail.  On that latter point:  this was always going to be the case, one way or another, as either the quorum-busters were going to have to return or the GOP was going to have to compromise—either way there was going to be a majority vote on a legislative package in the Wisconsin State Senate and in this rather important way, the quorum-busting technique is quite different than the filibuster in the Senate (something that I have seen it compared to in multiple places).
The next step is the longer-term politics, as one would think that one thing the quorum-buster, along the protestors did accomplish was raise the profile of these issues in the state of Wisconsin.
Indeed, Wisconsin Policy Research Institute reports:  The March 2011 WPRI Poll of Public Opinion\
Wisconsinites are deeply divided over Gov. Scott Walker's plans regarding public employee benefits, wages and unions, according to a Wisconsin Policy Research Institute poll showing 51 percent somewhat or strongly opposed and 46 percent somewhat or strongly in favor.

While support for Walker in general has held fairly steady in comparison to last November, in the meantime, opposition to him has solidified and increased. A slight majority of the public disapproves of the actions taken by Senate Democrats to prevent passage of the budget repair bill and overwhelming numbers want public employees to contribute more to their pensions. The public has a favorable opinion of public employee unions, including teachers unions.  Most want Walker to compromise with Democrats and union leaders.
It will be interesting to see how this plays out in 2012.
Update: As commenters have noted, TPM reports:  Wisconsin Dems Deny WSJ Report Of Imminent Return.