Quorum Busting v. Filibustering
The funny thing is that the quorum-busting in WI is more like a filibuster ought to be: a true delaying tactic that eventually has to give way to a democratic outcome.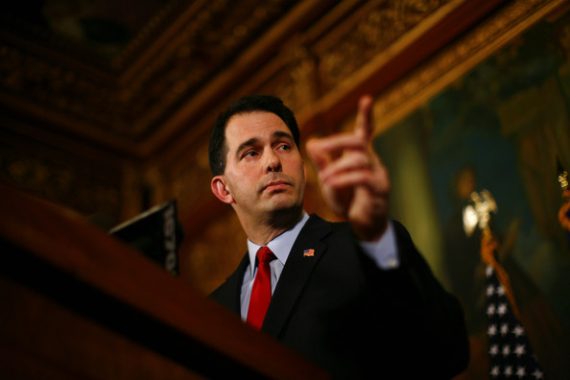 Ezra Klein makes an interesting observation:
the state's Senate Democrats can't stay away forever. In this way, their efforts have been a very traditional filibuster: Not the 60-vote pocket veto we're used to, where the minority simply refuses to allow a majority vote, but the talk-a-thons of lore, in which a determined minority feel so strongly about their opposition to a bill that they mount a physically exhausting and politically dangerous stand against it, bringing all the other business currently facing the chamber to a halt in a desperate attempt to win the public over to their side. You can't do that forever, and you can't do it to often — but then, nor should you be able to. The election went how it went, and after you make your case and appeal to the public and try and shame the majority, you either have the votes or you don't.
This is all quite important:  the actions by the minority party in Wisconsin, unlike minorities in the US Senate, are engaged in a high profile, dramatic, and costly delaying tactic that will, ultimately, still culminate in a vote.  The purpose of the tactic is to focus public debate to determine how the citizens of Wisconsin feel about the topic at hand and to determine whether public sentiment should further spur the majority to victory or cause it to reassess its position.  If only filibusters in the US Senate functioned this way (i.e., were rare, focused public attention on a real debate, and eventually culminated in a vote where the majority would rule).
This goes along with a point I made this morning:
the quorum-busters were going to have to return or the GOP was going to have to compromise—either way there was going to be a majority vote on a legislative package in the Wisconsin State Senate and in this rather important way, the quorum-busting technique is quite different than the filibuster in the Senate (something that I have seen it compared to in multiple places).
Now, I understand there is an important distinction between quorum-busting and filibustering, i.e., that the purpose of quorum rules is not to empower the minority, while the filibuster's is.  Further, the use of quorum-busting as it is being deployed in WI is, shall we say, an innovative application of a rule in a manner almost certainly not intended by the framer's of the Wisconsin constitution, while the Cloture rule in the US Senate (which allows filibusters to exist) was intended to place super-majority strictures on the legislative deliberations of that body.  The bottom line in Wisconsin (unlike under filibusters in the US Senate) is that there will be a vote at some point.  As I said above, either the quorum-busting, protests and polls will convince Walker and/or some number of State Senate Republicans to change their minds and compromise or the Democrats will have to admit to defeat and Walker will win (even if it takes, as Steve Bainbridge suggests, waiting all summer to do so).
Be let me note again the main, and extremely important, distinction between quorum-busting and filibustering:  in the former, there will be a vote where the majority will rule, while in the latter a minority can forestall a vote from ever happening.  Moreover, as Klein is pointing out in the excerpt above:  in the modern version of the filibuster, there is very little pain associated with the minority's exercise of power.
Let me be clear:  what the Democrats in Wisconsin are doing, regardless of whether one agrees with their tactics or goals, is delaying a vote in the hopes of changing public opinion enough that a portion of the majority changes its position.  This is not, contra Ann Althouse (and numerous others who have made similar claims), defying democracy (because, to beat a dead horse, a vote will take place).  Althouse writes:
I cannot understand why the Democratic senators should get more because of the way they've behaved. What kind of an example will that set for the future? No one will accept the outcome of an election anymore. You don't like what happened? Run away, storm the statehouse, make a cacophony of drum-beating and chants for weeks on end until you get your way. One of the chants has been "This is what democracy looks like." Is that what we want democracy to look like in the future? No one ever accepts a loss? Instead of working toward the next election, you use any strategy you can think of to prevent the exercise of power by the representatives the people have chosen to run the government?
I would note:  I agree that the Democrats should not get something because of their behavior, but rather they should only get something if their actions actually led to further public scrutiny on the issues at hand in a way that makes it clear to the elected legislature that the public repair bill is in opposition to the public's clear preferences.  In other words:  this is not about the Democrats simply holding their collective breath until they turn blule in the hopes of forcing Walker into a corner.  This is about the public, ultimately.
Here's the thing:  the quorum-busters only win if they persuade the public enough so that Republicans have reason to fear voters going into 2012. In other words:  if public opinion is sufficiently clear in terms of policy preferences that it changes the minds of Republican members of the government.  This is inherently democratic.  If the quorum-busters, on the other hand, overplay their hand and the Democrats suffer in 2012 this, too, is a democratic outcome.  Note in all scenarios we have a) public opinion being taken into account, b) a vote in the Wisconsin legislature, and c) electoral accountability for all involved.  There is also the possibility of recall actions—also (you guessed it), a democratic process/outcome.
Again:  a vote will take place in the Wisconsin legislature—it is just a question of when.  The quorum-busters cannot stay gone forever.  Indeed, as Althouse rightly note:  only one has to return for quorum to be be achieved.
This issue, then, is not the thwarting of democracy or the overturning of an election.  Rather, it is all about delay.  And no, it is not going to lead to some constant fleeing of state legislators.  This is the kind of thing that is rare because it requires solidarity of the minority in the context of an issue that they are willing to go to personal hardship and expense to maintain.   In other words:  it takes something drastic to inspire this type of action and I cannot see it being a regular occurrence over every little disagreement of governance.  Indeed, the ability for state legislators to pursue this course of action have existed for a very long time and the fact it is a rarity supports my assertion.  A more practical observation along these lines is that the Democrats in Texas pulled a similar stunt a few years back over redistricting and they haven't tried again.  Indeed, they lost, by the way:  a vote was held and the majority won.  In that case they were unable to arouse sufficient public opinion in their direction.
In any event, the wait will be over in WI at some point, and one suspects that it will be fairly soon.