Wisconsin Passes Anti-Collective Bargaining Bill
Wisconsin Republicans stripped state employees of collective bargaining rights without the Democratic senators who fled the state to prevent a quorum.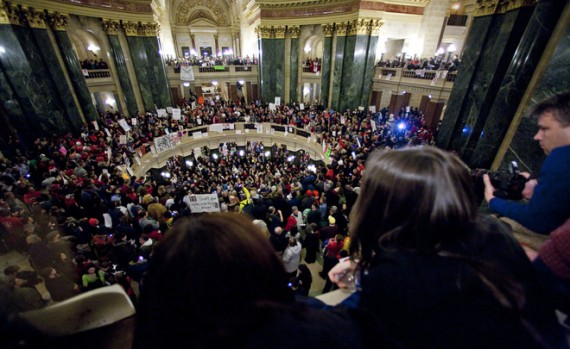 The standoff in Wisconsin is over, as Senate Republicans passed the controversial bill stripping state employees of collective bargaining rights without the Democratic senators who fled the state to prevent a quorum.
AP ("Wisconsin GOP bypasses Dems, cuts collective bargaining"):
The nearly month-long standoff in the Wisconsin Legislature over explosive union rights legislation rocketed toward a dramatic finish Thursday after Senate Republicans outmaneuvered their missing Democratic counterparts and pushed through the bill.

The dramatic turn of events late Wednesday set up a perfunctory vote Thursday morning in the Assembly on the measure that would strip nearly all collective bargaining rights from most public workers. Once the bill passes the Assembly, it heads to Republican Gov. Scott Walker for his signature.

Within hours after the Senate passed the bill, a crowd of hundreds of protesters grew to about 7,000 in the Capitol, a crowd as large as any seen inside the building over three weeks of demonstrations. "The whole world is watching!" protesters shouted as they pressed up against the heavily guarded entrance to the Senate chamber. Most protesters left by midnight — many were expected back Thursday — but dozens of others spent the night in the Capitol corridors. State officials said no attempts would be made to force them to leave.

The bill had been stymied after all 14 Senate Democrats fled to Illinois nearly three weeks ago, preventing the chamber from having enough members present to pass it. Walker introduced it to plug a $137 million budget shortfall.

The Senate requires a quorum of 20 to take up any measures that spends money. But a special committee of lawmakers from both the Senate and Assembly voted late Wednesday afternoon to take all the spending measures out of the legislation and the Senate approved it minutes later 18-1. Republican Sen. Dale Schultz cast the lone no vote. "I voted my conscience which I feel reflects the core beliefs of the majority of voters who sent me here to represent them," Schultz said in a statement.

Until Wednesday's vote, it appeared the standoff would persist until Democrats returned to Madison from their self-imposed exile. But in a matter of minutes, it was over.

"In 30 minutes, 18 state senators undid 50 years of civil rights in Wisconsin. Their disrespect for the people of Wisconsin and their rights is an outrage that will never be forgotten," said Democratic Senate Minority Leader Mark Miller. "Tonight, 18 Senate Republicans conspired to take government away from the people."
Oh, nonsense. They were overwhelmingly elected in November and prevented from acting only by bad faith on the part of the Democratic minority. And the Democrats have the ability to either try to force Republicans out via the recall process or rally back to a majority in 2012 and undo this legislation.
The Milwaukee Journal Sentinel ("With Democrats absent, Republicans advance collective bargaining changes") adds:
With Democrats still in Illinois, the state Senate abruptly voted Wednesday night to eliminate collective bargaining provisions for most public workers that have stood for decades, sending a flood of angry protesters into the Capitol.

The bill, which has drawn international attention, is to be taken up at 11 a.m. Thursday by the Assembly.

[…]

Republicans devised a plan to get around the impasse and hurriedly approved the bill late in the day after meeting for hours behind closed doors. Walker met with them for more than half an hour at the start of the private meeting.

"The Senate Democrats have had three weeks to debate this bill and were offered repeated opportunities to come home, which they refused," Walker said in a statement. "In order to move the state forward, I applaud the Legislature's action today to stand up to the status quo and take a step in the right direction to balance the budget and reform government."

Just before the Senate vote, a committee stripped some financial elements from the bill, which they said allowed them to pass it with the presence of a simple majority. The most controversial parts of the bill remain intact.

That committee, formed just two hours earlier, quickly approved the bill as the lone Democrat at the meeting screamed that Republicans were violating the state's open meetings law – a claim Republicans disputed. "This is a violation of law!" bellowed Assembly Minority Leader Peter Barca (D-Kenosha).

Senate Majority Leader Scott Fitzgerald (R-Juneau) ignored him and ordered the roll to be taken. Minutes later, the Senate took up the bill and passed it without debate.

"Shame on you!" protesters cried from the viewing gallery.

Sen. Bob Jauch (D-Poplar) decried the move as "political thuggery." He and other Democrats warned it could end the political careers of some Republican senators who are under the threat of recalls. "I think it's akin to political hara-kiri," said Jauch."I think it's political suicide."
That's democracy. The majority gets to pass bills. The public then gets to periodically weigh in on the bills passed and decide if they want to stay the course or change direction. It's messy but beats shenanigans like hiding out in neighboring states to forestall a vote.
Ezra Klein ("What happened in Wisconsin tonight"):
What happens next? Expect the protests over the next few days to be ferocious. But unless a judge rules the move illegal — and I don't know how to judge the likelihood of that — Walker's proposed law will go forward. The question is whether Walker and the Republicans who voted for it will do the same.

Polls in Wisconsin clearly showed that Republicans had failed to persuade the public of their cause. Walker's numbers dropped, while Democrats and unions found themselves suddenly flush with volunteers, money and favorable media coverage. And they plan to take advantage of it: Eight Wisconsin Republicans have served for long enough to be vulnerable to a recall election next year, and Democrats have already begun gathering signatures. Now their efforts will accelerate. "We now put our total focus on recalling the eligible Republican senators who voted for this heinous bill," said Mike Tate, chairman of the Wisconsin Democratic Party. "And we also begin counting the days remaining before Scott Walker is himself eligible for recall."
I'm not a fan of the recall process, excepting in case of politicians who have committed crimes. (And, yes, I held that view when California recalled Democrat Gray Davis.) But it is a tool that Wisconsin has given to voters so, if they can muster the enthusiasm to use it, it's fair game. And, again, if they can't there's always the next scheduled election.
Interestingly, Scott Walker has an op-ed in today's WSJ titled "Why I'm Fighting in Wisconsin." Presumably, it was written and scheduled well before last night's vote.
In 2010, Megan Sampson was named an Outstanding First Year Teacher in Wisconsin. A week later, she got a layoff notice from the Milwaukee Public Schools. Why would one of the best new teachers in the state be one of the first let go? Because her collective-bargaining contract requires staffing decisions to be made based on seniority.

Ms. Sampson got a layoff notice because the union leadership would not accept reasonable changes to their contract. Instead, they hid behind a collective-bargaining agreement that costs the taxpayers $101,091 per year for each teacher, protects a 0% contribution for health-insurance premiums, and forces schools to hire and fire based on seniority and union rules.

My state's budget-repair bill, which passed the Assembly on Feb. 25 and awaits a vote in the Senate, reforms this union-controlled hiring and firing process by allowing school districts to assign staff based on merit and performance. That keeps great teachers like Ms. Sampson in the classroom.

Most states in the country are facing a major budget deficit. Many are cutting billions of dollars of aid to schools and local governments. These cuts lead to massive layoffs or increases in property taxes—or both.

In Wisconsin, we have a better approach to tackling our $3.6 billion deficit. We are reforming the way government works, as well as balancing our budget. Our reform plan gives state and local governments the tools to balance the budget through reasonable benefit contributions. In total, our budget-repair bill saves local governments almost $1.5 billion, outweighing the reductions in state aid in our budget.

[…]

When Gov. Mitch Daniels repealed collective bargaining in Indiana six years ago, it helped government become more efficient and responsive. The average pay for Indiana state employees has actually increased, and high-performing employees are rewarded with pay increases or bonuses when they do something exceptional.

Passing our budget-repair bill will help put similar reforms into place in Wisconsin. This will be good for the Badger State's hard-working taxpayers. It will also be good for state and local government employees who overwhelmingly want to do their jobs well.

In Wisconsin, we can avoid the massive teacher layoffs that schools are facing across America. Our budget-repair bill is a commitment to the future so our children won't face even more dire consequences than we face today, and teachers like Ms. Sampson are rewarded—not laid off.
He's got a few months to make his case and assuage voter anger. My hunch is that he'll be successful in that effort, as Daniels was.
UPDATE: Balloon Juice's mistermix makes an interesting point:
If the Wisconsin Republicans' plan was to jam through the defeat of collective bargaining with a sketchy parliamentary move, they should have done it the minute that Democrats vacated the state. If that had happened, the howls would have been loud but fairly short-lived, since it's easier to energize people when they're trying to prevent something from happening, rather than complaining after the fact.

Instead, we have today's trainwreck. Walker got his number one item, but he paid a huge price. He's almost certainly a one-term governor. There's a dissenting Republican in the Senate, and presumably we'll hear more from him. If there's a general strike, the union's side of the case is now clearly outlined in the public mind. If the unions don't strike, they look like paragons of restraint. And what about the recalls? No matter the outcome, they'll occupy the press and public attention for the next few months.
Now, I'm not convinced this will be a long-term harm to Walker and the Republicans; but I'm certainly no expert in Wisconsin politics. But I agree that it's odd that they allowed things to fester for weeks before taking this action. The only thing I can figure is that they thought the spectacle of Democratic legislators hiding out, teachers abandoning their classrooms, and throngs occupying the state capital would redound to the advantage of Republicans. In the short term, at least, that appears to have been a miscalculation.