Scott Walker Is Running For President
Wisconsin Governor Scott Walker has formally entered the race for President, but can he overcome his flip-flops and a turn to the hard right?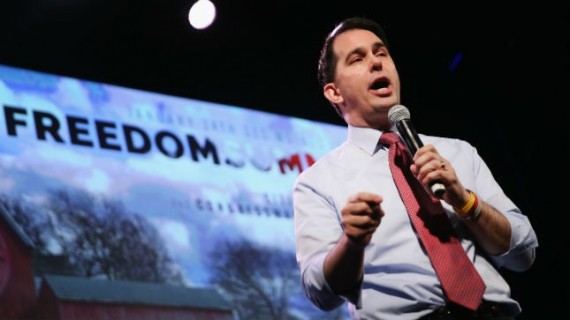 S
As expected, Wisconsin Governor Scott Walker became the fifteenth person to enter the race for the Republican Presidential nomination today but, while he remains in a strong position his position seems to be far less secure than it was months ago:
WAUKESHA, Wis. — Gov. Scott Walker of Wisconsin, who built a national conservative following by crippling public employee unions and then defeating a forceful effort to recall him, announced on Monday that he is running for president as a Washington outsider whose taste for big fights would lead to a smaller federal government.

Mr. Walker is the 15th prominent Republican to formally start his campaign, doing so at a time of growing challenges for him, especially in Iowa. He considers it a must-win state in the presidential nominating process, which begins there in February.

"I'm running for president to fight and win for the American people," he announced in a campaign video released early Monday.

As an unofficial candidate early this year, Mr. Walker got off to a hot start with several strong speeches and impressive poll numbers in Iowa and other key states. But a series of gaffes hurt him among some Republican leaders and donors, and his lead in Iowa polls has softened recently as rivals like Senator Ted Cruz, Rick Perry, Donald J. Trump and Ben Carson have gained ground or campaigned more than Mr. Walker.

His fund-raising has also lagged behind that of several Republicans, including Jeb Bush and Senator Marco Rubio, who are widely considered top contenders along with Mr. Walker.

Mr. Walker's strategy is now focused on building a political operation in Iowa and campaigning aggressively there with an increasingly conservative message. He recently endorsed amending the United States Constitution to leave laws blocking same-sex marriage up to each state, and he is preparing to sign Wisconsin legislation that would ban abortions after 20 weeks of pregnancy, except when the life of the mother is in immediate jeopardy.

With those positions and others, Mr. Walker is aiming to sway conservative and evangelical voters, two dominant groups in the Iowa Republican caucuses. They may now have a particular affinity for Mr. Cruz and Mr. Carson, who had a combined 19 percent support of likely Iowa caucusgoers in a recent Quinnipiac University poll. But other Republican candidates like Mr. Perry, a former Texas governor, and Mr. Rubio are angling to appeal to the same voters, and Mr. Rubio and his supporters have more financial resources than Mr. Walker does right now.

"Walker had a great winter but maybe got a little cocky, a little ahead of himself, and now he really has to take the time to work Iowa and build up the resources to compete harder in the early primary states," said Ed Rollins, a veteran Republican consultant who has worked with David Polyansky, one of Mr. Walker's advisers in Iowa.

To distinguish himself, Mr. Walker, a 47-year-old career politician, is building his bid for the White House around his style of leadership, reflected in slogans like "go big and go bold" and "a fighter and a winner," and his record as governor since 2011.

He has also sought to enhance his understanding of national affairs and foreign policy by taking time away from the campaign trail this year for dozens of briefings with experts, heads of state and military officials. As a result, not only has he spent less time fund-raising than other candidates, he has also been absent for long stretches from New Hampshire and South Carolina, which have early nominating contests and where his poll numbers have slipped as well.

"I think he waited too late to get into the race, because there was such excitement for him when he was here in March," said Catherine Welborn, a South Carolina Republican who heard Mr. Walker speak that month in Charleston. "South Carolina doesn't have much time to get to know him, but one thing is for sure: He needs to come down here and tell the story about beating the unions. That's the kind of person we need to stand up for America."
As I've noted before, Walker enters the race as one of the strongest candidates thanks largely to the political success and over the past five years. His victory in Wisconsin in 2010, followed by a recall election in 2012 and re-election bid in 2014 that he won easily have put him in the rare company of those Republicans who have been able to win statewide elections in traditionally Democratic states. The fact that he did so in the midst of a showdown with state and national union leaders and Democrats over public employee union policy has only served to enhance his reputation among a Republican base that appreciates confrontation with the left. In addition to experience in office, Walker also has strong roots among social conservatives that seem to be helping him in states like Iowa and South Carolina where those voters hold a particularly strong sway. To some extent, then, Walker represents a bridge between the mainline voters who would be inclined to back someone like Jeb Bush or other candidates who emphasize experience over ideology and the more ideological wing of the party that emphasizes purity over actually accomplishing anything. In theory at least, it's the kind of alliance that could leave Walker well-positioned to be main alternative to Jeb Bush after all of the shifting and sorting that we'll see between now and the end of January is completed.
While Walker's apparent campaign strategy may make sense in the abstract, in its implementation so far it has been less than ideal. Walker's own comments in the months before he announced, for example, have left him vulnerable to the charge that he is willing to say whatever is necessary to please the audience he's talking to even when he ends up contradicting himself. On immigration, for example, Walker has clearly seemed to shift his position on immigration reform when talking to conservatives, and has even made comments that can be fairly interpreted as being critical of legal immigration. More recently, he has endorsed a Constitutional Amendment that would allow states to ban same-sex marriage, a position he repeated in the wake of the Obergefell decision last month, even though last October he was saying that Wisconsin must accept the legalization of same-sex marriage as the law after the Supreme Court refused to hear the appeal that the state had filed.  On foreign policy issues where he used to be somewhat more moderate,  he has been an outspoken critic of the negotiations over Iran's nuclear program, and suggested that if he were elected he would abrogate whatever deal President Obama ends up making during the current negotiations. For their part, Walker's campaign team seems to think that this move to the right isn't going to hurt him in the long run, but that is most assuredly an open question. This would seem to be especially true given that one of Walker's own campaign people has been quoted telling National Journal's Tim Alberta that "It's much easier to move from being a conservative to being a middle-of-the-road moderate later on." That's the kind of statement that could end up harming Walker in the future, since it tends to reinforce doubts that people will have about just how genuine his new found conservative orthodoxy actually is.
Notwithstanding all of that, Walker remains a strong candidate heading into the race. He remains near the top of the field nationally, although he has slipped in recent weeks as other candidates have entered the race and currently is among those candidate who seems to be overshadowed by Donald Trump to some degree. His strongest position is in Iowa, where he remains essentially alone at the top of the field, which is one of the many reasons why the Hawkeye State will be the chief focus of Walker's campaign going forward. The risk of that strategy, of course, is that if Walker ends up under-performing in Iowa his campaign will most likely come to a quick end. Walker's position in New Hampshire is somewhat weaker and, while he remains in second place behind Bush in the poll averages he has lost ground in recent months and has dropped into single digits in the most recent polls from CNN and Suffok University. Walker is also in second place in South Carolina, but it has been more than month since a poll was conducted there so it's unclear where he stands right now. Finally, in Florida Walker is in single digits behind Bush and Rubio, but this is state that won't mean much of anything to him if he's unable to do well in the three earlier states next February. As I said, Walker is in a much stronger position than many of the other candidates in the race but he remains untested on the national stage and his recent turn to the hard right seems to be the same kind of political opportunism than many conservatives accused Mitt Romney of in 2012. Whether that will hurt him in the long run, and whether the style that won in Wisconsin can play elsewhere, remains to be seen.