Another Walker Flip-Flop On Immigration Amid Crashing Poll Numbers
Scott Walker is flip-flopping on immigration again, while his poll numbers sink like a stone.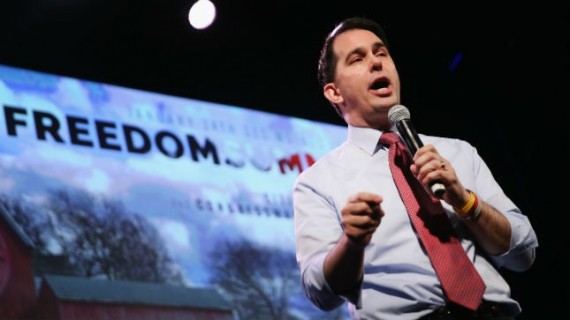 Wisconsin Governor Scott Walker spent most of last week trying to figure out what his position on birthright citizenship is:
Scott Walker on Sunday took his third position within seven days on Donald Trump's proposal to end birthright citizenship, this time saying he opposes Trump and supports the policy.

The Wisconsin governor and Republican presidential candidate was asked on ABC's "This Week" whether he backs Trump's push to end the 14th Amendment's mandate that all children born in the United States are automatically granted citizenship.

"Well, I said the law is there. And we need to enforce the laws, including those that are in the Constitution," Walker said, adding that he favors addressing illegal immigration by improving border security and requiring businesses to use a system called E-Verify to check workers' legal status.

ABC's George Stephanopoulos pressed further, asking: "So you're not seeking to repeal or alter the 14th Amendment?"

"No," Walker said. "My point is, any discussion that goes beyond securing the border and enforcing the laws are things that should be a red flag to voters out there, who for years have heard lip service from politicians and are understandably angry because those politicians haven't been committed to following through on those promises."

It's a different answer than the one Walker gave Monday at the Iowa State Fair.

Asked by MSNBC's Kasie Hunt whether birthright citizenship should be ended, he said then: "Yeah, absolutely, going forward."

Walker cited Nevada Democratic Sen. Harry Reid's support for ending the policy — in the early 1990s introduced legislation that would have revoked the 14th Amendment's guarantee of citizenship for U.S.-born children. Reid has since reversed that position.

"Yeah," he said on Monday at the fair. "To me it's about enforcing the laws in this country. And I've been very clear, I think you enforce the laws, and I think it's important to send a message that we're going to enforce the laws, no matter how people come here we're going to enforce the laws in this country."

Then, on Friday, Walker offered another stance — telling CNBC's John Harwood that he won't weigh in on birthright citizenship.

"I'm not taking a position on it one way or the other," he said in that interview.

The changing answers come as Walker's standing in polls — particularly in Iowa, which his campaign regards as crucial to his chances of winning the GOP nomination — has been hurt by the rise of Trump and other outsider candidates, like retired neurosurgeon Ben Carson and former Hewlett-Packard executive Carly Fiorina.
This isn't the first time that Walker has tried to have both ways on immigration during the course of his campaign for the Republican nomination. Earlier this year, it seemed rather clear that the Wisconsin Governor was flip-flopping on the the issue in an effort to appeal to the party's hard right base. Previously, when Walker was just becoming a media star among Republicans, he made comments that were quite supportive of an immigration reform package that included some form of "amnesty" for people in the country illegally. More recently, Walker has been telling voters that his view on the issue has changed and he is among a group of 25 Governors who have challenged the deportation relief plan that President Obama had announced in November of last year. In later statements, Walker made comments that made it seem as though he was opposed to legal immigration as well, or at least in favor of restricting it to "protect" American jobs. Walker found himself in some trouble, though, when it was reported shortly after this 'change of heart' that the Governor had told a group of donors in a private meeting that he still supported immigration reform even though he could not acknowledge that publicly.
All of this has led to charges from some quarters that Walker is willing to say whatever he needs to in order to get ahead in the race for the Republican nomination, and in the case of immigration that largely means walking a line between the immigration restrictionists on the hard right of the party and the more moderate wing of the party that favors immigration reform and fears the consequences for the GOP at the ballot box if the party further alienates Latino voters.  Because of the fact that Iowa is a make or break state for him, Walker has shown an obvious preference toward pandering to the anti-immigration wing of the party, but the fact that he also needs support of the more "establishment" wing of the party, not to mention the donors that largely tend to come there, means that you'll sometimes see him pull back from some of the harsher rhetoric you'll hear from a candidate like Donald Trump or Ted Cruz. Walker's response to the birthright citizenship question is simply the latest example of this.
Walker's apparent strategy of trying to be all things to all people doesn't seem to be going over well at all. On the national level, where he once seemed about ready to overtake Jeb Bush as the leader of the Republican race, Walker has now slipped to fourth place in the RealClearPolitics Average. He's suffered a similar fate in New Hampshire, where the combination of the rise of Donald Trump and Walker's own disappointing performance in this month's debate have knocked Walker down substantially. Perhaps the biggest blow to Walker, though, has come in Iowa. Thanks largely to the fact that his position as the Governor of a neighboring state has made Walker very well known among Iowa Republicans, Scott Walker was the seemingly prohibitive leader of the race for most of 2015.  In just the past month, though, Walker has fallen like a rock and now stands in third place behind Donald Trump and Ben Caron in the polling average. This chart from RealClearPolitics shows the extent of Walker's sudden fall: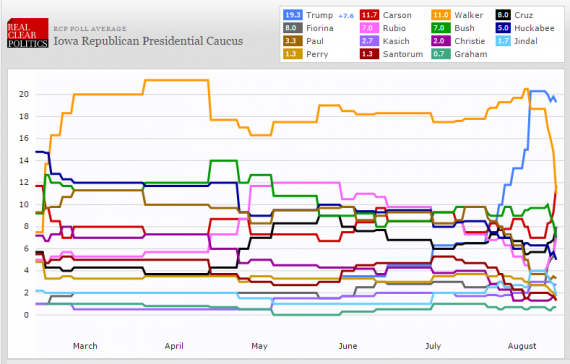 A good part of Walker's drop in the polls, of course, can be attributed to the rise of Donald Trump, who has had a similar impact on the standings of Jeb Bush, the other candidate who was leading in the polls prior to all of this. In Iowa, though, it's worth noting that Walker was sailing along fine even as Trump was rising until he hit that moment you can see in the charts where he sinks like a stone. That moment roughly coincides with the first Republican debate on August 6th, in which Walker was widely seen has having had a mediocre performance at best. This is particularly important in Iowa because, without Iowa, Walker's campaign is most likely effectively dead. It's not surprising, then, that Walker is trying to appeal to the hard right base in Iowa on an issue like immigration even as he realizes that doing so may hurt him later down the line. However, it seems clear that this strategy of trying to be all things to all people is doomed to fail. In a different age, candidates were able to get away with saying different things to different people because the nature of the media made it unlikely that anyone would even notice it. In today's digital era, inconsistencies like this quickly become a story all their own, and it's not one that paints a good portrait of the candidate. Something like this isn't fatal to Walker's campaign necessarily, but it doesn't help ether.