Walker Recall Petitions Reach 1,000,000 Signatures Mark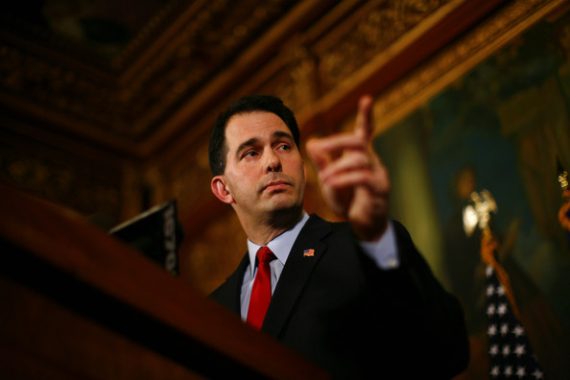 Wisconsin Democrats announced yesterday that their petition drive to force a recall election of Governor Scott Walker had collected twice as many signatures as the law requires:
More than a million people have signed a petition to recall Wisconsin's governor, the state's Democratic Party said Tuesday.

That's nearly twice the 540,208 signatures required to seek a recall of first-term Republican Gov. Scott Walker, who drew the ire of labor unions and public school teachers after he stripped public employees of their collective bargaining rights.

State Democratic Party officials said they would submit the signatures by close of business Tuesday. The officials also said they would turn in more than the required number of signatures needed for recall elections for the state's Republican lieutenant governor and three state senators.

The Wisconsin elections board will review the recall petitions.

"I think it's going to be a very impressive number that we hand in, beyond any challenge that this election is going to happen," Wisconsin Democratic Party Chairman Mike Tate told CNN affiliate WTMJ Monday.
With twice as many signatures as required being submitted, it's certain that the recall effort will be certified and an election scheduled. Most likely, that election will take place sometime this spring, although it strikes me that it would have been more ideal for Wisconsin Democrats to get it to coincide with the November General Election to try to boost Democratic turnout in what everyone expects will be a swing state in the Presidential election.
At some point, the Democrats will have to focus on a candidate to oppose Walker. There's been some talk that either former Senator Russ Feingold or former Congressman David Obey would make the run, but neither man has confirmed their interest in doing so. If it isn't them, then the Democrats will have to have  to scheduled a primary to select a candidate. As for the recall itself, it's hard to say how that will turn out and the signature drive doesn't necessarily tell us anything. The effort to recall State Senators largely ended being a bust when Democrats failed to capture the Senate, and there have been signs in recent months that the initial public ardor behind the recall has faded. If that remains the case going into the spring, this whole thing could fizzle out very quickly.