Republican Senator Calls For Hearings And A Vote On Merrick Garland Nomination
A crack in the wall.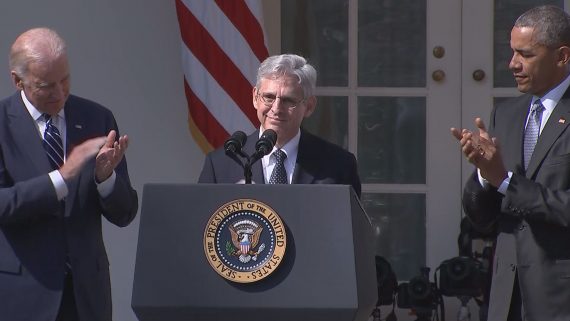 Republican Senator Mark Kirk, who already faces a tough re-election fight in Illinois, has become the first Republican Senator to deviate from the GOP's "No Hearings, No Votes" position on the nomination of Judge Merrick Garland to the Supreme Court:
Sen. Mark Kirk of Illinois on Friday became the first Republican senator to call for an up-or-down vote on Supreme Court nominee Merrick Garland, saying on a Chicago radio show that his colleagues ought to "just man up and cast a vote."

That Kirk would be first to break with Senate Majority Leader Mitch McConnell (R-Ky.) and other GOP colleagues, who believe the next president should pick the replacement for Justice Antonin Scalia, is not particularly surprising: Kirk was already one of two Republican senators, with Susan Collins of Maine, to call for hearings.

Kirk faces what is perhaps the most difficult Senate reelection race in the nation — running during a presidential election year as a Republican in a state that hasn't voted for a Republican president since George H.W. Bush in 1988. He is pitted against Rep. Tammy Duckworth (D), who has already sought to tie Kirk to national Republicans, including GOP presidential front-runner Donald Trump.

Further complicating matters for Kirk is that Garland grew up in Illinois, in a Chicago suburb only a few miles from the border of the congressional district Kirk used to represent.

Kirk, speaking Friday morning on WLS-AM, said that the Senate "should go through the process the Constitution has already laid out" but that he did not see McConnell relenting before the election.

"I think given Mitch's view, I don't see his view changing too much," Kirk said. "Eventually we will have an election, and we will have a new president, and the new president will come forward with a nomination."

Among Senate Republicans, only Kirk and Collins have said they favor holding hearings on Garland's nomination. Several others have said they would grant a courtesy meeting but only to inform Garland of their position against taking up his nomination.

Kirk, who said he admired Scalia's approach to the law, did not indicate he had decided he would vote for Garland. He said he would question the appeals court judge on whether "the Constitution is a total living document that can change quite a bit."

"Make sure the words mean the words," Kirk said, explaining his views. "When it says freedom of speech, we should have freedom of speech — make sure the Constitution is something laid out in stone and so the common language of the words is what we understand them to be."

Kirk's comments come three days before Democratic activists plan a nationwide "Day of Action" to protest Republican senators who are opposed to taking up Garland's nomination.
As noted,Kirk's announcement comes mere days after Maine Senator Susan Collins called for the Senate to follow "regular order" in dealing with Garland's nomination and at least hold Judiciary Committee Hearings considering his nomination. In both cases, the fact that we're seeing deviations from the GOP Caucus's orthodoxy is not entirely surprising. Collins has long been viewed as one of the most moderate members of the Republican caucus, and has been rumored several times over the past year planning to run for Governor of Maine when the second term of Governor Paul LePage is set to end. In that context, and given the politics of Maine, disagreeing with the Republican caucus in the Senate on an issue like this could end up inuring to her benefit. Similarly, Mark Kirk has also been known as one of the more moderate members of the Senate GOP caucus and, more importantly, is among those Senators elected for the first time in 2010 in states that President Obama won in 2008 and 2012 up for re-election this year. Democrats trying to pressure the GOP into moving forward on the Garland nomination have made no secret of the fact that they intend to pressure Senators in Kirk's position as part of that strategy. This is a group that includes not only Kirk, but also Sen. Ron Johnson of Wisconsin, Sen. Rob Portman of Ohio, Sen Pat Toomey of Pennsylvania, and Sen. Kelly Ayotte of New Hampshire. Also implicated in this group of Senate seat is the seat currently held by Marco Rubio, who is not running for re-election, although it's unclear that any real political pressure could persuade Rubio to change his position on this issue since he doesn't have to worry about facing voters in either a primary or caucus.
Realistically speaking, of course, even if Democrats manage to get all of these vulnerable Senators to deviate from the party line on the issue of hearings and a vote for Judge Garland it's unlikely to actually change anything. The majority of Republican Senators are, including most of those up for re-election in 2016, are in safe enough position electorally that it's unlikely they're going to change their minds any time soon. Moreover, the decision on how to proceed with the decision ultimately lies with Senator Chuck Grassley, who as Chairman of the Judiciary Committee controls whether or not there will be hearings and how such hearings will be conducted, and Senator Majority Leader Mitch McConnell, who controls the Senate floor calendar. Unless and until either or both of those men changes their mind, Judge Garland's nomination will remain in limbo. Some Democrats seem to think that Senator Grassley could be persuaded to change his mind given that he is up for re-election this year, but Grassley is so immensely popular in his native Iowa that he does not realistically have much to worry about when it comes to a re-election bid, and it seems unlikely that Iowans are going to turn against him over an issue like this.
There may be a scenario under which Senate Republicans could be persuaded to act on Garland's nomination, but it seems like something of a long shot. If the current efforts to stop Donald Trump fail to block him from winning the Republican nomination, then many Republican Senators may decide that it's better to take up the nominee that President Obama has offered rather than taking the risk that a President Hillary Clinton could nominate someone to the left of Garland, or that a President Trump could do something entirely unexpected with a Supreme Court nomination. In the same vein, Republicans could also wait until after the General Election and take up the nomination during the lame duck session in December. For the time being, though, it's unlikely we'll see any movement regardless of how many Republicans join Mark Kirk in deviating from the party line.