President Obama Selects Judge Merrick Garland To Fill Supreme Court Vacancy
President Obama has selected his nominee to fill the vacancy on the Supreme Court, now the question is whether the Senate will act.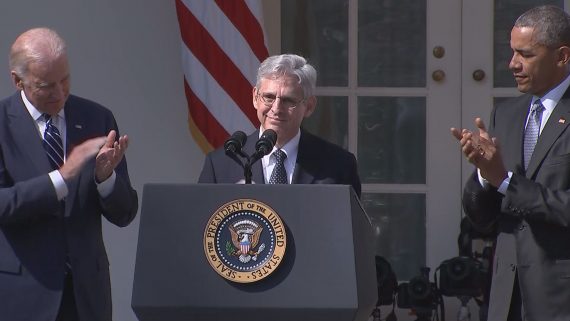 President Obama has nominated Chief Judge Merrick Garland of the U.S. Court Of Appeals For The District of Columbia Circuit as his nominee to fill the vacancy created by the death last month of Associate Justice Antonin Scalia:
WASHINGTON — President Obama on Wednesday said he would nominate Merrick B. Garland as the nation's 113th Supreme Court justice, choosing a centrist appeals court judge for the lifetime appointment and daring Republican senators to refuse consideration of a jurist who is highly regarded throughout Washington.

Mr. Obama introduced Judge Garland to an audience of his family members, activists, and White House staff in the Rose Garden Wednesday morning, describing him as exceptionally qualified to serve on the Supreme Court in the seat vacated by the death of Justice Antonin Scalia, who died in February.

The president said Judge Garland is "widely recognized not only as one of America's sharpest legal minds, but someone who brings to his work a spirit of decency, modesty, integrity, even-handedness and excellence. These qualities and his long commitment to public service have earned him the respect and admiration from leaders from both sides of the aisle."

He added that Judge Garland "will ultimately bring that same character to bear on the Supreme Court, an institution on which he is uniquely prepared to serve immediately."

Mr. Obama said it is tempting to make the confirmation process "an extension of our divided politics." But he warned that "to go down that path would be wrong."

Mr. Obama demanded a fair hearing for Judge Garland and said that refusing to even consider his nomination would provoke "an endless cycle of more tit for tat" that would undermine the democratic process for years to come.

"I simply ask Republicans in the Senate to give him a fair hearing, and then an up-or-down vote," Mr. Obama said. "If you don't, then it will not only be an abdication of the Senate's constitutional duty, it will indicate a process for nominating and confirming judges that is beyond repair."

But shortly after the ceremony, Senator Mitch McConnell, the majority leader, took to the Senate floor to reiterate his position that the nomination process should be blocked.

"The American people may well elect a president who decides to nominate Judge Garland for Senate consideration," Mr. McConnell said. "The next president may also nominate someone very different. Either way, our view is this: Give the people a voice in the filling of this vacancy."

In brief remarks in the Rose Garden, Judge Garland emotionally described his legal career as a prosecutor and a judge, saying that "fidelity to the Constitution and the law have been the cornerstone of my professional life." He said that if the Senate confirmed him, he promised to "continue on that course."

At the end of the Rose Garden ceremony — which took place during idyllic weather on an unusually warm mid-March day with the garden's Tulip Magnolia trees covered in pink blossoms — much of the Senate's Democratic leadership warmly greeted Lynn Garland, Judge Garland's wife, and one of their daughters in something akin to a receiving line.

Ms. Garland was beaming throughout the greetings, hugging some of the most powerful people in the country. As the granddaughter of a presidential counsel, Ms. Garland is well known among this city's elite.

In answer to a shouted question regarding her husband's nomination, Ms. Garland shyly smiled but said nothing to reporters.

In choosing Judge Garland, a well-known moderate who has drawn bipartisan support over decades, Mr. Obama was essentially daring Republicans to press their election-year confirmation fight over a judge many of them have publicly praised and who would be difficult for them to reject, particularly if a Democrat were to win the November presidential election and they faced the prospect of a more liberal nominee in 2017.

Judge Garland persevered through a lengthy political battle in the mid-1990s that delayed his own confirmation to the United States Court of Appeals for the District of Columbia Circuit by more than a year. Senator Charles E. Grassley, Republican of Iowa, argued at the time that the vacancy should not be filled.

Twenty years later, Mr. Grassley and other Republicans are again standing in the way of Judge Garland's appointment, arguing that the next president should be the one to pick the successor to Justice Scalia. Republicans in the Senate and on the presidential campaign trail vowed to stand firm against whomever Mr. Obama chose.

In remarks Monday, Mr. Obama chastised Republicans for taking that stand, demanding that the Republican-controlled Senate fulfill its responsibility to consider Judge Garland and hold a timely vote on his nomination. Do do anything else would be irresponsible, he said.
From his resume, Judge Garland would seem to be more than qualified for the position of Supreme Court Justice. A Chicago native who worked his way through Harvard University and Law School, Garland clerked for two Federal Judges, including the well-regarded late Second Circuit Court of Appeals Judge Henry Friendly and Supreme Court Justice William Brennan, before taking a job at one of Washington, D.C.'s most prestigious law firms where he rose up the ranks fairly quickly In the 1990s, though, Garland left private practice to work at the Justice Department where he was involved in a number of violent crime and drug cases, including the drug prosecution of former Washington, D.C. Mayor Marion Barry and, most notably, serving as the lead prosecutor in the investigation and prosecution of the bombing of the Murrah Federal Building in 1995. Shortly after that, he was nominated to a position on the Court of Appeals for the District of Columbia Circuit and, after a rather long delay rooted not in any question about Garland's qualifications but in the question of whether there needed to be a twelfth seat on the Court of Appeals, confirmed to that position in a Senate vote of  76-23 in 1997 in which he received the support of a majority of both the Democratic and Republican caucuses in the Senate. Since then, Garland's reputation on the Court has been one for which he has garnered respect from across the legal profession, and, when he was among the names considered the last two times President Obama had the opportunity to name someone to the Supreme Court, Republicans indicated he was a candidate that could likely be easily confirmed.
As for Garland's judicial philosophy, Tom Goldstein of SCOTUSBlog summarized the highlights of Garland's rulings as a Court of Appeals Judge as of 2010 when he was on the President's "short list" to fill the seat being vacated by the retirement of Justice John Paul Stevens. From that summary, which I recommend to anyone interested and which will hopefully be updated to cover Judge Garland's rulings in the six years that have ensued since the Stevens retirement, the best way to describe Garland is as a moderate liberal Judge who, while he will likely pull the Court to the left simply given the fact that he is replacing Justice Scalia, is arguably more in the tradition of someone like Justice David Souter rather than, say, Justice Ruth Bader Ginsburg in the sense that he is probably more likely to end up being more of a centrist on some issues than Ginsburg and may even end up allying with the Court's conservative Justices on issues such as the powers of law enforcement and related issues, especially as those issues are related to the War On Terror. From Goldstein's review, it doesn't appear that Garland has been called upon to rule on some of the more controversial issues that have come before the Supreme Court in recent years such as the Second Amendment or abortion rights, although it's not surprising that his record on the second issue would be limited given that such issues rarely make their way to the Court of Appeals for the District of Columbia. As a general rule, though, there's nothing in Garland's record of rulings that stands out as controversial from either side of the political aisle.
Despite President Obama's praise of Judge Garland, and despite the fact that Republicans have praised Judge Garland in the past, his nomination faces a tough time before the Senate. It was just Monday, after all, that Senate Republicans reiterated their refusal to consider any nomination from President Obama, and so far the reaction to Judge Garland has been in line with that position:
Senate Republicans are not budging in their refusal to consider President Obama's nominee to the Supreme Court following the president officially naming Merrick Garland to the job.

Senate Majority Leader Mitch McConnell insisted on Wednesday that the Republican choice not to consider Garland — the chief judge of the U.S. Court of Appeals for the District of Columbia Circuit — was nothing personal.

"The American people may well elect a President who decides to nominate Judge Garland for Senate consideration. The next president may also nominate someone very different," McConnell (R-Ky.) said on Wednesday. "Either way, our view is this: Give the people a voice in the filling of this vacancy."

House Speaker Paul D. Ryan (R-Wis.) said he fully supports that stand. "We should let the American people decide the direction of the court," he said in a statement Wednesday.

In the immediate aftermath of Garland's nomination on Wednesday morning, McConnell's GOP troops were toeing the same line. Moderate Republican senators who are up for reelection in swing states this November said that the choice of Garland did not shift their thinking about not holding confirmation hearings for the judge.

"I continue to believe the Senate should not move forward with the confirmation process until the people have spoken by electing a new president," Sen. Kelly Ayotte (R-N.H.) said in a statement.

"After the election, I look forward to considering the nominee of our new president," Sen. Rob Portman (R-Ohio) said in a statement. "Whether the American people elect a Republican or a Democrat, I will judge his or her nominee on the merits, as I always have."

The hardline Republican stance has sparked a passionate outcry from Democrats, who have accused Republicans of shirking their constitutional duty to consider the president's nominee. Democrats are expected to make the Supreme Court nomination an issue for individual Republican senators on the campaign trail. Administration officials hope that if vulnerable Republican senators face enough pressure, they may try to force leaders to reconsider their resistance.

Senate Democrats are counting an early political victory in the fact that there are about a half dozen Republicans who haven't completely ruled out meeting with Garland and considering his nomination, according to various reports. That list includes Sens. Susan Collins (Maine), Jeff Flake (Ariz.), James Inhofe (Okla.), Mark Kirk (Ill.), Ayotte and Portman.

"The ice is cracking. It's going to crack further," Sen. Chuck Schumer (D-N.Y.) told reporters.

Flake told reporters on Wednesday that he would meet with Garland because "I think that's my responsibility," adding that he "would certainly prefer a pick like Garland, rather than someone Hillary Clinton might put up" if she wins the election.

Democrats also stressed that Republicans should be happy with a moderate nominee like Garland – and some Senate Republicans suspect Obama selected him over someone younger or more liberal contenders to try to pressure Republicans to move his nomination.

"I think he was really trying to pick somebody that he thought at least some Senate Republicans would accept right now," said Sen. Orrin Hatch (R-Utah), a member of the Judiciary Committee, who was one of the few Republicans in Congress to vote for Garland when he was nominated to serve on the D.C. Circuit Court of Appeals.

But the current environment is too "toxic" and "politicized," Hatch said, to consider confirming any Supreme Court nominee before the next administration.

"It isn't the person – Judge Garland's a good man," Hatch said, adding that he has "respect" for Garland and "fought for him" back in 1997. "But this is different."
It's arguably the case that the President has selected Judge Garland as part of an effort to back the GOP into a corner on its "No Hearings, No Votes" position and put the maximum amount of political pressure on them. In addition to the fact that several sitting Senators have said in the past that Garland would be a good Supreme Court nominee, the Administration can point to the fact that the Senate has previously considered Garland for a judicial position and that he was overwhelmingly approved by a Republican-controlled Senate. Indeed, one can make the case that if it were not for the fiscal issues that surrounded his appointment that had nothing to do with his qualifications he probably would have been confirmed unanimously. As Philip Bump notes, though, the Senate that approved Garland back in 1997 is very different from the one that exists today and there are only seven Senators left who voted on Garland's confirmation nineteen years ago, so that's hardly a good argument for why the Senate should consider him this time. Additionally, as I've noted in the past, the pressure from Republicans for the Senate to adhere to the "No Hearings, No Votes" is quite high and likely to remain that way. Given all of that, at least in the short term, one expects that while some Senators will meet with Garland there will likely be no action taken on his nomination. The only thing that may change that is if Republicans determine that what's likely to come from the next President in terms of a replacement nominee could be worse from a Republican point of view. In that case, you just might see Garland confirmed during the lame duck session of Congress after the election, but even that seems unlikely at this point.