Trump's Supreme Court Short List
President Trump's short list of potential Supreme Court nominees consists mostly of conventionally conservative, well-qualified, jurists.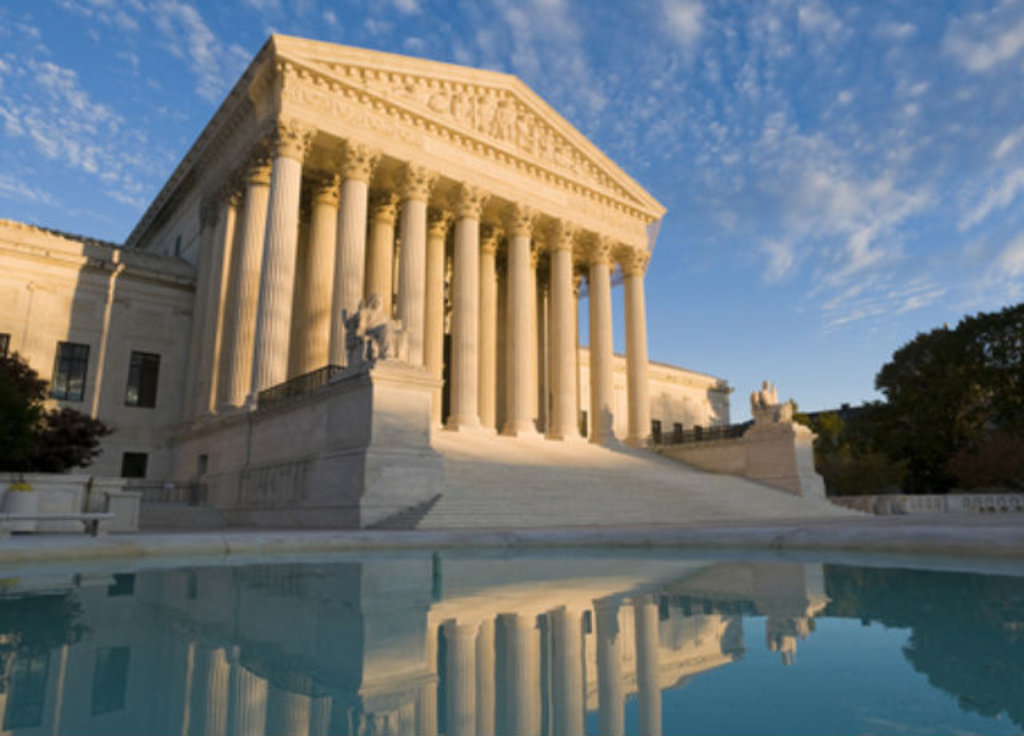 With Justice Anthony Kennedy's retirement now official and the White House hoping to select a nominee in a relatively short period of time, attention is turning to who that person could be. For its part, the White House is saying that, as was the case with Justice Neil Gorsuch, that the person selected is likely to come from the same list that the White House first released during the 2016 campaign and later updated with additional names. The New York Times profiles some of the perceived frontrunners:
Thomas M. Hardiman, United States Court of Appeals for the Third Circuit

President Trump considered Judge Hardiman last year for the seat that was ultimately filled by Justice Neil M. Gorsuch. Judge Hardiman was first appointed to the federal bench by President George W. Bush in 2003 and was elevated to the appeals court four years later. He has built a reputation as a reliable conservative on the court, where he has served alongside Mr. Trump's sister, Judge Maryanne Trump Barry, who is said to have recommended Mr. Hardiman for the Supreme Court vacancy last year. One opinion that could resonate with Mr. Trump: Judge Hardiman signed on to a decision declaring that asylum seekers could not ask a Federal District Court to prevent or postpone their deportation while challenging their removal orders.
As noted, Judge Hardiman was appointed to the U.S. District Court for the Western District of Pennsylvania in 2003 and elevated to the Third Circuit Court of Appeals in 2007. He received his undergraduate degree from Notre Dame and his Juris Doctor degree from Georgetown University Law School, so his selection would be a break from the near monopoly that the Ivy League has had over the nation's highest Court over the past twenty years or so, although it's worth noting the Georgetown is still a top-rated Law School. After graduation Hardiman worked for several years at one of the top law firms in Washington before moving to Pittsburg, where he was a partner in the local offices of two top nationwide firms before being named to the Federal bench.
Since becoming a Judge, Hardiman has ruled on a number of issues including criminal law and procedure, the Second Amendment, the First Amendment, and immigration. Of the cases that I have been able to find, his rulings definitely fall within the conservative orbit but there does not appear to be any single ruling that stands out as egregiously radical. Additionally, it's worth noting that Hardiman was one of the names on the President's short list last year prior to picking Justice Gorsuch to succeed Antonin Scalia. This could prove to be advantageous for him since it would mean that he has already been thoroughly vetted by the White House Counsel's Office and reportedly met the President as part of the process that ultimately led to Gorsuch's selection.
William H. Pryor Jr., United States Court of Appeals for the 11th Circuit

Judge Pryor was viewed as a finalist for last year's vacant seat on the court. He has called Roe v. Wade, the 1973 Supreme Court decision that established a woman's constitutional right to have an abortion, as "the worst abomination of constitutional law in our history." He is close with Attorney General Jeff Sessions and, like Mr. Sessions, is an outspoken conservative who has strongly opposed gay rights.
Judge Pryor was also among the finalists for President Trump last year so he's also likely been vetted by the White House, but there are several caveats that could preclude the President from picking him if the White House is looking at limiting the odds of Republican defectors on a final vote while also wrangling the support of red-state Democrats who are up for re-election. As The Washington Post noted at the time President Trump was pondering his selection to replace Scalia, Pryor is without question the most controversial of the potential nominees on Trump's list. To a large extent, this is due to his past comments about abortion in general and the Roe v. Wade decision in particular, rhetoric that could pose problems for Senators such as Susan Collins and Lisa Murkowski, as well as any potential Democrats who may be candidates to cross the aisle. Many of these issues came to the forefront when President George W. Bush nominated Pryor to fill a vacancy on the Eleventh Circuit and resulted in him being confirmed by a largely party-line vote, which is atypical for lower court nominees. At the same time, the fact that Republicans only need a simple majority to confirm a nominee could encourage the President to go out on a limb and pick Pryor.
Pryor is a graduate of Northeast Louisiana University and Tulane University's Law School. After law school, he served as a law clerk for Judge Minor Wisdom on the Eleventh Circuit Court of Appeals before going into private practice for a number of years. He also served as a profession at Cumberland School of Law in Birmingham, Alabama. Since becoming a Judge he was served as both a visiting Professor at University of Alabama School of Law and an adjunct Professor at Cumberland. Before becoming a Judge, Pryor served as Deputy Attorney General of Alabama before becoming Attorney General in 1997. During his time in that office, Pryor came to national attention when he was among those calling on then Alabama Supreme Court Justice Roy Moore to step down over his refusal to comply with Federal Court Orders to remove a Ten Commandments monument from the grounds of the State Supreme Court. He also aroused controversy over his refusal to reopen the case of Anthony Ray Hinton, an African-American man whose murder conviction was later overturned by a Federal Court due to ineffective assistance of counsel.
After being confirmed, Judge Pryor was named by President Barack Obama to the United States Sentencing Commission, due in no small part to his experience dealing with sentencing issues at the state level in Alabama. During his time on the bench, Pryor has issued opinions on a wide variety of issues. As expected, he generally falls within the conservative orbit but, like Judge Hardiman, it doesn't appear that he's authored anything egregiously radical. That being said, Judge Pryor would likely be the most controversial pick that Trump could make for the reasons stated above.
Amul R. Thapar, United States Court of Appeals for the Sixth Circuit

Judge Thapar was confirmed to the appeals court last year and previously served as a judge on the Federal District Court in eastern Kentucky. The son of Indian-American immigrants, the White House said he was the first federal court judge of South Asian descent. Judge Thapar was among those considered by Mr. Trump for last year's Supreme Court vacancy. "I'm my own judge and I hope my track record speaks to that," he told senators last year
Judge Thapar is a graduate of Boston College as an undergraduate and the University of California at Berkley Law School. After law school, Thapar served as law clerk for Judge S. Arthur Spiegel of the U.S. District Court for the Southern District of Ohio and Judge Nathaniel Jones of the Court of Appeals for the Sixth Circuit. After his law clerk service, Thapar worked at one of the top law firms in Washington, D.C. before being named a Deputy U.S. Attorney for Washington D.C. and, ultimately, United States Attorney for the Eastern District of Kentucky before being appointed to the U.S. District Court for the Eastern District of Kentucky by President George W. Bush in 2007 and then elevated to the Court of Appeals for the Sixth Circuit last year by President Trump.
During his time on the bench, Thapar has issued a number of notable rulings, most of them coming in his time as a District Court Judge since he has only been on the Court of Appeals for a short period of time. For the most part, Judge Thapar appears to be a relatively conventional conservative jurist with a few notable cases under his belt. It's also worth noting that, both times he was up for nomination before the Senate, Thapar was named
"Well Qualified" by the American Bar Association and he was confirmed overwhelmingly by the Senate. If selected, Thapar would be the first person of Indian-American descent on the Supreme Court.
Brett M. Kavanaugh, United States Court of Appeals for the District of Columbia Circuit

Even before Justice Gorsuch was confirmed, White House officials were already signaling their interest in Judge Kavanaugh for a future opening on the Supreme Court, should it occur. Mr. Trump did not include Judge Kavanaugh on his original list of potential nominees, but added him to a revised list released last fall. A former prosecutor under the independent counsel Kenneth W. Starr, Judge Kavanaugh was appointed to the court by President George W. Bush in 2006 and had a difficult road to confirmation. As a White House adviser, he helped Mr. Bush fill the nation's courts with conservatives. "Mr. Kavanaugh would probably win first prize as the hard right's political lawyer," Senator Chuck Schumer, Democrat of New York, said at the time.
As with Judge Hardiman, Judge Kavanaugh was among those on the final shortlist last year to fill Justice Scalia's old seat, so this is another case where vetting would be relatively straightforward. He received both his Bachelor of Arts and Juris Doctor degrees from Yale University, so he would fit right in with the near-universal Ivy League Supreme Court we currently have. After law school, Kavanaugh clerked for two Circuit Court Judges — Alex Kozinski a now-retired Judge on the Ninth Circuit and Walter Stapleton on the Third Circuit — as well as clerking for Justice Anthony Kennedy. Were he selected and confirmed, he would be the second Kennedy law clerk on the Supreme Court alongside Justice Gorsuch. After graduation, Kavanaugh worked for one of the top firms in Washington and, perhaps most controversially, for Whitewater Independent Counsel Ken Starr during the Whitewater investigation. During that time, he apparently spent most of his time working on the constitutional aspects of the Clinton-Lewinsky affair that ultimately led to President Clinton's impeachment by the House of Representatives.
For three years in the early 2000s, Kavanaugh served as the Staff Secretary for President George W. Bush, a position just below the Chief of Staff's office before being named and confirmed to the Court of Appeals for the D.C. Circuit, perhaps the most important of the Circuit Courts due to the fact that it deals primarily with cases involving Federal agencies. During his time as a Judge, Kavanaugh has had a number of notable opinions, including one in which he dissented from the dismissal of a challenge to the Affordable Care Act. For the most part, though, his record appears to be conventionally conservative with relatively few controversial opinions that could pose a problem at confirmation.
Joan L. Larsen, United States Court of Appeals for the Sixth Circuit

A former Michigan state Supreme Court justice, Judge Larsen was confirmed last year to the federal bench. During her confirmation process, she was criticized by civil rights groups for her past rulings and writings on gay rights. Judge Larsen clerked for former Justice Antonin Scalia and has praised his by-the-letter reading of the Constitution and the law. A former law professor at the University of Michigan, Judge Larsen said at her confirmation hearing last year that she would be an independent-minded jurist. "If someone believes I've passed some litmus test, I honestly don't know how they came to that conclusion," she said.
Judge Lasen is one of two women on the Administration's short list, and one of the few on any of the lists to have judicial experience outside the Federal Judiciary. She graduated from the University of Northern Iowa and Northeastern University Law School after which she served as a law clerk for Judge David Sentelle of the Circuit Court of Appeals for the D.C. Circuit and for Justice Anontin Scalia at the Supreme Court level. Larsen also served as Deputy Assistant Attorney General in the George W. Bush Administration. In 2015, she was appointed to the Supreme Court of Michigan where she served until November of last year when she took a seat on the Circuit Court of Appeals for the Sixth Circuit after being appointed by President Trump.
Amy Coney Barrett, United States Court of Appeals for the Seventh Circuit

Judge Barrett became something of a hero to religious conservatives last year when Senator Dianne Feinstein, Democrat of California, questioned what influence the jurist's Roman Catholic faith would have on her rulings from the bench. She was questioned in particular about a 1998 article in which she argued that Catholic judges should sometimes recuse themselves from sentencing in death penalty cases. At her confirmation hearing, she backed away from that position. A former law clerk to Justice Scalia, she served for 15 years as a law professor at the University of Notre Dame.
Judge Barrett graduated from Rhodes College in Memphis, Tennessee and from Notre Dame's Law School after which she eventually became a Law Professor at Notre Dame before being named to the Seventh Circuit. Her judicial record is rather thin given the fact that she has only been on the bench since November, but as noted above she has a long record of academic writing that would likely become an issue were she selected by the President.
All of the above-mentioned nominees are either in their 50s or, with the exception of Judge Thapar, Judge Larsen, and Judge Barrett all of whom are in their late 40s. Of those, Judge Barrett is the youngest at just 46 years old. This means that anyone of these Judges would likely be on the bench for the next 25 to 30 years at the very least unless they chose to step aside earlier. In addition to these names, it's possible that Trump could select one of the people on the longer list released by the White House, all of whom seem to be within the same generally conservative judicial orbit. That being said, they all also appear to be highly qualified, although some of them, such as Hardiman and Kavanaugh, seem to have more substantial records than the others. In any case, one of these people is likely to be the person Trump names.