Trump To Name Supreme Court Nominee Tomorrow Evening
President Trump will name his first Supreme Court pick on his 11th day in office.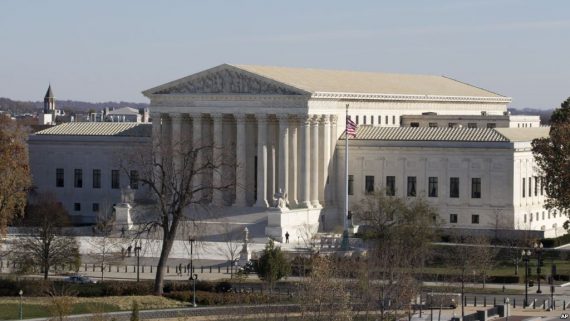 President Trump said this morning that he will announce his Supreme Court pick tomorrow at 8pm:
President Donald Trump tweeted that he will reveal his choice to fill the vacant seat on the Supreme Court in an announcement Tuesday night.

"I have made my decision on who I will nominate for The United States Supreme Court. It will be announced live on Tuesday at 8:00 P.M. (W.H.)," the President tweeted.

After the death of late Justice Antonin Scalia, President Barack Obama nominated Merrick Garland, but the Republican majority prevented his confirmation. This move maintained the vacancy on the court — leaving a space open for Trump to make his pick.
Initial reports at the end of last week indicated that the Administration had scheduled the announcement for this coming Thursday, but there were suggestions as early as last night that the announcement would be moved up to earlier in the week in part in an effort to get beyond the bad press over the weekend regarding Trump's Executive Order on immigration and travel from several majority Muslim nations. The time itself is somewhat unusual in that it has been the case in the past that announcements like this usually take place during the business day and are usually timed to take advantage of the news cycle. The fact that this is being pushed to the end of the news day, and what would be rush hour on the West Coast, is unusual and could be a sign that the choice will be controversial. More likely, though, the time was chosen because it is prime time on the East Coast and in the Central time zone.
In any case, as I noted last week, the choice appears to have narrowed itself down to three Judges currently sitting on Federal Circuit Courts of Appeal around the country,  specifically  Judge Neil Gorsuch from the 10th Circuit, Judge Thomas Hardiman from the 10th Circuit and Judge Bill Pryor from the 11th Circuit. Of these three, Pryor would clearly prove to be the most controversial and the one that Senate Democrats would likely mount the strongest fight against. When Pryor was first selected as a Circuit Court Judge by President George W. Bush in 2003, Democrats were able to use the filibuster and other Senate maneuvers to block his nomination based largely on the opposition of civil rights groups who objected to Pryor's rulings as a Federal Magistrate Judge in two civil rights cases as well as the fact that he had filed an amicus brief supporting the State of Texas in Lawrence v. Texas while serving as Attorney General of Alabama. Pryor's nomination ended up being withdrawn but a year later Pryor made it onto the 11th Circuit as a recess appointment on the part of President Bush. When it came time for the Senate to confirm Pryor, Democrats again blocked his appointment until a deal was reached after threats from the GOP majority that they could move to restrict the filibuster for judicial appointments. In the intervening dozen years, Pryor has written opinions in a number of high-profile cases coming out of the 11th Circuit.
Judge Gorsuch has had a much less bumpy career than Pryor. After law school, he worked as a law clerk for Judge David Sentelle on the D.C. Circuit Court of Appeals and for Justices Byron White and Anthony Kennedy in the early 1990s. From there he became an associate and later partner at a top Washington, D.C. law firm before serving in the Justice Department under President George W. Bush. He was nominated for the 10th Circuit Court of appeals in 2006 and confirmed in a voice vote after receiving no significant opposition in the Senate. In the ten years that have followed, Gorsuch has authored numerous opinions that reveal a judicial philosophy that is, obviously, on the conservative side of the bench but seemingly not extremely so. This would seem to indicate that picking him would be deemed to be relatively non-controversial, which could be a point in his favor.
Finally, Judge Hardiman attended Notre Dame as an undergraduate and Georgetown for law school after which he spent the better part of the 90s working at one of the top law firms in Washington, D.C. He was first named as a Federal District Court Judge for the Western District of Pennsylvania by President George W. Bush in 2003 and easily confirmed by voice vote. In 2006, he was nominated to the Third Circuit Court of Appeals and, again, confirmed by the Senate in a unanimous vote in early 2007. Since then, Hardiman has issued a number of opinions that also place him on the right side of the spectrum, but not radically so. In one of his most recent high-profile decisions, he dissented from a three-judge panel decision that upheld a New Jersey law requiring a person wishing to own a gun to show "justifiable need" to receive a license to carry a handgun. In another, he dissented from a case in which the Third Circuit panel had found that a school district violated the First Amendment when it barred a district's effort to prevent students from wearing bracelets that said "I ♥ boobies" as part of a campaign in favor of breast cancer screenings. These could be indications of where he'd land on Second and First Amendment issues as a Supreme Court Justice.
Of course, it is entirely possible that Trump could end up picking someone else entirely, so we should wait until Tuesday night to comment in detail on any selection. In any case, as I've said before, this selection will have little actual impact on the direction of the Supreme Court going forward since whoever is ultimately confirmed will simply take Justice Scalia's place among the Supreme Court's conservatives. Because of that, it's probable that the coming confirmation battle won't be quite as grueling as it likely would be if the nomination in question were filling the seat(s) currently held by Justice Kennedy, Justice Ginsburg, or Justice Breyer, any one (or more) of whom could end up leaving the Court before the 2020 election. At the very least, though, this selection will give us an indication of where we can expect Trump to go if he gets the opportunity to make another, more consequential, pick in the future.