Trump Names Judge Neil Gorsuch To Supreme Court
With a relatively smooth announcement, Donald Trump has named a solid and qualified conservative who will likely be confirmed to the nation's highest court.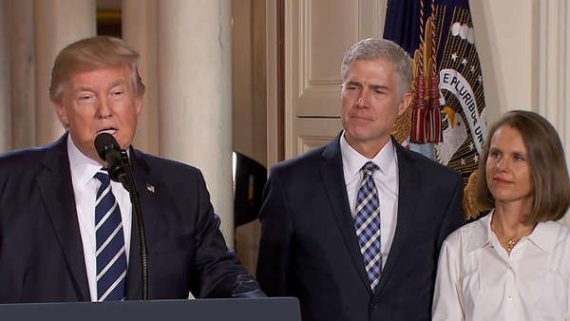 Just eleven days into his term, President Trump made the first of one of the most important appointments a President can make, selecting Judge Neil Gorsuch of the U.S. Court of Appeals for the Tenth Circuit as his choice to succeed the late Antonin Scalia to the Supreme Court:
President Trump on Tuesday nominated Judge Neil M. Gorsuch to the Supreme Court, elevating a conservative in the mold of Justice Antonin Scalia to succeed the late jurist and touching off a brutal, partisan showdown at the start of his presidency over the ideological bent of the nation's highest court.

Mr. Trump announced his selection during a much-anticipated evening ceremony that unfolded in prime time at the White House. He described Judge Gorsuch, a federal appeals court judge based in Denver, as "a man who our country really needs, and needs badly, to ensure the rule of law and the rule of justice."

"Judge Gorsuch has outstanding legal skills, a brilliant mind, tremendous discipline and has earned bipartisan support," Mr. Trump said, standing beside the judge and his wife, Louise, as White House officials and Republican lawmakers looked on. "It is an extraordinary résumé — as good as it gets."

But Democrats — embittered by Republican refusals for nearly a year to consider President Barack Obama's choice to succeed Justice Scalia, and inflamed by Mr. Trump's aggressive moves at the start of his tenure — promised a showdown over Judge Gorsuch's confirmation.

Joined by liberal groups that plotted for weeks to fight Mr. Trump's eventual nominee, leading Democrats signaled they would work to turn the Supreme Court dispute into a referendum on the president, and what they contend is his disregard for legal norms and the Constitution. Conservatives and business groups cheered Judge Gorsuch, calling his record distinguished and his qualifications unparalleled.

The announcement came at a particularly tumultuous moment in an extraordinarily chaotic beginning to Mr. Trump's presidency. Just a day earlier, he dismissed the acting attorney general for refusing to defend his hard-line immigration order that started a furor across the United States over what critics condemned as a visa ban against Muslims.

"Now, more than ever, we need a Supreme Court justice who is independent, eschews ideology, who will preserve our democracy, protect fundamental rights and will stand up to a president who has already shown a willingness to bend the Constitution," Senator Chuck Schumer of New York, the Democratic leader, said in a statement.

"The burden is on Judge Neil Gorsuch to prove himself to be within the legal mainstream and, in this new era, willing to vigorously defend the Constitution from abuses of the executive branch and protect the constitutionally enshrined rights of all Americans," Mr. Schumer said.

He said he would insist that Judge Gorsuch meet the 60-vote threshold needed in the Senate to overcome a filibuster for his confirmation to move forward. That would either require eight Democrats to join the Senate's 52 Republicans to advance the nomination, or force Republicans to escalate a parliamentary showdown — as Mr. Trump has already urged them to do — to change longstanding rules and push through his nominee on a simple majority vote.

Republicans and conservative groups signaled they relished a war over Judge Gorsuch's confirmation.

"I hope members of the Senate will again show him fair consideration and respect the result of the recent election with an up-or-down vote on his nomination, just like the Senate treated the four first-term nominees of Presidents Clinton and Obama," said Senator Mitch McConnell, Republican of Kentucky and the majority leader. He noted that the Senate confirmed Judge Gorsuch without opposition in 2006 to his current seat on the United States Court of Appeals for the 10th Circuit.

Carrie Severino, the chief counsel for the Judicial Crisis Network, a conservative group that immediately started a $10 million campaign to defend Mr. Trump's nominee, said the coalition would mount intensive campaigns in crucial states to "force vulnerable senators to choose between obstructing and keeping their Senate seats."

If confirmed, Judge Gorsuch would become the 113th justice and take a seat held not only by Justice Scalia, but also by Justice Robert H. Jackson, perhaps the finest writer to have served on the court. As an Episcopalian, Judge Gorsuch would be the only Protestant seated among five Catholics and three Jewish jurists.

He would restore the 5-to-4 split between conservatives and liberals on the court, returning the swing vote to Justice Anthony M. Kennedy, whose rulings have fallen on both sides of the political spectrum.

At 49, Judge Gorsuch (pronounced GORE-sutch) is the youngest nominee to the Supreme Court in 25 years, underscoring his potential to shape major decisions for decades to come. In choosing him, Mr. Trump reached for a reliably conservative figure in Justice Scalia's mold, but not someone known to be divisive.
From The Washington Post
Gorsuch is seen as a less bombastic version of Scalia and would seem destined to be a solidly conservative vote on the ideologically split court. But friends and supporters describe Gorsuch as being more interested in persuasion than Scalia, who was just as likely to go it alone as to compromise.

Gorsuch would be the youngest Supreme Court justice since Clarence Thomas was confirmed in 1991. But Gorsuch has been on the bench for a decade, and at his 2006 investiture ceremony, friends joked that his prematurely gray hair was fitting.

"When Neil came to our firm in 1995 he had gray hair," said one of his law partners, Mark C. Hansen. "In fact, he was born with silver hair, as well as an inexhaustible store of Winston Churchill quotes."

Indeed, Gorsuch came equipped for the ultimate judicial elevation.

There is a family connection to Republican establishment politics, and service in the administration of George W. Bush. There is a glittery Ivy League résumé — Columbia undergrad, Harvard Law — along with a Marshall scholarship to Oxford. There is a partnership at one of Washington's top litigation law firms and a string of successful cases.

There is a Supreme Court clerkship; Gorsuch was hired by Justice Byron White, a fellow Colorado native, who shared him with Justice Anthony M. Kennedy.

Kennedy stood by that day in Denver to administer the judicial oath, and if Gorsuch is confirmed, Kennedy would become the first justice to sit with a former clerk on the Supreme Court's mahogany bench.

But those who know Gorsuch and have studied his decade of solidly conservative opinions on the Court of Appeals say he more resembles the man he would replace — the late Justice Scalia — than the more moderate Kennedy.

Like Scalia, Gorsuch is a proponent of originalism — meaning that judges should attempt to interpret the words of the Constitution as they were understood at the time they were written — and a textualist who considers only the words of the law being reviewed, not legislators' intent or the consequences of the decision.

Critics say that those neutral considerations inevitably lead Gorsuch to conservative outcomes, a criticism that was also leveled at Scalia.

Gorsuch would like to curb the deference that courts give to federal agencies and is most noted for a strong defense of religious liberty in cases brought by private companies and religious nonprofit groups objecting to the contraceptive mandate in the Affordable Care Act.

Gorsuch said in a speech last spring that as a judge he had tried to follow Scalia's path.

"The great project of Justice Scalia's career was to remind us of the differences between judges and legislators," Gorsuch told an audience at Case Western Reserve University School of Law in Cleveland.

Legislators "may appeal to their own moral convictions and to claims about social utility to reshape the law as they think it should be in the future," Gorsuch said. But "judges should do none of these things in a democratic society." Instead, they should use "text, structure and history" to understand what the law is, "not to decide cases based on their own moral convictions or the policy consequences they believe might serve society best."

But those who know him say he lacks Scalia's combustible, combative style.

"He has very strong opinions, but he just treats people well in every context," said Melissa Hart, a University of Colorado law professor. She is a Democrat who clerked for former Justice John Paul Stevens and knows Gorsuch because he has taught judicial ethics, legal writing and antitrust law at the school.

Gorsuch was born in Colorado and lives outside of Boulder with his wife, Louise, whom he met while at Oxford, and two daughters. The nominee is an Episcopalian, and would be the court's only Protestant. There are five Catholic and three Jewish members.

But he spent formative years in Washington and graduated from Georgetown Prep. He witnessed firsthand how difficult Washington politics can be. His mother was Anne Gorsuch Burford, a lawyer and conservative Colorado legislator who was picked by President Ronald Reagan as the first woman to head the Environmental Protection Agency. Her tenure was short and rocky: She clashed with environmentalists and was cited for contempt of Congress in 1982 for refusing to turn over subpoenaed agency documents relating to hazardous waste sites. Although she was following the legal advice of the Justice Department, Burford was forced to resign when the administration gave up the fight. She died in 2004.

After his Supreme Court clerkship, Gorsuch joined the D.C. law firm of Kellogg Huber Hansen Todd Evans & Figel, where he developed a taste for litigation and eventually became a partner. He helped secure what his former partner Hansen said was the largest antitrust award in history and won praise for his courtroom style.

Gorsuch did a short stint as a high-ranking official in the Justice Department and then was nominated to the appeals court by Bush. He sailed through on a voice vote in the full Senate and took his seat on the Denver-based court in August 2006.

Gorsuch is popular with current Supreme Court justices, and his clerks regularly are hired for a term on the high court, not just by conservatives but also by liberals such as Kagan and Justice Sonia Sotomayor.

On the appeals court, Gorsuch has not been called upon to consider two hot-button social issues that may come before the Supreme Court: same-sex marriage and abortion.

After a federal judge in Utah struck down that state's prohibition on same-sex marriage, Gorsuch was not a member of the 10th Circuit that upheld the decision. It was one of the cases that eventually led to the Supreme Court deciding marriage was a fundamental right that could not be denied gay couples.

Likewise, Gorsuch has not ruled on abortion. But activists on both sides of the issue believe they know where he stands. They point to language in his book "The Future of Assisted Suicide and Euthanasia," in which he opines that "all human beings are intrinsically valuable and the intentional taking of human life by private persons is always wrong."

Additionally, his rulings on behalf of those who challenged the Obamacare mandate that employee insurance coverage provide all approved contraceptives seemed instructive. He noted the provision would require the objecting businesses to "underwrite payments for drugs or devices that can have the effect of destroying a fertilized human egg."
As the hours ticked down yesterday to the unusual prime-time announcement of Trump's first Judiciary pick, speculation grew as to who the President had selected for a seat in the highest court in the land. Unlike previous announcements, there were few leaks out of the White House leading up to the time when the announcement was to be made. As the day went by, it became clear that the list had narrowed down to two men, Gorsuch and 3rd Circuit Court Appellate Judge Thomas Hardiman, as well as one late-day announcement by a conservative news site that their sources told them that Gorsuch would be the choice. For the most part, though, the Administration managed to keep Trump's choice secret notwithstanding the fact that the media were making efforts to determine if either Gorsuch or Hardiman had left home or their offices to head to Washington for the evening announcement. Additionally, after ten days in which the Administration stumbled over itself repeatedly in a number of areas, last night's roll-out went off smoothly appears to be on track for approval notwithstanding what seems like inevitable Democratic opposition.
As I noted on Monday, Gorsuch is most assuredly a conservative and, as President Trump said in his introductory remarks last night, appears as though he would be a Justice very much in the mold of the man he would be replacing. Given the outcome of the election, this is hardly surprising, of course, and Gorsuch's nomination doesn't come as much of a surprise given the fact that he was named as one of the potential, nominees that Trump named in the list that he put out during the primary campaign last year. Additionally, there seems to be little doubt that Gorsuch is qualified for the position he has been nominated for. His education includes an undergraduate degree from Columbia University, a law degree from Harvard University, and a Ph.D. in Jurisprudence from Oxford University. As noted above, he clerked for a Judge on the D.C. Circuit of Appeals and two Supreme Court Justices before beginning the early part of his career before being appointed and confirmed for a seat on the Tenth Circuit Court of Appeals in 2006. In his time on that Court, Gorsuch has held to a generally conservative viewpoint on the issues that have come before him, but it doesn't appear from that record that he is radically far to the right or in fact much different from the current conservative wing of the Court or from the Justice he would be replacing. In other words, he is the type of nominee we'd expect from any Republican President and seemingly a very good candidate for the highest Court in the land all other factors considered.
Given the partisan world we live in, and the bitter taste that the Senate GOP's treatment of the Merrick Garand nomination last year, the reaction to Trump's nomination has been about what you'd expect but even with the filibuster for Supreme Court nominees still in place, it seems unlikely that Senate Democrats would be successful if they did try to block Gorsuch's elevation to the high court. Almost as soon as Gorsuch was named and seemingly before Trump and his nominee were even done speaking last night, the reactions from both sides of the political aisle began pouring in. liberal groups were already sending out press releases listing reasons why Gorsuch must be blocked while conservative groups were praising the nomination and pushing for a quick vote so that Gorsuch would be able to join the Court in time to at least to be able to vote in the handful of cases that will be argued during the final weeks of oral argument in April.
The answer to this question, of course, depends on how Senate Democrats ultimately react to the nomination and what course they choose to take on the floor of the Senate. Already, there are some liberal legal commentators, such as Lawyers, Guns, and Money's Scott Lemuix who argue that Democrats should filibuster the nomination both because of Gorsuch's philosophy and essentially as revenge for what happened to former President Obama's selection of Merrick Garand, who was not given either a hearing or a vote by the Senate after he was selected to replace Scalia. Others on the left, on the other hand, argue that it would be mistaken for Democrats to oppose Gorsuch out of hand or to expend political capital in what is likely to be a failed effort to block his ascension to the Supreme Court. Slate's Mark Joseph Stern, for example, argues that while Gorsuch is a conservative he is not radically so and that there are signs in his record that he may actually be 'better' from a liberal point of view than Scalia was, or to put it more precisely, how Scalia was perceived by people on the left. Neal Kaytal, who served in the Obama Justice Department as one of the top attorneys in the office of Solicitor General and, for roughly a year, as Acting Solicitor General, argues that Gorsuch is both highly qualified for the position of Supreme Court Justice and is a Justice that liberals should back rather than opposing reflexively.  George Washington Univerity Law Professor Jonathan Turley, meanwhile, argues that Gorsuch there are several areas where Gorsuch's record indicates that he will be 'perfect' for the position to which he is appointed.
No doubt Senate Democrats will feel pressure from their base to make every effort to block Gorsuch's nomination in the same manner that Republicans blocked Garland, but it's not at all clear that they'll be able to do so. Within hours after the nomination was announced, protesters were already outside the New York home of Senate Minority Leader Chuch Schumer calling on Democrats to block the nomination, and we're likely to see similar protests in the future. In addition to the pressure from the base, though, Democrats also face political reality and the prospect that they could fall further behind in the Senate in the midterms in 2018. As things stand right now, 23 of the 33 Senate seats that will be at risk in that election are held by Democrats. Of those, ten are in states that Donald Trump won in the 2016 election and eight are in states that have voted Republican in Presidential elections for many election cycles, in some cases dating all the way back to the 1968 Presidential election at least. Given that, it's not at all clear that Schumer would be able to keep his caucus united enough for Republicans to get the  60 votes they would need to invoke cloture on the nomination. Additionally, Republicans are leaving open the possibility that they could choose to follow the precedent set by former Senator Harry Reid in November 2013 and eliminate the filibuster for Supreme Court, although it's worth noting that several Republicans have previously expressed doubts about taking that step and McConnell is working with a thin majority that could not withstand more than two defections from the GOP caucus. Personally, I suspect that Democrats will put up a fight but that Gorusch will be ultimately confirmed. The real fight will come if and when President Trump get a chance to replace another Justice, particularly if that Justice is Anthony Kennedy, Ruth Bader Ginsburg, or Stephen Breyer. Unlike replacing Scalia, that would be a pick that would drastically alter the direction of the Court for a generation or longer.
Update: Post updated to include a link from Independent Journal Review's Benny Johnson, who by all accounts was the first journalst to break the news that Gorsuch was the pick.