Trump's First Supreme Court Pick Could Be Days Away
President Trump hinted today that he's likely to name his Supreme Court choice next week, and the list to appears have narrowed to three men.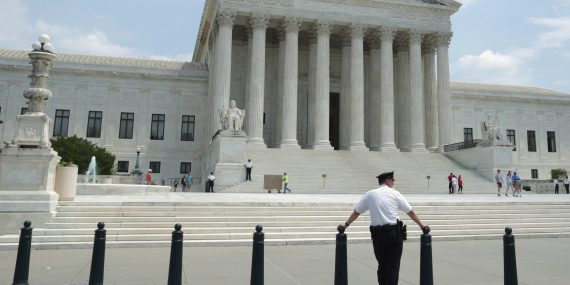 During a media availability in the Oval Office today, President Trump said that he would be announcing his pick to replace Justice Antonin Scalia on the Supreme Court as early as next week, with some reports suggesting that he has narrowed the list down to three judges from Circuit Courts of Appeal around the country:
WASHINGTON — President Trump said on Tuesday that he would name his Supreme Court pick next week, and he was set to meet with congressional leaders to discuss the nomination on Tuesday afternoon.

The two leading contenders for the vacancy created by the death last February of Justice Antonin Scalia are a study in contrasts.

One, Judge William H. Pryor Jr. of the federal appeals court in Atlanta, is a former Alabama attorney general, a graduate of Tulane's law school and an outspoken opponent of abortion and gay rights.

The other, Judge Neil M. Gorsuch of the federal appeals court in Denver, is a graduate of Columbia, Harvard and Oxford University, a former clerk to two Supreme Court justices and a former Justice Department official.

The two were described as among the leading contenders by an administration official who spoke on the condition of anonymity to discuss internal White House planning.

Both men are conservatives, but Judge Gorsuch's credentials, erudition and more muted stances could smooth his confirmation chances.

Democrats remain bitter over the refusal of Republicans to consider President Barack Obama's nomination of Judge Merrick B. Garland, and they say they will mount a furious opposition to any candidate out of the legal mainstream. Senator Chuck Schumer of New York, the minority leader, has said Democrats were prepared to try to keep Justice Scalia's seat open indefinitely if Mr. Trump proposes such a nominee.

Judge Gorsuch, 49, appointed to the appeals court by President George W. Bush in 2006, was not initially thought to be a top contender. His name did not appear on the first list of 11 potential nominees circulated by the Trump campaign in May, though he did make a second list of an additional 10 names issued in September.

Judge Gorsuch's best-known votes came in decisions concerning regulations under the Affordable Care Act requiring employers to provide free contraception coverage. He voted to accommodate religious objections to the regulations, a position largely upheld by the Supreme Court.

In general, Judge Gorsuch's approach to the law mirrors that of Justice Scalia. He is an originalist, meaning he tries to interpret the Constitution consistently with the understanding of those who drafted and adopted it. And he is a textualist, focusing on the language of statutes rather than what lawmakers have had to say about them.

Judge John L. Kane, who was appointed to the Federal District Court in Denver by President Jimmy Carter, said Judge Gorsuch was admired by his fellow judges. "He writes opinions in a unique style that has more verve and vitality than any other judges I study on a regular basis," Judge Kane said.

Judge Kane said Judge Gorsuch had voted both to affirm and to reverse his decisions. "In each instance, I have felt I was clearly understood and properly informed," Judge Kane said. "I think Judge Gorsuch listens well and decides justly. His dissents are instructive rather than vitriolic. In sum, I think he is an excellent judicial craftsman."

Judge Pryor is a protégé of Senator Jeff Sessions, Mr. Trump's nominee for attorney general. When Mr. Sessions was Alabama's attorney general, Mr. Pryor served as his deputy, succeeding him when he joined the Senate.

Representing Alabama, Mr. Pryor in 2003 filed a supporting brief urging the Supreme Court to uphold a Texas law that made gay sex a crime. The position of the gay men challenging the law, Mr. Pryor wrote, "must logically extend to activities like prostitution, adultery, necrophilia, bestiality, possession of child pornography, and even incest and pedophilia."

"The states should not be required to accept, as a matter of constitutional doctrine, that homosexual activity is harmless and does not expose both the individual and the public to deleterious spiritual and physical consequences," Mr. Pryor wrote in the brief.

At his 2003 confirmation hearing, he stood by an earlier statement that Roe v. Wade, the 1973 Supreme Court decision that established a constitutional right to abortion, was "the worst abomination of constitutional law in our history."

"I believe that not only is the case unsupported by the text and structure of the Constitution, but it had led to a morally wrong result," Mr. Pryor told the Senate Judiciary Committee. "It has led to the slaughter of millions of innocent unborn children."
Politico, meanwhile, is reporting that Trump has narrowed his choices for the Supreme Court down to three men:
President Donald Trump has narrowed his first Supreme Court nomination to three finalists, with 10th Circuit judge Neil Gorsuch and 3rd Circuit judge Thomas Hardiman emerging as front-runners while 11th Circuit Judge Bill Pryor remains in the running but fading, according to people familiar with the search process.

Trump interviewed at least those three finalists in New York during the transition, according to a person familiar with the search. Trump himself said Tuesday he would make a selection for the court's empty seat next week and summoned top Senate leaders to the White House to discuss his impending choice to replace Justice Antonin Scalia, who died nearly a year ago.

"The president wants to move as quickly as he can," said Leonard Leo, one of Trump's advisers on the court pick and a top official at the Federalist Society.

Leo declined to discuss Trump's short list, but he praised both Gorsuch and Hardiman effusively.

"Under our Constitution, the power rests with the people, and that was at the core of Justice Scalia's legacy, and you heard from President Trump's inauguration that is the core of Trump's agenda, and that's very much the core of what Neil Gorsuch's record is as a jurist," Leo said. "He's an excellent writer. He's got sharp analytical ability, strong intellect and he's got a lot of strength and courage. Those are things that the president very much wants in a nominee."

"Hardiman," Leo added, "shares many of the same qualities."

Leo went on to say that Hardiman is "an extraordinarily talented and smart jurist" who has "a very direct and understandable writing style."

As Gorsuch's fortunes have risen, Pryor's have dimmed. A 2006 George W. Bush appointee, Pryor is currently the subject of raging debate on an off-the-record group email list that includes many in the conservative legal and political communities, including many Republican Senate staffers, thanks to his decision to join the majority in Glenn v. Brumby, a 2011 opinion that protected transgender people from workplace discrimination.

"I think everybody on this list probably has something I'm not going to agree with. I think that decision with Pryor probably would be the one that would fall into that category," said Carrie Severino, chief counsel and policy director of the Judicial Crisis Network, a conservative legal organization.

John Malcolm, who oversees a legal center inside the Heritage Foundation, acknowledged that "Bill Pryor has been getting attacked from the right. Which is strange to me."

Politically, Pryor's nomination would spark outrage on the left — liberal activists are likely to mobilize around his statement that Roe v. Wade is "the worst abomination of constitutional law" — without fully unifying conservatives.
All three of these nominees are relatively young, with Pryor and Hardiman being in the early 50s and Gorsuch being just 49 years old, so if this is indeed the list that Trump has settled on he could end up appointing someone who will be on the Court until almost the middle of the 21st Century. As I've said before, though, this appointment is not likely to have a huge impact on the Court's ideological balance on the Court and very little is likely to change there in the short term. Whoever Trump appoints will be replacing a Judge appointed by a Republican to replace another Justice who was appointed by a Republican President. Except perhaps in those instances where Justice Scalia's views on how the Constitution and statutes should be interpreted and applied caused him to differ from his fellow conservatives on the Court, times that have sometimes included landmark cases such as the decision which struck down laws against burning the American flag, there is likely to be little difference between the Court with a Justice Gorsuch, Hardiman, or Pryor and the Court with Antonin Scalia. To the extent we can expect a significant battle over the future of the Court, it will come if and when it becomes necessary to replace Justices Ginsburg, Breyer, or Kennedy, a time that could come sooner rather than later given that two of these three Justices (Ginsburg and Kennedy) are over eighty or more years old and Justice Breyer is 78 years old. At that point, the balance on the Supreme Court will most assuredly be on the line in a way that it currently isn't and that will have a significant impact in a whole host of areas.  At this point, speculating on who the nominee might be is an exercise in pure guess work, though.
One interesting point to watch will be to see how Democrats react to whoever Trump ends up nominating. Selecting Pryor, who had a rocky confirmation process when President George W. Bush named him to the 11th Circuit Court of Appeals, will most assuredly become a point of controversy given his record prior to becoming a Judge and the fact that it nearly took a decision by Republicans to eliminate the filibuster in whole or in part to get Senate Democrats to allow his nomination to get to a floor vote. Gorsuch and Hardiman are likely to prove less controversial than Pryor, but we still could see Democrats try to slow the process down if only because of how the Republicans reacted to President Obama's nomination of Merrick Garland and their refusal to hold hearings or a vote on his nomination. At this point, Senate rules still require sixty votes to end any filibuster for Supreme Court nominations so the Democratic minority could pose real roadblocks to any nominee if they chose to. At that point, Republicans may have to decide if they want to take the steps laid out by Harry Reid in November 2013 and eliminate the filibuster for Supreme Court nominees. Right now, though, it's unclear if the votes exist to do this. At the very least, Republicans would need a Senate majority to vote in favor of a motion to change the filibuster rule in this manner and, at the moment it doesn't appear they have that majority. Senators John McCain, Lindsey Graham, and Orrin Hatch have all publicly said that they would oppose such a move and they would likely be joined by a handful of other Republicans at least, including Alaska's Lisa Murkowski and Maine's Susan Collins. Even with just Hatch, McCain, and Graham, though, any effort to invoke the so-called 'nuclear option' for a SOCTUS nomination would likely be unsuccessful and Majority Leader Mitch McConnell does not seem like someone who would mount a battle like that unless he was sure he would win.
All of this means that we could be in for the first real political fight of the Trump Administration. Stay tuned.