Justice Antonin Scalia Dead At 79
Associate Justice Antonin Scalia has died at the age of 79.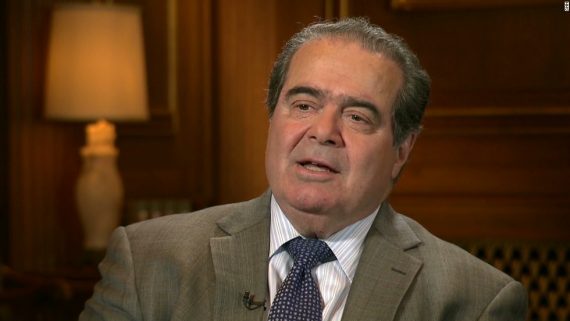 Multiple news agencies are reporting that Associate Justice Antonin Scalia has died, apparently in his sleep of natural causes, at a ranch in Texas:
Associate Justice Antonin Scalia was found dead of apparent natural causes Saturday on a luxury resort in West Texas, federal officials said.

Scalia, 79, was a guest at the Cibolo Creek Ranch, a resort in the Big Bend region south of Marfa.

According to a report, Scalia arrived at the ranch on Friday and attended a private party with about 40 people. When he did not appear for breakfast, a person associated with the ranch went to his room and found a body.

Chief U.S. District Judge Orlando Garcia, of the Western Judicial District of Texas, was notified about the death from the U.S. Marshals Service.

U.S. District Judge Fred Biery said he was among those notified about Scalia's death.

"I was told it was this morning," Biery said of Scalia's death. "It happened on a ranch out near Marfa. As far as the details, I think it's pretty vague right now as to how," he said. "My reaction is it's very unfortunate. It's unfortunate with any death, and politically in the presidential cycle we're in, my educated guess is nothing will happen before the next president is elected."

The U.S. Marshal Service, the Presidio County sheriff and the FBI were involved in the investigation.
Officials with the law enforcement agencies declined to comment.

A federal official who asked not to be named said there was no evidence of foul play and it appeared that Scalia died of natural causes.

A gray Cadillac hearse pulled into the ranch last Saturday afternoon. The hearse came from Alpine Memorial Funeral Home.

Texas Gov. Greg Abbott released a statement Saturday afternoon, calling Scalia a man of God, a patriot and an "unwavering defender of the written Constitution."

"He was the solid rock who turned away so many attempts to depart from and distort the Constitution," Abbott said. "We mourn his passing, and we pray that his successor on the Supreme Court will take his place as a champion for the written Constitution and the Rule of Law. Cecilia and I extend our deepest condolences to his family, and we will keep them in our thoughts and prayers."
From The New York Times:
Justice Antonin Scalia, whose transformative legal theories, vivid writing and outsize personality made him a leader of a conservative intellectual renaissance in his three decades on the Supreme Court, was found dead on Saturday at a resort in West Texas, according to a statement from Chief Justice John G. Roberts, Jr . He was 79.

"He was an extraordinary individual and jurist, admired and treasured by his colleagues," Justice Roberts said. "His passing is a great loss to the Court and the country he so loyally served."

The cause of death was not immediately released.

Justice Scalia began his service on the court as an outsider known for caustic dissents that alienated even potential allies. But his theories, initially viewed as idiosyncratic, gradually took hold, and not only on the right and not only in the courts.

He was, Judge Richard A. Posner wrote in The New Republic in 2011, "the most influential justice of the last quarter century." Justice Scalia was a champion of originalism, the theory of constitutional interpretation that seeks to apply the understanding of those who drafted and ratified the Constitution. In Justice Scalia's hands, originalism generally led to outcomes that pleased political conservatives, but not always. His approach was helpful to criminal defendants in cases involving sentencing and the cross-examination of witnesses.

With the retirement of Justice John Paul Stevens in 2010, Justice Scalia became the longest serving member of the current court. By then, Justice Scalia was routinely writing for the majority in the major cases, including ones on the First Amendment, class actions and arbitration.

He was an exceptional stylist who labored over his opinions and took pleasure in finding precisely the right word or phrase. In dissent, he took no prisoners. The author of a majority opinion could be confident that a Scalia dissent would not overlook any shortcomings.

Justice Scalia wrote for a broader audience than most of his colleagues. His opinions were read by lawyers and civilians for pleasure and instruction.

Justice Scalia's sometimes withering questioning helped transform what had been a sleepy bench when he arrived into one that Chief Justice Roberts has said has become too active, with the justices interrupting the lawyers and each other.
Antonin Gregory Scalia — "Nino" to family, friends and colleagues — was born in Trenton, N.J., on March 11, 1936, and grew up in the New York City borough of Queens. His father, Salvatore, came through Ellis Island at 17; he learned English and became a professor of romance languages at Brooklyn College.

Justice Scalia's mother, the former Catherine Panaro, was a second-generation Italian American and an elementary school teacher. Not only was Nino their only child, he was the only child of his generation on either side of the family.

The whole extended clan doted on him, biographer Joan Biskupic reported in her biography "American Original," and expected achievement. "You're not everybody else," Catherine would say, according to Biskupic. "Your family has standards, and it doesn't matter what the standards of [others] are."

In 1953, he graduated first in his class at St. Francis Xavier, a military prep school in Manhattan, and won a naval ROTC scholarship but was turned down by his first choice of college, Princeton.

A devout Catholic, he attended his second choice, Georgetown University, where he was the valedictorian of the class of 1957. In his graduation speech, he exhorted his fellow students: "If we will not be leaders of a real, a true, a Catholic intellectual life, no one will!"

Justice Scalia then entered Harvard Law School, where he was editor of the law review and graduated magna cum laude in 1960. That same year, he married Maureen McCarthy, a Radcliffe student he'd met on a blind date.

She, too, came from a small family, but they made up for it, with five sons and four daughters and literally dozens of grandchildren.

"We didn't set out to have nine children," Justice Scalia told Lesley Stahl on the CBS show "60 Minutes." "We're just old-fashioned Catholics, playing what used to be known as 'Vatican Roulette.' "

He added that the other four sons were relieved when their brother Paul decided to "take one for the team" and become a priest.

The Scalias moved around. After traveling across Europe for a year while he was a Harvard Sheldon Fellow, the newlyweds moved to Cleveland, where Justice Scalia joined the Jones Day firm in 1961.

On the cusp of becoming partner, he left private practice in 1967 to become a law professor at the University of Virginia in Charlottesville.

In 1971, he became general counsel to the new Office of Telecommunications Policy in the Nixon administration; the agency spurred development of the nascent cable industry. From 1972 to 1974, he was chairman of the Administrative Conference of the United States, followed by three years as assistant attorney general for the Office of Legal Counsel.

After Jimmy Carter, a Democrat, won election to the White House, Justice Scalia returned to academia as a professor at the University of Chicago law school.

Then Reagan came into office in 1981 and the next year nominated Justice Scalia to the influential U.S. Court of Appeals for the District of Columbia Circuit. His name quickly appeared on short lists of potential Supreme Court nominees.

Reagan in 1981 made good on a campaign promise to appoint the court's first woman with his choice of O'Connor, then an Arizona state judge and former legislator. His next chance to leave an imprint came five years later, when Chief Justice Warren Burger announced that he was stepping down.

The president decided to elevate Justice William H. Rehnquist to the chief's job, and Justice Scalia and fellow D.C. Circuit Judge Robert H. Bork became the finalists for the opening. Bork was the more experienced jurist and a conservative icon, but the 50-year-old Scalia was almost a decade younger and brought the added political benefit of being Italian American.

Justice Scalia got the nomination. After a testy Senate battle over Rehnquist's elevation, Justice Scalia sailed through his confirmation hearings and was approved 98 to 0.

Future vice president Joseph R. Biden, then a Democratic senator from Delaware and a stalwart of the Judiciary Committee, later said that his vote for Justice Scalia was the one he most regretted — "because he was so effective."
Whatever one feels about the merits of Justice Scalia's legal opinions, it is hard to deny that Antonin Scalia is likely to be remembered almost with many of the most consequential Supreme Court Justices in American history Whether he was in majority or dissent, Scalia's arguments were always hard-hitting, on point, and designed to make his fellow Justices, legal scholars, legislators, and future Justices and lawyers think about the direction of their own arguments. Although he was an avowed conservative, both politically and in his private religious life, Scalia also often surprised people by ending up on the "liberal" side of issues, particularly in dealing with freedom of speech issues under the First Amendment. He was among the majority, for example, in Texas v. Johnson, the 1989 case that found laws criminalizing burning of the American flag to be unconstitutional. In later years, he often wrote the majority opinion in the notable cases that have been issued by the Supreme Court led by Chief Justice John Roberts that strictly interpreted the First Amendment when it came to laws dealing with speech that may be offensive. On the other hand, of course, Scalia was also notably on the right side of the course in the series of cases that began with Lawrence v. Texas that gradually expanded the rights of gay and lesbian American and eventually led to the Supreme Court's decision this past June in Obergefell v. Hodges.
While it is still early, and there will be much to discuss about Scalia's legacy and the next steps forward, it's obvious that Scalia's passing leaves a massive hole in the Court. On the practical side, his passing means that the Court will be short a Justice for what is likely to be the remainder of the current term. Given the divided nature of the court on many of the issues that have already been heard by the Justices, and which are scheduled to be heard in the coming months, this leaves open the possibility of several cases in which there is a 4-4 tie, which means that the decision below would stand but it would have no precedential impact. It's also possible that the Court may decide to delay hearings in some closely fought cases, or set others for reargument, until a time when the Court has a full compliment of Justices again.
More broadly, Scalia's passing is a significant blow to what has been the ideological balance of the Court for several years now, and that fact alone is likely to be a huge factor in determining what happens with any effort to name a replacement for Justice Scalia. Obviously, anyone that President Obama would select to replace Justice Scalia would be far more liberal than Justice Scalia himself, and that appointment could have a significant impact on many cases in the future. Already, there are calls from Republican Senators to delay any vote on a replacement for Justice Scalia until the next President takes office nearly a year from now. This would constitute an atypically long vacancy for a Supreme Court seat in modern history, but it would not be unprecedented and it would not be all that hard for the Republican-controlled Senate to bring such a result about. In either case, we can expect some huge political battles ahead regarding what could be President Obama's third Supreme Court appointment, but which may not be acted on at all.
Justice Scalia's passing is also likely to put the issue of the Supreme Court in the front and center of the Presidential race in a way that it has not been already. As I've noted in the past, Justice Scalia was among four Justices above the age of 75 who could have ended up creating a vacancy during just the first term of the next President, the other three being Justice Ruth Bader Ginsburg, Justice Stephen Breyer, and Justice Anthony Kennedy. Justice Scalia's passing not only means that there is a present vacancy, but it will serve to remind everyone that there could be several others in the coming years and that the next President is likely to have a real chance to remake the ideological balance of the Supreme Court for decades to come. We can expect the candidates for President on both sides of the aisle to begin to comment on this issue more openly and more forcefully, and that will likely continue all the way through the General Election, especially if there is a battle over whether any replacement appointment would even get a vote in the Senate before the next President takes office.
Further updates and, I'm sure, more posts on the legacy of Justice Scalia and the consequences of his passing to come.