Justice Scalia's Odd Dissent In Arizona v. United States
Justice Scaiia's dissent in Arizona v. United States included many odd forays into areas that had nothing to do with the case before him.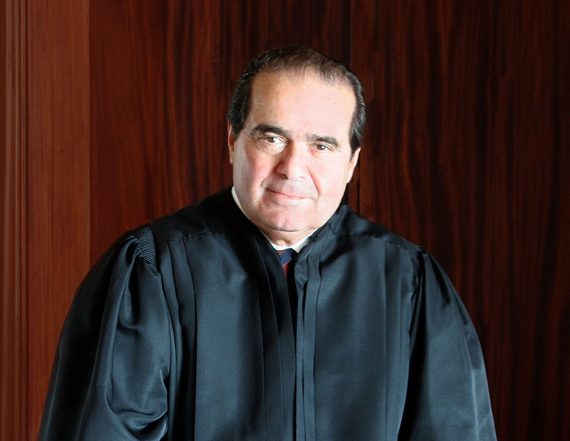 In the days since Monday's release of the Supreme Court's opinion in Arizona v. United States, there has been much commentary, mostly from the left, about Justice Antonin Scalia's blistering dissent in the case that some are saying was overly, perhaps inappropriately political:
WASHINGTON — Justice Antonin Scalia has never been shy about saying what he thinks and never reluctant to criticize those he disagrees with.

For more than a quarter-century, the high court's term has nearly always ended with a rush of opinions in late June and a fiery dissent from Scalia.

His colleagues sit with tight expressions or distant gazes as Scalia sounds off, his tone one of anger and disgust.

His targets Monday included illegal immigrants and President Obama. Dispensing with what he called the "dry legalities" of the Arizona immigration case, he spoke of its citizens being "under siege" and states feeling "helpless before those evil effects of illegal immigration."

"Are the sovereign states at the mercy of the federal executive's refusal to enforce the nation's immigration laws?" Scalia asked.

Some said it was highly unusual, and perhaps out of line, for Scalia to cite Obama's announcement in mid-June that he was granting a two-year reprieve to young people who entered the country illegally as children. Obama may have called it "the right thing to do," Scalia said, but "Arizona may not think so."

Usually, the justices rely only on what is in the legal record of the case.

Liberal commentators and some law professors said Scalia's tone was strident and partisan.
Well my first reaction to that is that Antonin Scalia has been writing strident, highly charged dissents that forcefully argue his view of what the Court should have decided throughout the 26 years that he has been on the Supreme Court, and indeed did the same thing when he sat on the Court of Appeals for four years prior to that. Judging from the few interviews that he has granted over the years, one gets the impression that the tone of his legal writing is very much a reflection of his personality, shaped as it was in the Italian-American immigrant family he grew up in. We've seen that strident style in a number of his famous dissents, including for example his dissent from the Court's 5-4 decision striking down laws against sodomy in Lawrence v. Texas. Whatever one might think of Scalia's view of the law, one cannot deny that he knows the law and isn't shy at all about expressing his opinion. So, to some extent one is tempted to dismiss this criticism of his latest opinion out of hand.
Nonetheless, there were several respects where Scalia's dissent arguably went over the top, most notably when he for some reason decided to mention President Obama's recent decision relation to a change in deportation policy for certain illegal immigrants:
Supreme Court Justice Antonin Scalia on Monday ripped President Obama's new deportation directive when he offered his minority opinion on the Arizona immigration ruling.

The court tossed out most of Arizona's controversial immigration law, but in his dissent Scalia raised eyebrows by blasting the Obama administration's directive to stop deporting some young illegal immigrants though that policy was not a matter before the court in the Arizona case.

The conservative justice accused Obama of selectively enforcing only those immigration laws that he deems appropriate and said states would never have joined the union if the framers of the Constitution had intended for the executive branch to wield power in such a way.

"The delegates to the Grand Convention would have rushed to the exits," Scalia wrote.

Scalia, the longest-serving justice on the high court, was not arguing that the administration's policy was unconstitutional.

"The President said at a news conference that the new program is 'the right thing to do' in light of Congress's failure to pass the administration's proposed revision of the Immigration Act.7," Scalia wrote. "Perhaps it is, though Arizona may not think so."

Rather, Scalia questioned the administration's motives, arguing that it didn't make sense for the U.S. to sue to prevent a state from implementing partial immigration reform while unilaterally enforcing another set of partial reforms.

"But to say, as the Court does, that Arizona contradicts federal law by enforc­ing applications of the Immigration Act that the President declines to enforce boggles the mind," Scalia wrote.
It strikes me as odd to say the least, that Scalia felt it necessary to inject contemporary politics into a legal opinion in this manner. For one thing, the issues he brings up here have absolutely no relevance to the central issue that was before the Court, which was the question of whether or not certain provisions of the Arizona law were pre-empted by Federal Immigration Law. That's a matter that is largely going to be dictated by the Supremacy Clause of the Constitution and the case law that has interpreted and applied it over the years. There's really no reason to bring up what the President may or may not have done two weeks previously related to a policy decision that has nothing to do with the facts of the case before the Court. Secondly, of course, Scalia isn't really even making a legal argument here at all. The fact that the Federal Government has made a change in immigration policy is a political question, not a legal one, and unless the matter were before the Court for some reason or another there really wasn't any proper purpose in Scalia  commenting on it from the bench in an opinion that is now part of the official records of the United States.
In his opinion, Scalia also wondered whether the states would have entered into the Union had they known that the Federal Government wouldn't be securing the borders:
Scalia asks if the states would have ever even joined the union if they had contemplated the federal government taking the power to enforce immigration law away from the states and then purposefully leaving their borders with another country undefended. He concludes that the union could not have been built that way: "Now, imagine a provision—perhaps inserted right after Art. I, §8, cl. 4, the Naturalization Clause—which included among the enumerated powers of Congress 'To establish Limitations upon Immigration that will be exclusive and that will be enforced only to the extent the President deems appropriate.' The delegates to the Grand Convention would have rushed to the exits."
This one strikes me as more an example of Scalia's style for rhetorical flourish than anything else, and not nearly as bothersome as bringing up contemporary politics. It's also worth noting that none of this kind of stuff has any real legal meaning. First of all, of course, Scalia is in the dissent, but even if the time arises when a future lawyer, judge, or Justice wants to cite Scalia's opinion for some reason, they aren't going to be citing the rhetorical flourishes and political rhetoric, they're going to be citing his legal arguments for why the provisions of SB1070 should have been upheld. Of course, none of that is going to mollify the critics.
One of those critics is E.J. Dionne who, somewhat absurdly, says Scalia has to resign. Dionne's argument is largely ridiculous, but I do tend to agree with those who found Scalia's politically tinged comments from the bench to be disturbing and inappropriate. It's really not a Judge's place to be inserting irrelevant political arguments into what was, in the end, a rather limited legal argument. As I said the only real question before the Court is whether the Arizona law, or any part of it, was pre-empted by Federal law, the rest is all what lawyers call dicta, additions to a judicial opinion that have nothing to do with the holding in the case. Moreover, as Ed Morrissey notes, Scalia's off-the-cuff comments on the deportation policy change are going to give some people grounds to demand that he recuse himself if a case dealing with that matter ever makes its way to the Supreme Court:
More to the point, though, is the danger of having a Supreme Court justice take a public stance on a public-policy issue that has at least a decent chance of becoming part of a court fight.  Rep. Steve King (R-IA) and others have already threatened to take Obama to court over the imposition of the DREAM act by executive fiat.  Thanks to this public outburst, Scalia has put himself in position for a recusal, since it's pretty clear that he has a built-in bias on the specific issue.  It may have felt satisfying, but in the end the blast will do more damage than good.

(…)

[A]ppellate jurists are supposed to refrain from making specific public comments on matters that may come before the court.  It's inappropriate, and that's exactly what Scalia did in this case. If Ruth Bader Ginsburg inserted support for Obama's immigration policy change into an opinion, you can bet that conservatives would be screaming for a recusal if/when a challenge to it came before the Supreme Court, and we'd be right to do so.
I think that the danger here may be a bit over-stated, but that's only because I don't think the legal challenges to this policy change are going to go anywhere to begin with, or that the Supreme Court would even agree to hear the case should it ever get that far. Even if it does, it's going to be at least a couple years before that happens. Nonetheless, Ed is right that Scalia has set himself up for a charge that he has already pre-judged the case that could potentially be coming before him, and all because he decided for some reason to go off on an issue completely irrelevant to the case that was actually before him.
Scalia's dissent is embedded below, it runs about 20 pages: