On Using the US Constitution as a Model
Yes, the US Constitution has been the most successful such document in human history. That does not mean it is a good template for other countries.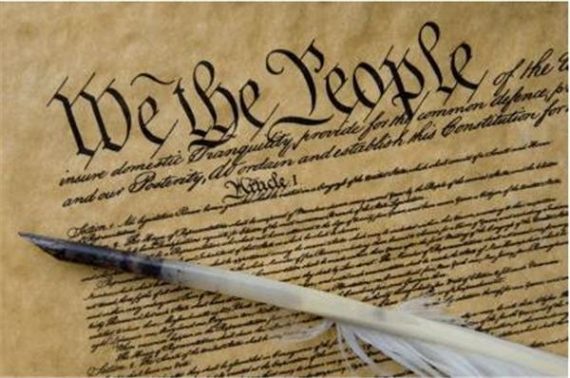 Doug Mataconis notes that a minor brouhaha has erupted in some rightward corners over the fact that Justice Ruth Bader Ginsburg said the following:
Asked by the interviewer if she thought Egypt should use the Constitutions of other countries as a model, Ginsburg said Egyptians should be "aided by all Constitution-writing that has gone on since the end of World War II."

"I would not look to the U.S. Constitution, if I were drafting a Constitution in the year 2012. I might look at the Constitution of South Africa,"
First, I would note that it is silly to take a statement given in a conversation tone that is qualified with "I might" and treat it as some ironclad declaration.
Second, while I suppose that one might get one's patriotic hackles up because she is suggesting that the US Constitution isn't the very paragon of constitutionalness, a pause for thought ought to disabuse the thoughtful person (yes, I know) of the notion that the US Constitution is an obvious model for other countries to adopt.
One fact that immediately strikes me about the notion that US Constitution ought to be some sort of standard blueprint is that the US Government certainly hasn't thought so itself over the years.  The US government has had a direct hand (sometimes moreso than others) in the drafting of the Japanese, German, and Iraqi constitutions.  All of these document deviate rather substantially from the US Constitution.
Of course the reason this is the case is that any given political circumstances may require very different institutional needs.  Some countries have good reason to adopt federalism, others do not.  Likewise specific US constitutional structures and practices such as presidentialism (i.e. separation of powers), bicameralism, lifetime tenure of judges, the electoral college, etc. may or not be good ideas for a specific situation (or, indeed, good ideas at all*).  These are all factors that require thought and design for a specific circumstance, not rote copying.
We also have to remember that one of the most remarkable aspects of the US Constitution is that it is arguably the first constitution of its kind.**  Its longevity alone, with some bumps in the road, is amazing.  There is much good to say about the document, but going first means some wandering in the dark and guesswork.  There has been a lot of institutional innovation and understanding that has developed over the last two and a quarter centuries.   Put it this way:  Henry Ford may have pioneered mass production and automobile construction, but there are better modern examples to examine for someone starting out to build a new factory now.  While some of Ford's principles no doubt are still relevant, we understand them better after a century of use.
I am guessing, by the way, that many people who have substantial pride in the US Constitution and who bristled at Ginsburg's suggestion probably haven't even read the entirety of the document (let alone having done so multiple times).  Beyond that, the odds that they have read the South African constitution (or really, any other constitution whatsoever) has to be almost zero.  One aspect of this conversation that truly irritates me is that is founded not on any kind of rational, empirical, scholarly understanding of the questions at hand, but rather on a purely jingoistic kneejerk reaction.
This topic is rather near and dear to me, in fact, as not only is the area of institutional design in democracies (which is reflected rather heavily in constitution writing) my major area of study for a couple of decades now, I am currently in the middle (indeed, well beyond the middle) of a co-authored work that touches on this very question of comparing constitutional order across democratic cases (including, oddly enough, the US and South Africa).  The honest truth is that there are any number of institutional innovations that have taken place over the last two centuries, and there are more models than just ours.  Further, the very nature of the US Constitution is that it is a fairly vague document.  As such it actually makes for a poor model as a result.  It does not, for example, actually tell us all that much about the functions of the Supreme Court.  Most more recent constitutions are far more fully developed on a host of issues, including basic rights.  As models go there actually are better examples than our own (given that a more iterated constitution would make, by definition, a more complete template).  But to know this requires an interest in knowledge and analysis coupled with actually, you know, reading other constitutions.
This all reminds me a quotation from Seymour Martin Lipset:  "…it is impossible to understand a country without seeing how it varies from others.  Those who know only one country know no country."
Too many American know the US (and poorly at that, often) and think that they know all they need to know to make broad, global political judgments when in fact they do not have enough information to adequately evaluate the US, let to make statements about the rest of the world.
It also reminds me of something I wrote earlier today in another comment thread:  The US is, and has been for some time, one of the most powerful countries in all of human history and yet we can be a strangely insecure lot.
*The electoral college, as I have argued before is an ad hoc mess that does not even work as intended and by no means should be copied by anyone else.  I am also not so sure that lifetime judicial appointments are a good idea.
**The Articles of Confederation was actually more an agreement amongst 13 sovereign states and therefore not, strictly speaking, a national constitution.  Prior to the US Constitution the closest example would be state constitutions written in 1776 after the Declaration.  Previous famous document, such a Magna Carta, were not constitutions.  For those interested in this topic I would highly recommend:    Elkins, et al.  The Endurance of National Constitutions.  The book is written to an academic audience, and gets a but political science-y in places, but I think it is a pretty accessible text.