Judicial Supremacy vs Popular Constitutionalism
Who should have the final say on the law of the land?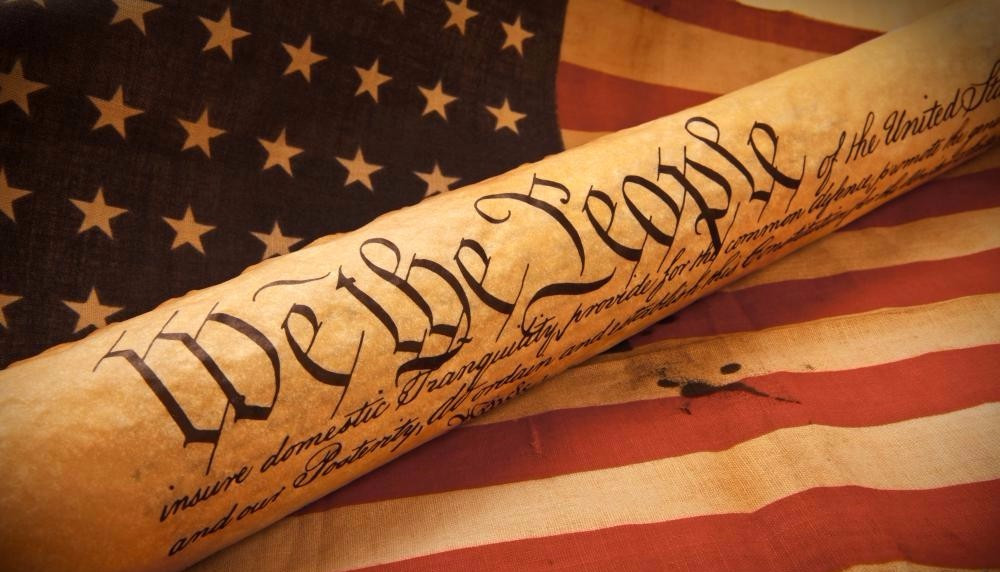 Last Tuesday's episode of the Ezra Klein Show, "Liberals Need a Clearer Vision of the Constitution. Here's What It Could Look Like." features a conversation with legal scholar Larry Kramer, who makes some really interesting arguments that buck the conventional wisdom about the relationship between politics, the Supreme Court, and Constitutional interpretation. While Kramer has been making versions of this argument at least since his 2004, it's worth considering in light of the angst surrounding a term where a conservative court overturned Roe and struck down attempts to regulate firearms and climate change.
From Klein's setup:
Kramer is the former dean of Stanford Law. He's the president of the William and Flora Hewlett Foundation. His 2004 book, "The People Themselves: Popular Constitutionalism and Judicial Review" is this wild and really interesting interpretation of our constitutional history that has the unusual accolade of being beloved by both Newt Gingrich and Ralph Nader.

And the argument he makes there and that he made to me here is that around the rise of the Warren court, liberals did something they hadn't done before. They embraced the doctrine of judicial supremacy, and they came to see the Constitution as the purview of judges and the word of those judges as final. And so this long tradition of having a politics around the Constitution and around the court, it began to collapse at least on the left.
And here's Kramer setting up his argument:
[S]o there's a Constitution long before the revolution, right. The Americans launched the American Revolution basically arguing that the British were violating the American Constitution over and over again. So there was this concept of constitutionalism, and its enforcement rested in the community at large.

So there's no real notion of judicial review. As I think I mentioned to you the other day, like, at no point in the American Revolution did somebody say, hmm did the British have power to tax us? Let's go to court and find out the answer to that. It's just not a concept.

So as judicial review emerges in the early days, it comes out of this notion that courts are agents of the people just like the other branches. So when a case comes in front of them, of course, they have to interpret the Constitution, but their interpretations are not superior or binding on anybody else in the system. Everybody does their own interpreting. Final authority rests in the community by how the community responds to the decisions.

And then that takes you into a way of thinking about the Constitution, which they also didn't think of as like some empty charter. It had a purpose. It was to create a republic, and so it had a political goal. And so the way you thought about interpreting it depended on what you thought the objectives of the American Republic were supposed to be.
That the United States has a history predating the Declaration isn't novel. But the idea that it had a "constitution" is a different way of thinking than I'm used to. My sense was that the colonial leaders were British subjects and felt that they were being denied their rights under the British (unwritten) constitution.
My longstanding sense had been that the Marshall court essentially claimed for themselves the power to decide what the Constitution meant, even though it's nowhere in the Constitution. My more recent sense, though, was that it was simply assumed they had the power because British judges had that authority under the Common Law. Kramer takes a different view altogether.
Larry Kramer: And so the political fights have been about that too. And for most of that history, courts — no one thought of courts as having final say over the Constitution. That's a late 20th century invention, right, that begins with Brown v. the Board of Education. So if you think about the Constitution —

Ezra Klein: Hold on. That's going to sound weird to people, because a lot of us learned about Marbury v. Madison in school. And so the takeaway of that case now is that the courts have final say over the Constitution.

Larry Kramer: Yeah, the court makes that claim in Cooper v. Aaron and cites Marbury v. Madison. There's a reason it had never been cited for that proposition.

Ezra Klein: It's a very strange thing that I learned from you that Marbury v. Madison is not well cited before the late 20th century.

Larry Kramer: It's not cited ever for anything about judicial review. It's cited occasionally for some of the other subsidiary issues in the case. And that's because, in context, Marbury was a rejection of judicial supremacy, literally a rejection of it, right. That position was being put forth in the 1790s by the conservative Federalists and being opposed by the more liberal Republicans, the Jeffersonian Party. And it comes to a head in the election of 1800. The Republicans win, trounce the Federalists.
So, I knew that, despite declaring the power to strike down laws passed by Congress in Marbury, the court didn't do so again until Dred Scott—55 years later. But the notion that judicial review didn't catch on until the 20th century is alien to me.
But Kramer's larger point is about judicial supremacy—the notion that, when the Supreme Court declares that the Constitution says a thing, the argument is over. That's really not embraced until the days of the Warren Court and Kramer says that was a mistake. That the Constitution belongs to the community, not the courts.
Larry Kramer: So the distinction would be, so let's say the law does X. And the question is, does the Constitution permit the law to do x? Well, different people may have different views about that. So the judges on the court may think yes. The members of Congress may think no. The president may think yes or no, whatever.

So the question is not what does the Constitution say, but whose interpretation, whose decision about what it says is final and binding. So judicial supremacy is the notion that whatever the other branches think, whatever the community at large thinks, whatever the states think, once courts have said it, everybody is supposed to get behind the court's interpretation.

That's different from saying the courts can have their say, but if Congress — and we'll enforce it in the case — but if Congress disagrees, they can pass a law that is inconsistent with the court's decision. And all that does is force it back to the community, right, which depending on how it responds to the various things that are being done in the different departments of government will decide the case literally.

So the theory was called departmentalism— each department. And that's actually what Marbury says, right. It says courts no less than the other branches have authority to interpret the Constitution.

Here's how I think of it. It's an agency problem. So imagine I have a house, and I have a cook who cooks my meals, and I have a gardener who takes care of the garden, right.

So each of them has within their sphere things to do. And if the gardener comes into the kitchen and starts telling the cook how to cook the meals, like, the cook would say that's not your job. It's the owner of the house's job to tell me how the meals are cooked.

So the people are like the owner of the house. The gardener is like the court. The cook is like Congress. So each has its say within its domain, although always subject to the final and binding decision of the community at large by how it responds to what the different agents do.
Which is reasonable enough. And does indeed accord with my understanding of how the process worked. If the courts issued a ruling that Congress didn't like, it would change the law, amend the Constitution, or even take away judicial jurisdiction.
Larry Kramer: So for most of American history, how to interpret the Constitution was this kind of open-ended, forensic, all things considered approach. It wasn't really theorized. It was the kind of way conventional lawyers do law.

You look at the language. You look at the history. You look at the policy. You look at the precedent. And you put it all together, and what's the most persuasive story. And there's a lot of fights in the early Republic about is the Constitution — what kind of law is it? Is it like a statute? Is it like the common law? Which of these principles do we use? But by the, sort of, 1820s, 1830s, they've settled that the Constitution also should be done with this forensic, kind of, all things considered method. And in fact, if you read — Joseph's Story writes the sort of treatise on Constitution. That's what he sets out as the method to interpret, and everybody agrees on that. There's not really any fighting about how to interpret. And so the fight is do the courts have final say or not, and that fight emerges by the mid 1790s. And across American history, that's always the fight.
That the left and right agreed on the basics of how to interpret the Constitution until relatively recently is interesting. Whether other legal scholars dispute that contention, I don't honestly know. But we'll get back to that point shortly.
Now you can think of it this way. People who favor democracy — let's call them people who favor popular authority are opposed to judicial pretensions. People who are nervous about democracy, who think that people need to be confined in cabins support judicial pretensions, because they are looking for ways to tamp this down.

The reason this emerges in the mid-1790s is the French Revolution. It scares the heck out of the Federalists, who are the conservatives of that period. And so they're looking for all sorts of ways to control popular authority, and judicial supremacy is one of them.

So you have these fights right from the beginning that are essentially left right fights. Now of course, what happens is when it comes to a head, the popular side wins. Jefferson crushes the Federalists in the 1800s election, and the idea of judicial supremacy is squashed quite explicitly, first in the debates over the repeal of the 1801 Judiciary Act — no reason to go into all the details — then in Marbury v. Madison. And then what will happen across America — and it doesn't go away. There are still people who believe it's the right thing to do, including people in the profession, including lots of people on the left in the profession.
The idea that the courts were inherently a check on democracy—and thus favored by conservatives—is an interesting notion nowadays but makes sense in relation to the founding period.
So it's always there. And when government is weak or divided, the court can assert its authority. So you have these waves at different points in time where the court will assert its authority.
This is an idea Kramer weaves throughout the conversation: that the courts are only able to assert themselves in periods—like today—where the body politic is quite divided. When there's rough consensus on the issues, the elected branches can easily impose their will.
The Marshall court tries it again in the late 18 teens, and they get crushed. It comes up again in the early Jacksonian period around the Second Bank. They get crushed. It comes up again in the 1850s around slavery and the territories and Dred Scott, and the court gets crushed.

Then after the Civil War, of course, you have this period like today of polarization and divided government, and the court can reassert its authority. And the idea of judicial supremacy re-emerges pretty strongly in the 1880s and 90s in the populist era and in the Lochner Era, and then that all comes to a head in the New Deal. And once again, the court gets crushed, and then it reasserts itself in the 1950s.

But there's a difference in the 1950s, which is now for the first and actually only time in American history you've got an activist court that wants to assert its authority that is liberal. That's the Warren court.

And so as the Warren court begins to assert authority and not only say that the courts have final say over the Constitution but to use the Constitution to take these rights provisions and really run with them, whether it's race discrimination, voting rights, criminal justice, people on the left flip, not all of. The older people on the left who had fought the Lochner fight in the mid-twentieth century are really dubious and skeptical about the court's claims to supremacy, but they support the decisions.

Younger people on the left, the Ronald Dworkins and Bob Gordon's of the era, they're in for this. So they flip. They begin to support judicial authority.

The right does not change. It also continues to embrace the idea of judicial authority. And for the first time, the debate shifts from who has final say. If it's going to be the courts, how should they interpret the Constitution. And you get a left right split over that.
Kramer argues that originalism was essentially newfangled theory that conservatives came up with early during this new era of consensus over judicial supremacy:
And that's where originalism comes from, right, which emerges really in the 1970s, 1980s as the conservative theory of the Constitution. And that's the fight we've been having since, because people seem to have broadly accepted the idea that it should be courts who have final say over the Constitution.
Kramer argues that, contrary to the way we think about it today, FDR's court-packing plan wasn't really all that controversial. Democrats just thought it was unnecessary to bring out the big guns given their political position.
The way judicial supremacy works in the American system is the court has its say. The question is, how does the pushback take place?

So it's not going to be like the American Revolution, popular uprisings, people in the streets tarring and feathering people. It's through the branches of government. So that means you're only going to get pushback on the court if the branches of government are aligned.

So look at today, right. People on the left want to see pushback on the court. You're not going to get court packing or jurisdiction stripping or budget slashing, the tools that were used across American history.

You're not going to get those out of Congress today. So you can only get them when a president and both houses of Congress are strongly controlled by the same party — what Roosevelt had, what Lincoln had, what Jackson had, what Jefferson had, just key points of pushback. So when you have divided government, the court has space to run.

Ezra Klein: So let me pick up on something in there too, because I think this is a big and tricky part of this, which is in this fight over judicial supremacy, judicial review, what are the tools through which the fight is waged? When Congress or the president doesn't agree with what the court is doing, typically, they don't just say, well, you don't have any troops to your name. So we're not going to listen. What do they do?

Larry Kramer: Well, they do occasionally do that.

Ezra Klein:They do occasionally do that. But we understand that now is a terrible norm-breaking that is down the road to a kind of authoritarianism.

Larry Kramer: Yeah, so if you were starting from scratch today, what would you do? You need the court — if you're going to give the court this like incredible policymaking power — because that's what judicial review is. It's not just deciding cases. If you're going to give them that kind of power, you need them to be independent, so they can function as a court. But you need somehow to balance it with the degree of accountability, so they can't veer too far off.

So if you look at modern constitutions, what they typically do is they have courts with judges who have limited terms that are staggered. They require supermajorities to get onto the court, which forces a kind of centrist appointment. They make their constitutions easier to amend because they thought this through and recognized what they need to do.

And so you can give the judges lots of independence, but the branch will never veer too far. So when our Constitution was written since no one was imagining anything remotely like the modern court or that kind of power, they were all focused on the decisions in individual cases, and they made it super independent.

So when the court began to assert that power and they had to figure out what can we do to reign it in, they used the tools that they actually the Constitution made available. Although, they weren't put there for that reason. Like, Congress controls the composition of the court. So you can add justices, court packing.

Or you can slow down its increase, which has also been done where you shrink the court to keep a president from having appointments. As, for instance, after Lincoln's assassinated and Andrew Johnson becomes president, the Republicans do not want appointments for him. So they shrink the court, so he's not going to get any appointments.

And then when Grant is elected, they increase it again so that he can — so there's lots of ways to use the composition of the court. Congress controls its budget. Congress controls its jurisdiction.

So those kinds of tools are available. They're pretty crude. So you don't want to use them except in pretty extreme circumstances. Like, you're not going to use them in response to a single decision. But if you have a course of decisions where the court really is veering away from where the country is, those are the kinds of tools that can be used and were used across American history.

And they're consistent with the idea of judicial independence, because they are actually controls explicitly in the Constitution. After Brown, as the left begins to support judicial supremacy, what's done is the delegitimization of those devices, right. It's now you have people on the left and the right saying, no, you can't do that. That's bad. That would cripple the ability of the courts to do what it's supposed to do, which is protect us from ourselves essentially.

Ezra Klein: Let's talk about court packing for a second. Because an argument you make is that we understand that moment in history, the FDR moment almost exactly wrong. We see it as norms-breaking, as a terrible political failure. And you see it as something else. Give me your revision.

Larry Kramer: So Roosevelt is elected with a huge majority to do something about the country's economic calamity. He acts immediately. The court invoking a set of interpretive theories that were way outdated and not necessarily valid, although not completely ludicrously invalid strikes down the first New Deal.

Roosevelt — and not just Roosevelt, people forget this was widespread effort by the Democrats begin pushing back against the court making basically the argument that this is not the way we do things in a democracy — and in that battle proposes as part of his solution packing the court, adding justices. Now it's not popular when he proposes it. It never was. It wasn't when Lincoln did it. It wasn't when Jackson — but he pushes the idea.

Ezra Klein: Which is, by the way, to say it wasn't a Roosevelt innovation to do this.

Larry Kramer: No, not at all. It had been done repeatedly across American history. The federal — I mean, I can go through all the instances, but it was — as I said, it was a pretty common thing to use the size of the court as a way to control it in just the ways that we talked about before.

So it's not popular at first, and it's not the only thing. It's being done along with a really concerted campaign to raise popular awareness of what the court is doing and popular opposition to letting the court continue to do it and hold the country back. And the court flips.

At that point, Roosevelt doesn't need court packing anymore, right. The court in 1937 upholds the so-called Second New Deal, allows the laws to go into effect. And a couple of weeks later, one of the justices that was in the five person conservative majority retires, and Roosevelt can replace him with Hugo Black. And at that point, he just doesn't need it anymore. So he lets it go.

So if you don't think about the court-packing proposal in isolation but think of it as part of this larger campaign, it's exactly the way this is supposed to work and has worked across American history, which is when the court veered too far out of sync, the community responded. And the court retreated, and we moved on.
Obviously, many mainstream Democrats think we're at that point now. President Biden himself isn't quite there yet and at least Joe Manchin and Kyrsten Sinema stand in the way. But one could easily see if, somehow, Democrats increased their majority in the Senate in the midterms and continued to get struck down by a conservative Supreme Court that a consensus would emerge to pack the courts to re-assert the primacy of elected policymakers
But one could also look at the decision overturning Roe as part of this process, too. While conservative legal scholars may well have embraced the notion of judicial supremacy, Republicans writ large didn't. They have spent nearly half a century rejecting that decision as illegitimate and used every tool available to them—including the egregious norm-breaking that kept Merrick Garland off the bench and put Neil Gorsuch on in his stead—to reassert the will of their voters. (That the national majority opposed this is really beyond the point in their mind.)
Here's where Kramer's argument gets even more interesting:
Ezra Klein: And there's another thread from this era that I think is worth spending some time on because it gets to this much deeper question of who interprets the Constitution, which is Roosevelt in ways that I think would sound a little alien to us now has real theories about the Constitution. He says at one point the Constitution of the United States is a layman's document, not a lawyer's contract. To your point about popular constitutionalism and some amount of ultimate authority for its meaning and charter residing in the community, can you talk a bit about the ways in which it has and hasn't been normalized for elected officials to say that I, in fact, have a view on the Constitution and that view is legitimate despite the fact that I'm not a member of the Supreme Court.

Larry Kramer: Yeah, and I would separate two separate strands here. So again, one is the who should have a say issue, and increasingly political actors have accepted the idea of judicial supremacy. So I may have a view on the Constitution, but I will accept what the Court says finally.

If you think about Al Gore after the 2000 election coming out and saying, I may disagree with what the Court said, but we should all get behind it. So that's part of the acceptance of judicial supremacy is actually they tell us what the Constitution means, which I have always found rather peculiar.

It's, kind of, like saying we're a democracy, self-government. We make our own laws except for the really important one. The really important one we're going to give to this life elected — not even elected, this life appointed oligarchy that's going to tell us what we can do.

The second issue, though, also is what is the Constitution for? So is it just a, kind of, empty structure or frame, or does it actually have a purpose? Is there a substantive conception of what it's supposed to produce for us? And that also across American history, there was one, right. [emphasis mine]

The Jeffersonians believed in an Agrarian Republic, and they interpreted the Constitution to create that. The Federalists believed in a Commercial Republic, and they interpreted the Constitution for that. And all through American history, the fights were not just over who, but assuming it wasn't the Court it still meant we still had to figure out what the Constitution meant. And there were these substantive visions.

Roosevelt had one, right. It was a response to the libertarian vision of the Constitution that had been dominant in the Republican Party in the early 20th century. And it was basically saying, no, government has a responsibility. The Constitution is designed to create a society in which we take care of the people. There is a social safety net and so on. And that has been drained out on the left at least.

The right having embraced the neoliberal idea actually interprets the Constitution consistently with it. It's about constraining government. So the Constitution is meant to be a constraint on what government can do, and the theory of originalism supports that in all sorts of ways. Although they've also managed to turn it around where they want into a, kind of, aggressive activist tool.
Kramer's politics and mine differ, I suspect, but I think he's largely right here. The notion that unelected judges get to set the rules of the game and be the ultimate arbiter of our public policy has always struck me as asinine. And I've believed for quite some time that it makes little sense to govern a continental superpower of 330 million by rules conceived in a wildly different era for a tiny country of 4 million nestled along the Eastern Seaboard.
Where we differ, really, is that I think the solution is a new or at least massively revised Constitution, not having judges reinterpret the old one to fit their current policy preferences. But I think Kramer would cast it differently: judges getting out of the way to allow the will of the community to be enacted into policy notwithstanding the text of a 235-year-old document.
Ezra Klein: Let me offer what I think might be an objection from the right here. This is all sour grapes. Liberals don't like some of the recent rulings. They really don't like Dobbs. So now they're moving, and we're sitting here talking about how in the past we didn't listen to the court. And we give the court too much authority. And in fact, if you believe in popular constitutionalism, if you believe that the community should have the voice here, that's actually exactly what the conservative court just did. The judges are just saying they're turning the question of abortion back to, as they put it, the people and their representatives. How do you think about that argument?

Larry Kramer: So again, it's more complicated than that. In part, they're not wrong. That is to say so all the branches have a say that includes the court. So it's not to say that they shouldn't exercise a theory of interpretation. It is to say, though, that their interpretation of the Constitution isn't final and binding. So the acceptance of judicial supremacy changes the way in which it's heard. I will hear something different if I believe someone is my servant than if I believe they're my boss.

So the court has moved from our servant to our boss. So then the courts say has a different way in which it plays out in the popular political debate. It gives it much more weight and changes the way in which it's heard. [emphasis mine]

Now constitutional rights exist. The idea of popular constitutionalism isn't that there are no rights, and every legislature gets to decide. So you still have to have an interpretive process.

And if there is a constitutional right, it does restrain what a state legislature or Congress can do. So the idea is that people can also interpret what their rights are in the way in which they push back.

Now how do you do that? That's really the — it's a messy process as it always has been across American history, but it's not an answer to say as long as you say the Constitution doesn't do anything and state legislatures can do what they want you've got popular constitutionalism. You don't. Then you just have democracy run amok. [emphasis mine]

So again, it's back to that there is a Constitution. It limits what government can do. Who should have final say over the ways in which it limits government, that has to rest in the community at large in terms of how they respond to what the political actors are doing.
So, I'm fundamentally in agreement with Kramer here. And, practically speaking, it's simply reality. Americans have been protesting judicial decisions as long as I can remember. As already noted, Republicans spent half a century pushing back against Roe—and essentially refusing to follow the ruling, constantly enacting laws to test it. And now Democrats are looking at ways to reinstate abortion rights nationally. (Frankly, an easier task since it's a legislative matter.)
Finally, Kramer gets to the argument that supplies the episode's title. Essentially, liberals never advanced a compelling alternative to originalism-textualism for interpreting the Constitution. And, so, in the dissent in Dobbs, they're left arguing for stare decisis—which he terms "a flabby doctrine"—rather than grounding abortion in the spirit of what the Constitution is supposed to do for us. He doesn't quite explain what that alternative is, but hints at it here:
But there's this notion you're going to look at this practice abortion and you're going to look at it in isolation and use a historical test where what matters is how were they thinking about it when the 14th Amendment was enacted. And of course, when the 14th Amendment was enacted, women couldn't vote. They couldn't own property. If they were married, there was covet — the notion that this wasn't wholly wrapped in a vision of society that is not just foreign to us today but offensive to us today.

But we're going to stick with that practice and use that to impose a limitation today is just crazy, right. That's in some sense the problem with originalism. You've yanked something out of context. If you think about it in the current context, you're not going to do the same thing. So that was one thing.
Essentially, originalism doesn't work because it doesn't acknowledge that circumstances have changed. But Kramer doesn't quite supply an alternative, beyond judges using their judgment.
Larry Kramer: I think, again, there needs to be a substantive animating vision of what the Constitution is trying to do. And that's what the left lost, right.

That's what — Roosevelt had one that carried forward all through the Great Society. That was all part of a, sort of, vision of what the Constitution was meant to empower a government to do for the American people. And as that vision, kind of, lost its weight particularly after liberals took the neoliberal turn in the 1980s, then they lost, sort of, anything that would animate a positive theory of what the Constitution should be both in terms of what it permits and what it forbids.

And so they've been left with a kind of potpourri of leftover things from the periods when liberals were ascendant in the 60s and 70s. You don't see that on the right. They actually do have an animating vision of what the Constitution is meant to look like and do.

Now you're right about It being dressed up in mythic stuff. Because originalism and this notion that all we're doing is letting history tell us what to do, that's the myth. But it is a way to interpret the Constitution that neatly maps on to the kind of animating notion they have of what the Constitution should require and forbid.
But Klein pushes back:
Ezra Klein: Well, my observation of liberals on this, though, is that most liberal legal thinkers you talk to, not all, but most will tell you originalism is a little nutty. That method of interpretation pushed forward hundreds of years into the future is just going to get you very strange results and is not what the founders intended themselves.

But I think they have absorbed quite deeply the critique of originalism, which is that without some binding interpretive methodology, all you're doing is reading your own values into the Constitution. You're simply playing Calvin Ball with the nation's founding document. And as such, its left them a little, again, in my view paralyzed.

On the one hand, the way the right does it isn't correct. But on the other hand, nothing ever really arose that is this is how we do it. This is how we have confidence of what we're seeing in the Constitution is true and how we are able to come up with the story we actually believe but that allows for something that is connected to a purpose we see for the country.
Even though I embrace a form of originalism as a starting point—as does Kramer, in a roundabout way—I agree that it's problematic when taken to its conclusion. The problem is that the alternatives leave us essentially without a written Constitution at all.
Larry Kramer: So I don't think — so look, it can't be that there's some objective out there thing that tells us what the answers are. No one believes that. I know originalists say that, and maybe they're like so lacking in self-introspection that they actually believe that's what they're doing.

But you can't look at the decisions or the history and not see that there's some animating external thing that's helping them decide. The way I think about it, the law takes you a certain length. And in many cases, it takes you all the way there. It's really well-settled. There's just no question. We're going to do that.

But in the hard cases, the ones that matter — the Supreme Court decides, what, 75 to 80 cases a year. Let's call it 80. 75 of them don't matter. We just need a decision. They're pretty clear. They're pretty easy. Those few extra cases, the law runs out before you get to the end, and you can go in different directions. And you're not finding that out there in some external source. There's some animating vision that helps you make a choice.
And I think that's right. In the hardest cases, Constitutional principles either contradict one another or the document simply doesn't deal with the issue in any meaningful way. There, there's really no alternative but to apply judgment.
So I don't think anybody — I don't think people on the left any more than people in the right have accepted the idea that there's some objective thing out there. What has been absorbed is that it should be something other than, though, my personal preferences today.

But then it can be anything right. It could be what the founders said in 1789. It could be the writings of Nelson Mandela. I mean, we just need some — and even then, we're still going to have to interpret and bring some values into it. So what you do need is some kind of animating vision that helps guide your judgment that's not just your personal preferences but that also isn't some pretended, sort of, thing out there that decides it for you, that helps guide the judgment. We call them judges for a reason. They're supposed to exercise judgment. So it's going to guide the judgments that they make. What has been lost on the left is that — that kind of overarching animating principle that they can use to help them think about what to do. And so you've just got holding on to lots of things, outcomes that were generated at a time when there was such a vision. But that vision itself is no longer widely embraced on the left, and it really hasn't been replaced by anything.

Ezra Klein: But I do think there's a fear about what happens if you begin doing constitutional interpretation without obvious limiting principles or boundaries. I mean, you're saying maybe it can be Nelson Mandela, but I think it probably — well, we're not supposed to interpret the Constitution based on Nelson Mandela.

And I'll give maybe a silly example here. What stops me from saying, well, look the Constitution says we form this Union to promote the general welfare. It's clear that general welfare would be promoted by universal access to PlayStation 5s, and therefore, every American has a right to a PlayStation 5.

Larry Kramer: Well, this is where you come at it again, nobody's saying — so there are all those other sources. They're still there. You do have to deal with the text. You do have to deal with the history. You do have to deal with the precedent. You do have to think about the policy implications of different things that you do. All of those things are going to constrain and guide and shape. And then as I say in the really hard cases, they're only going to take you so far, but they're going to take you pretty far. And it's in that last little piece that you need something to help guide you.

I think everybody agrees on that. It's just, as I say on the left, they've, sort of, lost a coherent, overarching, animating vision of what the Constitution is trying to achieve that helps take it the rest of the way home and that would give them an affirmative agenda. As I say on the right, I think they have that, and then they use these, kind of, fake references to history, which just astonishingly seems in every single case to line up exactly with their current political preferences. But you can see what's guiding them, right, which is actually a vision of what the government's role is supposed to be and what freedom means and all of that.
But that gets us back to Klein's point (and mine): essentially, even Kramer embraces textualism. He just says that we can't be silly about it. Which, again, I agree with fundamentally. But if judges get to decide when following the text is silly, then they'll inevitably do so any time they don't like the result of following the text. (Of course, the same can be true of originalists.)
Still, Kramer is right here:
Well, come back to the whole notion of popular constitutionalism. Ultimately, we judge by what resonates with us, what makes sense, what kind of society do we want to have. So it's not just blindly following popular desires. It involves leadership.

If you read Madison's original stuff, he had an important role for leadership. But it wasn't leadership tells the subjects what to do and what they should believe. It's that we engage in an ongoing active conversation where the role of leadership is to lead towards some sort of better vision.

You offer that vision, and you try and persuade, and if you do, the country follows you. It does rest on certain assumptions about the basic decency of most Americans, about their willingness to grow and change and improve their lives and the lives of fellow citizens.

And with our fits and starts and ups and downs, there's been pretty good progress over American history in all those directions. So that's what political leaders are supposed to do, right, provide a vision and inspire people to lead them in a direction. And that has to include the Constitution. That is the fundamental charter that sets out what the American Republic is supposed to be. And we haven't had much of that for quite some time.
But, ultimately, that's just representative democracy—or at least how it's supposed to work.
There's quite a bit more to the conversation but those are the high points.