Kavanaugh Sails Through First Day Of Questioning Unscathed
Day One of questions for Judge Brett Kavanaugh went about as you'd expect.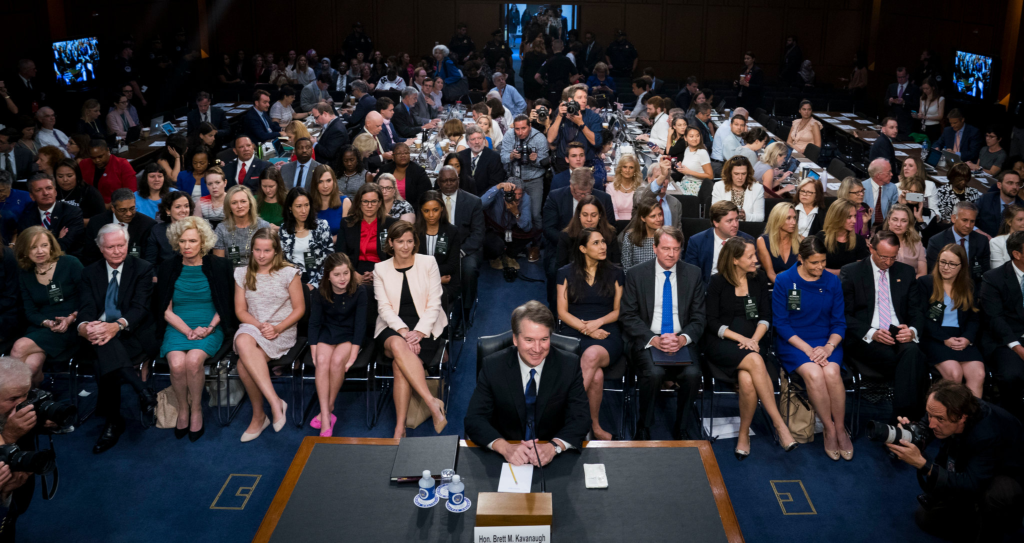 Yesterday's second day of confirmation hearings for Judge Bruce Kavanaugh went much more orderly than the first day did, as we got to the point where Senators were asking questions and Kavanaugh was answering them. As far as substance goes, though, yesterday's session wasn't any more revealing than previous such sessions dating back to at least the confirmation of Ruth Bader Ginsburg have been as the nominee essentially dodged any effort to pin him down on issues that might come up before him either as a Supreme Court Justice or a Circuit Court Judge:
Judge Brett M. Kavanaugh, President Trump's nominee to the Supreme Court, on Wednesday dodged direct questions about whether the Constitution would allow Mr. Trump to use the powers of the presidency to thwart the Russia collusion and obstruction investigations that are swirling around his administration.

Testifying before the Senate Judiciary Committee on a grueling second day of hearings, Judge Kavanaugh refused to say whether he believes Mr. Trump, as a sitting president, could be subpoenaed by Robert S. Mueller III, the special counsel, to testify in the sprawling inquiry. Answering questions in public for the first time since his nomination, the judge also declined to say whether Mr. Trump could escape legal jeopardy by pardoning himself or his associates.

"I'm not going to answer hypothetical questions of that sort," Judge Kavanaugh said, insisting that it would be inappropriate for a Supreme Court nominee to publicly offer views on issues that might come before the court once he is a justice.

Judge Kavanaugh also declined to say he would disqualify himself from cases concerning Mr. Trump.

In a hearing that began in the morning, stretched into the night, and seesawed between intense grilling by Democrats and fawning praise by Republicans, Judge Kavanaugh sought to present himself as an evenhanded arbiter of the law rather than a partisan ideologue driven by a desire to carry out a Republican policy agenda. He parried questions, without any obvious blunders, on matters ranging from abortion to gun rights to executive powers and arcane provisions of antitrust law.

But Judge Kavanaugh did little to win over Democrats. Speaking generally, he insisted that he would be an independent justice prepared to rule against the president who appointed him. "No one is above the law in our constitutional system," he said.

At the same time, he did not retreat from views offered in law review articles that revealed a robust conception of presidential power, views he said had been forged in large part by five years of service in the White House under President George W. Bush.

Under attack from progressives and Democrats who say he will roll back abortion rights, Judge Kavanaugh said he believes that Roe v. Wade, the 1973 landmark Supreme Court case establishing a woman's right to an abortion, was "settled as a precedent of the Supreme Court," and as such, deserves respect from judges. But he did not say whether he believes Roe was correctly decided. But then he noted a subsequent case, the 1992 case of Planned Parenthood v. Casey, which narrowed the scope of Roe at the same time that it reaffirmed Roe as a precedent.

Casey, which gave states the authority to regulate abortion so long as those regulations do not pose an "undue burden" on the woman, is "precedent on precedent," he said.

On that issue and others, Judge Kavanaugh repeatedly sought to demonstrate empathy, telling senators that when it comes to understanding the real-life implications of abortion, "I don't live in a bubble. I understand. I live in the real world."

He defended his dissent last year in Garza v. Hargan, in which he argued that the Trump administration should have been allowed to temporarily block an undocumented teenager from having an abortion while it sought to place her with a sponsor. He said he had followed Supreme Court precedents, even as he acknowledged that there was no directly applicable case.

"I did my level best in an emergency posture," Judge Kavanaugh said.

He said that took the teenager's situation into account. "I tried to recognize the real-world effects on her," he said. "I said consider the circumstances. She's a 17-year-old, by herself, in a foreign country. In a facility where she's detained. And she has no one to talk to. And she's pregnant. Now that is a difficult situation."

Senator Richard Blumenthal, Democrat of Connecticut, said Judge Kavanaugh had participated in an attempt to deny the teenager access to a constitutional right, placing her health at risk.

(…)

With Democrats casting him as a partisan who was nominated by Mr. Trump only to protect the president, Judge Kavanaugh spent considerable time trying to demonstrate his independence. One case he cited to buttress his argument was notable: United States v. Nixon, the 1974 decision in which the Supreme Court unanimously ruled that President Richard M. Nixon had to comply with a subpoena seeking tapes of his conversations in the Oval Office.

In 1999, Judge Kavanaugh mused aloud that "maybe Nixon was wrongly decided." He made the statement soon after serving under Ken Starr, the independent counsel who investigated President Bill Clinton. Judge Kavanaugh's allies have said he meant the statement as a critique of the legal strategy of Mr. Clinton's lawyers.

But on Wednesday, he called it "one of the greatest moments because of the political pressures of the time."

"The courts stood up for judicial independence in a moment of national crisis," Judge Kavanaugh said, ranking the decision as one of the Supreme Court's greatest achievements.
New York Times  Supreme Court reporter Adam Liptak summarizes what the first day of questioning tells us about the Judge's positions on certain issues and how he might rule on some issues, and The Washington Post goes into more detail about the hearing:
Supreme Court nominee Brett M. Kavanaugh presented himself to the Senate and the American public Wednesday as an independent judge with an open mind, refusing to be pinned down on legal questions involving investigations of President Trump and how his presence on the court might shift its ideology to the right.

Kavanaugh, 53, a judge on the U.S. Court of Appeals for the D.C. Circuit, proved to be an amiable and collected witness during a 12½ -hour day of questioning and dozens of interruptions from screaming protesters, who were quickly escorted outside the committee room by Capitol Police.

Kavanaugh displayed an extensive knowledge of constitutional law and a debater's sense of sparring with Democratic senators who oppose his confirmation. At times, he used his gift of gab to avoid direct and pointed questions.

"You're learning to filibuster," said Sen. Dianne Feinstein of California, the ranking Democrat on the Senate Judiciary Committee.

Kavanaugh would not take a position on whether a president can be forced to respond to a subpoena. He declined to say whether the chief executive can pardon himself. He sidestepped a question from Sen. Christopher A. Coons (D-Del.) about whether he still believes, as he wrote decades ago, "that a president can fire at will a prosecutor criminally investigating him."

"I think all I can say, senator, is that was my view in 1998," Kavanaugh responded.

All are issues crucial to special counsel Robert S. Mueller III's investigation of Russian interference in the 2016 election and possible coordination with associates of Trump, the man who chose Kavanaugh to replace Anthony M. Kennedy, the court's pivotal justice.

Kavanaugh cited tradition: "Each of the eight justices currently sitting on the Supreme Court, when they were sitting in my seat, declined to decide potential hypothetical cases."

Likewise, Kavanaugh turned aside questions on abortion, gun rights and how Congress might get around some of the Supreme Court's rulings on campaign finance restrictions. That said, Kavanaugh searched for ways to try to convince Democratic senators that they should not fear his confirmation.

"I understand the — the importance that people attach to the Roe v. Wade decision, to the Planned Parenthood v. Casey decision," Kavanaugh told Feinstein, referring to the Supreme Court's precedents guaranteeing women's right to abortion.

"I don't live in a bubble. I understand — I live in the real world. I understand the importance of the issue."

While Kavanaugh was reluctant to talk specifics about executive power, he was eager to dispense with the view — which he himself raised in a roundtable discussion with other lawyers published in 1999 — that a major decision involving presidential power was wrongly decided.

Without being asked, Kavanaugh brought up U.S. v. Nixon, the Supreme Court's unanimous 1974 decision that said President Richard Nixon had to turn over tapes of White House conversations.

"One of the greatest moments in American judicial history," Kavanaugh said of the decision. He did not mention his comments in the roundtable discussion.

Observers pointed out that Kavanaugh endorsed some Supreme Court precedents, while demurring on others.

"Why is it okay for Kavanaugh to say whether U.S. v Nixon (1974) was rightly decided but not to say whether Roe v Wade (1973) was rightly decided?" University of Chicago law professor Daniel J. Hemel tweeted. "Both are controversial cases of a similar vintage that are likely to affect SCOTUS decisions while Kavanaugh is on the bench."

Republican senators on the committee, all of whom are expected to support Kavanaugh's confirmation, set him up to show his independence and to illuminate his life as a husband and father who coaches his daughters' sports teams and feeds the homeless.

"The first thing that makes a good judge is independence, not being swayed by political or public pressure," Kavanaugh said in response to an open-ended question from committee Chairman Charles E. Grassley (R-Iowa). "That takes some backbone, takes some judicial fortitude. The great moments in American judicial history, the judges had backbone and independence."

Kavanaugh briefly choked up as Sen. Lindsey O. Graham (R-S.C.) asked about his personal life, including his work serving meals with Catholic charities. "Describe the difference between Brett Kavanaugh the man and Brett Kavanaugh the judge," Graham advised.

(…)

The committee's two African American senators, Cory Booker of New Jersey and Kamala D. Harris of California, put Kavanaugh on the defensive about race. Booker repeatedly asked about affirmative action, and whether universities had a compelling interest in admitting a diverse student body.

Kavanaugh would not give his own opinion, saying only that "the Supreme Court has said so."

Harris asked about Kavanaugh's use of the term "racial spoils system" in an op-ed when he was a private lawyer. He said he did not remember exactly what he meant by that. When Harris said it was a term that has been used by white supremacists, Kavanaugh said he did not know that but "I take your point and I appreciate it."

On Roe, Kavanaugh said the high court has affirmed the ruling many times, but he would not go further to say it was correctly decided. That the Supreme Court considered and rejected overturning Roe gave it extra weight, he said.

Feinstein, who earlier cited hundreds of thousands of women who had died due to illegal abortions in the years before Roe, appeared unpersuaded.

"How you make a judgment on these issues is really important to our vote as to whether to support you or not, because I don't want to go back to those death tolls," she said.

"And I understand your point of view on that, senator, and I understand how passionate and how deeply people feel about this issue," Kavanaugh responded.
For the most part Kavanaugh did very well under questioning from the Committee Democrats (Committee Republicans, obviously, spent their time doing their best to put the Judge in a positive light) who were obviously trying to pin him down on hot-button issues such as abortion, Executive powers, and other issues that will most likely end up before the Court in the coming years. In asking those questions, though, it's obvious that the Democrats knew that they were going to get the same kind of opaque and generally vague answers from Kavanaugh that they have received in the past from Justices Gorsuch, Kagan, Sotomayor, Alito, Roberts, Breyer, and Ginsburg. The important thing to note about these questions, though, is to remember that they aren't directed so much as the nominee as they are at the broader audience watching the hearings, particularly members of the base of the Democratic Party. This is why we've seen some of the most aggressive questioning and statements coming from potential candidates for President in 2020 such as Cory Booker and Kamala Harris who want to be able to tell that base that they did there best to try to stop Kavanaugh's confirmation even though there really isn't anything they can do at this point in the process.
As for Kavanaugh's responses to the questions, they are what they are and they're the best we're going to get from him or any other nominee given the extent to which the Supreme Court nomination process has become so politicized. At the very least, though, the Judge's responses to the questions, usually without the need to refer to notes, show him to be eminently qualified for the position he currently holds and for the position to which he is nominated. In that respect, he will be an excellent addition to the nation's highest court on the intellectual level. As for his decision not to provide substantive answers to many of the questions, this is understandable for a number of reasons. Not only would it be inappropriate for him to comment on issues and potential cases that could face him if he were confirmed to the Supreme Court, it must also be remembered that he is currently a Judge on the Court of Appeals to the D.C. Circuit. If by some chance Kavanaugh is not confirmed, Kavanaugh would likely return to that position. Answering hypothetical questions about cases, such as those dealing with Executive Branch authority, that would no doubt come before him even as an appellate court Judge would be inappropriate, a violation of Judicial ethics, and would require him to recuse himself from cases raising those issues for an indeterminate period of time going forward. This is neither an ideal nor a fair situation to put Kavanaugh in. So, while I understand the desire of Senators to get a clear answer on important issues from nominees but I also understand the need of the nominee to balance the desire for candor with the ethical concerns involved.
In any event, by the end of the day, there was little evidence that any Senator had even come close to landing a punch on Kavanaugh that would imperil the nomination, and it is unlikely that will happen during today's second round of hearings. Indeed, as CNN notes, Senators are already acknowledging that Kavanaugh's confirmation seems assured:
A number of key senators in both parties are sounding positive about Brett Kavanaugh's nomination to the Supreme Court, a clear sign that President Donald Trump's nominee stands a strong chance of winning a pivotal seat on the highest court in the land.

"Not so far," Sen. Heidi Heitkamp, a North Dakota Democrat, told CNN Wednesday afternoon when asked if anything she's heard so far would be considered disqualifying.

"No, I haven't seen anything from that standpoint," Sen. Joe Manchin, a West Virginia Democrat, said when asked if he's heard anything that would lead him to vote no. "He's handled himself very professionally."

The two red-state Democrats, who face tough re-election battles this fall, cautioned that they would wait until this week's hearings to conclude to ultimately make a decision. But they are hardly the only swing votes who may provide critical support to ensure Kavanaugh's confirmation to replace Justice Anthony Kennedy. One swing-vote senator is likely to support Kavanaugh, something that would almost certainly ensure his confirmation, a source with direct knowledge told CNN.

To win confirmation, Republicans can only afford to lose one of their own if all Democrats vote against Kavanaugh. But not only are there signs that some Democrats may ultimately support Kavanaugh, but no Republicans appear to be wavering either.

The two most likely GOP defectors, Sens. Susan Collins of Maine and Lisa Murkowski of Alaska, both have sounded positive about Kavanaugh.

And Collins suggested she wasn't concerned when asked Tuesday evening about Democratic complaints over the Trump administration's decision to withhold more than 100,000 pages of documents from the Senate Judiciary Committee over claims of privilege.

"I don't really understand their level of outrage when they had already made clear they were going to vote against any nominee that the President put forward," Collins told CNN, echoing Republican criticism of their Democratic counterparts.

Other GOP senators are unlikely to defect, including some of the most persistent Trump critics, like Arizona Sen. Jeff Flake.

Asked if he would register his long-standing objections with Trump by opposing Kavanaugh, Flake said: "I don't think who nominates him should be disqualifying. … Some people want me to become a liberal because I disagree with President Trump. I disagree with him mostly because I'm a conservative; conservatives believe in the rule of law."

The vote over Kavanaugh comes at a crucial juncture in the campaign season — and presents a huge risk for Democrats no matter what they do. If the vulnerable Democrats support Kavanaugh, they are likely to infuriate their base and could turn off their most die-hard supporters in an election where turnout will be critical. But if they oppose Kavanaugh, they would undercut their arguments of being bipartisan-minded senators in states with a large number of Republican voters.

The votes of several other Democrats also will be heavily courted, including Indiana Sen. Joe Donnelly, who is another endangered senator and voted last year to confirm Trump's other Supreme Court pick, Neil Gorsuch.

Moreover, Sens. Claire McCaskill of Missouri and Jon Tester of Montana are both under scrutiny, though they both voted against Gorsuch even as they're locked in difficult re-election battles this fall.

Sen. Doug Jones, the Democrat from Alabama who won his special election after Gorsuch was confirmed, was non-committal when asked about Kavanaugh on Wednesday.

"I'm still going through my process," he told CNN.
As things stand now, I stand by my prediction that Kavanaugh will be confirmed by a majority that includes all of the Senate Republicans as well as at least three Democrats — Joe Manchin, Joe Donnelly, and Heidi Heitkamp — as well as the possibility that Doug Jones will join them in crossing the aisle given the fact that he is already facing an uphill re-election fight in Alabama in 2020. This means that Kavanaugh will be on the bench when the Supreme Court convenes for business on October 1st.