Confirmation Hearing For Brett Kavanaugh To Begin September 4th
Brett Kavanaugh's nomination appears to be on track for confirmation before the new Supreme Court term begins in October.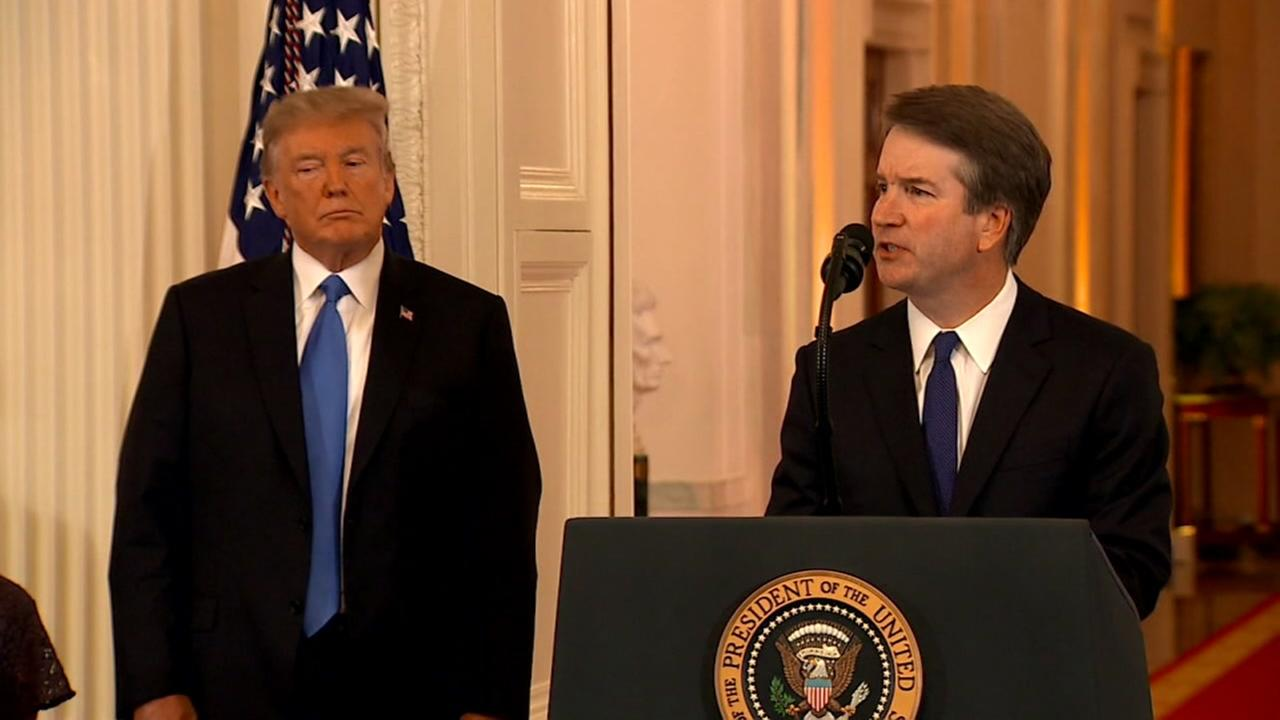 The Senate Judiciary Committee has announced that the confirmation hearings for Judge Brett Kavanaugh will begin on Tuesday, September 4th:
Supreme Court nominee Brett Kavanaugh's Senate confirmation hearings will start on Sept. 4 and last between three and four days, Judiciary Chairman Chuck Grassley (R-Iowa) announced on Friday.

That schedulingtees upthe GOP to meet its goal of getting President Donald Trump's pick seated on the high court by the time its term begins in early October, barring unforeseen obstacles or a breakthrough by Democrats who are pushing to derail Kavanaugh's confirmation.

The Supreme Court battle so far has focused on documents related to Kavanaugh's five years in the George W. Bush White House. Democrats have excoriated the GOP for declining to seek records from the nominee's time as Bush's staff secretary and condemned the Republican decision to rely on a Bush-driven review process for the early round of vetting, while the majority party hails the vast scope of documents that are set for release.

Grassley said earlier this month that he anticipates being able to complete Kavanaugh's consideration by the Judiciary panel within about two weeks after the close of the confirmation hearings, which will feature questioning of the nominee beginning on Sept. 5. After the Judiciary panel clears Kavanaugh, Grassley added, the nomination is expected to reach the Senate floor within days.

"At this current pace, we have plenty of time to review the rest of emails and other records that we will receive from President Bush and the National Archives," Grassley said in a Friday statement setting the hearing dates. "It's time for the American people to hear directly from Judge Kavanaugh at his public hearing."

White House spokesman Raj Shah sounded a similar note in a statement, saying that "Judge Kavanaugh looks forward to addressing the Judiciary Committee in public hearings for the American people to view."

Democratic leaders and prominent liberals in the caucus are set to begin meeting with Kavanaugh after the Senate returns to session next week, ending a blockade designed to draw attention to the less-than-complete release of the nominee's record. Multiple red-state Democratic senators up for reelection, however, have already set their dates to meet with Kavanaugh.
More from The Hill:
The Senate Judiciary Committee announced on Friday that it will hold its confirmation hearing for Supreme Court nominee Brett Kavanaugh early next month.

Sen. Chuck Grassley (R-Iowa), the committee's chairman, announced the hearing for President Trump's nominee to replace former Justice Anthony Kennedy will start on Sept. 4 and last three to four days.

"He's a mainstream judge. He has a record of judicial independence and applying the law as it is written. … It's time for the American people to hear directly from Judge Kavanaugh at his public hearing," Grassley said in a statement. Republicans want Kavanaugh on the bench as early as the first of October, before the court starts its next term. They've warned that they won't delay a final vote until after the midterm elections in November.

Sen. John Cornyn (Texas), the No. 2 Senate Republican, indicated on Friday that the timeline for Kavanaugh's hearing will allow the Senate to vote on his nomination next month as well.

"I look forward to what will be a thorough and open vetting process by the Committee between now and September, followed by a vote to confirm him before October 1," he said.

The timeline means that the lawmakers will hold a hearing — and potentially full Senate vote — before the National Archives is able to fulfill Grassley's request for documents from Kavanaugh's time as a White House lawyer.

The agency wrote to Grassley that it wouldn't be able to complete the request, which it expects will total more than 900,000 pages, until late October. The documents would still need to go through a final review before being turned over to the committee.

But Republicans have brushed off the setback, arguing that a legal team for President George W. Bush is reviewing the same documents and will be able to hand over the documents at a faster pace.

Democrats counter that the Bush legal team is cherrypicking which documents will be publicly released based on what is political advantageous.

"Republicans just announced that they are scheduling a hearing for Supreme Court nominee Brett Kavanaugh starting on September 4. This is outrageous. No one will be able to look at his full record before the hearing – not me, not you, not anyone. It won't have been made public," Sen. Kamala Harris (D-Calif.), a member of the Judiciary Committee, said in a tweet on Friday.

Sen. Cory Booker (D-N.J.), another member of the committee, added that Republicans and the White House appeared to be concerned about "what will emerge" if the Senate had all of Kavanaugh's documents before moving forward.

"Holding a hearing on a Supreme Court nominee before receiving even the small subset of documents that Republicans themselves have requested is nothing short of stunning. This development is just the latest demonstration of the extent to which Senate Republicans have hijacked the normal process for vetting Supreme Court nominees and turned it into an opaque, partisan, wildly incomplete exercise," Booker said in a statement.
Leaving aside the dispute over documents, which the Democrats have very little power to do anything about, the process since Kavanaugh was nominated has gone fairly well. On the Republican side, Senator Rand Paul of Kentucky, who had expressed some doubts about Kavanaugh's views on Executive Branch power, has said that he plans on supporting his nomination after meeting with him last week. Two other Republican "no" votes, Senators Susan Collins and Lisa Murkowski, both of whom have expressed concerns regarding Kavanaugh's position on Roe v. Wade, have not given any final indication of where they stand on the nomination but the comments they have made seem to make it clear that they are unlikely to vote against the Judge if it would mean killing his nomination. If this holds out to be true, then Republicans will be able to confirm Kavanaugh without any Democratic help. Notwithstanding that, several Democratic Senators appear to be leaning in favor of voting in favor of Kavanaugh's confirmation. Specifically, that would include Senators Joe Manchin, Heidi Heitkamp, and Joe Donnelly, all of whom voted in favor of Justice Neil Gorsuch's nomination last year. If that occurs, then defections by Collins and/or Murkowski would be immaterial. Given the fact that each of this Senators is up for re-election in a state that President Trump won by wide margins and that the vote will take place less than two months before Election Day these Senators will have a strong incentive to vote in favor of the nomination.
All of this comes at the same time that The Washington Post is reporting that Democrats have all but officially conceded that Kavanaugh will be confirmed:
Democrats have all but acknowledged that they are unable to stop the Senate from confirming Trump nominee Brett M. Kavanaugh for the Supreme Court this fall.

Moderate Republican senators such as Susan Collins of Maine, the most closely watched GOP swing vote, are sending strong signals that they will back Kavanaugh. Several Democrats facing difficult reelections this year have indicated they are open to voting for the judge. And leaders of the resistance are already delivering post-mortem assessments and blaming fellow Democrats for a looming failure.

Barring a major revelation, the Senate is poised to install the 53-year-old Kavanaugh on the high court and take the next step toward fulfilling President Trump's pledge to remake the Supreme Court — and the wider federal judiciary, potentially for decades.

"There were too many Democrats who decided out of the gate that this was an unwinnable fight," said Brian Fallon, the executive director of Demand Justice, a leading anti-Kavanaugh group that will continue to battle the nomination.

The fizzling of the campaign to block Kavanaugh underscores the relative weakness of the Democrats, who had promised their political base a pitched battle to protect the landmark Roe v. Wade abortion ruling and other liberal causes. From the moment Trump introduced Kavanaugh to the nation at a prime-time White House ceremony, Democratic leaders sought to portray the would-be justice as a far-right ideologue and targeted a handful of senators in both parties seen as persuadable.

But Democrats are likely to watch helplessly as the Senate confirms Trump's second Supreme Court pick after Justice Neil M. Gorsuch. In addition, Republicans have pushed through 24 circuit court judges, a record number for a president in his first two years in office, and two more are in the queue when the Senate returns next week.

(…)

Forty-nine of the 51 Republican senators have expressed their full support or likely backing, shifting the focus to two GOP swing votes — Collins and Sen. Lisa Murkowski of Alaska — and three centrist Democrats who backed Gorsuch — Joe Manchin III (W.Va.), Heidi Heitkamp (N.D.) and Joe Donnelly (Ind.).

"We always maintained it was an uphill fight, but we have a chance to win and we will keep fighting," said Senate Minority Leader Charles E. Schumer (D-N.Y.).

Collins, who plans to meet with Kavanaugh later this month, is showing no signs that liberal pressure is getting to her. She decried the "overblown" rhetoric from the sharpest Kavanaugh critics. "That is certainly not what is going to determine my decision at all," she said.

Manchin met with Kavanaugh for two hours last month, with the senator calling the session "very productive." Heitkamp and Donnelly will hold their one-on-one sessions with Kavanaugh next week. Some Democrats expect the three senators, who face reelection in solid Trump states, to vote for the judge.

Here in Maine, Collins has spent two decades building a reputation as a moderate willing to break ranks with her party on some issues, as she did last year in opposing the GOP repeal of the Affordable Care Act.

That health-care vote and Collins's support for abortion rights initially gave anti-Kavanaugh forces hope. They have rooted their opposition effort in casting the judge as a threat to tilt the court toward rolling back ACA protections and overturning Roe v. Wade, the 1973 decision legalizing abortion.

But those ambitions have faded as the reality of Collins's record on judges has set in. She has been a largely reliable Republican vote, backing Kavanaugh in May 2006 when President George W. Bush nominated him to the U.S. Court of Appeals for the District of Columbia Circuit. And she indicated this week that she is open to supporting the nominee.

Collins has never voted against a Supreme Court pick, giving Democratic and Republican presidents their choice.

In a testament to her brand in the state, at a university grant announcement this week a professor asked Collins to kick off an experiment testing a bridge, because she has "spent her whole career building bridges."

"I want to look at his entire record," Collins said. "You know, we're very fortunate with Judge Kavanaugh because he has been on the Circuit Court for more than 12 years. He's personally authored more than 300 opinions, and he's participated in many more. So we have a pretty full record on which to evaluate him."

(…)

Some activists fighting Kavanaugh's nomination wonder whether the urgent mission they began a month ago has been reduced to a symbolic exercise — and they have lashed out at fellow Democrats, including Schumer, for not embracing their cause with more vigor.

Schumer opposes Kavanaugh's nomination and has been critical of the GOP's handling of the nominee's extensive paper trail, but he has given his red-state Democrats space to make up their minds rather than using hardball tactics. Their races are crucial to the battle for the majority in November's midterm elections.

"Punishment is not how this place works," Schumer said in a July interview. If Schumer publicly pressured Democrats to vote no, according to a person with knowledge of Democratic leadership's thinking, it would make it harder for them to do so, since they are trying to demonstrate independence from the national party.

His posturing has frustrated activists on the front lines of the Kavanaugh fight.

"He speaks and acts in contradictions," said Smith, who organized the visit to Collins's Portland office.
As I've said from the beginning of this process, the only real hope that Democrats have in stopping Kavanaugh's nomination, as opposed to merely delaying it for a short period of time, would come if there were Republicans who were willing to defect on the nomination. If not, then the GOP would have enough votes to both invoke cloture, which of course now only requires a simple majority, and to approve the nomination in a final vote. In this case, it appears that they'll be able to do that, and to most likely pick up at least a few votes from red-state Democrats looking to avoid defeat in November. With the confirmation hearings set to start just after Labor Day and likely to be concluded within a week, this means that Majority Leader Mitch McConnell should be able to get the nomination to a final vote well before the Supreme Court is set to reconvene on Monday, October 1st.