Most Americans Oppose GOP's "No Hearings, No Votes" Position On Garland Nomination
It increasingly appears that the GOP is on the losing side of the argument over whether to hold hearings and a vote on the nomination of Merrick Garland to the Supreme Court.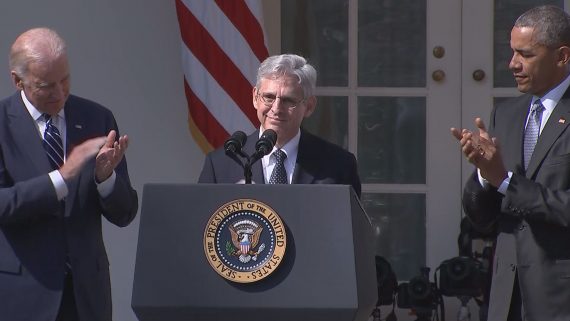 A new series of polls finds that the American public believes that the Senate should hold hearings and a vote regarding the nomination of Merrick Garland to the Supreme Court, and that Garland should be confirmed. This raises more questions about just how committed Republicans will be to sticking with their "No Hearings, No Votes" position adopted in the immediate aftermath of the Supreme Court Justice Antonin Scalia in February.
First up, there's a new poll from Monmouth University that finds majority opposition to the Senate GOP's refusal to act and a large majority that believes that the GOP is 'playing politics' with the Supreme Court:
More than three-fourths of Americans say Senate Republicans are "playing politics" by refusing to take up President Obama's nominee for the Supreme Court, according to a Monmouth University Poll released Monday.

Overall, 77 percent of Americans say they think Republicans are "playing politics" by not allowing nominee Merrick Garland to get a hearing. That total includes 62 percent of surveyed Republicans.

Senate Republicans say filling the late Justice Antonin Scalia's seat should be left to the next president so that voters have a say in the process.

"We think the important principle in the middle of this presidential election which is raging, is that the American people need to weigh in and decide who's going to make this decision, not this lame-duck president on the way out the door, but the next president, next year," Majority Leader Mitch McConnell (R-Ky.) told Fox News Sunday.

But only 16 percent of voters in the Monmouth University Poll said they believe that argument.

At 28 percent, self-identified Republicans were more likely to say that lawmakers were trying to include Americans in the process, compared to 13 percent of independents and 9 percent of Democrats.

While a handful of Republican senators have said they are willing to meet with Garland, the GOP has held firm on denying Garland a hearing or vote.

Now that Obama has nominated Garland, 69 percent overall said the Senate should give him a hearing, including 56 percent of Republicans.

That's an increase from a Morning Consult poll released last week, which found that less than half — 43 percent — of GOP voters thought Garland should get a hearing.

Nearly two-thirds told Monmouth that they didn't know enough about Garland to know his political ideology, and nearly half hadn't heard enough about him to weigh in on if he was qualified to be on the Supreme Court.

Generally, 53 percent of Americans also said they believe the president should nominate someone to fill a vacancy, and the Senate should take up the nomination, even if they occur at the end of a president's term.
The details of the Monmouth University Poll can be found at this link, and the numbers are generally the same in a new poll from CBS News and The New York Times:
A majority of Americans think that the Senate should hold a vote on Supreme Court nominee Merrick Garland, according to new details from a CBS News/New York Times poll out Tuesday.

Just over half (53 percent) of Americans surveyed would like the Senate to vote on President Barack Obama's Supreme Court pick, while 42 percent believe they should wait until the next president is chosen.

Last week Obama nominated Garland — the chief judge of the United States Court of Appeals for the District of Columbia Circuit — to serve on the Supreme Court. Senate Republicans are refusing to hold any hearings or votes on Garland, maintaining that the next president should choose the nominee.

Predictably, support for allowing Garland at least a vote breaks down along party lines: 75 percent of Democrats believe there should be a vote, while 65 percent of Republicans believe it should be held off.
Finally, a new Gallup poll finds similar numbers in support of Garland's confirmation:
A majority of Americans believe President Obama's Supreme Court nominee Merrick Garland should be confirmed, according to a Gallup poll released Monday.

The percentage of Americans approving of a Senate vote in his favor is about average for Supreme Court nominees soon after their selection is announced by the President, according to Gallup's review of past polling. But the poll also suggests that Republicans' argument that the next president should choose the successor to the late Justice Antonin Scalia hasn't shifted the public opinion at large as to whether Garland should be confirmed.
According to the poll 52 percent of Americans favor Senate confirmation of Garland, while 29 percent of them oppose his confirmation. That level of support puts Garland slightly above the average percentage (51 percent) of Americans in the last 25 years who support nominees' confirmation in their initial read of them.

A slim majority of Republicans — 51 percent — oppose Garland's confirmation, but at similar or lesser levels than their opposition to the confirmations of Justice Elena Kagan (51 percent) and Justice Sonia Sotomayor (57 percent) when their nominations were first unveiled.

Of those Americans who oppose Garland's confirmation, 67 percent say they oppose it because the next president should chose the nominee, while 20 percent say they oppose it on the basis of concerns about Garland himself.
These polls are consistent with nearly every poll that has been released on this issue since Justice Scalia died, and in the wake of the news last week that at least two Republican Senators — Mark Kirk of Illinois and Susan Collins of Maine — had broken with their caucus to call for both hearings and a vote for Judge Garland, who was named as President Obama's Supreme Court nominee just last week. While this would seem to suggest that there is at least some pressure building on Senate Republicans to give Garland a vote, it's not at all clear that this will be enough to break through the brick wall of opposition that currently exists among that group, or that it will have any impact on the opinions of the rest of the caucus or, most importantly, on the two men with the most power to decide how to proceed with regard to this nomination, Judiciary Committee Chairman Chuck Grassley and Senate Majority Leader Mitch McConnell. To a large degree, the entire argument that the Senate GOP is making right now regarding this nomination started with these two men when they both said, within hours after Justice Scalia had died no less, that there would be no action taken by the Senate on the vacancy created by his death until a new President was elected and sworn into office. Unless and until these two men change their mind, it's unlikely the Senate will do much of anything.
Realistically speaking, it's hard to see the logical basis for the Senate GOP's position at this point. Holding hearings does not obligate them to hold a floor vote on the Garland nomination, for example, and even holding a floor vote doesn't mean the Senate is obligated to approve Garland's nomination. As it stands, in fact, it seems rather clear that Garland's nomination would fail even if the Senate went forward with the regular order in how it handled the nomination. Because of the partisan makeup of the Judiciary Committee, it's probable that Garland would get rejected at the Committee level notwithstanding his qualifications and solely on the issue of the timing of his nomination, which is an issue that Republicans seem united on at this point. Even if the nomination were sent to the floor after losing at the committee level, something that last happened with the nomination of Judge Robert Bork in 1986, it's likely that the nomination would fail before a final up-or-down vote due to the unlikelihood that Democrats would be able to find fourteen Republicans to join them in seeking to invoke cloture. Given that, it's somewhat baffling to me why Republicans don't simply go through the motions of holding hearings and a vote that they will ultimately win, with the vote scheduled for just before the time when Congress will  be out of town for the political conventions and the summer recess. Theoretically, of course, the President could use his recess appointment power to get Garland on the Court, but the Supreme Court's ruling in NLRB v. Canning provides that the Senate can get around this possibility simply by holding pro forma sessions at least once every three days, which would mean it is not in recess and thus that the Recess Appointment Power is not triggered. Alternatively, if the Senate takes the nomination to an up-or-down vote and rejects Garland, and there are certainly enough Republicans to do this, then they could end the process altogether and require the President to try to start the process all over again with very little time left in his term. In the long run, this seems like it's far less risky than refusing at act at all.