Donald Trump's Nuclear Ignorance
Donald Trump displays some appalling ignorance about an important part of America's military, but his supporters are unlikely to care.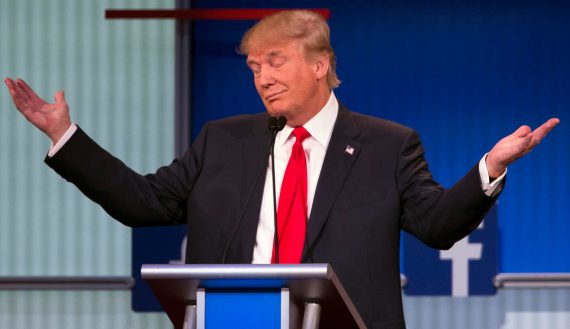 Perhaps one of the most revealing moments during last night's debate came when radio host Hugh Hewitt, who was among the questioners for the second time this cycle and seemed to receive more air time than he did during September's debate, asked Donald Trump about the components of America's nuclear arsenal:
Donald Trump had an overall positive assessment of the strategic value of nuclear weapons for the US during the Tuesday-night Republican presidential debate.

CNN debate moderator Hugh Hewitt asked Trump about what Hewitt characterized as one of the most important responsibilities of any US president: the management of the US's nuclear arsenal, which consists of some 4,717 warheads.

Hewitt asked if Trump had "a priority among the nuclear triad" — a catch-all phrase for the three-tiered aircraft, land-based missile, and sea-based system for delivering nuclear weapons.

The "triad" allows the US to launch nuclear weapons even if one element of the "triad" is disabled, or in the event of a preemptive nuclear attack on the US. The US is currently undertaking an estimated $355 billion nuclear modernization effort that will replace nuclear-capable missiles and upgrade sea-based platforms, like nuclear-equipped submarines.

Trump began his answer by broadly arguing for his own sound judgment, claiming that he opposed the 2003 US-led invasion of Iraq and emphasizing "that we need someone we can absolutely trust who's really responsible, who really knows what he or she is doing."

Trump emphasized that "nuclear changes the whole ballgame," implying that  "the power is so massive" that the US can maintain its security without having to forward deploy its military.

But Hewitt didn't ask Trump about the strategic benefits of nuclear weapons, or his suitability for managing the US nuclear arsenal. Rather, he was asking which element of the "triad" Trump believed was most important to maintain, querying him on whether he had a "priority" among the three legs of the triad.
Here's the transcript of the exchange between Hewitt and Rubio, as well as the end of the exchange where Hewitt turns to Rubio after Trump was, well, stumped:
HEWITT: Mr. Trump — Dr. Carson just referenced the single most important job of the president, the command and the control and the care of the military forces. The triad, the missiles and submarines are aging out. It's an executive order. What is your priority?

TRUMP: Well first of all, I think we absolutely need someone we can trust who is total responsibility who knows what he or she is doing that is so powerful and so important. And one of the things that I'm frankly most proud of is that in 2003, 2004, I was against going into Iraq because you are going to destabilize the Middle East. I called it, I called it very strongly and it was very important. But we have to be extremely vigilant and careful when it comes to nuclear. Nuclear changes the whole ball game. I would have said get out of Syria, get out. If we didn't have the power of weaponry today, the power is so massive that we can't just leave areas that 50 years ago or 75 years ago we wouldn't care, it was hand-to-hand combat. The biggest problem this world has today is not President Obama with global warming, which is inconceivable, this is what he's saying. The biggest problem we have today is nuclear proliferation anding are some maniac, having some madman go out and get a nuclear weapon. In my opinion, that is the single biggest problem that our country faces right now.

HEWITT: Of the three legs of the triad though, do you have a priority?

TRUMP: For me, nuclear, the power, the devastation, is very important to me.

HEWITT: Senator Rubio, do you have a response?

RUBIO: I do. Well first, let's explain to people at home what the triad is. Maybe a lot of people have not heard that terminology before. The triad is the ability of the United States to conduct nuclear attacks using airplanes, using missiles launched from silos from the ground and from our nuclear subs. And it's important, all three are critical. It gives us the ability at deterrence. Now, some are more critical than others. For example, the submarines. And that's the Ohio class submarine that needs to be modernized. The air component also needs to be modernized. The B-52, as someone earlier pointed out, is an outdated model that was flown by the grandparents of the people flying it now. And we need a serious modernization program of our [cyber launch?] missiles as well.
Paul Mirengoff at Power Line called the moment Trump's "Nuclear Howler." Kevin Drum referred to it as the worst answer of the night. And Rolling Stone's Jesse Berney calls Trump response "terrifying." This is a question that Hewitt has asked to essentially every candidate for President that he has had on the show to date. Some may call this a "gotcha" question, but when asked about it in the past Hewitt has said that he uses it as a way to test how well prepared a candidate when it comes to having at least some basic knowledge of the duties that a President would have. From that point of view, there is arguably no more important duty than the President's duty as Commander in Chief, of which maintaining, for the time being, a credible and powerful nuclear detterrent has been an important part for the better part of the last sixty-five years at least. From that perspective one would think that someone running for President would have done enough homework to have a basic understanding of what the issue is all about. Trump's answer indicates that he clearly doesn't, and that fact becomes even more significant when one considers that Hewitt asked Trump the same question in August and Trump gave essentially the same rambling, substance-free response.
Jonah Goldberg, for one, was not impressed:
[Trump's] answer on the nuclear triad was an embarrassment. Yes, yes, lots of people don't know what the nuclear triad is. But most people aren't running for president. Moreover, he clearly couldn't even bother to listen to Hugh Hewitt's hints about what it was.

Also, dont' forget that Hewitt asked him about the nuclear triad at great length in August, and he couldn't answer it then, either. Call me crazy, but someone running for president should know enough about the nuclear triad to at least a fake a plausible response. 
One could perhaps excuse Trump for being unprepared when asked about an issue that most Americans probably don't have much knowledge of themselves for the first time, even though anyone of Trump's advisers who may have prepared him for the interview would surely have realized fairly quickly that this is a question that Hewitt asks on a fairly regular basis. After that first time, though, and given the fact that Hewitt has been included in both of CNN's Republican Debates and is likely to be part of any future CNN-aired debates during this cycle, any rational campaign would have prepared their candidate to give a better answer than what Trump spouted out last night. Trump's campaign isn't any ordinary campaign, though, and one has to wonder if Donald Trump has ever done any real preparation for any of these debates since his rhetoric, statements, and demeanor have been virtually identical for all five of them. Nonetheless, a response like this during what everyone knew would be a debate that focused primarily if not exclusively on national security issues is something that one would think would stand out for Republican voters concerned about national security issues.
In reality, Trump's incoherent response to this question is unlikely to damage him any more than anything else that has happened during the course of this campaign. His supporters will see the question itself as an irrelevant "gotcha" question notwithstanding the fact that it concerns one of the fundamental responsibilities of the President of the United States. The people on the right inclined to care about it, on the other hand, have largely already written Trump off and are among the groups that seem to be gathering around Marco Rubio as their preferred candidate.
Aside from that, though, it strikes me that this response goes to the core of one of the many issues with Donald Trump, namely the fact that even more than almost any other candidate we've seen in recent years, Donald Trump is a man utterly free of substance. Watching a Donald Trump stump speech, listening to one of his interviews on the cable news networks, or watching him in one of these debates, one sees it all very clearly. In addition to the insults and the attacks against fellow candidates, the poisonous rhetoric against Mexicans, Muslims, and others, and an obsession with his position in the polls that is positively egomaniacal, one quickly realizes that Trump never talks substance. He never explains how he's going to get something done, only that he will get it done. He doesn't go into detail about his policy proposals, to the extent he has made any, and he just repeats the same lines about how he'll "Make America Great Again" and other crowd-pleasing catch phrases that are essentially meaningless. Yes, every candidate for any office engages in at least some of this rhetoric at some point, but I've never seen any candidate for office, especially the Presidency, who does it as exclusively as Trump does. The most bizarre part for me at least is Trump's continued obsession with poll numbers to the exclusion of almost anything else. He mentions them all the time during interviews and stump speeches, and they came up several times during the night last night as if it was sufficient for Trump to answer any question simply by saying he's leading in the polls. For those of us who have grown up watching Trump since the early 80s because we lived in the New York Tri-State area, Trump's obsession with his personal standing is nothing new, of course, but it is utterly bizarre to see it in a politician and it reveals a kind of self-obsession that makes one wonder if he is psychologically fit to be President of the United States.
As I said, none of this is likely to harm Trump's standing with his supporters, who seem to have developed a personal bond with him that is going to be hard for other candidates to break, but it doesn't say much of anything good about the state of our political culture.