Time For Republicans To Choose: Can You Really Support The Bigot At The Top Of Your Ticket?
Republicans have a choice to make and, so far, they've been making the wrong one.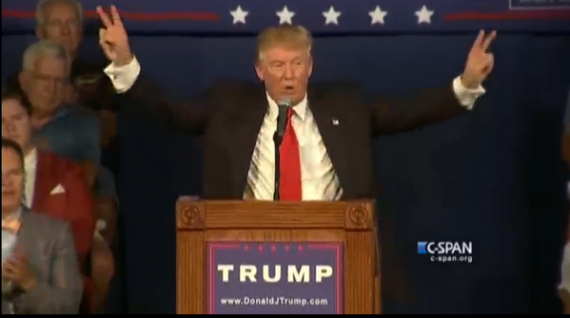 Paul Ryan joined many of his fellow Republicans in denouncing Donald Trump's comments about Judge Gonzalo Curiel, but then turned right around and said that he continued to support Trump:
WASHINGTON — Speaker Paul D. Ryan on Tuesday called Donald J. Trump's criticism of a Hispanic-American judge "the textbook definition of a racist comment" and said he "regrets" the remark. But Mr. Ryan also reiterated his support for Mr. Trump, the presumptive Republican presidential nominee, against Hillary Clinton.

"I disavow these comments — I regret those comments that he made," Mr. Ryan said after announcing a new Republican anti-poverty initiative in Anacostia, an overwhelmingly black neighborhood in Washington.

"Claiming a person can't do their job because of their race is sort of like the textbook definition of a racist comment," Mr. Ryan continued. "I think that should be absolutely disavowed. It's absolutely unacceptable. But do I believe that Hillary Clinton is the answer? No, I do not."

He said, "I believe that we have more common ground on the policy issues of the day and we have more likelihood of getting our policies enacted with him than with her."

Mr. Ryan's continued support of Mr. Trump, even as he accuses him of making a racist comment, underscores the tricky political predicament national Republicans are facing as their party's nominee repeatedly insults and offends broad swaths of the American public.

Mr. Ryan on Tuesday struggled but mostly failed to distinguish between Mr. Trump's remarks and the man himself, saying, "I don't know what's in his heart."

He said: "I do absolutely disavow those comments. I think they are wrong. I don't think they are right-headed. And the thinking behind it is something I don't personally relate to. But at the end of the day this is about ideas. This is about moving our agenda forward."

(…)

Asked how he could support Mr. Trump after calling the remarks racist, Mr. Ryan said: "I don't know what's in his heart but I think that comment itself is defined that way. So I'm not going to defend these kinds of comments because they are indefensible."
Ryan is only the latest in a whole round of top-level Republicans who had already rallied behind Trump's campaign but now find themselves on the spot due to Trump's insistence on using his campaign to fuel a racially-tinged personal vendetta against a Federal Judge:
Sen. Richard Burr (R-N.C.) who is running for re-election told Politico that he didn't agree with Trump's comments, but he that wouldn't stop him from endorsing him.

"If they were inconsistent with things we've seen up to this point in the election, I would tell you it might. But I think we're all sort of used to remarks being made that we don't expect," Politico reported Burr said.

Sen. Kelly Ayotte (R-NH), who is also running for re-election, re-upped her own opaque position on Trump.

"I felt that his comments were wrong and offensive, and I've urged him to retract them," Ayotte said, according to Politico, before adding "I'm running my race and focusing on the people of New Hampshire. I've said he's our nominee; I plan to vote for him, but I'm not endorsing."

Sen. Rob Portman (R-OH) reiterated that he planned to run "a very independent campaign,"according to the Associated Press.

(…)

Some Republicans are warning their colleagues that it is not too late to backtrack.

In a New York Times story Monday, Sen. Lindsey Graham (R-SC) fired off a warning for his fellow Republicans who'd decided to endorse Trump up to this point.

"This is the most un-American thing from a politician since Joe McCarthy," Graham said according to the New York Times. "If anybody was looking for an off-ramp, this is probably it. … There'll come a time when the love of country will trump hatred of Hillary."
Like Ryan, the Republicans quoted above who had already endorsed Trump have given all indications that they will continue to support him notwithstanding the fact he has yet again demonstrated that he has no problem appealing to the worst aspects of American politics, such as ethnic, religious, and racial biases, imagined resentments against foreigners, and ill-informed ideas regarding immigration, foreign policy, international trade, domestic crime rates, and a whole host of other issues. What, exactly, does it say about a man like Paul Ryan after all when he correctly points out that Trump's slanderous attacks against the integrity of Judge Curiel, attacks which the Judge cannot directly respond to or defend himself from without running afoul of the rules of Judicial ethics are racist and yet then goes on to say that he will still support Trump in November because,well, because he's a Republican? At best, I would suggest that this represents a level of cowardice on the part of politicians such as Ryan in that they are unwilling to do more than issue strongly worded statements against Trump while continuing to support him in the General Election. At worst, it says that they are perfectly okay with a man like Trump, who has spent the last year making bigoted comments about Mexicans and Muslims, mocking disabled people, attacking women like Megyn Kelly and Carly Fiorina in the most crass and demeaning manner, encouraging his supporters to engage in violence against supporters, and demonstrating utter disdain for the Rule of Law and Freedom of the Press, being at the top of their ticket. Of course, the fact that these things were all well-known about Trump and that these politicians endorsed him anyway doesn't say very much positive about them to begin with, and it makes their denunciation of his latest comments ring hollow.
As Chris Cillizza notes, the time for Republicans to jump ship on Trump, whether it's in the form of refusing to endorse him and concentrating on down ballot races in an effort to save as much of the GOP's majorities in the House, Senate, state legislatures, and Governor's Mansions as possible, actively campaigning for another candidate such as Libertarian Party nominee Gary Johnson, or basically sitting the entire election out as the Bush family appears to be doing, is slowly closing in any case. You can either stay on board a ship piloted by a largely irrational megalomaniac who appeals to bigots, racists, and those who would divide America rather than unite it, or you can try to save something of the GOP for a later day even if it means years in the political wilderness.
Fifty-two years ago, on the eve of what turned out to be a disastrous election defeat for the GOP, Ronald Reagan appeared on televisions around the nation and made the case for Republican candidate Barry Goldwater. By the time Reagan spoke out, it was largely too late to save Goldwater of course, but it was a speech that established Reagan as a political figure rather than just an actor and television host. The title of that speech was "A Time For Choosing." Today, Republicans also have a choice to make, but it is one where the answer seems far more obvious. To a large degree, the Barry Goldwater of the 1964  campaign was a caricature of the actual man, and the things he believed in were far from the racist buffoonery that Lyndon Johnson's Democrats were able to label it as. Donald Trump, however, is every bit the racist, bigot, and demagogue he has been labeled as over the past year. The Republican officials who are supporting him know this, and yet they continue to support him. What that says about them I will leave to the reader to judge, but if they want to save themselves they have little time left to make the right choice.