N.F.L. Coaching Legend Buddy Ryan Dies At 82
An N.F.L. defensive legend has passed away at the age of 82.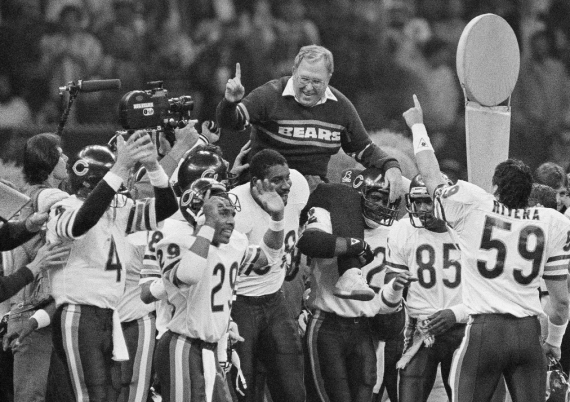 National Football League coaching legend Buddy Ryan, whose defensive innovations helped two teams win Super Bowls some nearly twenty years apart from each other, has died at the age of 82:
Buddy Ryan, pro football's famously combative defensive innovator who helped propel the Jets and the Chicago Bears to Super Bowl championships, died on Tuesday in Kentucky. He was 82.

His death was confirmed by the Buffalo Bills; his son Rex is head coach for the team and son Rob is an assistant. James Solano, Ryan's agent, said Ryan died in Kentucky, where he owned a ranch in Shelbyville, The Associated Press reported. Solano did not give a cause. Ryan had previously been treated for skin cancer.

In his seven years as a head coach, with the Philadelphia Eagles and Arizona Cardinals, Ryan never won a playoff game. But he had already solidified his legacy as an assistant coach with his shifting and blitzing defensive alignments, which confused and clobbered opposing quarterbacks. His bruising "46" defense, in particular, took the Bears to their 1986 Super Bowl victory.

For all his football intellect, Ryan embraced pure aggression.

"It got mean, cruel," defensive end Gerry Philbin, who played under Ryan at the University at Buffalo and on the Jets, once told Sports Illustrated. "I've never seen anyone better at bringing the animal out of you. If you didn't hit as hard as he wanted, he'd humiliate you in front of everyone. Guys like me loved him, though. He was just so brutally honest."

When Ryan became the Eagles' head coach in 1986 and subjected his players to punishing drills in training camp, he spoke of his mind-set.

"They probably think I'm a no-good so-and-so," he told The New York Times. "But that's all right. That breeds closeness as a team. That way they can all dislike the same guy."

His son Rex, having earned a reputation for brashness in his own right while coaching the Jets from 2009 to 2014, wrote in a memoir, "Play Like You Mean It" (2011), that he grew up "wanting to be Buddy Ryan," though he acknowledged that his father "was a little over the top from time to time."

In 1989, the Cowboys accused Ryan of offering bounties of a few hundred dollars to any of his Eagles players who knocked the Dallas kicker, Luis Zendejas, and quarterback Troy Aikman out of the Thanksgiving Day game, which Philadelphia won 27-0. Both players were roughed up in the game.

Zendejas, who had previously been cut by the Eagles, called Ryan "the fat little guy" and denounced him as essentially a coward. Ryan, a bit paunchy and bespectacled, denied offering bounties, and a league investigation could not substantiate the accusations.

When Ryan was the Houston Oilers' defensive coordinator in 1993, he punched the team's offensive coordinator, Kevin Gilbride, in the face during a playoff game against the Jets, incensed that Gilbride's disdain for ball control kept Ryan's defenders on the field too long.

Ryan broke into professional football as the defensive line coach for the 1968 Jets, who shocked the football world and provided credibility for their American Football League by upsetting the N.F.L.'s Baltimore Colts in Super Bowl III.

Working with Walt Michaels, the Jets' defensive coordinator, Ryan developed the seeds of his "46" defense. That scheme flourished with the 1985 Bears, who went 15-1 in the regular season, won two playoff games by shutouts and routed the New England Patriots, 46-10, in the Super Bowl.

Named for the hard-nosed and frequently blitzing safety Doug Plank, who wore No. 46 playing for the Bears in Ryan's first few seasons as defensive coordinator, the plan put as many as eight men on the defensive line to foil the opponents' blocking plays, and it sprang blitzes by just about anyone. The aim was to pressure the opposing quarterback or knock him out of the game.

Ryan hoped to find out "who the second-string quarterback was," he said.

(…)

James David Ryan was born on Feb. 17, 1931, in Frederick, Okla., where his father was a house painter. (His birth year was often listed as 1934; as Rex Ryan told it, his father had subtracted a few years from his true age to come off as more youthful when first looking for an N.F.L. job.)

Buddy Ryan served in combat as a master sergeant during the Korean War, then played guard at Oklahoma A&M (now Oklahoma State) and coached high school football in Texas.

He was an assistant coach at the University at Buffalo, Vanderbilt and the University of the Pacific before joining the Jets' staff under Coach Weeb Ewbank.

Following eight years with the Jets, Ryan was an assistant to Coach Bud Grant for two seasons with the Minnesota Vikings, overseeing the Purple People Eaters defense that helped take the Vikings to the 1977 Super Bowl, where they lost to the Oakland Raiders.

Ryan became the Bears' defensive coordinator in 1978. When Ditka became head coach in 1982, Ryan stayed on with the backing of the owner, George Halas. It seemed that the Bears had two teams. When they won the 1986 Super Bowl, the offensive players lifted Ditka onto their shoulders while the defensive players hoisted Ryan.

Ryan finally got a head-coaching job when he was hired by the Eagles soon after. He was fired after the 1990 season, when the Eagles lost their playoff opener for a third consecutive year. He posted a 43-35-1 record with Philadelphia.

Ryan was named as the Arizona Cardinals' head coach in 1994, and he chose sons Rex and Rob as assistants. He was 12-20 for two seasons, was fired once more, then retired.
Buddy Ryan, the architect of perhaps the greatest defense in NFL history, a doting father to a pair of current-day coaches who carry on his blustery style and legendary curmudgeon beloved by multiple fan bases passed away on Tuesday morning after a lengthy battle with cancer, his agent confirmed to NFL Media.

He was 82 years old.

Ryan, who created the 46 defense which propelled the Chicago Bears to a dominating victory in Super Bowl XX, was more than just a one hit wonder. His innovation as a blitz-crazed defensive line coach for the New York Jets lifted the team to its only Super Bowl victory in franchise history back in 1969 on the heels of such gems as the "Cheeseburger Blitz" and "Taco Bell Blitz." He was also one of the creative forces behind Minnesota's "Purple People Eaters" defenses back in the mid-1970s.

Oklahoma born and bred, Ryan entered the coaching profession in 1961 with the University of Buffalo following his service in the Military. From there, a career as a defensive troubadour began, winding its way through New York, Minnesota, Chicago, Philadelphia, Houston and Arizona.

"Without Buddy Ryan … I'm just a guy," legendary Bears linebacker Mike Singletary said on an ESPN documentary about the 1985 Bears. "He's someone that you meet, and you think he's the toughest, meanest guy that you'll ever meet. But he loves you. He just doesn't know how to express it. But you know it when he looks at you."

Added Mike Ditka, the head coach of the 1985 Bears, on Tuesday morning: "Buddy was such an integral part of the Chicago Bears and the '85 Bears, it was unbelievable.

"There's no way we win anything without that defense, without his coaching and I think everybody understands that. We won because of our defense, we can never forget that. That's just the way it was."

Ryan turned conventional football wisdom on its head early on in his career. He never understood the coddling of NFL quarterbacks, and famously surmised that "a quarterback has never completed a pass when he was flat on his back." He believed that quarterbacks made too much money, attracted too much attention and acted with an unfair sense of entitlement — and he spent nearly his entire career torturing them.

Bears chairman George H. McCaskey issued the following sentiment:

"Buddy Ryan was the architect of the greatest defense our league has seen. He was brilliant when it came to the X's and O's of the game, but what made him special was his ability to create an unwavering confidence in the players he coached. From the day he was hired in 1978, his defenses bought into more than the scheme, they bought into him and took on his personality. Buddy was brash, intelligent and tough. He was a perfect match for our city and team, which is why George Halas took the extraordinary step of keeping him at the behest of his defensive players while transitioning to a new coaching staff in 1982. We will always be grateful for Buddy's contribution to the Bears. He is one of the team's all-time greats. Our prayers are with his family."

During the Bears' Super Bowl run in 1985, the team allowed just 12.4 points per game and logged 64 quarterback sacks during the regular season. Defensive end Richard Dent and linebacker Otis Wilson combined for 27.5 alone. In a 46-10 Super Bowlwin over New England, Patriotsquarterback Steve Grogan was sacked four times and picked off twice. ThePatriots rushed the ball 11 times in thatSuper Bowl for seven total yards.

As former Bears defensive back Doug Plank put it: "We're going to get to know your backup quarterback today."

Ryan is widely believed to be the only coordinator carried off the field during a Super Bowl win.

Opposing coaches struggled to describe the beauty of Ryan's defenses because they could never completely pin it down. Through the late 1970s and early '80s, the varied fronts and organic pressures laid the groundwork for many of the schemes we see today. Dom Capers' psycho front, as well as defenses used by Rex Ryan, Todd Bowles, Romeo Crennel, Bob Sutton and others owe part of their success to the dizzying playbook put together by Buddy Ryan over the years.

(…)

Ryan's passion for the game often made him a divisive figure. As a coordinator, he warred with his head coach and fellow assistants. During the golden years in Chicago, that meant a famously dysfunctional relationship with Ditka, who by orders from ownership, had to keep Ryan and leave the defense alone. Buddy would hurl erasers at the door when Ditka entered team meetings. When Ditka would suggest Ryan switching to zone late in punishing wins, Ryan would just shrug and walk away. The two had to be separated several times by players during halftime grapples.

"It didn't matter if it was a practice or a game, they were b —— at each other," quarterback Jim McMahon said in an NFL Films special on the most famous feuds in NFL history. "It's amazing we won."

In Houston, Ryan had a famous disdain for then-offensive coordinator Kevin Gilbride's run and shoot offense. Ryan called it the "chuck and duck," amid a public game of cat and mouse that resulted in Ryan throwing a punch at Gilbride on the sideline of a nationally televised game.

That was Ryan — authentic and ornery until the end. As a head coach in Philadelphia, he presided over some of the most beloved teams in franchise history. He took jabs at ownership, he battled with fans over talk radio and molded a miserable roster into a 43-38-1 team over five seasons. He reached the playoffs three times.
Ryan's time as a head coach in his own right was a not very impressive 55-55-0 and he went 0-3-0 in the playoffs. Not exactly anything to write home about, of course, but it was always as a defensive guru that Ryan was going to leave his mark on the game, and he did that with the Jets, the Vikings, and, of course, the Bears, where he managed to craft defensive innovations that have shaped the game into what it is today and what it will become in the future. The fact that he was able to help craft defenses that adjusted to the game as it was played from the late 1960s until well into the 1980s attests to his own ability and his ability to motivate players from a wide variety of backgrounds. It's difficult to imagine what the game would be like today without him.