Paul Ryan Now Has A Clear Path To Become Speaker Of The House
With the top conservative caucus in Congress acquiescing to his candidacy, Paul Ryan is largely certain to become the next Speaker of the House.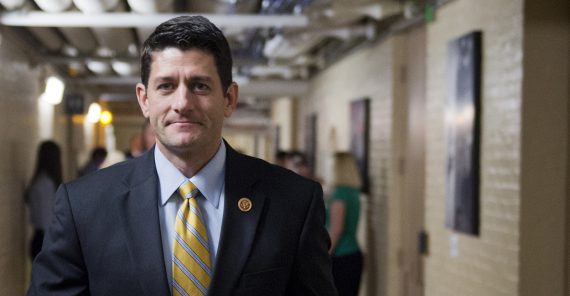 Paul Ryan's obviously reluctant and condition-filled bid to replace John Boehner as Speaker of the House received a significant boost last night with the support, or at least the acquiescence, of one of the major groups that has been opposing both Boehner and Majority Leader Kevin McCarthy:
A strong majority of anti-establishment conservatives in the House Freedom Caucus voted on Wednesday night to support Representative Paul D. Ryan of Wisconsin for House speaker, assuring that he will have the votes to secure the post next week and averting a leadership crisis for Republicans.

Mr. Ryan indicated that he was prepared to seize the gavel and try to bring unity to his party, which has been riven over how House leaders exert authority over members. That fight had become so bitter that it forced the resignation of Speaker John A. Boehner and derailed the candidacy of the majority leader, Representative Kevin McCarthy, to replace him.

"I'm grateful for the support of a supermajority of the House Freedom Caucus," Mr. Ryan said in a statement, referring to the two-thirds vote he received.

The apparent coalescing of support behind Mr. Ryan, 45, comes at a critical moment for Congress, with votes expected to begin as soon as next week over raising the government's borrowing authority, the first of several pressing fiscal matters.

While the vote fell short of the four-fifths majority required for the Freedom Caucus to deliver its official endorsement, lawmakers said it did deliver the party unity that Mr. Ryan had set as a condition for accepting the position.

In a statement, the Freedom Caucus said its members had disagreed with one another about other conditions Mr. Ryan had set for serving as speaker. "While no consensus exists among members of the House Freedom Caucus regarding Chairman Ryan's preconditions for serving," the group said in its statement, "we believe that these issues can be resolved within our conference in due time."

The group added, "We all know that Washington needs to change the way it does business, and we look forward to working with Paul and all our colleagues to enact process reforms that empower individual representatives and restore respect to our institution."

Two other party factions are expected to formally give their support by Friday, meaning that Mr. Ryan will be selected as the Republican nominee next Wednesday and officially affirmed as speaker in a floor vote the next day.

One hard-liner, Representative Raúl Labrador of Idaho, said that roughly two-thirds of the Freedom Caucus had pledged to vote for Mr. Ryan for speaker, and he called the outcome an "offer of support."

Mr. Labrador, however, also warned that the group's backing was far from unconditional.

"We want to make sure he understands that this is not about crowning a king," he said. "It's about working together."

Emerging from the meeting, another member of the Freedom Caucus, Representative Justin Amash of Michigan, said of the vote, "It's sufficient for him to become the next speaker, in my opinion."

Mr. Ryan, a fiscal policy expert who has insisted that he never wanted the speaker's gavel, is chairman of the tax-writing Ways and Means Committee, which he has long said is his dream job.

The vote by the Freedom Caucus seemed to effectively end a leadership crisis that has thrown the House into disarray over the last few weeks.

The unexpected resignation announcement by Mr. Boehner late last month was followed by Mr. McCarthy of California abandoning his own bid for the position in the face of conservative opposition.All Categories

After that, Mr. Boehner had other party leaders plead with Mr. Ryan to reconsider his position.

Mr. Ryan said on Tuesday night that he would reluctantly accept the speakership, but only if his Republican colleagues united behind him and agreed to several demands.
The Washington Post's Mike DeBonis and Robert Costa have more:
Ryan's declaration that he would serve as House speaker if and only if he receives formal backing from major House GOP factions — including the Freedom Caucus — effectively gave the group veto power over his ascent. It also exposed fissures in the typically close-knit caucus.

Some, citing Ryan's demand to jettison the House rule allowing a simple majority to oust a speaker at virtually any time, said it would be nearly impossible for him to earn their support. Others argued that Ryan could be the type of transformative leader that House Republicans need.

The Freedom Caucus was also facing the prospect of further alienating the rest of the House GOP, and a potentially crippling loss of credibility, if it were to reject Ryan. Many mainstream conservatives saw Ryan as the best chance, maybe the only chance, to unite their fractious party.

"It would be an embarrassment to them" if the Freedom Caucus dismissed Ryan, said Rep. John Kline (R-Minn.), chairman of the Education and Workforce Committee. "What he's doing is selfless."

Ryan appeared to calm some nerves in the afternoon meeting, making clear that he did not want to end the ability of the House membership to remove the speaker — only change the procedures for doing so. He also gave reassurances that he would respect the "Hastert Rule" — the informal practice of former speaker J. Dennis Hastert that required the majority support of the Republican conference before moving legislation to the House floor.

ep. Mo Brooks (R-Ala.) said Ryan agreed that legislation should be moved only with the support of the majority of the majority. In particular, he said, that calmed immigration hawks wary of Ryan's past support for measures that would offer illegal immigrants a path to citizenship.

But Ryan faced a big challenge in getting the group's endorsement, Brooks said: "Paul Ryan probably made some progress . . . but to get 80 percent of Freedom Caucus to switch from Daniel Webster?" he said. "It's going to be difficult for Paul Ryan to shift that in two, three days."

Ryan said little upon departing the afternoon meeting, calling the gathering an "exchange of ideas on how to make Congress work better."

Earlier in the day, Boehner announced that Republicans will vote internally to nominate a speaker next Wednesday, with a floor vote to follow Thursday. The announcement was made after Ryan said Tuesday night that he would run for speaker only if his terms were met.

"This is not a job I've ever wanted, I've ever sought," Ryan said. "I came to the conclusion that this is a very dire moment, not just for Congress, not just for the Republican Party, but for our country."

Those demands include not only the endorsements and the rule changes, but also giving Ryan time with his young family.

By the time the meeting wrapped up Wednesday night, only a "small handful" of members had reservations, said Rep. Mick Mulvaney (R-S.C.), signaling that Ryan had secured the 218 House votes necessary to prevail in the floor vote.

"I think he satisfied many of us that he was going to change business as usual in Washington, D.C.," Mulvaney said.

Another sticking point for Freedom Caucus members was their endorsement of Webster, which was made earlier this month and played a role in ending McCarthy's bid for the speakership.

Webster's focus on procedural reforms, honed during his years as speaker of the Florida House of Representatives, has won him an avid following among hard-liners who feel marginalized by the GOP's establishment.

"You've got a bunch of alpha people in here," said Rep. Paul A. Gosar (R-Ariz.), a Webster supporter. "You don't need another alpha leader."

Webster made clear Wednesday that he would not stand aside for Ryan: "People are responding to what I'm saying. They're sick of how this place is run, of the dog-and-pony shows on committees. They want a return to bills from members being considered, rather than approving the leadership's bills."

But Ryan's near-bulletproof reputation among conservatives as a visionary and policy expert allowed hard-liners to look past his 16-year congressional tenure and trust him in a way that they never trusted Boehner or McCarthy.
While the Freedom Caucus did not formally endorse Ryan as he requested, and while Webster will apparently still seek to have his name put into nomination for the Speaker's chair when the vote is held on the House Floor next Thursday, last night's move appears to largely guarantee that Ryan will have a clear path to victory and that he will succeed John Boehner by the end of next week. Had they wanted to, the caucus could have tried to block Ryan's nomination outright, which very well could have caused him to withdraw his name from contention entirely since he had made it clear that one of his conditions for running would be that he would have a clear path to victory. The problem for them in taking that position is that, in the end, House conservatives have a far less credible case for opposing Ryan than they did for their opposition to John Boehner over the past five years. While he has been in Congress since 1998, Ryan has long been a "golden boy" on the right, especially when it comes to fiscal and entitlement issues. This is one of the reasons why he was tapped for such things as responding to the President's State of the Union Address, to being the GOP's chief budget negotiator with Democrats when they controlled the Senate, to being Mitt Romney's running mate in 2012. In addition to those ties to the right, Ryan also has fairly good relationships with leadership and more moderate Republicans. This is why he was the person that Republicans immediately turned to when Kevin McCarthy dropped out of the Speaker's race notwithstanding his previous reluctance to consider the position, and it's why the efforts of groups on the right to stop his rise to Speaker before it even began seem to have crashed on the rocks. With Ryan's conditions now virtually all met, there's nothing standing between him and the Speaker's chair.
Getting the Speaker's gavel handed to him by John Boehner next week, of course, is probably the easiest part of the battle that Paul Ryan has ahead of him over the coming months of years. As Boehner did, Ryan will have to find a way to lead a House Republican Caucus that has proven to be fractured between many competing groups since the moment that the GOP regained control of the House in the 2010 elections. Notwithstanding the fact that he probably has better relationships with House conservatives than John Boehner is, Paul Ryan is going to find that he too will soon have to deal with the same problems that have plagued Boehner and the rest of the House leadership over the past five years. He's likely to face a baptism by fire as well, since his first two months in office will require the House to deal with issues such as raising the debt ceiling and passing a final budget for the new fiscal year that, while seemingly simple and straightforward have become more difficult thanks to the efforts of groups like the House Freedom Caucus. This will require Ryan to make many of the same compromises and deals that Boehner has over the past five years, and the fact that Ryan himself was among those arguing in favor of those deals over the years is a strong indication that he won't have much of an ideological opposition to doing it again. When that happens, the same people who have been attacking John Boehner for five years, and who have spent the last week making Washington wonder if they would back Ryan's bid or try to block it are likely to start attacking Ryan as well. The interesting thing to watch will be how Ryan reacts to those attacks, and whether he'll be willing to impose the same discipline on members that Boehner has in the past, such as stripping rebellious members of plum committee assignments.
The Washington Post Editorial Board had this to say about the upcoming leadership changes in the House, and it hits the nail right on the head:
Whoever leads the GOP in Congress must be clear: Republicans can nudge the country in the direction they want to go, but they can't drag it kicking and screaming. If a legislative deal leans 60 percent in the GOP's direction and avoids the threat of default or shutdown, that is a Republican victory. Declining to take the country's full faith and credit hostage is not weakness, it is wisdom. Toughness means taking votes that the bloviators on talk radio will not like, not just those that pass a conservative purity test.

Mr. Ryan has shown he appreciates these points. As elements of the perpetually outraged right wing have pointed out, he voted for the Troubled Asset Relief Program when the economy depended on it. He worked with Sen. Patty Murray (D-Wash.) to craft a compromise budget that, while deeply imperfect, gave the country a rest from near-constant budget acrimony. Though his position isn't crystal clear, he has supported the sort of comprehensive immigration reform that most Americans favor and that the country requires.

"It's not too late to save the American idea," Mr. Ryan said Tuesday, "but we are running out of time." As much as anything else, the American idea is that a religiously, ethnically, ideologically diverse group of people can govern themselves through common allegiance to a political system that requires compromise. A powerful bloc in Congress's majority party refuses to accept this idea, and the fuse on national default is burning low. If Mr. Ryan is to be an effective speaker, he must be clearer about what true GOP leadership would look like.
That's the task that Ryan has ahead of him, and the question that we'll have to wait to find the answer to is whether he'll be able to get the job done any easier than John Boehner did.