Kevin McCarthy Drops Out Of Race For Speaker, House Republicans In Chaos
Another political earthquake in Washington as Kevin McCarthy drops out of the race for Speaker, and the House GOP doesn't seem to know which way to go.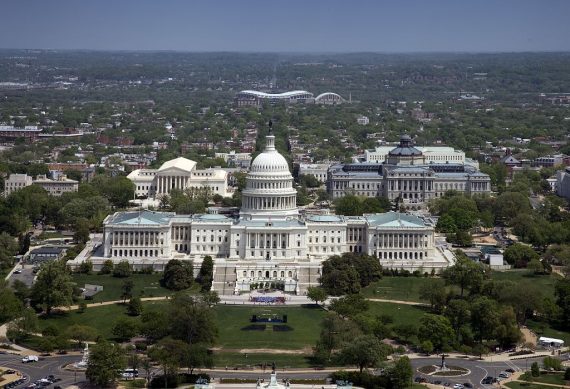 House Republicans were supposed to vote on their nominee for Speaker of the House today and, while he was facing challenges from Utah Representative Jason Chaffetz and Florida Representative Daniel Webster, House Majority Leader Kevin McCarthy was expected to easily get the majority he needed to get the nomination. There was still a question about whether or not he'd be able to get the 218 votes needed to win on the House Floor on October 29th, but the expectation was that he'd probably be able to do it since the conservative rebellion once again seemed to be petering out and Chaffetz at least had made it clear that he would endorse whomever won the nomination. Instead of voting, however, the members of the House Republican Caucus found themselves leaving early because McCarthy announced at the start that he was dropping out of the race for Speaker of the House:
WASHINGTON — Representative Kevin McCarthy on Thursday abruptly took himself out of the race to succeed John A. Boehner as House speaker, apparently undone by the same forces that drove Mr. Boehner to resign.

"I have the deepest respect and regard for each member of the conference and our team as a whole," Mr. McCarthy said in a prepared statement shortly after a meeting in which he told Republicans of his decision. "It is imperative for us to unite and work together on the challenges facing our country.

"Over the last week it has become clear to me that our conference is deeply divided and needs to unite behind one leader. I have always put this conference ahead of myself. Therefore I am withdrawing my candidacy for speaker of the House. I look forward to working alongside my colleagues to help move our conference's agenda and our country forward."

Mr. McCarthy's candidacy was damaged when he suggested in an interview on Fox News last week that the House committee investigating Benghazi had the political aim of damaging Hillary Rodham Clinton's presidential campaign. He acknowledged that his remarks about Benghazi had factored into his decision.

As shocked members left the meeting there was a sense of total disarray, with no clear path forward and no set date for a new vote. Representative Peter King, Republican of New York, said that in dropping out of race, Mr. McCarthy said, "I'm not the one to unify the party."

Representative Jason Chaffetz, Republican of Utah, who challenged Mr. McCarthy for the speaker's chair, said he was "absolutely stunned" by his decision. "Our conference is going to have to do a lot of soul searching," he said.

Mr. Chaffetz said he was still a candidate for speaker.

A group of about 40 hard-line House conservatives announced Wednesday night that they would support Representative Daniel Webster of Florida, making it unclear whether Mr. McCarthy, who is from California, could assemble the 218 votes on the floor that he would need to be elected later this month.

Mr. McCarthy's decision put the House of Representatives into a state of disarray just days from the first and most serious of a series of fiscal deadlines.

The Treasury Department has said it will exhaust its authority to borrow money to fund the government on Nov. 5. If Congress does not raise or suspend the government's statutory borrowing limit, the government would default on its debt days later, risking economic chaos, soaring interest rates and plunging stock prices.

Then, on Dec. 11, a stopgap spending bill expires. Without congressional action, much of the government will shut down.

Representative David Jolly, Republican of Florida, a member of the far right, which opposed Mr. McCarthy, was asked how the party could unify. "It's going to take a hard family conversation," he said.

Representative Paul Ryan of Wisconsin, who had been set to officially nominate Mr. McCarthy, said, "Kevin McCarthy is the best person to lead the House, and so I'm disappointed in this decision."

Many Republicans would like to see Mr. Ryan make a run for the speaker's job, but on Thursday he said he would not.

"Now it is important that we, as a conference, take time to deliberate and seek new candidates for the speakership," he said. "While I am grateful for the encouragement I've received, I will not be a candidate. I continue to believe I can best serve the country and this conference as Chairman of the Ways and Means Committee."

Representative Tim Huelskamp, Republican of Kansas, echoed the sentiments of many who have been leading the revolt in the party when he said, "We're looking for a speaker who works with the conservatives, not against us."

At the White House, officials said they were surprised by what a spokesman repeatedly called the "chaos" playing out inside the House Republican conference. "It certainly is easy to poke fun at the chaos," said Josh Earnest, the White House press secretary.

Mr. Earnest urged Republicans in the chamber to find a way to rein in its most conservative members. The Republicans, he said, should "either tame the forces of that small but vocal group of extreme ideologues, or buck up the mainstream — or at least more mainstream — majority within the House Republican conference."
More from The Washington Post:
House Majority Leader Kevin McCarthy on Thursday abruptly dropped out of the race to replace John Boehner for speaker, a stunning move that further complicates an already chaotic House leadership contest.

McCarthy announced his decision at a meeting of House Republicans who gathered to select their choice for speaker ahead of the official floor vote scheduled for Oct. 29.

"We need a fresh face," said McCarthy in post-meeting press conference, who said he would remain as majority leader. "I don't want making voting for speaker [on the House floor] a tough one."

"If we're going to be strong, we're going to be 100 percent united… let's put the conference first," he added, with his wife at his side.

McCarthy addressed questions about whether his statement on the Select Committee on Benghazi — indicating its goal was to nick Hillary Clinton's poll numbers — was too damaging.

"Well, that wasn't helpful. I could have said it much better." McCarthy admitted, adding he "should not be a distraction" from the panel finding the "truth." "That's part of the decision as well."

Following the meeting in which McCarthy announced he was out of the race, Rep. John Fleming (R-La.), a member of the conservative Freedom Caucus, said he was "shocked just like everyone else…[McCarthy] said something to the effect of, 'I'm not the guy.'"

Fleming said the 30 to 40-member Freedom Caucus will start with a clean slate of candidates and meet possibly as early as Thursday to discuss who to throw their support behind.

Republican Study Committee chairman Bill Flores (R-Texas) said the party needs to focus on a consensus candidate that can unify Republicans — and that person needs to be someone outside the current list of senior GOP leaders.

"It's somebody who has earned the trust and respect of the big bulk of the conference," he said. "And it's somebody who has hopefully not burned too many bridges."

Several Republicans leaving the meeting, including moderate Rep. Charlie Dent (R-Pa.), said it's unclear who will emerge as the leading candidate for speaker. Boehner is slated to step down on Oct. 30 and the House floor vote is scheduled for Oct. 29.

Amid speculation that an interim speaker might be selected, Rep Hal Rogers (R-Ky.), House Appropriations Committee chairman, said he expects Boehner to stay on until a new speaker is chosen.

Asked how this might impact high-stakes negotiations on federal spending and the debt limit, he quipped, "This is all we needed."
To say that McCarthy's announcement came as a surprise would be an understatement. Only hours before the Caucus meeting was scheduled to start at Noon for  a vote to be conducted, McCarthy had met with a large group of caucus members to make his pitch for his bid and expressed confidence to reporters that he would have the votes he needed to be elected both in today's meeting and in the floor vote in three weeks. There was really no indication that he was either in serious danger, or that he was in any real danger from either Chaffetz or Webster notwithstanding the discomfort that spread through the GOP in the wake of his comments about the Select Committee investigation into the Benghazi attack. There's been some suggestion that McCarthy had come to the realization that he couldn't get to the 218 votes he would need on the floor, but given the fact that that vote is three weeks away it seems odd that he would make that determination so far in advance of the vote when it seems obvious that he should be able to lobby House Republicans enough to get past the threshold. There have been some rumors circulating in the wake of the bombshell announcement that suggest that McCarthy's decision may be related to allegations regarding an extramarital affair with North Carolina Congresswoman Renee Elders, but those reports are entirely unsubstantiated.  At the very least, though, it's worth noting that these rumors have apparently been circulating among conservatives both inside and outside Congress for several days, and led one Member of Congress to write a letter on Tuesday referring to candidates for leadership positions with "moral turpitude" issues. Could this be what caused McCarthy to drop out in the end? Perhaps we will find out, but whatever the reason it's clear that this has sent a bigger political earthquake through the House GOP Caucus than even John Boehner's decision to resign late last month.
The facts that motivated McCarthy to drop out of the race will come out in time most likely, but attention is already turning to who Republicans will pick as their nominee for Speaker. As things stand, the vote that was supposed to take place today has been postponed indefinitely and will not likely be rescheduled until it's clear who the candidates are. Both Webster and Chaffetz seem intent on staying in the race, but neither of them seem likely to emerge as a candidate that will have the kind of broad support across the caucus to get the votes they need to win. Paul Ryan, who could most likely win the nomination and the Speakership easily if he wanted it, but he took himself out of the running less than fifteen minutes after we learned that McCarthy had dropped out and it's unlikely he could be persuaded to change his mind. Other names that are being mentioned in the early hours after this announcement include Oklahoma Congressman Ted Cole, who would be the first person of Native American ancestry to serve as Speaker, Texas Congressman Jeb Hensarling, and Virginia Congressman Bob Goodlatte. Since McCarthy has announced that he is not staying as Speaker, there will be no election for those positions, so it's possible that current Majority Whip Steve Scalise or Congressman Tom Price, who were the two primary candidates for that position if McCarthy moved up to the Speaker's Chair, may decide to run for Speaker instead. There may be other names mentioned in the coming days as well, because as things stand right now there is no clear line of succession in the House Republican Caucus, and that fact that this is happening at the same time that several important pieces of legislation need to be dealt with certainly complicates things.
Update: House Speaker John Boehner, who apparently had no advance notice of McCarthy's decision, just released a statement saying that he will serve as Speaker until Republicans are able to elect a new Speaker. Whether this means he would delay his resignation from Congress is unclear, but it's worth noting that the Constitution does not require that the Speaker of the House be a Member of Congress so, technically, Boehner could continue to serve as Speaker even after he resigned from Congress:
Statement: http://t.co/nhtDa8TNOA pic.twitter.com/beH0vMf1Nw

— Speaker John Boehner (@SpeakerBoehner) October 8, 2015