John Boehner, Without A Filter
It's been two years since John Boehner stepped down as Speaker, and he's got a few things to say about his former colleagues and the state of American politics.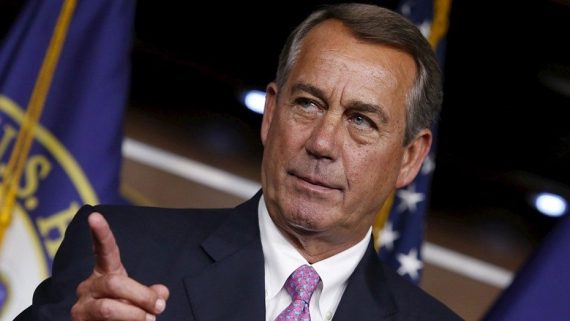 John Boehner has been out of office for just over two years now, and he's not holding back:
John A. Boehner has always had a gruff side. During his four-plus years as House speaker, the Ohio Republican let it show occasionally, like when he told former Democratic leader Harry M. Reid "go f— yourself" outside the Oval Office.

Now, two years to the day after he left Congress, Boehner is truly free to speak his mind. And a sprawling new profile in Politico Magazine finds the 67-year-old retiree doing just that — with his harshest words reserved for his old antagonists on the political right.

Speaking with Politico's Tim Alberta, a chain-smoking, merlot-drinking, golf-playing Boehner gave a typically foul-mouthed assessment of some of his Republican colleagues, dumped on right-wing media stars, and opened up about his concerns over the Trump administration and the GOP's future. The 12,000-word profile is worth reading in full, but what follows are some highlights

Boehner had choice words for former Utah congressman Jason Chaffetz, the former Republican chairman of the House Oversight Committee who retired earlier this year, and Rep. Jim Jordan (R-Ohio), who was favored among conservatives to replace him. When Boehner was asked about the two, he made his feelings clear.

"F— Jordan. F— Chaffetz," he told Politico. "They're both a——-."

Anyone who followed the internecine fighting between Boehner and the far-right House Freedom Caucus during Boehner's run as speaker will understand the resentment. Jordan, the Freedom Caucus's founding chairman, was Boehner's main antagonist, undercutting his efforts to broker deals with the White House to address the national debt and other issues. Each effectively accused the other of betrayal.

"Jordan was a terrorist as a legislator going back to his days in the Ohio House and Senate," Boehner told Politico. "A terrorist. A legislative terrorist."

Presented with Boehner's opinion of him, Jordan responded that he was merely doing what voters asked of him. "I feel sorry for the guy if he's that bitter," he told Politico.

As for Chaffetz, Boehner said the beef wasn't personal. Chaffetz was just a "total phony," he said. "With Chaffetz, it's always about Chaffetz."

Not everybody made Boehner's bad list, however. He has even wound up becoming friends with some members of Congress who have crossed swords with him, according to Politico.

(…)

On the whole, Boehner said, Congress was a mixed bag.

We've got some of the smartest people in America who serve in the Congress, and we've got some of the dumbest," he said.

He added: "We have some of the nicest people you'd ever want to meet, and some that are Nazis. Congress is nothing more than a slice of America."

When Boehner looks at America, he sees a nation with deep, troubling divisions. The culprit, he said, was an increasingly polarized media. He pointed to talk radio and Fox News on one side, and MSNBC and social media on the other.

In particular, he took aim at radio host Mark Levin, saying his popularity among right-wing audiences turned fellow conservative commentator Rush Limbaugh and Fox News host Sean Hannity against him while he was speaker.

Levin, he said, "went really crazy right and got a big audience, and he dragged Hannity to the dark side. He dragged Rush to the dark side. And these guys — I used to talk to them all the time. And suddenly they're beating the living s— out of me."

In early 2015, Boehner reportedly called Hannity and vented his frustrations: "I called him and said, 'Listen, you're nuts.' We had this really blunt conversation. Things were better for a few months, and then it got back to being the same-old, same-old. Because I wasn't going to be a right-wing idiot."

Boehner said he counted Roger Ailes, the late chairman of Fox News, as a personal friend, but grew concerned during a 2012 meeting when Ailes started peddling conspiracy theories. "He had black helicopters flying all around his head that morning," Boehner said. "It was every conspiracy theory you've ever heard, and I'm throwing cold water on all this bulls—."

Boehner was more cautious when discussing President Trump, whom he considers a friend, but made clear he doesn't think much of the current administration.

"Dysfunction is a relative term," he said of the White House in the Politico profile. "Right now it looks like I was a genius."

At a conference earlier this year, Boehner called Trump's presidency a "complete disaster," a remark that reportedly resulted in irate voice mails from Reince Priebus, then White House chief of staff.

For Boehner, Trump seems to represent bigger problems in the Republican Party's ability to govern, according to Politico. The GOP has no real leadership, he said.

"Donald Trump's not a Republican," Boehner said. "He's not a Democrat. He's a populist. He doesn't have an ideological bone in his body."
During his tenure as Speaker, one always got the impression that Boehner was a man who was on the horns of a dilemma. After nearly twenty years in Congress, he managed to rise to the top of the body even after suffering a number of setbacks both early in his tenure and during the Speakership of Newt Gingrich when he was part of a small group of House Republicans who sought to unseat Gingrich after the failures he had suffered during the government shutdown crisis in late 1995. It took several years after that for Boehner to work his way back into the good graces of the powers that be to the point where he was once again part of the leadership team, but he was somewhat lucky in that it happened at the same time that Gingrich finally met his downfall in the wake of the losses that Republicans suffered in the 1998 midterms as well as the revelations about his affair with the woman who eventually became his third wife. Thanks to that, Boehner quickly found himself rising to Majority Leader under Speaker Dennis Hastert and, after Hastert left Congress in the wake of Republican losses in 2006 that put the Democrats in power. That made Boehner Minority Leader and the logical choice for Speaker when the GOP regained control of the House in 2010.
Once he got in that role, though, Boehner quickly found that being Speaker of the House in the Tea Party Era wasn't all it was cracked up to be. Corralling his fellow Republicans to support legislation proved difficult unless it had the support of Tea Party. This led to several points over the four years that Boehner served as Speaker when he was put in essentially impossible situations over seemingly straightforward issues such as raising the debt ceiling and passing a budget.The most prominent of those, of course, were the showdowns he was essentially forced into by his caucus over extending the Bush tax cuts, raising the debt ceiling and, most famously, the government shutdown of October 2013, which turned out to be a huge political loss for the Republican Party that seemed at the time as if it would have a serious impact on the 2014 midterms. That didn't turn out to be the case, but the die was cast by that event and it led directly to the circumstances that brought Boehner to abruptly decide to step down shortly after Pope Francis addressed a joint session of Congress. On the whole, it's clear that Boehner has no regrets about that decision, and I can't say that I blame him.
On a final note, I highly recommend reading the entire Tim Alberta piece in Politico Magazine. It's long, but it provides a fascinating look into Boehner's career, his time in office during the Gingrich years, and of course the years that he served as Speaker and the circumstances surrounding his decision to step down in October 2015. By the end of the piece, you'll have a pretty good idea of what it was like behind the scenes for those four years, and how the Republican Party has changed in the twenty years since Boehner first won an unlikely bid to become the Congressman from Ohio's Fifth Congressional District.