GOP Committee Chair Says Investigations Will Continue If Hillary Clinton Becomes President
Get ready for more hearings if Hillary Clinton becomes President.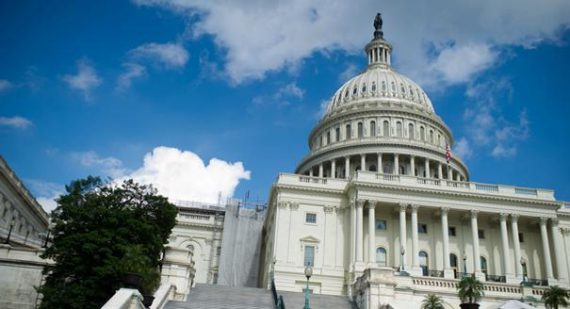 House Republicans are promising more investigations if Hillary Clinton is elected President:
SOUTH JORDAN, Utah — Jason Chaffetz, the Utah congressman wrapping up his first term atop the powerful House Oversight Committee, unendorsed Donald Trump weeks ago. That freed him up to prepare for something else: spending years, come January, probing the record of a President Hillary Clinton.

"It's a target-rich environment," the Republican said in an interview in Salt Lake City's suburbs. "Even before we get to Day One, we've got two years' worth of material already lined up. She has four years of history at the State Department, and it ain't good."

If Republicans retain control of the House, something that GOP-friendly maps make possible even in the event of a Trump loss, Clinton will become the first president since George H.W. Bush to immediately face a House Oversight Committee controlled by the opposition party. (Bill Clinton, George W. Bush and Barack Obama lost Congress later in their presidencies.)

And other Republican leaders say they support Chaffetz's efforts — raising the specter of more partisan acrimony between them and the White House for the next four years.

"The rigorous oversight conducted by House Republicans has already brought to light troubling developments in the [Hillary] Clinton email scandal," the office of House Speaker Paul D. Ryan (R-Wis.) said in a statement to The Washington Post. "The speaker supports [Oversight's] investigative efforts following where the evidence leads, especially where it shows the need for changes in the law."

And the Oversight Committee may not be the only House panel ready for partisan battle. While the Select Committee on Benghazi appears to have finished its work, Rep. Jim Jordan (R-Ohio), a committee member who says Clinton might have perjured herself on questions about her email, said recently that he wants the committee to continue.

If she wins, Clinton would enter office with low favorable ratings and only one-third of voters considering her "honest and trustworthy." As a result, Republicans are not inclined to give her a political honeymoon. To many of them, a Clinton victory would mean that Trump threw away an election that anyone else could have won.

"This should have been a slam dunk for the GOP," party consultant Frank Luntz said Sunday on CBS News's "Face the Nation."

That analysis stems from the investigations Republicans have led — or asked for — into Clinton's tenure at the State Department. Clinton has been dogged by investigations into the terrorist attacks in Benghazi, and for the better part of two years, she's reeled from questions about the private email server she used while secretary of state. Chaffetz, too, views Clinton as a lucky candidate whose past will catch up with her after the polls close.

 "She's not getting a clean slate," he said. "It's not like the State Department was bending over backwards to help us understand what was going on. We've got document destruction. We've got their own rogue system. We've got classified information out the door. We've got their foundation doing who knows what. I mean, it took them four years just to release her schedule."

Several Clinton allies recoiled when asked about Chaffetz's plans for 2017. Clinton spokesman Brian Fallon said Chaffetz threatened to "ignore the public's clear desire for the two parties to work together," and he and others accused Chaffetz of wasting taxpayer money chasing old stories.

"It's clear Congressman Chaffetz is ready to spend resources on additional worthless political investigations that will, again, come up with nothing," said David Brock, a former Clinton foe who now runs the pro-Clinton political action committee American Bridge and its affiliates.

Rep. Elijah E. Cummings (D-Md.), the ranking member of the Oversight Committee and the Select Committee on Benghazi, said that new Clinton investigations based on the scandals vetted since 2013 would amount to waste.

"Republicans are pretending like they haven't been investigating Secretary Clinton for years ever since she announced that she was running for president, including everything from Benghazi to emails to the Clinton Foundation," Cummings said in a statement. "It's no exaggeration to say that on the first day Secretary Clinton walks into the White House, Republicans will have already investigated her more than any other president in history."

(…)

Chaffetz emphasized that the questions raised since he took over the committee in 2015 have not all been answered.

"We still have tens of thousands of missing documents," he said. "That ranges from everything from the missing boxes [of subpoenaed emails] to the David Petraeus emails, to [State Department Undersecretary] Patrick Kennedy's communications."

Chaffetz also suggested that coming Clinton hearings would touch on issues that had not been vetted. He had sent the committee's investigators a weekend article from the Wall Street Journal that asked whether Virginia Gov. Terry McAuliffe (D) had slanted the FBI's probe of Clinton by helping outside groups put $467,500 into the campaign of Virginia senate candidate Jill McCabe, whose husband, Andrew, later became deputy director of the FBI.

"It seems like an obscene amount of money for a losing race," Chaffetz said. "The ties between the governor and the Clintons are well-known. He raises money for a lot of people, but why so much for this one person?"

In addition, Chaffetz previously said in an interview with CNN, an FBI agent's suggestion that Kennedy had tried to get Clinton's emails declassified deserved a hard look. "I honestly don't believe they act in the best interests of our country," he said of the State Department. Future Oversight investigations, he said, might depend on whether Clinton tries to put people ensnared by previous probes into her administration.

(…)

"It depends on how cooperative they are, how seriously they take it," Chaffetz said. "If they continue to erect walls and shore up the turrets, then, yeah, it's going to be a battle. But if they act like they're supposed to, if they comply with subpoenas and actually respond to requests from Congress, well, our republic requires that."
This shouldn't be at all surprising, of course. Republicans spent much of the time after gaining control of the House in 1994 investigating various aspects of Bill Clinton's Administration in a manner which formed a model for the later investigations into the Obama Administration, many of which were of course directed at Clinton herself. As such, it's no real surprise that we'd see the same pattern continue should Hillary Clinton become the 45th President and Republicans retain control of at least the House of Representatives, which seems to be the most likely outcome regardless of how wide a margin Clinton might end up with at the end of the night. Indeed, more than one person has made the observation that the strategy of obstructionism and delay that characterized much of the strategy that Republicans on Capitol Hill have engaged in vis a vis President Obama since the day he took office had its roots in the confrontations, hearings, and conspiracy theories that typified much of the Bill Clinton Presidency and which, of course, reached its peak in an impeachment spectacle that now seems to be a foolish waste of time even according to many Republicans who were there at the time. Finally, as I noted, many of the investigations that have taken place since the GOP retook the House have involved Clinton in any case, including most prominently the myriad investigations into the September 2012 Benghazi attack so it's not surprising that Congress would continue investigating her regardless of whether or not she became President.
To at least some degree, of course, Chaffetz's remarks are consistent with reports from earlier this week that Republicans as a whole at the House and Senate level are shifting their campaign rhetoric in a way that essentially assumes that Clinton is going to win in November. The promise of more investigations is, quite honestly, exactly what Republican base voters want to hear, so comments like Chaffetz's should be viewed at least in part as part of an effort to rally support from base voters, many of whom may be upset with Congressional leaders whose support for the top of the ticket may be lukewarm at best and often downright hostile. At the same time, though, it's likely an accurate prediction of what we're likely to see in the future. Just as it didn't take long for the appropriate House committees to open investigations in one aspect or another of the Obama Administration once they regained control of the House, it won't take long for the same thing to happen if and when Hillary Clinton becomes President. Among the areas likely to be explored are Clinton's email server and the FBI investigation into that matter, the Clinton Foundation and the question of whether or not certain entities were given political favors while she served as Secretary of State, and lord know what conspiracy theory may be derived from the election results. It's also likely there will be yet more inquiries into the Benghazi attack because, well, it's become something of a Republican obsession. Somewhere in between there, I guess, Congress will have its regular job to do.
Whether this is what the American people want is, of course, another question entirely.