Down-Ballot Republicans Campaigning As If Clinton Has Already Won
Republican candidates for the Senate and House are campaigning on the argument that they will be a bulwark against a Clinton Presidency.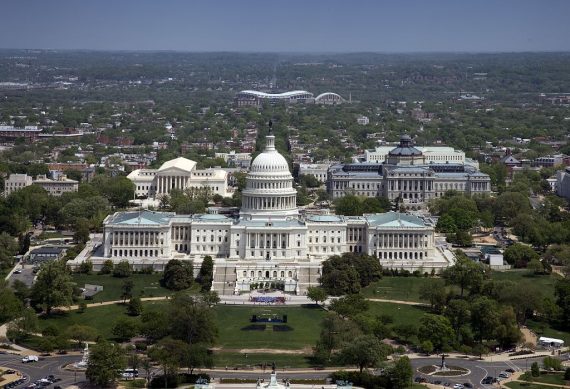 In a sign that they see the writing on the wall, Republican candidates for the House and Senate are starting to campaign on the idea of being a bulwark against the potential excesses of a Clinton Presidency:
Republicans, desperate to salvage their congressional majorities amid Donald Trump's collapse, are increasingly presenting themselves as checks on a Hillary Clinton presidency – a final argument that, if only implicitly, concedes the White House to Democrats.

The offensive, which has been under discussion for months and is only now being unleashed, is designed to win over voters who want to see Clinton's powers curtailed – even as she closes in on a potentially sweeping national victory.

The message is taking different forms in different parts of the country. In Minnesota's Iron Range, Republican Stewart Mills has begun airing a TV commercial that says his opponent, Democratic Rep. Rick Nolan, is "standing with Hillary Clinton, not Minnesota families." Nolan, the ad says, "would give Hillary a blank check to run up trillions in new debt and job-destroying taxes."

In upstate New York, the National Republican Congressional Committee has been running a TV ad that says a Democratic candidate, Kim Myers, would "fast-track" Clinton's agenda in the House. It urges voters to support Republican Claudia Tenney – who will "stand up to Hillary Clinton." Another spot warns that Myers and an independent candidate, Martin Babinec, would "rubber-stamp Hillary Clinton's agenda in Congress."

Republican Sen. John McCain, facing the toughest reelection fight of his political career, is taking a similar approach. Following his primary victory, McCain released a face-to-camera video in which he called his Democratic opponent, Ann Kirkpatrick, a "good person," but added: "If Hillary Clinton is elected president, Arizona will need a senator who will act as a check, not a rubber stamp, for the White House."

Elsewhere, the assault is less direct. In Missouri, for example, the Senate Leadership Fund, the main super PAC devoted to preserving the Republican majority in the upper congressional chamber, is out with a spot detailing the "many ways" Democratic candidate Jason Kander "is just like Hillary Clinton" — while showing Kander's face morphing into hers.

"One Hillary in Washington would be bad enough," it concludes.

It's an approach that hasn't gone into use since 1996, when Republicans, confronting an inevitable loss in the presidential race, aired blank-check ads warning of the perils of handing then-President Bill Clinton Democratic majorities in Congress. "What would happen if Democrats controlled Congress and the White House?" one NRCC commercial that year asked gloomily.

It worked: While Republican Bob Dole lost to Clinton in a landslide, the party maintained its hold over the House and Senate. The strategy went into effect in late October of that year — nearly 20 years ago to the day.

More is on the way. Later this week, Congressional Leadership Fund, the main super PAC charged with protecting the House GOP majority, is slated to begin airing a TV commercial in Central Michigan accusing a Democratic candidate, Suzanna Shkreli, of being a Clinton rubber stamp.

The NRCC, the House GOP's campaign arm, is urging others to get involved. While it can't legally coordinate with outside groups, it can communicate to them through public means. The committee recently updated an opposition research Web page on Montana Democrat Denise Juneau, noting that she has enthusiastically backed Clinton's presidential bid. "Juneau supports Hillary Clinton and would be a blank check if Clinton were to become president," the website declares.

(…)

Not all Republicans love the new approach. Some GOP strategists say Clinton's poll numbers have improved amid Trump's free-fall, making a check-and-balance message less palatable. Others say it risks angering Republican voters who don't want the party to throw in the towel.

Still others say it's a hard case to prosecute with so little time remaining until the election — and that it's better to establish contrasts with Democrats.

"A check-and-balance message can help, but has limits," said Robert Blizzard, a GOP pollster who is working on a number of down-ballot contests. "The most efficient, effective way to stop voters from supporting your opponent is to tell those voters how bad your opponent is and why they'd be a poor choice. Voters want to know who will be better for them and their families, not who will be better at standing up to Hillary Clinton."
Given the current status of the polls, it's an understandable strategy.  With the exception of solid red states where re-election was already a foregone conclusion, candidates who find themselves closely associated with the Trump campaign the closer we get to  Election Day could find themselves in something of a bind if voters decide to punish the GOP as a whole for Trump's obvious deficiencies. Indeed, for some time now many down-ballot candidates have been campaigning without any real regard for the top of the ticket, and most of them have refused to comment on whatever Trump's most recent tirade may have been. It's a strategy that has seemingly worked quite well for candidates such as Rob Portman in Ohio and Marco Rubio in Florida, for example, both of whom are leading their respective races by margins that seem comfortable enough to able to say that they'll probably survive November 8th. Other candidates, such as Mark Kirk in Illinois, Ron Johnson in Wisconsin, and Kellie Ayotte in New Hampshire haven't been so lucky and face much tougher fights for re-election. Additionally, while the odds of the GOP losing the House seem slim for a wide variety of reasons, there are a number of members of the House of Representatives who are potentially vulnerable to anti-Trump blowback, especially in states that are likely to go strongly for Hillary Clinton in November.
All that being said, one does have to admit that it's striking to see the party taking this road with just two weeks left in the campaign. For one thing, it's typically only a strategy that any political party typically only employs when running against a popular incumbent, not in a situation where both parties are competing for what is ostensibly is an open seat. As I've remarked before, though, it's long been the case that Hillary Clinton has seemed more like an incumbent during various parts of this election, and this is certainly one of them. However you characterize her, though, with the signs increasing that the Presidential election is all but over, the idea of Republicans using the idea of an impending Clinton Presidency to rally supporters makes sense under the circumstances. Whether it will work is another question.