Trump Says He'd Accept 'Dirt' About Opponents From Foreign Sources
President Trump says in a new interview that he would be willing to break the law to get "oppo research" on an opponent.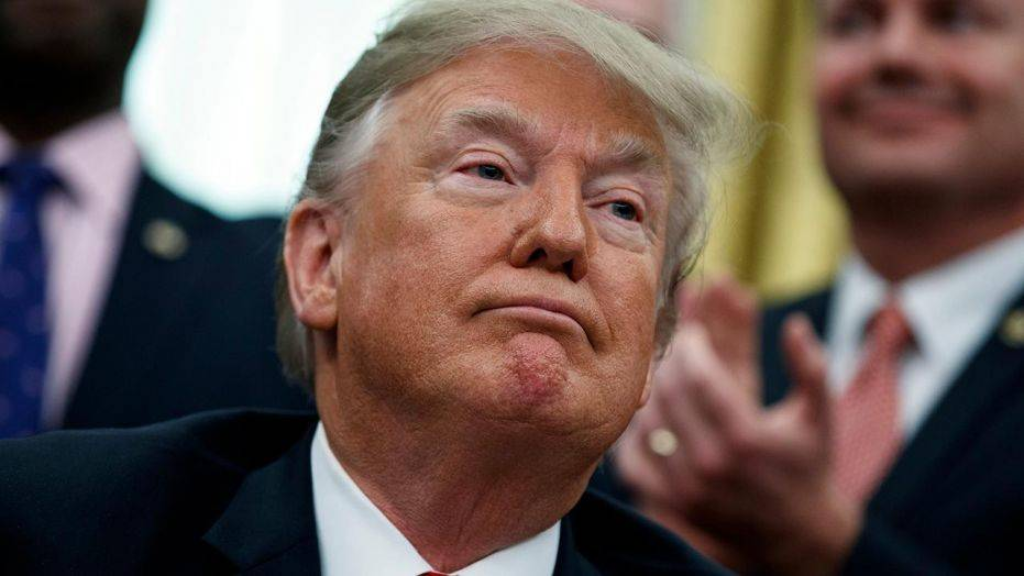 In an interview with ABC News host George Stephanopoulos, President Trump contradicted the directions of his own Director of the Federal Bureau Of Investigation and said there's nothing wrong with a candidate for office accepting help from a foreign source, presumably including a Federal government:
President Trump said on Wednesday that there would be nothing wrong with accepting incriminating information about an election opponent from Russia or other foreign governments and that he saw no reason to call the F.B.I. if it were to happen again.

"It's not an interference," he said in an interview with ABC News, describing it as "opposition research." "They have information — I think I'd take it." He would call the F.B.I. only "if I thought there was something wrong."

His comments put him at odds not only with Democratic candidates who have made a point of forswearing help from foreign governments as they seek their party's nomination to challenge him but also with his own F.B.I. director, Christopher S. Wray, who has said politicians in such circumstances should call his agency.

"I don't think in my whole life I've ever called the F.B.I. In my whole life," Mr. Trump said dismissively. "You don't call the F.B.I. You throw somebody out of your office, you do whatever you do." He added, "Give me a break — life doesn't work that way."

When the interviewer, George Stephanopoulos, noted that the F.B.I. director has said a candidate should call, Mr. Trump snapped, "The F.B.I. director is wrong."

The president's remarks came on the same day that his son Donald Trump Jr. appeared on Capitol Hill to answer questions from lawmakers. During the 2016 campaign, the younger Mr. Trump — along with Jared Kushner, the future president's son-in-law, and Paul Manafort, then his campaign chairman — met with a Kremlin-connected lawyer after being told she would have "dirt" on Hillary Clinton as "part of Russia and its government's support for Mr. Trump."

The president has previously defended the decision to take the meeting on the grounds that any campaign would listen to opposition research, even from a foreign adversary. Robert S. Mueller III, the special counsel, concluded in his recent report that Russia made a concerted effort to help Mr. Trump get elected and that Mr. Trump's campaign benefited from it, but he established no illegal conspiracy between the two.

In testimony to Congress last month, Mr. Wray, who was appointed by Mr. Trump, said campaigns should report it if they hear from foreign governments. "I think my view is that if any public official or member of any campaign is contacted by any nation state or anybody acting on behalf of a nation state about influencing or interfering with our election, then that's something that the F.B.I. would want to know about," Mr. Wray said.

When pressed during the interview, Mr. Trump allowed that maybe he would call the F.B.I. but only after listening to the incriminating information first. "I think maybe you do both," he said, adding: "There's nothing wrong with listening. If somebody called from a country, Norway, 'we have information on your opponent' — oh, I think I'd want to hear it."

His answer mirrored one given recently by Mr. Kushner, who said he was not sure he would call the F.B.I. if a foreign government again offered damaging information about an opponent. "I don't know," he said in an interview with Axios, an online news organization. "It's hard to do hypotheticals, but the reality is is that we were not given anything that was salacious."

It was the second time in recent weeks that Mr. Trump has publicly chided Mr. Wray. After the F.B.I. director rejected the word "spying" to describe the bureau's investigation of contacts between Russia and the Trump campaign, Mr. Trump lashed out. "I thought it was a ridiculous answer," Mr. Trump said last month.

More from The Washington Post:
President Trump on Wednesday said he would consider accepting information on his political opponents from a foreign government, despite the concerns raised by the intelligence community and special counsel Robert S. Mueller III over Russian interference in the 2016 presidential election.

In an Oval Office interview with ABC's George Stephanopoulos, Trump also said he wouldn't necessarily alert the FBI if a foreign country approached his campaign with "oppo research" about his Democratic challenger.

"I think you might want to listen; there isn't anything wrong with listening," Trump said. "If somebody called from a country, Norway, 'We have information on your opponent,' oh, I think I'd want to hear it."

When Stephanopoulos asked the president whether he'd want that kind of "interference" in American politics, Trump pushed back on the word.

"It's not an interference, they have information — I think I'd take it," Trump said. "If I thought there was something wrong, I'd go maybe to the FBI, if I thought there was something wrong."

Although Mueller did not find enough evidence to establish a criminal conspiracy involving the Trump campaign in his probe of Russia's role in the 2016 election, his report said that the Russian government interfered in the election in a "sweeping and systemic fashion" and that Trump's campaign was open to assistance from Russian sources.

Trump's remarks go further than those of his son-in-law and adviser, Jared Kushner, who told Axios last week that he didn't know whether he'd contact the FBI if Russians reached out again.

And they are likely to reignite a debate on the 2020 campaign trail and in Congress over what should be considered acceptable behavior by candidates — a debate that was unresolved by Mueller's decision not to bring charges against any Americans related to Russia's attack on the U.S. political system.

Trump dismissed the idea that his son, Donald Trump Jr., should have told the FBI about his 2016 contacts with the Russians, including the Trump Tower meeting Trump Jr. hosted after he was promised damaging information about Democrat Hillary Clinton as part of a Russian government effort to help his father's campaign.

"You're a congressman, someone comes up and says, 'I have information on your opponent,' do you call the FBI?" Trump asked.

"If it's coming from Russia, you do," Stephanopoulos said, pointing out that Al Gore's campaign contacted the FBI when it received a stolen briefing book in 2000 and that the FBI director said recently that the agency should have been notified when the Trump campaign received an offer of information on Clinton.

"The FBI director is wrong," Trump said.

An FBI spokeswoman declined to comment.

The FBI offers generic defensive briefings to campaigns, warning them of foreign influence efforts, and at a May 7 Senate hearing, FBI Director Christopher A. Wray said any suspected attempts should be reported.

"I think my view is that if any public official or member of any campaign is contacted by any nation-state or anybody acting on behalf of a nation-state about influencing or interfering with our election, then that is something that the FBI would want to know about," Wray said.

It is illegal to accept foreign campaign contributions, although an exchange of information is a more murky matter.

Mueller found that it was not clear whether courts would accept that opposition research provided free by a foreign government constituted a "thing of value" and thus an illegal foreign campaign contribution.
Ultimately, Mueller also found that he could not sustain a criminal case around the meeting, in part because it would be difficult to prove that Trump Jr. knew it could violate the law.

Trevor Potter, counsel to John McCain's presidential campaigns, said that any candidate who takes intelligence from a foreign government would be compromised and left beholden to that country.

"The Founders feared exactly such foreign attempts to interfere in U.S. politics," he said.

Here's the transcript of the relevant part of the interview:
Stephanopoulos: Your campaign this time around, if foreigners, if Russia, if China, if someone else offers you information on opponents, should they accept or should they call the FBI?

Trump: I think maybe you do both. I think you might want to listen. There's nothing wrong with listening. If somebody called from a country, Norway, "We have information on your opponent," oh, I think I'd want to hear it….If I thought there was something wrong, I'd go maybe to the FBI. If I thought there was something wrong.
And here's the video:
The roots of this question from Stephanopoulos, of course, lie in the now-infamous June 2016 meeting at Trump Tower between Donald Trump Jr., Jared Kushner, and Paul Manafort and Natalia Veselnitskaya, a Russian lawyer who had previously been linked to the Russian government and has since admitted to being an informant for the Russian Government. As we learned several days after the initial Times report when Trump Jr. made the emails he had exchanged with campaign officials prior to the meeting public, the meeting was scheduled after Trump Jr. and others in the campaign were told that Veselnitskaya had access to damaging information about Hillary Clinton and the clear implication was that this information came, either directly or indirectly, from the Russian government. In one of those emails, Trump Jr. responded "That's great" when informed that the lawyer had access to damaging information about Clinton and the Democrats. Later, Veselnitskaya said in interviews that Trump Jr. offered a quid pro quo in exchange for information about Clinton.
When the meeting was first reported, though, both Trump Jr. and the White House made the false claim its purpose was to discuss issues such as the adoption of Russian orphans by Americans as well as sanctions imposed against Russia in the wake of its seizure of the Crimean Peninsula from Ukraine. That claim was made most prominently in a statement released by the White House while the President was returning from a visit to Europe. As we learned when the younger Trump released the email chain discussed above, this claim was false. This is significant because the President himself participated in drafting that initial statement that falsely stated the original purpose for the meeting. The fact that we now know it was false makes the President's involvement in what may constitute an attempted cover-up extremely significant. It is worth noting that Trump had previously stated that the meeting's initial purpose was "opposition research," however that admission came before we knew about the President's role in drafting the White House statement that attempted to cover-up the motivation for the meeting.
As Kevin Drum correctly points out, Trump did not specifically say, and Stephanopoulos did not specifically ask him about, that he would accept information from a foreign government which is, of course, the allegation that lies at the center of the Russia investigation. Instead, Stephanopoulos asked if he would accept information from "a foreigner," specifically identifying Russia and China and Trump responded how he did. In that respect, Trump could say that a headline claiming he said he'd accept aid from a foreign government is "Fake News" notwithstanding what he actually said.
In any case, it strikes me that it hardly matters. It is against the law for a candidate for Federal office to accept a donation from any foreign source, whether it's affiliated with a government or not. For purposes of Federal election law, a donation is defined as anything of value and not just a cash donation. This is why, for example, the money that was paid to Stormy Daniels and Karen McDougal to remain quiet about their affairs with Trump in advance of the election are considered donations to the Trump campaign. They were not direct cash contributions to the campaign, but they were made with the intent of benefiting, or in those cases protecting. One could arguably, and I think convincingly, say that "oppo research" about an opponent is most assuredly a thing of value and that it would be used to benefit the campaign. Therefore, accepting "oppo research," which clearly seems to me to be a "thing of value." from a foreign source of any kind, whether it is from a nation we consider an ally, an adversarial nation or a foreign non-governmental entity or individual, would be against the law.
Jonathan Chait and Juan Cole both react to the news by pointing out that he is essentially inviting foreign nations and sources to once again intervene in a Presidential election for his benefit, and says he'd welcome that support if it came about. David Frum, meanwhile, calls the President's admission "astonishing":
This confession carries heavy implications, starting with the question of whether Donald Trump Jr. lied to Congress when he denied telling his father in advance about the famous June 2016 Trump Tower meeting, in which he believed a representative of the Russian government would be offering dirt on the Hillary Clinton campaign.

The Mueller report found that the Trump campaign desperately wished to collude with Russian intelligence—but concluded that there was insufficient evidence to prove beyond a reasonable doubt that anyone at the campaign actually had done so. But after three years and the special counsel's investigation? Trump acknowledges that he would do it all again, if given a chance.

Will he be given a chance, whether by Russia or China or Saudi Arabia or Abu Dhabi or Israel or Pakistan—or for that matter any number of foreign non-state actors, legitimate and criminal, with intelligence-gathering capability?

(…)

Confessing a willingness to collaborate with foreign spies against his domestic political opponents is a hand-forcing move. The risks of proceeding are still there. But the risks of not proceeding? Trump just forced us all to confront them in the most aggressively public possible way.
As with many things Trump has done and said as President, these statements while shocking in their brazenness, are not surprising. At several points during the course of the campaign, Trump explicitly invited foreign sources such as Wikileaks and the Russian government to hack into American computer systems to get the emails of Hillary Clinton and other members of his campaign. At another point, he teased the release of such information just days before Wikileaks did just that, indicating quite strongly that he had advance information that such was coming (if he did it most likely came from former campaign adviser Roger Stone.) This continued throughout the campaign and into his Presidency where he attempted both the cover up the circumstances of the allegations against members of his campaign team and deny that they were improper even if they did happen.
Frum's argument that this admission on Trump's part is yet another piece in an argument that only impeachment would be sufficient to address what the President has done. Nonetheless, it seems clear that this will not be enough for Republicans other than the likes of Justin Amash stand up and speak out against him. Instead, they will sit back and do nothing, because the GOP has become little more than a party of Trump fanatics in MAGA hats, sycophants, sellouts, and cowards. In their minds, might makes right. There is no right or wrong, no rules that should not be broken if doing so is in their political interest, and nothing that the President can do that will shake their faith in him. This President is corrupt and amoral and there is simply no way at this point that any decent, principled, patriotic person of either party can defend him without being a hypocrite.