George Stephanopoulos And A Question Of Journalistic Ethics
George Stephanopoulos' s ties to the Clinton's have always raised questions about his objectivity. Now, there's further reason to doubt that he can play fair when the Clinton's are part of the story he's covering.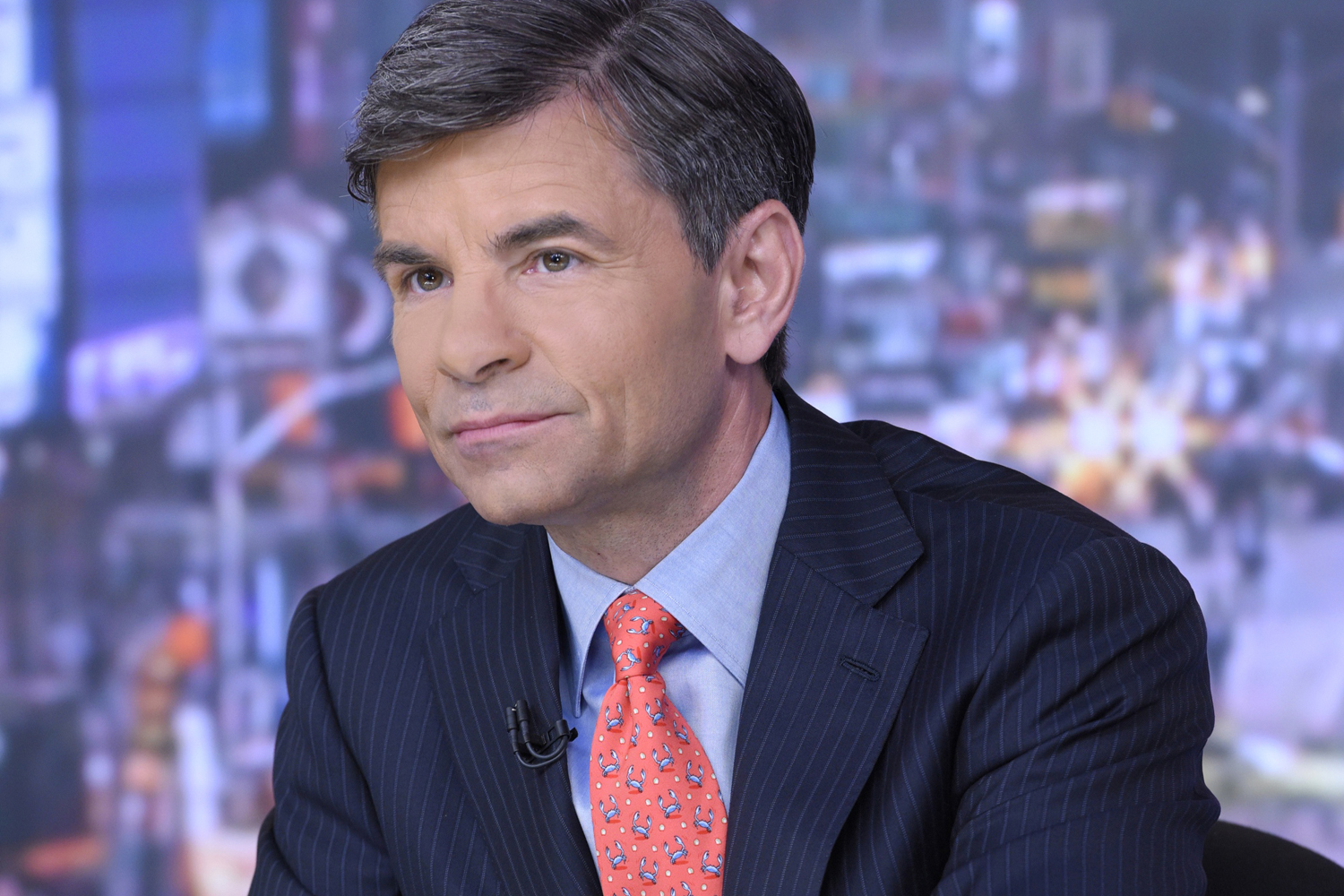 George Stephanopoulos, the former Press Secretary for President Bill Clinton who is now the host of ABC's Good Morning America and This Week, disclosed today that he had made a donation to the Clinton Foundation that was previously undisclosed even while he was defending the Foundation on the air:
WASHINGTON — George Stephanopoulos, the chief anchor of ABC News, said Thursday he would not be involved in moderating a Republican presidential debate after he acknowledged an "uncharacteristic lapse" by donating money to the Clinton Foundation in recent years.

The nature of the disclosure of the donations, made only after news outlets began asking questions, combined with his longstanding ties as a former aide to President Bill Clinton, raised questions that could jeopardize Mr. Stephanopoulos' future as a top-draw interviewer and debate moderator.

"I'm sorry because I don't want anything to compromise my integrity or the standards of ABC News," he said in an interview. Mr. Stephanopoulos said he donated $75,000 to the foundation.

The blowback was particularly acute among Republicans, who have long harbored suspicions about Mr. Stephanopoulos' closeness to the Clintons and accused him of liberal bias.

Senator Rand Paul of Kentucky, a candidate for the Republican presidential nomination, called earlier Thursday for Mr. Stephanopoulos to recuse himself from any future debates. ABC News is scheduled to host a Republican presidential debate in February, and Mr. Stephanopoulos later pulled out of any role in the debate.

The news of the donations, which were first reported by The Washington Free Beacon and Politico, seemed only to deepen distrust of Mr. Stephanopoulos among conservatives, who have always approached him warily despite the fact that he last worked for the Clintons in 1996 and has been in the news business for more than a decade.

His role as such a prominent political journalist for ABC News has been a source of conflict between presidential campaigns and the network since he started working there.

One episode from the 2012 campaign especially crystallized conservative concerns. During a debate in New Hampshire in early 2012, Mr. Stephanopoulos repeatedly asked Mitt Romney, the future Republican nominee, if he believed that states could outlaw birth control — a question that the Romney campaign saw as off-point and far afield of the issues that voters were concerned with. Mr. Stephanopoulos pressed the question repeatedly, asking six follow-up questions.

Many Republicans have said since that it was the beginning of the "war on women" line of attack from Democrats that became a defining issue that year.

ABC has made a concerted effort to present Mr. Stephanopoulos as the face of its news division, giving him the title of chief anchor last year.

The appointment broke a longstanding tradition in which the evening newscaster leads coverage for breaking news stories and election coverage. David Muir took over "World News Tonight" last year, replacing Diane Sawyer.

(…)

In the interview, Mr. Stephanopoulos used the word "sorry" five times, saying he wanted to support the foundation's "good work" in areas like AIDS prevention and climate change.

"I realize now that was a mistake," he said. "Even though I did it to support those causes directly, I should have been extra careful to avoid any possible question of any possible conflicts. That's why it was a mistake to fail to disclose particularly, and to make the contributions in the first place."

Mr. Stephanopoulos's support of the Clinton Foundation was disclosed by the organization itself. According to figures from NOZA, a database of charitable donations that uses publicly available information, the Clinton Foundation in 2012 listed Mr. Stephanopoulos as a donor giving money in the range of $10,001 to $25,000. In 2013, he was listed among donors who cumulatively gave from $25,001 to $50,000. And in 2014, he was listed as having given from $50,001 to $100,000.
The news of Stephanopoulos's donation to the Clinton Foundation set off quite the debate both in the political blogosphere and among media critics and writers. For conservatives, the news simply served to reinforce doubts that they've had about his objectivity:
WASHINGTON — Even after more than a decade as an analyst, anchor and public face for ABC News, George Stephanopoulos has never been able to shake the image that many Republicans have of him: Clinton hatchet man.

That image was glaring to the Republican strategists who blocked him from moderating a debate last year in the Senate race in Iowa.

It was the elephant in the room in 2011 when, after an interview that Mitt Romney's advisers saw as especially argumentative, Mr. Stephanopoulos visited the campaign's headquarters to try to reassure them that he was impartial.

And it has nagged at the chairman of the Republican National Committee, Reince Priebus, who has told people repeatedly that he does not want the anchorman anywhere near a debate stage in 2016.

(…)

Conservatives have a long list of grievances against Mr. Stephanopoulos dating back to when the American public first caught a glimpse of him as a scruffy caffeine-addicted and fiercely partisan strategist for Bill Clinton in "The War Room," a documentary about the 1992 campaign.

Until now, though, allegations that he lacked journalistic objectivity had been mostly circumstantial — a badgering interview, a series of off-subject questions in a debate. As he reminds his detractors regularly, including on Thursday, his history shows that he is not shy about asking difficult questions of Democrats and Hillary Rodham Clinton, like the time he pressed her in a debate in 2008 about why most voters did not find her honest and trustworthy.

But with his acknowledgment that he had given a significant sum to the Clinton Foundation, he found himself facing accusations that he was effectively trying to buy favor with his former employers as Mrs. Clinton seeks the presidency for a second time.
In other words, this latest revelation was just another confirmation of the fact that President's former press spokesperson has never really left his partisan roots and, indeed, there were many on the right who made that observation several weeks ago when Stephanopoulos interviewed the author of Clinton Cash, the newly released book detailing many of the problems surrounding the activities of former President Clinton's foundation during the time that Hillary Clinton served as Secretary of State. Before he issued the apology, several people defended Stephanopolous and argued that the donations were not a big deal, such as Mediaite's Matt Willstein, who argues that there is a big difference between making a donation to a political campaign and donating money to an ostensibly charitable organization. Willstein's colleague Joe Concha, on the other hand, argues that ABC News should bench Stephanopoulos from election-related coverage altogether:
George Stephanopoulos needs to remove himself from ABC's This Week on Sunday mornings immediately. And if he won't do it himself, ABC News management — starting with ABC president James Goldston — needs to do it for him.

Why? Because Stephanopoulos, a former senior advisor to President Bill Clinton, apologized today for not disclosing $50,000 in contributions to the Clinton Foundation.

We talk about optics in this space regularly, and when ABC News' chief anchor and host of its Sunday morning political talk show donates to the likely Democratic nominee's charitable foundation and doesn't reveal that fact before every interview he does with anyone seen as an enemy or competitor of the Clintons, it's hiding in clear sight an obvious conflict of interest.

More than a few people in the business wondered aloud why Stephanopulos conducted such a partisan interview with Peter Schweizer, the author of Clinton Cash. It was as if we were witnessing the 1993 version of George, the one who served as de facto press secretary for the Clinton administration, trying to destroy a narrative as if he was getting paid to do it. In case you missed it, Schweizer's credibility was attacked for the entire interview while exactly zero of his claims about the Clintons were even remotely entertained by the host — the same who contributed to the very foundation in question.

(…)

[N]obody is saying Stephanopoulos should be fired for this. But a suspension certainly makes sense given his failure to disclose the three donations he made ($25K each) over a two-year span, and the poor light this sheds on ABC, currently #1 in the primetime news race. And when he returns, Martha Raddatz should take his seat out of the This Week bullpen, which she's already used to doing on occasion. As for his hosting GMA, that can go on after the suspension because serious politics are discussed less and less on the program.
Concha goes on to compare Stephanopoulos's situation to that of former MSNBC host Keith Olbermann who was suspended and then ultimately dismissed from the network when it was revealed that he made donations to a political candidate in violation of company policy for its on-air talent. While Willstein does have a point that there is a difference between Olbermann's donation and Stephanopoulos's, it's important to remember that this news about undisclosed charitable donations to a foundation tied to both his former employer and the spouse of that employer, who just so happens to be running for President comes in the context of everything we already know about Stephanopolous. Additionally, it's worth keeping in mind that, just a month ago, Stephanopoulos himself said that nobody gives money to the Clinton Foundation without expecting something in return. The revolving door between partisan politics and the media has existed for quite a long time, but few people from the political world have taken quite the ride that he has from being the Press Secretary to a campaign and a President to the host of two of the most prominent shows on the ABC network. It's possible, I suppose, to accept the idea that Stephanopolous can be objective when he's covering some generic race between a Republican and a Democrat, but it's entirely understandable for people to wonder just how objective he can be when he's covering the Presidential campaign of someone he has long had a close relationship. Indeed, one would be naive to not wonder just how objective George Stephanopolous is being when he is covering Hillary Clinton's campaign for the Presidency.
Questions about Stephanopoulos's objectivity aren't just limited to Republicans, though. During the 2008 campaign for the Democratic nomination, there were several points at which his coverage of the race between Barack Obama and Hillary Clinton was brought into question by Democrats and by media critics. One particular incident occurred in April 2008 when he moderated a debate between Obama and Clinton just weeks prior to the Pennsylvania primary. After the debate was over, Stephanopolous faced heavy criticism for questions directed at Obama that many described as "gotcha" questions on issues such as his ties to Bill Ayers and Reverend Jeremiah Wright and a general overall tone that seemed to be far tougher on Obama than it was on Clinton.
This isn't to suggest that every person who has had a career in politics can't have a career in journalism. Tim Russert worked for Daniel Patrick Moynihan and Mario Cuomo, two of the most prominent New York Democrats of the 1970s and 80s, and in his later years he made a career as someone who held feet to the fire on Meet The Press regardless of what party the guests belonged to. Chuck Todd worked for Democrats before joining NBC as well and has done much the same thing, and Diane Sawyer worked for Richard Nixon after he left the White House before joining ABC News. Stephanopolous's case has always seemed different, though, perhaps because he was the public face of a campaign and Presidency that marked the beginning of a particularly partisan era in American politics. Whatever it is, though, I'm not sure that anyone has ever put him in the same category as Russert or, say, Bob Schieffer at Face The Nation, and there's obviously a reason for that.
I'm not sure what the answer to this problem actually is. I don't think that Concha's suggestion that Stephanopolous should effectively be suspended from covering politics for the next eighteen months makes very much sense. At the same time, though, I don't think he's entitled to the conceit that he is an objective analyst either. Furthermore, as The Washington Post's Erik Wemple notes, it is fairly clear that this issue is snowballing for both ABC and Stephanopoulos and that it has become much more than something that just partisan Republicans complain about. Perhaps the appropriate decision is for ABC to discipline in however they wish, and then to make it policy going forward that some sort of disclaimer be issued whenever he's covering political issues related to the Clinton campaign. It would be awkward, but if they want to maintain any sense of credibility going forward, it seems to me as if it is entirely necessary.