It's Not About Contraceptives, It's About Privacy
Do the Republican candidates believe that American citizens have a right to privacy? Someone should ask them.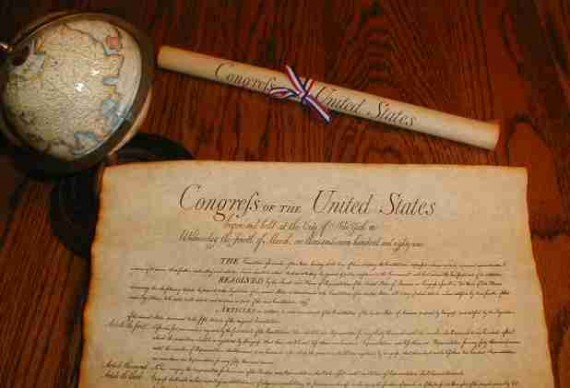 Saturday night's debate had many odd moments, but none of them perhaps more odd than the exchange that was prompted largely by Rick Santorum's previous comments about contraceptives and whether or not the states had the right to ban them. It was when George Stephanopolous turned the question on Mitt Romney, though, that things got interesting:
STEPHANOPOULOS: Governor Romney, do you believe that states have the right to ban contraception? Or is that trumped by a constitutional right to privacy?

ROMNEY: George, this is an unusual topic that you're raising. States have a right to ban contraception? I can't imagine a state banning contraception. I can't imagine the circumstances where a state would want to do so, and if I were a governor of a state or…

STEPHANOPOULOS: Well, the Supreme Court has ruled —

(CROSSTALK)

ROMNEY: … or a — or a legislature of a state — I would totally and completely oppose any effort to ban contraception. So you're asking — given the fact that there's no state that wants to do so, and I don't know of any candidate that wants to do so, you're asking could it constitutionally be done? We can ask our constitutionalist here.

(LAUGHTER)

(CROSSTALK)

STEPHANOPOULOS: I'm sure Congressman Paul…

(CROSSTALK)

ROMNEY: OK, come on — come on back…

(CROSSTALK)

STEPHANOPOULOS: … asking you, do you believe that states have that right or not?

ROMNEY: George, I — I don't know whether a state has a right to ban contraception. No state wants to. I mean, the idea of you putting forward things that states might want to do that no — no state wants to do and asking me whether they could do it or not is kind of a silly thing, I think.

(APPLAUSE)

STEPHANOPOULOS: Hold on a second. Governor, you went to Harvard Law School. You know very well this is based on…

ROMNEY: Has the Supreme Court — has the Supreme Court decided that states do not have the right to provide contraception? I…

STEPHANOPOULOS: Yes, they have. In 1965, Griswold v. Connecticut.

ROMNEY: The — I believe in the — that the law of the land is as spoken by the Supreme Court, and that if we disagree with the Supreme Court — and occasionally I do — then we have a process under the Constitution to change that decision. And it's — it's known as the amendment process.

And — and where we have — for instance, right now we're having issues that relate to same-sex marriage. My view is, we should have a federal amendment of the Constitution defining marriage as a relationship between a man and a woman. But I know of — of no reason to talk about contraception in this regard.

STEPHANOPOULOS: But you've got the Supreme Court decision finding a right to privacy in the Constitution.

ROMNEY: I don't believe they decided that correctly. In my view, Roe v. Wade was improperly decided. It was based upon that same principle. And in my view, if we had justices like Roberts, Alito, Thomas, and Scalia, and more justices like that, they might well decide to return this issue to states as opposed to saying it's in the federal Constitution.

And by the way, if the people say it should be in the federal Constitution, then instead of having unelected judges stuff it in there when it's not there, we should allow the people to express their own views through amendment and add it to the Constitution. But this idea that justice…

STEPHANOPOULOS: But should that be done in this case?

ROMNEY: Pardon?

STEPHANOPOULOS: Should that be done in this case?

ROMNEY: Should this be done in the case — this case to allow states to ban contraception? No. States don't want to ban contraception. So why would we try and put it in the Constitution?

With regards to gay marriage, I've told you, that's when I would amend the Constitution. Contraception, it's working just fine, just leave it alone.

(LAUGHTER)

(APPLAUSE) STEPHANOPOULOS: I understand that. But you've given two answers to the question. Do you believe that the Supreme Court should overturn it or not?

ROMNEY: Do I believe the Supreme Court should overturn…

(SOMEONE IN AUDIENCE YELLING)

ROMNEY: Do I believe the Supreme Court should overturn Roe v. Wade? Yes, I do.
As a preliminary matter, let's not leave aside the fact that Romney is a graduate of Harvard Law School and that even in 1975, if not especially then, the decade old Griswold decision would have most assuredly been part of the Constitutional Law curriculum. it is, after all, the opening case in a line that defined the limits of governments ability to regulate the private lives of its citizens and the penultimate case at the time, Roe v. Wade, was only three years old at the time. Perhaps Romney has forgotten law school in the intervening 36 years, but it was odd indeed that any lawyer would have to ask if the Supreme Court had ever ruled on the issue of whether or not states had the authority to ban the purchase of contraceptives. Of course, Romney has never really practiced law.
Steve Benen pointed out yesterday, though, what everyone seems to have missed regarding this exchange, largely because Stephanopolous completely mangled the question and seemed to want to get into a game of "Who's smarter" with Romney rather than doing his job as a moderator:
In 1965, the Supreme Court ruled in Griswold v. Connecticut that a state cannot deny couples access to birth control. The 7-2 ruling immediately became controversial because of its rationale — the justices based the ruling on a "right to privacy" that is not explicitly in the Constitution and had not been embraced by the court beforehand.

Eight years later, the Supreme Court used the Griswold ruling as a stepping stone for Roe v. Wade — Americans' right to privacy extends to include the ability to terminate unwanted pregnancies. The Roe ruling in 1973 used Griswold as a foundation. As everyone involved in the debate knows, one ruling led to the other.

Romney surely understands this. He graduated from Harvard Law School in 1975. But Romney was probably playing dumb last night because he knew the question Stephanopoulos was getting at, but didn't ask: was the high court wrong on Griswold? Or more to the point, does the Constitution include a right to privacy or not?

Because Stephanopoulos flubbed the discussion, we don't really know the answer to those questions, though Romney's desire to see Roe overturned is noteworthy in and of itself (most Americans take the opposite view).
Moreover, as Irin Carmon points out in a column at Salon, one's answer on the question of whether or not the Constitution includes some kind of a right to privacy implicates a whole host of issues that go beyond a 46 year old Supreme Court decision:
[T]he constitutional dispute surrounding the Supreme Court's 1965 decision on state contraception bans is far from academic or theoretical – it underlies important later recognitions of sexual and reproductive privacy, including Roe v. Wade and Lawrence v. Texas, which overturned state sodomy laws. Romney obviously knows that. Not only does he have a degree from Harvard Law School, as Stephanopoulos pointed out, but the co-chair of his legal advisory committee, Robert Bork, was kept from the Supreme Court partly because of his stance on Griswold.

(…)

Romney might even get a break on a question he called "kind of a silly thing." His audience may not remember that, in fact, states once did firmly ban contraception and information about it for even married couples, as the Connecticut statute in Griswold did. But it's not silly to ask him his stance on either a settled legal doctrine or a set of current policy issues surrounding reproductive health. Should contraception continue to be fully covered under the Affordable Care Act (the existence of which he opposes)? Can pharmacists decline to fill prescriptions for Plan B (he wants to make it easier for them not to)? What about the defunding of Planned Parenthood, which provides contraceptive services to millions of people (Romney wants it to happen).
Additionally, the question of where Romney, or any of the other candidates stands on this issue is an important indicator of what kind of judicial nominees they might select. As things stand, the person who takes takes the Oath Of Office on January 20, 2013 will potentially have the chance to fill as many as two or three seats on the Supreme Court. This could possibly include the seats held by the Court's liberal stalwart Ruth Bader Ginsburg, its conservative stalwart Antonin Scalia, and the perennial swing vote Anthony Kennedy, all three of whom are in their 70s. Notwithstanding the difficulties of the confirmation process, this would give the President the chance to remake the Court for decades. It would seem that this alone makes it relevant to know whether or not a Presidential candidate believes that the Constitution includes a right to privacy as the Court found in Griswold.
Of course, Griswold itself is not without it's weaknesses. The opinion written by Justice Douglas purports to find a right to privacy in the "penumbras and emanations" of the First, Third, Fourth, and Fifth Amendments. Even for someone such as myself who supports the result in the case, it's not exactly an example of strong legal reasoning when you really look at it critically. Other legal scholars have suggested that the Court would have been on more solid ground if it had grounded its decision in the 9th Amendment, which provides:
The enumeration in the Constitution, of certain rights, shall not be construed to deny or disparage others retained by the people.
This, of course, is the Amendment that Robert Bork once famously called an "ink blot." Coincidentally, Bork is one of Mitt Romney's policy advisers. Take from that what you will, but perhaps it tells us something about whether or not Mitt Romney believes that there are any rights other than those explicitly set forth in the Constitution.
This may not be the most important question in the election, but it's not irrelevant issue. Hopefully, someone more skilled at their job than George Stephanopolous will ask the candidates about it at some point.