Planned Parenthood Doesn't Prevent Abortions
PP's intensive effort to recast itself as a preventer of abortions doesn't bear scrutiny.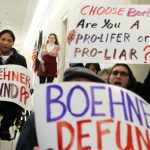 Planned Parenthood has been pushing pretty hard to keep federal dollars rolling in lately. Despite the fact that the battle is largely symbolic–the defunding measure won't pass the Senate and the House will bargain it away for other, more pressing cuts–the PR effort has been intense. Planned Parenthood has spent hundreds of thousands of dollars promoting itself a key part of keeping abortions rare, most especially by providing low-cost contraception.
Kirsten Powers committed some journalism and discovered that the facts don't support the myth:
During the recent debate over whether to cut off government funding to Planned Parenthood, the organization claimed that its contraceptive services prevent a half-million abortions a year. Without their services, the group's officials insist, more women will get abortions.

I'll admit I bought the argument—it makes intuitive sense—and initially opposed cutting off funding for precisely that reason.

Then I did a little research.

Turns out, a 2009 study by the journal Contraception found, in a 10-year study of women in Spain, that as overall contraceptive use increased from around 49 percent to 80 percent, the elective abortion rate more than doubled. This doesn't mean that access to contraception causes more abortion—though some believe that—but that it doesn't necessarily reduce it.

In the U.S., the story isn't much different. A January 2011 fact sheet by the pro-abortion rights Guttmacher Institute listed all the reasons that women who have had an abortion give for their unexpected pregnancy, and not one of them is lack of access to contraception….

It's unclear whether Planned Parenthood officials simply don't understand statistics or are so accustomed to having their claims unquestioned that they think if they repeat them often enough, the facts will disappear. Obviously, you can complain of struggling with the cost of prescription birth control and also face an unwanted pregnancy for reasons that have nothing to do with lack of access to birth control. (By the way, Guttmacher was founded by Planned Parenthood; these are the numbers the group views as the most reliable….

To preserve its federal subsidy, Planned Parenthood continues to claim that without its contraception services the abortion rate will go up. This deception smacks of a fleecing of taxpayers in an effort to promote an ideological agenda, rather than a sincere effort to help women plan families.
Superficially, it seems perfectly logical that more access to contraception would lower the abortion rate. But the statistics make more sense on further reflection. I'll be the first to admit I am entirely fine with the… sexual permissiveness of our culture. But it's patently obvious that that a more promiscuous society is going to generate more unplanned pregnancies whether we make contraception hard to get or hand it out on every street corner.
The mistake I think a lot of people make is in thinking that promoting access to contraception promotes promiscuity. There's definitely a positive feedback loop here, but the causal connection runs in the opposite direction. As we've become more sexually "liberated," we've demanded (and gotten) greater access to contraception. And more access to abortion, which also contributes to the positive feedback loop. In this, I disagree with my friend Stacy McCain, who believes that "contraception involves a rejection of God."
My take is that, if we were in fact designed by God, our ability to take pleasure and comfort and express ourselves through sex isn't an accident. So that form of "recreation" is as valid as any other, proper respect for our fellow humans being assumed. One doesn't expect to create new life going to the movies or playing golf. And part of civilized modernity is asserting control over Nature–to me, contraception is no more controversial in that respect than air conditioning. Both improve our ability to enjoy our lives. Sex isn't inherently sinful; sin only enters into it when one is selfish, and insensitive.
So I am all for ready access to contraception. But a rising tide lifts all boats. More people having more sex means more unplanned pregnancies. And Stacy is certainly correct that contraception isn't a "sacred right that… must be subsidized by taxpayers." [His emphasis.] Family planning, in any sense of the phrase, is not the federal government's job.
Planned Parenthood exists to promote an agenda. Preventing abortions is not and never has been part of it–they perform hundreds of thousands of them a year. Trying to suggest otherwise would be disingenuous even if the statistics bore them out. The fact that they don't merely serves to underscore the Orwellian absurdity of that argument.
UPDATE: As noted in the comments, rooting into the footnotes of the "current" data Ms. Powers offers as unchanged from the baseline study she cites shows that the numbers haven't changed because they're the same study. Why Guttmacher didn't use more recent data–or Ms. Powers failed to note the source listed in the footnote–I have no idea. But without data separated in time from the baseline, my assertion that no statistical correlation can be found between availability of contraception and abortion rates cannot be sustained.
I relied on Ms. Powers assertion that she'd done the research, didn't check the sources myself, and now have egg on my face. My apologies. Any data that would bear on the question is welcome.
Photo by Alex Wong/Getty Images