Rick Santorum Favors Making Birth Control Illegal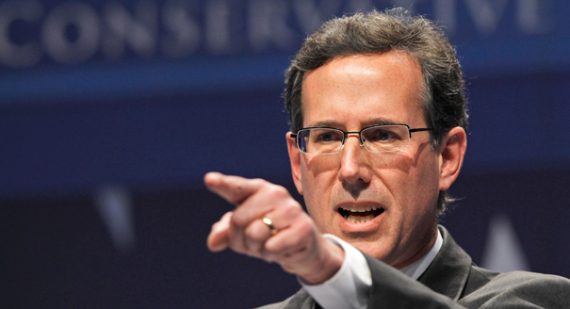 As he rises in the polls, at least in Iowa, it looks like Rick Santorum's record is finally getting scrutinized. Much of it will come as no surprise to those who remember Santorum from his days in Congress, but I'm sure it will be news to most Americans. Take, for example, his position on birth control:
I pointed out that Democrats say that one of the reasons Santorum lost in 2006 was because they say he's more conservative than mainstream America. One issue was Santorum's opposition to the Supreme Court's 1965 ruling that invalidated a Connecticut law banning contraception. Santorum said he still feels that a state should be able to make such laws.

"The state has a right to do that, I have never questioned that the state has a right to do that. It is not a constitutional right, the state has the right to pass whatever statues they have.  That is the thing I have said about the activism of the supreme court, they are creating right, and they should be left up to the people to decide," he said.

"You shouldn't create constitutional rights when states do dumb things," Santorum said. "Let the people decide if the states are doing dumb things get rid of the legislature and replace them as opposed to creating constitutional laws that have consequences that were before them."
Video:
This isn't really new for Santorum, who appears to be the kind of Catholic who wants to make Humanae Vitae the law of the land. Consider what he said in October:
Santorum says, in all seriousness, "One of the things I will talk about, that no president has talked about before, is I think the dangers of contraception in this country…. It's not okay. It's a license to do things in a sexual realm that is counter to how things are supposed to be."
Santorum's position stands in direct contradiction, of course, to the Supreme Court's holding in Griswold v. Connecticut, in which the Court struck down a law that made it a crime to sell contraceptives to married couples. Two years later, in Eisenstadt v. Baird, the Court extended the Griswold holding to strike down a law barring the sale of contraceptives to unmarried couples.
In Griswold, Justice Douglas said:
The present case, then, concerns a relationship lying within the zone of privacy created by several fundamental constitutional guarantees. And it concerns a law which, in forbidding the use of contraceptives, rather than regulating their manufacture or sale, seeks to achieve its goals by means having a maximum destructive impact upon that relationship. Such a law cannot stand in light of the familiar principle, so often applied by this Court, that a

governmental purpose to control or prevent activities constitutionally subject to state regulation may not be achieved by means which sweep unnecessarily broadly and thereby invade the area of protected freedoms.

NAACP v. Alabama, 377 U.S. 288, 307. Would we allow the police to search the sacred precincts of marital bedrooms for telltale signs of the use of contraceptives? The very idea is repulsive to the notions of privacy surrounding the marriage relationship.

We deal with a right of privacy older than the Bill of Rights — older than our political parties, older than our school system. Marriage is a coming together for better or for worse, hopefully enduring, and intimate to the degree of being sacred. It is an association that promotes a way of life, not causes; a harmony in living, not political faiths; a bilateral loyalty, not commercial or social projects. Yet it is an association for as noble a purpose as any involved in our prior decisions.
Former Senator Santorum, it seems, is perfectly fine with the state interfering the most intimate of human relationships.