Hillary Clinton Faces New Revelations About Questionable Donations To Clinton Foundation
A new report ties undisclosed donations to the Clinton Foundation to a Russian company's acquisition of controlling interest in a major uranium mining company.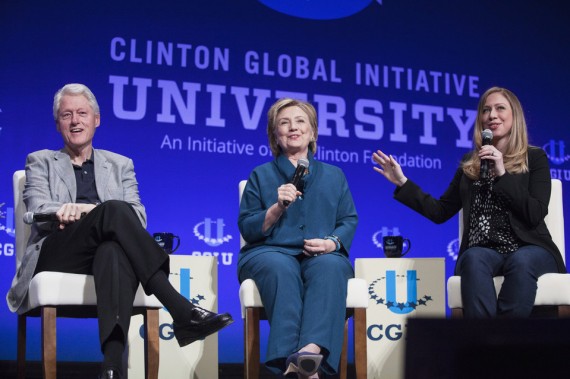 The New York Times is out this morning with new revelations about donations to the Clinton Foundation and connections to policy positions taken by Hillary Clinton as Secretary of State that, at the very least, raise even more questions about the Clinton Foundation's acceptance of donations from foreign businesses and foreign governments. The report centers on donations made to the Foundation by the Chairman and other executives of a uranium company and the effort by a Russian energy concern to acquire a majority interest in that company, which required approval by the United States Government:
At the heart of the tale are several men, leaders of the Canadian mining industry, who have been major donors to the charitable endeavors of former President Bill Clinton and his family. Members of that group built, financed and eventually sold off to the Russians a company that would become known as Uranium One.

Beyond mines in Kazakhstan that are among the most lucrative in the world, the sale gave the Russians control of one-fifth of all uranium production capacity in the United States. Since uranium is considered a strategic asset, with implications for national security, the deal had to be approved by a committee composed of representatives from a number of United States government agencies. Among the agencies that eventually signed off was the State Department, then headed by Mr. Clinton's wife, Hillary Rodham Clinton.

As the Russians gradually assumed control of Uranium One in three separate transactions from 2009 to 2013, Canadian records show, a flow of cash made its way to the Clinton Foundation. Uranium One's chairman used his family foundation to make four donations totaling $2.35 million. Those contributions were not publicly disclosed by the Clintons, despite an agreement Mrs. Clinton had struck with the Obama White House to publicly identify all donors. Other people with ties to the company made donations as well.

(…)

The New York Times's examination of the Uranium One deal is based on dozens of interviews, as well as a review of public records and securities filings in Canada, Russia and the United States. Some of the connections between Uranium One and the Clinton Foundation were unearthed by Peter Schweizer, a former fellow at the right-leaning Hoover Institution and author of the forthcoming book "Clinton Cash." Mr. Schweizer provided a preview of material in the book to The Times, which scrutinized his information and built upon it with its own reporting.

Whether the donations played any role in the approval of the uranium deal is unknown. But the episode underscores the special ethical challenges presented by the Clinton Foundation, headed by a former president who relied heavily on foreign cash to accumulate $250 million in assets even as his wife helped steer American foreign policy as secretary of state, presiding over decisions with the potential to benefit the foundation's donors.

In a statement, Brian Fallon, a spokesman for Mrs. Clinton's presidential campaign, said no one "has ever produced a shred of evidence supporting the theory that Hillary Clinton ever took action as secretary of state to support the interests of donors to the Clinton Foundation." He emphasized that multiple United States agencies, as well as the Canadian government, had signed off on the deal and that, in general, such matters were handled at a level below the secretary. "To suggest the State Department, under then-Secretary Clinton, exerted undue influence in the U.S. government's review of the sale of Uranium One is utterly baseless," he added.
The report is lengthy and detailed, and defies being excerpted here beyond what is quoted above. It's also important to note that the report does not conclude that there was any sort of quid pro quo involved in the donations to the Foundation and the approval of the Uranium One deal. In fact, two State Department officials involved in that process deny that there was any influence exerted over them at the time. Indeed, while a deal involving Uranium assets all over the world, including the United States, and an energy company with rather obvious ties to the Kremlin is certainly one that raises eyebrows, it's not even the most important thing that this Times reports reveals. As noted, when Clinton became Secretary of State, she signed an agreement with the Obama Administration that placed limits on the Clinton Foundation. Specifically, it was agreed that the Foundation would not accept donations from foreign governments during the time that Clinton was Secretary of State, and that all contributions to the Foundation would be publicly disclosed. According to this time report, a significant portion of the contributions that were made by foreigners linked to Uranium One were not in fact disclosed as required, and one suspects that this may only be the tip of the iceberg when it comes to donations that were made between 2009 and 2013 that were not disclosed. This failure to disclose may not necessarily be illegal, but it certainly would seem to be unethical and it tends to reinforce perceptions of the Clintons and their business dealings that are, to say the least, less than charitable.
In addition to the revelations in the Times piece, Reuters is reporting that the Clinton Foundation will be revising at least five years of tax returns after revelations about improperly reported donations from foreign governments:
(Reuters) – Hillary Clinton's family's charities are refiling at least five annual tax returns after a Reuters review found errors in how they reported donations from governments, and said they may audit other Clinton Foundation returns in case of other errors.

The foundation and its list of donors have been under intense scrutiny in recent weeks. Republican critics say the foundation makes Clinton, who is seeking the Democratic presidential nomination in 2016, vulnerable to undue influence. Her campaign team calls these claims "absurd conspiracy theories."

The charities' errors generally take the form of under-reporting or over-reporting, by millions of dollars, donations from foreign governments, or in other instances omitting to break out government donations entirely when reporting revenue, the charities confirmed to Reuters.

The errors, which have not been previously reported, appear on the form 990s that all non-profit organizations must file annually with the Internal Revenue Service to maintain their tax-exempt status. A charity must show copies of the forms to anyone who wants to see them to understand how the charity raises and spends money.

The unsettled numbers on the tax returns are not evidence of wrongdoing but tend to undermine the 990s role as a form of public accountability, experts in charity law and transparency advocates interview told Reuters.

"If those numbers keep changing – well, actually, we spent this on this, not that on that – it really defeats the purpose," said Bill Allison, a senior fellow at the Sunlight Foundation, a government transparency advocacy group.

For three years in a row beginning in 2010, the Clinton Foundation reported to the IRS that it received zero in funds from foreign and U.S. governments, a dramatic fall-off from the tens of millions of dollars in foreign government contributions reported in preceding years.

Those entries were errors, according to the foundation: several foreign governments continued to give tens of millions of dollars toward the foundation's work on climate change and economic development through this three-year period. Those governments were identified on the foundation's annually updated donor list, along with broad indications of how much each had cumulatively given since they began donating.
Unlike what Michael Tomasky suggests, you don't have to believe that the Clinton's turned the Clinton Foundation and the State Department into some kind of "shakedown" operation where donations were solicited in exchange for changes in policy position in order to be troubled by the allegations that have started to come out regarding the Clinton Foundation's activities during Hillary's time at Foggy Bottom. As I noted when this story initially broke on Monday, one of the bigger problems that this issue poses for Clinton's campaign is that it tends to reinforce old stereotypes about her and her husband that stretch back more than two decades now. If voters start to view the Clinton campaign as a harbinger of the return of those days, then they may start to have second thoughts about her, especially if the Republicans nominate a strong candidate. Additionally, rather than being the kind of well of corruption that Tomasky says nobody has proven exists, what these kinds of stories arguably prove about the Foundation is the extent to which the Clinton's have used it to curry favor with the world's political, business, and entertainment elites. In that case, the problem isn't necessarily the quid pro quo but the fact that the donations, and the relationships, buy these people influence and access that others don't necessarily have. It isn't really illegal and, indeed, it's something that goes on in Washington all the time, but it does tend to put the lie to the populist spin that Clinton has been putting on her campaign since getting into the race two weeks ago.
The ultimate question, of course, is what impact all of this will have on the race for President, and it's still far too early to be able to answer that question. The book on which much of this reporting is based won't even be released for another two weeks, and we still don't know exactly what it says or whether its claims. Obviously, if there is real evidence of a quid pro quo then it will be hard to understate the potential political impact that the story could have on Clinton's campaign specifically and the race for President in general. If, however, what's uncovered falls short of showing that link, then it's unclear exactly how this will end up hurting Clinton's campaign. As I've said before, one of the advantages (and disadvantages) that Clinton has compared to other candidates is that she is almost universally known by voters and she is at the point in her political career where everyone's opinions about her are fairly well set. For people who are opposed to Hillary Clinton, a story like this will be further confirmation of what they've always believed about her and her family. For her supporters, it will be another example of the same attacks that have been leveled against the Clinton's since 1992. The voters in the middle might, perhaps, be persuaded by something like this, but even there it seems as though most Americans have already made their mind up about Hillary Clinton one way or another. Finally, the fact that these stories are coming out now rather than six or eight months from now arguably helps the Clinton campaign since they are likely to have the same long term impact that they would if they came out at a later time, and the campaign will have a longer time to respond. As I noted earlier this week, though, much of that will depend on how the campaign and the Foundation handle all of this. If they retreat into the old Clinton strategy of delaying and attacking the messenger, which at this point includes The New York Times and The Washington Post rather than just Fox News and the conservative blogosphere, then the story could fester and feed into doubts about Clinton that harmed her in 2008. In either case, I suspect there is much more to come on this story so, stay tuned.