Obama Secretly Backing Warren Over Clinton, Declares Lying Hack
Ed Klein says he has "Democrat sources" who Obama wants Warren to continue his mission to "transform America into a European-style democratic-socialist state."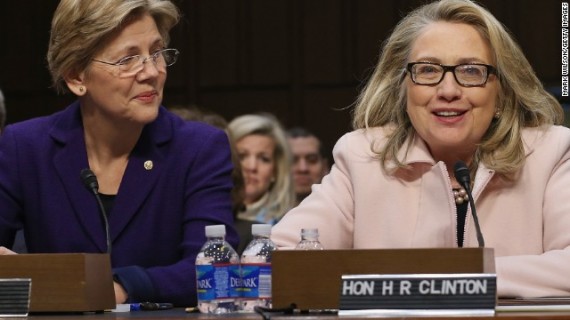 I've believed for a while that Hillary Clinton's best chance at living in the White House again came in 2008 and that she blew it. She's too polarizing, and quite possibly too old, to be the shoo-in that many believe her to be. And progressives in the Democratic Party are ready for one of their own. Elizabeth Warren fits that bill and it's not at all inconceivable to me that, if she chose to run, that she could do what Barack Obama did two cycles earlier: knock off the inevitable, anointed frontrunner.
Also advancing a version of that thesis is Edward Klein, who had a New York Post EXCLUSIVE yesterday titled "This means Warren: Obama backs challenger to Hillary." The report, alas, is an embarrassment to journalism—or even whatever it is that the New York Post is supposed to be.
President Obama has quietly promised Massachusetts Sen. Elizabeth Warren complete support if she runs for president — a stinging rebuke to his nemesis Hillary Clinton, sources tell me.

Publicly, Obama has remained noncommittal on the 2016 race, but privately he worries that Clinton would undo and undermine many of his policies. There's also a personal animosity, especially with Bill Clinton, that dates from their tough race six years ago.

A former Harvard law professor and administration aide, Warren would energize the left wing of the Democrat Party just as Obama did against Clinton in 2008.
Now, aside from the fact that I think Obama is too shrewd to make that promise, that's all somewhat plausible. To be sure, Hillary Clinton did her duty in healing the rift in their party after their bruising 2008 fight and Bill Clinton helped tremendously with his 2012 convention speech, but there may well still be lingering animosity beneath the surface. And I agree that Warren would more energize the base than HR Clinton.
But Klein couldn't resist throwing in the tired "Democrat Party" nonsense. It's a strong signal that honest analysis is not to be forthcoming. And he doesn't disappoint.
Thanks to her outspoken stand against big banks and the top 1 percent, Warren is the darling of progressives. She won her Senate seat thanks to millions of dollars in donations from outside Massachusetts, including from rich environmentalists and Hollywood celebrities.
These things are all true. But it's noteworthy that one Democrat who didn't take a big stand against big banks was . . . Barack Obama. While Clinton would likely advocate a more interventionist, muscular foreign policy than Obama has overseen (not that Obama, who radically escalated the drone campaign, has been a shrinking violet) she was a key member of the administration and would be tied to it. Warren would essentially be running against Obama in addition to the Republicans.
Obama has authorized his chief political adviser, Valerie Jarrett, to conduct a full-court press to convince Warren to throw her hat into the ring.

In the past several weeks, Jarrett has held a series of secret meetings with Warren. During these meetings, Jarrett has explained to Warren that Obama is worried that if Hillary succeeds him in the White House, she will undo many of his policies.

He believes that the populist Warren is the best person to convince the party faithful that Hillary is out of touch with poor Americans and the middle class. Warren, in his view, would carry on the Obama legacy after he leaves the White House.
But, again, Warren would seek to govern well to the left of Obama. Clinton is a relative centrist, like Obama. Which policies would she seek to undo? We never learn.
"Barack, Michelle, and Valerie have been talking about Elizabeth Warren for quite some time," says an Obama administration source. "Valerie has told Warren that Obama is prepared to throw a great deal of money and organizational support behind her.

"The Obamas believe that Warren sees things from the same ideological point of view as they do. She is a committed progressive who, like Obama, wants to transform America into a European-style democratic-socialist state."
I laughed out loud after reading that paragraph. There is not a single person who can accurately be described as "an Obama administration source" who would say that Obama "wants to transform America into a European-style democratic-socialist state." Even if one believes that Obama is secretly a European-style social democrat—or, hell, that his actual policies are reflective of a European-style democratic-socialist state—it's just absurd to think that a Democratic political appointee would use that language. A random Occupy Wall Street protester wouldn't use that language. Indeed, the only people who use phrases like "European-style democratic-socialist state" are Republican hacks. 
To be sure, you'll find plenty of progressive commentators who'll argue that European-style social democracy is working out pretty well for the Europeans and that the United States should adopt it. But the only Americans of any prominent who use variants of "socialist" in describing American politics are the likes of Rush Limbaugh, Charles Krauthammer, Newt Gingrich, or Rick Santorum. Indeed, when things get tough, even more serious Republicans will trot it out in desperation.  (Then again, Republicans will sometimes use it against one another, as when Gingrich accused Mitt Romney of being a European socialist during the 2012 primaries.)
I stopped reading there to start this post but, in a service to OTB readers, I went ahead and finished the column. It did not improve. The best part:
When I ran this information before a well-informed Democratic Party operative, he pooh-poohed the scenario.

"It's all bulls-t," he said. "The media is creating a Hillary Clinton-Elizabeth Warren rivalry to hype the storyline. If Warren dared to challenge Hillary, women all over America would never forgive her. She'd lose all her credibility."

That, however, is not the way Valerie Jarrett sees things.

"Both Valerie and Michelle Obama have convinced the president that Elizabeth Warren is his Mini-Me," said a person who has discussed the issue with Jarrett.
Again, this just doesn't make any sense to me. I didn't vote for Obama either time. I find Warren quite likable, which I can't say about Hillary Clinton. But it seems rather obvious to me that, as evidenced by the way he's actually governed for six-plus years, Obama and Clinton are much more ideologically similar than Obama and Warren. I happen to believe that, unshackled from the realities of American politics and those pesky checks and balances, Obama would govern further to the left than he has. But there's little evidence that he's a die-hard leftist in the way that Warren is.
Furthermore, as Steve M. notes at Crooks and Liars, it was just six yeas ago that Klein himself was selling a book touting Hillary Clinton as a radical.
[T]he same Ed Klein told us back in 2005, when he was promoting a book called The Truth About Hillary, that Hillary is (as the book puts it) "notoriously left-wing." Klein told FrontPage Magazine back then that Hillary has "a very far-left political agenda," and told Human Events that "Hillary is a true, bred to the bone, ideologue"; asked by Human Events to rank the threat she posed to conservatives on a scale of 1 to 10, Klein ranked her a 10, with Bill Clinton as just a 7. ("Bill is a much more pragmatic person than she is. He's ready to compromise much more quickly than she is.") Klein airily dismissed any centrist moves by Hillary as pure fraud:
HE: You believe that Hillary, since she has entered the US Senate, has been trying to re-position herself as a moderate and show that she's not so far to the left. Is that who she has become? Has she had a change of heart?

Klein: "I don't believe so. I believe she made an accurate calculation that a liberal cannot get elected President of the United States – an out and out liberal. That's not where the American public is today. We are becoming a more conservative country all the time. And Hillary, with her ambition to win the White House, acknowledges that by, in effect, turning her back on some of her former positions, some of her former supporters and re-positioning herself as a moderate on such issues as God, prayer, abortion without parental consent, immigration; she's adopted many of the Republican positions or at least has moved toward those positions in recent years, doing what Bill Clinton did – triangulating by adopting his opponent's positions on things. I don't believe this is a sincere change of heart. I think this is a pure political calculation on her part."
So what Ed Klein 2005 was telling us was that she was a Manchurian Candidate just biding her time until she could become president and unabashedly be the bred-to-the-bone, notoriously left-wing ideologue that she's been since college. Is Ed Klein 2014 saying that Ed Klein 2005 was lying to us? After all, if Hillary is so secretly radical, why doesn't that radical Marxist Barack Obama consider her the one who will continue his life's work of "transform[ing] America into a European-style democratic-socialist state"?
Klein has an impressive résumé. A graduate of the nation's most prestigious journalism school, he went on to become the foreign editor of Newsweek and spend over a decade as editor-in-chief of the New York Times Magazine. He has published at least ten books going back to 1969. Yet, quite clearly, he's become a world class hack.
How hackish?  Klein's 2005 The Truth About Hillary was so outlandish that even conservative pundits were trashing it. Nine years ago—in The New York Post, no less—John Podhoretz wrote,
This is one of the most sordid volumes I've ever waded through. Thirty pages into it, I wanted to take a shower. Sixty pages into it, I wanted to be decontaminated. And 200 pages into it, I wanted someone to drive stakes through my eyes so I wouldn't have to suffer through another word.

Though Klein suggests in his subtitle that he has written a study of a power-hungry politician — "What She Knew, When She Knew It, And How Far She'll Go to Become President" — he's produced something quite different. An unduly celebratory biography is called a "hagiography." Klein's book is a "hate-eography."

Despite a distinguished journalistic pedigree including stints as the editor of both Newsweek and The New York Times Magazine, Klein has chosen to emulate the works of the highly dubious bio-defamer Charles Higham, who with the slimmest of evidence wrote books claiming that Errol Flynn was a gay Nazi spy and Howard Hughes was a bisexual.

Klein may offer a few words here or there about Whitewater or Travelgate, but what really floats his boat is the Higham-like notion that Sen. Clinton is secretly a lesbian.

He has no proof whatever for this claim save that she has had some lesbian friends. (So do I. Does that make me a lesbian?) Indeed, Klein even offers the quaint theory that it doesn't really matter whether Hillary ever acted on her supposed lesbian tendencies. "To be a lesbian," he lectures on page 63, "it was not necessary for a woman to have a physical relationship with another woman. Such a relationship could be romantic and asexual."

He quotes someone he says is an unnamed college classmate of Hillary's, who claims that "the notion of a woman being a lesbian was fascinating to Hillary . . . But she was much more interested in lesbianism as a political statement than a sexual practice . . . Hillary talked about it a lot, read lesbian literature, and embraced it as a revolutionary concept."

Oh, really. Let's see. It's June 2005. Hillary Clinton has been a major public figure in the United States for nearly 15 years. Somehow I imagine that if, indeed, she had "embraced" lesbianism "as a revolutionary concept" during her college years — years that have been written about exhaustively — we would have heard about it before now.

We also probably would have heard by now that Bill Clinton learned Hillary was pregnant with Chelsea by reading about it in an Arkansas newspaper. This detail is offered up by a single source — an "investment banker from New York" — in the course of a story about how Bill "raped" Hillary while on vacation in Bermuda in 1979.

Everything in this book that matters has been written before, and better. Everything else in it shouldn't have been published.
The original page is gone now but NRO's Jim Geraghty wrote, "Folks, there are plenty of arguments against Hillary Clinton, her policies, her views, her proposals, and her philosophies. This stuff ain't it. Nobody on the right, left, or center ought to stoop to this level."
_______________
[*]A couple of commenters have taken issue with this label. I'm not intending a slur there, merely a description. Warren isn't a leftist in the European sense; but she's very far left by the standards of American national politics. I'm not sure there's a politician to her left anyone would seriously talk about as a viable presidential nominee.