Ezra Klein Going Solo
Wonkblog's founder is leaving the Washington Post to start a new media outlet of his own.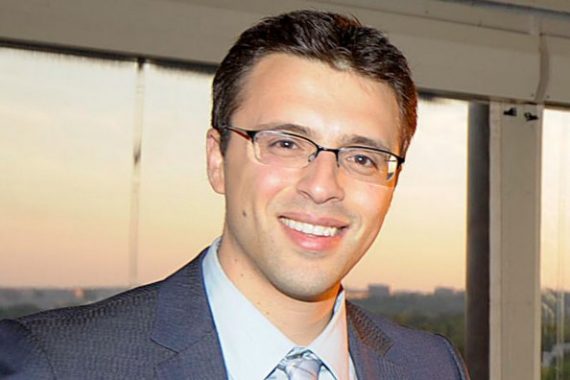 Ezra Klein is leaving the Washington Post to start a new media outlet of his own, joining a burgeoning trend.
POLITICO's Dylan Byers ("Ezra Klein out at Washington Post"):
The Washington Post announced Tuesday that its star economics blogger Ezra Klein will be leaving the paper to start a new venture.

"When Ezra joined us in 2009, he was a wunderkind blogger with brash confidence and a burning desire to write a column in the print newspaper," Post editors wrote in a memo to staff. "As he leaves us, Ezra is still a brash wunderkind, but now his burning desire has a grander scope: He is looking to start his own news organization, an ambition that befits someone with uncommon gifts of perception and analysis. Ezra's passion and drive will be missed, but we will take pride in watching him chart out his new venture."

The move comes after weeks of discussions between Klein and the Post brass over Klein's future, including a proposal by Klein to start the new venture in-house with more than three-dozen staffers and a multi-year budget of at least $10 million. The Post declined that proposal.

Melissa Bell, the Director of Platforms at the Post, and Dylan Matthews, a member of Klein's "Wonkblog" team, will also be leaving to take part in the new venture.
In a follow-up report with Hadas Gold ("Why The Washington Post passed on Ezra Klein") Byers adds,
For nearly five years, the Post has steered a bounty of financial resources to its star economics columnist and blogger. It has allowed him to have a contributor deal with MSNBC, a column with Bloomberg View, and to write long-form for The New Yorker. It has provided him with eight staffers to keep Wonkblog, his popular policy vertical, flowing with up-to-the-minute charts and analysis. The PR department has promoted him in profile upon profile.

But when Klein proposed the creation of an independent, explanatory journalism website — with more than three dozen staffers and a multiyear budget north of $10 million — the Post said enough is enough. Indeed, Jeff Bezos, the Post's new owner, and Katharine Weymouth, its publisher, never even offered an alternative figure, sources familiar with the negotiations said.

[…]

As early as this week, Klein is expected to announce a new venture — described in a memo to Post staffers as a new "news organization" — that will look to staff more than 30 people on the editorial side alone. Meanwhile, the Post, which for four years has benefited immensely from housing the Ezra Klein brand — Wonkblog averages more than four million page-views a month — will lose its star columnist and its claim to some of the most widely read policy analysis on the Internet.
Dave Weigel, Klein's long-time friend and himself briefly a Post blogger before being fired over controversial revelations from leaked Journolist emails before being quickly rehired by Post-owned Slate, is bemused about the whole thing, as indicated by his headline, "Ezra Klein Leaves the Washington Post; Washington Wonders Whether the Post Ever Learns Anything."
It's been the talk of the notorious D.C. cocktail party circuit for a month, and now it's official: Ezra Klein will leave the Washington Post after five years on staff. The paper decided not to invest in a massive expansion of his Wonkblog, which has grown to include eight reporters, a spinoff (the Switch), live events, and a morning newsletter. Klein, who'd found other sources of capital, would split, taking (for now) two WaPostaffers with him. The rumors had raised some temperatures in the newsroom, and you can feel that as you read the official memo.

[…]

Klein was 24 when he joined the paper, and is 29 now, around the same age as star political reporters Philip Rucker and Robert Costa, star columnist Clinton Yates, and star Style writer Dan Zak. Rucker and Zak actually joined the paper before Klein did. I mention them to emphasize how much talent there is at the paper, and to emphasize a "whuh?" at the use of "brash wunderkind." Intentional or not, that's easily read as a dimunition of a reporter/columnist who helped expand the paper online.
If so, it's a diss at odds with recent history. At Politico, Dylan Byers and Hadas Gold wait until the second page of their Klein take to remind readers of the last time thePost let significant talent walk out the door. True, Klein had proposed a sizable new media venture within the now-Jeff Bezos-owned company, "eight figures" to start a new site, less than 5 percent of what Bezos spent to buy the Post. Byers/Gold credit "several journalists on Twitter" with an insight that lots of other journalists had all right: a "parallel between Klein's departure and that of John Harris and Jim VandeHei—two former Post journalists who proposed a politics-driven media venture to their bosses but eventually left to launch POLITICO."
That's an interesting insight and one that hadn't occurred to me. But I'm not at all sure that POLITICO would have become the sensation that it did if the Post had somehow convinced its founders to stay in-house and launch it as a sub-brand. For one thing, I'm not sure Harris and VandeHei would have put so much in to it as they did their own creation. For another, POLITICO simply operates under a different rhythm and under different rules than a daily paper; the cultures may simply be incompatible.
Byers and Gold's analysis of why the Post didn't even try to come up with a counter-offer is interesting and plausible:
The split, which has become a point of tension in the newsroom and the talk of the town in Washington, underscores a larger tension in the era of personal-brand journalism. Big media institutions go to great lengths to feed the egos (and pockets) of their growing stars, cultivating their image and reaping the rewards of high traffic. But when that brand becomes too expensive, or so big it threatens to outshine the institution itself, the institution is forced to let it go.

Klein is only the latest marquee journalist to outgrow his organization and launch a new venture. Nate Silver, the star political statistician, left The New York Times last year to reboot his FiveThirtyEight enterprise in affiliation with ESPN. AllThingsD founders Kara Swisher and Walt Mossberg left The Wall Street Journal to launch a new tech news site with the backing of NBC Universal. David Pogue, the former New York Times tech columnist, went to Yahoo, where he is spearheading a new tech vertical. Glenn Greenwald, the former Guardian journalist, launched First Look Media with the backing of eBay founder Pierre Omidyar. Andrew Sullivan, the blogger hosted first by The Atlantic and then The Daily Beast, is now funded directly by his readers.
To some degree, Josh Marshall was a pioneer of the trend, leaving prestige outlets to build his Talking Points Memo blog into a major platform. Bill Simmons' Grantland and the similar project being launched by Nate Silver, both under the ESPN umbrella but under their own brands, and the new venture in the works for Glenn Greenwald are more recent archetypes. As noted, Andrew Sullivan's taking his blog private after years at Time, The Atlantic, and The Daily Beast is another.
What's especially interesting is that all of them started off as solo bloggers (or, in the case of Simmons, some guy writing a sports newsletter in his basement). With the exception of Marshall, all took the proverbial Boeing to work for major media outlets only to then outgrow the confines of the company, becoming a brand in their own right. So, in a sense, they came full circle. But, obviously, all emerged as much bigger personal brands than they could have become if they'd just stayed as guys with their own websites.
Even though it's a topic that's fascinated me during these almost eleven years that I've been blogging, I can't claim to understand the business of news as it's evolved in the Internet age. Even venerable brands like the Post are struggling to keep afloat. The old model of advertising supporting the reporting just doesn't work anymore and, aside from a handful of niche outlets who can charge a premium to customers for a unique product, nothing has replaced it.
Honestly, I don't know whether it would have made sense for Bezos and the Post to invest in furthering the Wonkblog and Klein brands. I don't know how much money four million monthly pageviews translates into as against the costs of supporting the staff.  Beyond that, the nature of the Internet is such that sub-brands can not only eclipse their masthead but that people increasingly don't care about the masthead at all. For the most part, individual pages of content stand on their own with the Post's masthead above the content no more relevant than Buzzfeed's or I Can Haz Cheezeburger's.
For that matter, given his ability to attract big time investors, it's not clear to me why Klein would benefit from staying at the Post. As crazy as it seems that a 29-year-old in the political journalism business has grown bigger than the paper that took down Richard Nixon a decade before he was born, it's true. Considering that he started building his brand as a blogger at roughly the same time as I did—and that he was a young undergraduate and I was a former professor almost a decade older then than he is now—it's really quite stunning. But he's now one of the most powerful voices in domestic political coverage and a multi-platform solo brand. That very concept would have seemed bizarre a decade ago. But it's our current reality.