Ezra Klein's Meteoric Rise
How he went from Juicebox Mafia member to the most important young journalist in DC.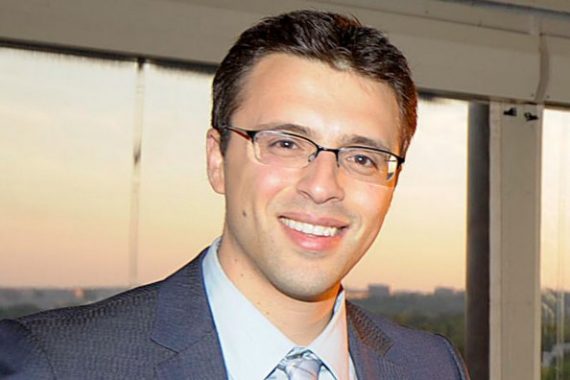 TNR has a longish profile titled "Ezra Klein: The Wise Boy, A tale of striving and success in modern-day Washington."
I've followed Ezra's career since was he was a kid at UCLA blogging at Pandagon, having linked to him at least as early as nine years ago, through his migration to the LA Weekly and his creation of a mini-empire at the Washington Post. He's gone from one of many voices of the Juicebox Mafia to easily the most important young journalist in DC.
His Wonkblog, which started out as a solo venture and has since swollen to include a staff of five, has arguably become the Post's most successful project, bringing in over four million page views every month. "It's 'fuck you traffic,'" one of Klein's Post colleagues told me. "He's always had enough traffic to end any argument with the senior editors." On top of this, Klein writes a regular column for the print edition of the Post, as well as long features for The New Yorker. He is a columnist for Bloomberg View. He has a book deal. He frequently subs in for Rachel Maddow, on MSNBC, where he is also on contract as a contributor, and, recently, there were rumors that Klein was on track to get his own show on the channel.
That he's this successful at 28 naturally annoys the hell out of his competition. How's he done it? Talent and hard work, certainly. But those things are in long supply in journalism.
And he was doing good work, particularly on health care, making sense of a controversial and highly politicized topic well before the issue became national news. In 2009, the Post took notice and, looking to bring in some new media talent, hired Klein. Once there, it didn't take him long to figure out how to adapt to the customs of elite Washington: One must be nice and above it all. Klein now says that he will not write a negative book review. "Because if you've gone through the trouble to write a book? And I just don't think it's that good?" Klein told me, breaking into his occasional habit of lilting at the end of each clause. "I'm not going to shit on your work. I just won't review it. This is a rule James Fallows has that I've adopted. Whom I really respect, by the way."

[…]

Klein explains the nice policy this way: Unkind writing is unthoughtful writing. "I used to be meaner," he says, because "you don't think of people as people when you don't think they're reading you." These days, he says the scale of his audience and his platform have given him the luxury not to write "like that" anymore.
That's been my approach to the enterprise as well. But I was considerably older when I started blogging a decade ago than Klein is now.
"Ezra is an incredible operator," says one prominent Washington editor. "He is always looking upward at things. You only have to watch him work a party. He moves right to the most important people there." One friend saw Klein and his wife, New York Timesreporter Annie Lowrey, at an event for last year's White House Correspondents' Dinner, and noted that they spent most of the night talking to Gene Sperling, Obama's economic adviser.
This is a rare talent; certainly, it's not one that I possess. And, while not essential to success, it's awfully helpful.
All of this has allowed Klein to slip easily into the Washington establishment, leaving the rest of his old blogging crew merely doing well, though they are still close. "I had no conception of, or ambition of, trying to run a multimedia empire," says Matthew Yglesias, a good friend of Klein's who was also the closest thing he had to a rival. "He obviously wanted much, much more."
Until quite recently, I would have considered Yglesias as the primus inter pares of the Juiceboxers. He took the proverbial Boeing sooner and got hired at a lot of prestigious places, including The Atlantic and Slate, as a young man. But he's still a liberal opinion blogger, whereas Klein has become a big time influencer. Guys like Paul Krugman feel like they have to read Wonkblog. More importantly, the White House feels like they need to talk to Klein to get their story out.
It's not a happy accident.
When Klein talks about Wonkblog, he sounds like an earnest business school student selling his start-up. It is a service, a product, a brand. He thinks about market share. ("A couple years ago, policy was an underserved market.") He thinks about his client base. (He speaks often of "my readers," about what they want, what they need, and how he can best serve them.) He thinks about productivity. (He reads far less media and blogs these days, he says, because "I just don't find the margin in that so great?") He is wary of growing too big, too fast, because "I actually think overly quick expansion can kill the product." When I asked Klein if he considers himself an entrepreneur, he demurred. "If I can say that without sounding self-congratulatory, because 'entrepreneurial' is sort of a word we've imbued with a kind of a pathos," he hesitated. "But yes, I mean, fair enough."

That he thinks assiduously about Brand Ezra is hardly surprising. What's made him so successful so fast aren't just his analytical chops—plenty of others have those, too—it is also the idea of Klein himself, the nice, rational, incongruously handsome nerd, the kid you want explaining your budget policy and marrying your daughter. His predecessors, the Brookses and Russerts he mocked on the way up, were talented but mostly anonymous youngsters at the beginning of their careers. They didn't have Twitter to disseminate their work to a broader audience. They weren't treated like celebrities with pictures of their faces plastered atop their blogs, as was once the case with Klein. Washington has always fetishized wunderkinds—Andrew Sullivan became editor of this magazine at age 28—but, mostly because the technology didn't exist, it was impossible to package them as effectively as Klein has been packaged. He is a product, the kind an old organization like the Post can use to revive its flagging legacy.
Sullivan remains a superstar and was likewise able to be the biggest traffic producer for sites like Time, The Atlantic, and Newsweek/Daily Beast. And he's decidedly a brand. But people read Sully for his opinions and eccentricities, not because he's somehow got the pulse of Washington.
The rest of the feature is worth a read, containing some interesting insights into Klein's view of the political system and the media culture that he's both part of and strongly dislikes.