Warren Comes Under Fire In Fourth Democratic Debate
Elizabeth Warren took most of the fire during last night's fourth Democratic debate, which will likely go a long way toward winnowing down a crowded field.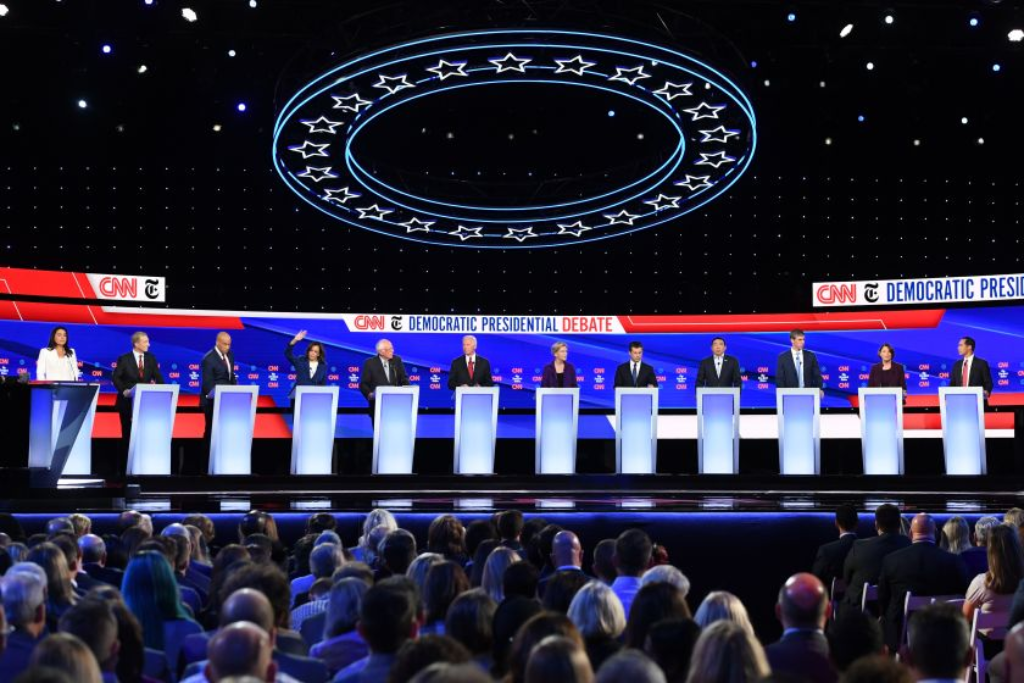 With voting in the 2020 campaign set to start in 112 days in the Iowa Caucuses, Democrats met in a suburb of Columbus, Ohio for their fourth debate of the election cycle. As a preliminary matter, and as was the case for the first three debates, my first observation is that the debate itself was quite simply too damn long at three hours and the format was unhelpful. As was the case with the third debate, the earlier start time of 8:00 p.m. rather than 9:00 p.m. was far better, this doesn't make up for the fact that the format was, once again generally atrocious. Additionally, the fact that we saw the largest debate stage for Democrats ever at twelve participants meant that there were as few details discussed as possible, As with the previous debates, there are still simply too many candidates on the stage for anything that approaches a useful exchange of ideas and positions, or for any candidate to get off anything more than short statements that are hardly useful in making any rational judgment about whether or not that candidate would make a good President or a good nominee capable of beating Donald Trump.
That being said, this debate was at least in some sense more substantive than previous iterations, something that may have had to do with the fact that the reporters asking the questions came not only from CNN but also from The New York Times. As expected, the debate mostly centered on many of the issues that have popped up since the last debate, including the ongoing impeachment inquiry, foreign policy, the issue of ethics and the involvement of candidate(s) families in business, and candidate health in the wake of the heart attack suffered by Senator Sanders earlier this month. More than anything else, though, the biggest focus of the debate was on Elizabeth Warren, who saw herself come under fire from fellow candidates for the first time as she slips into a top tier consisting of herself and former Vice-President Biden:
WESTERVILLE, OHIO — Senator Elizabeth Warren of Massachusetts faced a sustained barrage of criticism from her Democratic rivals at a presidential debate in Ohio on Tuesday, tangling with a group of underdog moderates who assailed her liberal economic proposals, while former Vice President Joseph R. Biden Jr. appeared to fade from the fray after parrying President Trump's attacks on his family.

The debate confirmed that the primary race had entered a new phase, defined by Ms. Warren's apparent strength and the increasing willingness of other Democrats to challenge her. She has risen toward the top of the polls while confronting limited resistance from her opponents, and in past debates she attracted a fraction of the hostility that Democrats trained on Mr. Biden.

That changed in a dramatic fashion on Tuesday, when a group of her rivals voiced sharp skepticism of Ms. Warren's agenda or accused her of taking impractical stances on issues like health care and taxation. Mayor Pete Buttigieg of South Bend, Ind., insistently charged Ms. Warren with evading a "yes-or-no" question on how she would pay for a "Medicare for all" health care system, while Senator Amy Klobuchar of Minnesota cast parts of Ms. Warren's platform as a "pipe dream." Former Representative Beto O'Rourke of Texas branded Ms. Warren's worldview as overly "punitive."

Ms. Warren sought at every turn to dispense with her critics by casting them as lacking ambition or political grit. When she addressed criticism of her proposal to tax vast private fortunes, for instance, Ms. Warren suggested her opponents believed it was "more important to protect billionaires than it is to invest in an entire generation" but did not single out her rivals.

Foreign policy played a greater role on Tuesday evening than in any other debate, pushed to the political foreground by the renewed outbreak of war and humanitarian catastrophe in Syria. The Democrats chiefly trained their attention on Mr. Trump's role in instigating the crisis there: For instance, Julián Castro, the former housing secretary, condemned Mr. Trump for "caging kids on the border and letting ISIS prisoners run free" in Syria.

With Mr. Biden a diminished force, Mr. Buttigieg and Ms. Klobuchar appeared determined to present themselves as strong alternatives for voters in the middle. Both emphasized their Midwestern credentials, and Mr. Buttigieg invoked his experience as a military veteran in several wide-ranging answers on foreign policy.

Their new aggressiveness represented a shorter-term calculation about halting Ms. Warren's increasing strength in Iowa. With Ms. Warren gaining there, Ms. Klobuchar and Mr. Buttigieg plainly decided to target her in an effort to appeal to the state's moderate voters, who so far have lined up with Mr. Biden.

With a powerfully funded campaign and an expanding field operation in Iowa, Mr. Buttigieg may be uniquely well positioned to assert himself there.

In an intense argument that reflected their changing fortunes in the race, Mr. Biden briefly went on the offensive against Ms. Warren toward the end of the debate, describing her health care plans as "vague" and demanding in a raised voice that she give him some credit for her signature accomplishment, the creation of the Consumer Financial Protection Bureau after the 2008 financial crisis. Ms. Warren expressed gratitude for the help she had received — not from Mr. Biden but from former President Barack Obama.

But Ms. Warren was on the defensive for much of the evening and most of all on the issue of single-payer health care, when she again declined to specify precisely how she would fund a sweeping system of government-backed insurance. Unlike Senator Bernie Sanders of Vermont, Ms. Warren has not acknowledged in plain terms that a "Medicare for all" plan would quite likely have to substitute broad-based taxes for private insurance premiums and other costs.

"I will not sign a bill into law that does not lower costs for middle-class families," Ms. Warren said, declining to elaborate.

(…)

Ms. Warren was squeezed, at times, from the left as well: While Mr. Sanders never broke their informal nonaggression pact, he agreed with several of the moderates that it was "appropriate" to enumerate the financial trade-offs involved in single-payer health care, including taxes on Americans that would be "substantially less than what they were paying for premiums and out-of-pocket expenses."

And while Mr. Sanders, who had a heart attack this month, was forced to address new concerns about his health, his campaign aides confirmed during the debate that he had secured an endorsement from Representative Alexandria Ocasio-Cortez of New York that could inject new energy into his candidacy.

But there were also the germs of a broader discussion of the role of the United States in the Middle East: In an intense exchange between the two military veterans onstage, Representative Tulsi Gabbard of Hawaii said that it was not only Mr. Trump who had "the blood of the Kurds on his hands," but also politicians in both parties and news media organizations that had cheered for "regime change war."

Her remarks drew forceful pushback from Mr. Buttigieg, who said Ms. Gabbard was "dead wrong," arguing that "the slaughter going on in Syria is not a consequence of American presence — it is a consequence of a withdrawal and a betrayal by this president of American allies and American values."

While Mr. Biden and Ms. Warren did not clash directly over foreign policy, they diverged in a stark fashion over the situation in Syria. Mr. Biden said he would want to keep American troops there and convey to the Turkish government that it would pay a "heavy price" for its invasion. Ms. Warren said she opposed Mr. Trump's handling of the situation but believed the United States should "get out of the Middle East." (Aides to Ms. Warren said she was referring to the withdrawal of troops from combat.)
More from The Washington Post:
Sen. Elizabeth Warren, whose steady stream of plans have propelled her to the top of the Democratic presidential field, came under sustained attack for the first time during a raucous primary debate here Tuesday that revealed Democrats' ongoing public struggle to define their beliefs and choose a standard-bearer to take on President Trump.

Warren (Mass.) faced direct challenges from several of the 11 other candidates onstage, who took her on over her policies, her fitness to serve as commander in chief and her willingness to question the motives of Democrats who support less transformational ideas.

South Bend, Ind., Mayor Pete Buttigieg and Sen. Amy Klobuchar (Minn.) took turns criticizing Warren over her support for Medicare-for-all and her purist approach to populism.

"We're competing to be president for the day after Trump. Our country will be horrifyingly polarized, even more than now. After everything we've been through, after everything we are about to go through, this country will be even more divided," Buttigieg said. "Why unnecessarily divide this country over health care when there's a better way to deliver coverage for all?"

The focus on Warren deflected attention from others facing scrutiny entering Tuesday's debate, which was hosted by CNN and the New York Times.

Former vice president Joe Biden went for long stretches without surfacing, as the rest of the field appeared reluctant early in the debate to echo Republican criticisms of Biden's son, Hunter, and his work on the board of a Ukranian energy company while his father was the Obama administration's point person there. Attacks on Biden's more moderate positions were fleeting, unlike in earlier debates. 

Sen. Bernie Sanders (I-Vt.), meanwhile, showed no signs of lingering health trouble in his first public appearance since suffering a heart attack two weeks ago. But he also did not answer questions about his health.
However, while there was some focus on issues such as impeachment and foreign policy, it was Warren that took the heat for most of the night:
Former congressman Beto O'Rourke of Texas accused Warren of supporting "punitive" tax policy. Businessman Andrew Yang questioned Warren over her plan to break up large technology companies. Sen. Kamala D. Harris (Calif.) chastised Warren for not agreeing that Trump's Twitter account should be suspended. Unprompted, Rep. Tulsi Gabbard (Hawaii) twice roped Warren into her answers, questioning the senator's foreign policy credentials.

"I appreciate Elizabeth's work," Klobuchar said at one point. "But again, the difference between a plan and a pipe dream is something that you can actually get done."

The tenor of the debate was the clearest sign yet that Warren's ascendancy would force her campaign to grapple with the challenges of being the front-runner in a large and unwieldy Democratic field.

Warren fought back against the attacks, casting her challengers as too small-minded or timid for the moment, or as part of an entrenched political system that is dominated by corporations and the wealthy.

"Look, I understand that this is hard, but I think as Democrats, we are going to succeed when we dream big and fight hard, not when we dream small and quit before we get started," Warren said. 

The debate also underscored the deep policy divisions that persist among Democrats on issues including health care, abortion, taxes, education, inequality, technology, foreign policy and trade. Health care was perhaps the most contentious issue, as it has been in previous debates. 

Moderate candidates pilloried the Medicare-for-all program backed by Warren and Sanders as overly expensive, unworkable and likely to raise costs on middle-class Americans.

"Your signature, senator, is to have a plan for everything, except for this," Buttigieg said, facing Warren, as he accused her of giving an evasive answer when asked if Medicare-for-all would lead to tax increases for Americans.

Klobuchar, among those onstage who have yet to meet the qualifications for the November debate, also weighed in.

"At least Bernie's being honest here and saying how he's going to pay for this and that taxes are going to go up," Klobuchar said. "And I'm sorry, Elizabeth, but you have not said that, and I think we owe it to the American people to tell them where we're going to send the invoice."
Given the fact that she has been consistently rising in the polls for months now and stands, along with former Vice-President Joe Biden, as one of the top two candidates in the field, it was inevitable that Warren was going to come under fire. As noted, some of the more relentless fire came not from her co-frontrunner but from two lower-tier candidates looking perhaps to find a place for themselves in the center-left lane of the campaign by focusing criticism and doubt on Warren in particular.
One of those candidates was Minnesota Senator Amy Klobuchar, who focused several times on the issue of how Warren would propose to pay for all of her plans, which has been a particular point of weakness on her part so far in the campaign. Mayor Pete Buttigieg also focused on the cost issue as well as the fact that her health care plan would mean that Americans who like their current health insurance coverage would be forced to give it up whether they want to or not. This would particularly impact working-class Americans who work in places such as the automotive industry who have high-value coverage that has been negotiated for them by their union(s) over the course of several years. In a tight election, this is something that could end up being a game-changer.
For the most part, Warren did a good job of pushing back against the attacks and it's unlikely that any of her diehard supporters are going to change their mind about her. Where these attacks could have an impact, though, is among more center-left Democrats who have jumped on board the Warren train recently but who are not nearly as wedded to the ideas and plans that she's put forward as her supporters are. The substantive attacks that Warren received last night could be a reason for these voters to reconsider their support, especially since they are likely to have doubts about her to begin with. Whether that blunts her rise in the polls is something we'll have to watch unfold over the coming weeks.
Former Vice-President Biden also did a fairly good job of putting his case forward last night. Indeed, he has noticeably improved in his debate performances since seemingly stumbling out of the gate during the first debate back in June. He did an effective job at pushing back against the attacks against him and his son Hunter that have come from the right, although it's worth noting that the other candidates on the stage took up that argument in detail, perhaps because they were reluctant to take up a right-wing talking point. Biden also distinguished himself significantly from his fellow candidates on foreign policy, which isn't surprising given his experience as a Senator on the Foreign Relations Committee and his time as Vice-President. Biden also did a fairly good job of reinforcing the idea that he is the candidate best situated to beat Trump in November 2020 which, at least in my opinion, should be the primary concern of every Democratic primary voter.
The rest of the candidates in the top five — Bernie Sanders, Kamala Harris, and Pete Buttigieg — turned in what I can best be described as mixed performances.
Senator Sanders, back from his heart attack with questions about his health and stamina hanging over him, did a very good job of putting those health concerns to rest and addressing the themes that he has been pushing since 2016. Where he fell short, I think, is in distinguishing himself from the rising star Warren who has effectively hijacked many of the themes and policies that Sanders first put forward. That being said, Sanders has seen himself losing ground in polling at the national and state levels as Warren has risen steadily. I don't see that changing after last night, especially since Sanders' health is likely to become an issue in voters' minds going forward.
Senator Kamala Harris, meanwhile turned in what can best be described as another mediocre performance that matches the current mediocre stance of her campaign. After a brief tick up in the polls due to a stronger than expected performance in the first debate, Harris has basically faded into the background to the point where she is slowly fading in polls at the state and national levels, letting Mayor Pete Buttigieg slip ahead of her while at the same time turning in mediocre at best fundraising numbers that lead one to wonder if even her own donors are losing faith in her.
Finally, Mayor Pete Buttigieg, who is holding steady in the national polls while rising in early states such as Iowa and New Hampshire, did very well last night to the point where he's likely to outlast Harris as one of the potentially viable candidates in this race. This is especially true given his extraordinarily successful fundraising ability which will allow him to compete in those early states as we get closer to the start of voting.
As for the rest of the candidates, this was likely their last hurrah on the national stage as most of them are unlikely to qualify for next month's debate or any of the debates going forward. As I said above, Senator Klobuchar did a good job of distinguishing herself from Warren but it's probably too little, too late unless she has a massive turn around that has not manifested itself. Other candidates, such as Beto O'Rourke and Cory Booker, are teetering on the edge of irrelevance and didn't really do anything to turn that around last night. The same is true of the rest of the candidates — Tom Steyer, Andrew Yang, Julian Castro, and Tulsi Gabbard. Of these four, only one, Andrew Yang has even a remote chance of qualifying for the next debate. The others will be left out in the cold along with the candidates who didn't make the stage at all last night.
If you missed the debate, you can watch it here.