House Benghazi Committee Takes Repeated Swings At Hillary Clinton, Mostly Ends Up Hitting Itself
After an eleven hour day on Capitol Hill, it was Hillary Clinton 1 House Benghazi Committee 0.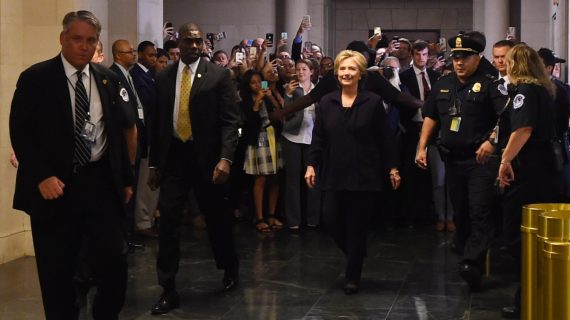 Including breaks for lunch, votes on the Floor of the House, and other matters, yesterday's hearing on the House Select Committee investigating the Benghazi attack lasted just about eleven hours, making it one of the longer days of testimony and questioning by one person that we've seen on Capitol Hill in quite some time. By the time it was over, though, it seemed clear that the House Republicans who had launched the committee had largely failed in either uncovering any new information about the events of September 12, 2012 or in inflicting any real political damage on the presumptive Presidential nominee of the Democratic Party:
WASHINGTON — Republican lawmakers spent more than eight hours aggressively questioning Hillary Rodham Clinton on Thursday, seeking to build a case that the former secretary of state had been derelict in her duty to secure the American diplomatic mission in Benghazi, Libya, in the months before the 2012 terrorist attacks that killed four Americans.

Billed by Republican leaders of the select House committee investigating the Benghazi attacks as a critical moment in its inquiry, the long-awaited appearance by Mrs. Clinton, the leading Democratic presidential candidate, served largely as a replay of highly contested arguments from previous congressional hearings, press examinations and Sunday-morning talk shows.

"Why were there so many requests for security equipment and personnel, and why were those requests denied in Washington?" Representative Trey Gowdy of South Carolina, the committee chairman, demanded to know as he opened the hearing on Thursday morning. "What did our leaders in Washington do or not do, and when?"

But the long day of often-testy exchanges between committee members and their prominent witness revealed little new information about an episode that has been the subject of seven previous investigations, and that Republicans have long seen as a blemish on Mrs. Clinton's record that could be exploited as she sought the presidency.

Held in the ornate room that is home to the House Ways and Means Committee, the marathon hearing began at 10 a.m. and, with breaks, lasted until 9 p.m. It provided Republicans with a national audience as they questioned Mrs. Clinton, often using her own words from thousands of pages of emails obtained by the committee. But it also gave Mrs. Clinton her first opportunity since early 2013 to respond directly to her fiercest critics, and she used the platform to offer lengthy explanations of her diplomatic efforts around the world and her actions before and after the Benghazi attacks.

Perhaps stung by recent admissions that the pursuit of Mrs. Clinton's emails was politically motivated, Republican lawmakers on the panel for the most part avoided any mention of her use of a private email server. Still, Representative Jim Jordan of Ohio did raise the issue late in the hearing, accusing her of repeatedly changing her account of the server and why she had used it. In a heated exchange, Mrs. Clinton repeated that she had made a mistake in using a private email account, but maintained that she had never sent or received anything marked classified and had sought to be transparent by publicly releasing her emails.

But committee Republicans focused mostly on accusations that Mrs. Clinton had ignored security needs in Benghazi in the months before the attacks, a charge she repeatedly rejected.

Throughout the day, Democrats on the committee portrayed Republicans as the leaders of a partisan crusade against Mrs. Clinton, while Republicans responded angrily that Democrats were seeking to block a legitimate inquiry into fatal security lapses at an American diplomatic outpost. Shortly before the committee broke for lunch, a shouting match erupted between Mr. Gowdy and two Democrats, Adam B. Schiff and Elijah E. Cummings, over the focus on Mrs. Clinton's email exchanges with Sidney Blumenthal, a former aide to her husband and a friend.

Late in the evening, Mrs. Clinton had a coughing fit that stopped testimony for two minutes. Hoarse and visibly tired, she responded testily to comments by Mr. Gowdy questioning the independence of a Benghazi review led by Thomas R. Pickering, a retired diplomat, and Mike Mullen, a former chairman of the Joint Chiefs of Staff.

"I will not sit here and hear that," she snapped, accusing Mr. Gowdy of impugning their reputations.

But during most of her testimony, Mrs. Clinton sought to project an image of composure and authority, challenging the committee in her opening statement to "reach for statesmanship" in its long-running inquiry. Alternately bemused and disdainful but never showing anger, Mrs. Clinton recalled on several occasions the courage of J. Christopher Stevens, the ambassador to Libya, and the three others who died at the mission in Benghazi.

She again took responsibility for the attacks in which they died, but insisted that as secretary of state, she had never personally approved or denied requests for extra security for the facility where they were based. And she told lawmakers that the United States must not back away from assertive diplomacy because of the episode.

"Retreat from the world is not an option," Mrs. Clinton told lawmakers. She called accusations that she had contributed to the death of Mr. Stevens, a friend, "personally painful" and "deeply distressing."

Mrs. Clinton added: "I've lost more sleep than all of you put together. I have been racking my brain about what more could have been done or should have been done."

Mrs. Clinton at times chided the Republican-led committee for what she called a failure to pursue a bipartisan search for the truth. In her opening statement, and later in response to prodding by friendly Democratic lawmakers, she said investigations of past tragedies had been handled cooperatively by both parties.

"That's what happened during the Reagan administration, when Hezbollah attacked our embassy," Mrs. Clinton said, citing similar bipartisanship in inquiries under Presidents Bill Clinton and George W. Bush. "I would like us to get back to those times."

Democrats on the panel echoed that theme. Mr. Schiff accused Republicans of pursuing a kind of prosecution against Mrs. Clinton in an attempt to damage her presidential campaign.

"I think the core theory is this: that you deliberately interfered with security in Benghazi and that resulted in people dying," he told Mrs. Clinton. "Notwithstanding how many investigations we've had that have found absolutely no merit to that, that is the impression they wish to give."
More from The Washington Post:
Hillary Rodham Clinton easily parried barbed Republican questioning Thursday about the deaths of four Americans in Benghazi, Libya, emerging unscathed from a high-stakes congressional hearing with a smooth and sometimes poignant account of her role in the event that has loomed as among her largest political liabilities.

Just over a year before the 2016 general election, the long-anticipated showdown was suffused with presidential politics — though neither Clinton nor members of the House Select Committee on Benghazi mentioned her position at the top of the Democratic field.

Both she and her Republican questioners claimed the high ground, insisting that they were focused on learning what went wrong when militants overran two U.S. compounds in the restive Libyan city in September 2012, just months before Clinton left office as secretary of state.

Democrats defended Clinton's leadership and repeatedly accused Republicans of using the special investigative panel to hunt for damaging information about her.

"I would imagine I've thought more about what happened than all of you put together. I've lost more sleep than all of you put together," Clinton said. "I have been racking my brain about what more could have been done or should have been done."

Republicans sought to establish a link between Clinton's ­decision-making — before and during the attacks — and the four deaths, but they clearly struggled to build a theory of the case that she was directly responsible or negligent.

They also hurt their own cause at times. Several spent their 10-minute periods on peculiar lines of questioning: One pressed Clinton repeatedly about an e-mail exchange between two State Department staffers whom Clinton said she did not know. Much of the hearing was also consumed by bickering between Republicans and Democrats on the panel, leaving Clinton to sit by, sometimes shuffling papers or resting her chin on her hand.

U.S. Ambassador J. Christopher Stevens and three others were killed in a chaotic, hours-long assault that revealed serious gaps in security and communications but not, Clinton claimed, a failure of leadership or policy.

"This was the fog of war," Clinton said following an emotional recounting of harrowing events that included the failed attempt to rescue Stevens and the gut-wrenching hours that followed when the State Department could not account for his whereabouts.

(…)

There was no replay of the famous, and politically damaging, moment from a January 2013 hearing before the Senate Foreign Relations Committee. Then in her final days as secretary of state, Clinton shouted and waved her arms at a Republican senator and demanded, "What difference, at this point, does it make" whether the attacks were premeditated?

This time, Clinton also had the benefits of missteps by Republicans — most notably remarks by House Majority Leader Kevin McCarthy (R-Calif.) that the committee investigation had succeeded in damaging Clinton politically. Democrats seized upon that statement as proof that the investigation was motivated by partisanship rather than getting to the bottom of what had happened in Benghazi.

Two of Clinton's personal attorneys sat behind her during the hearing, underscoring the peril the Benghazi episode and the questions surrounding her e-mails pose for her. The FBI is investigating whether classified information was compromised through Clinton's e-mail system, which operated outside the usual State Department procedures and controls.

In her testimony, Clinton said she did not have a computer in her State Department office and did little of her daily work via e-mail.

"I conducted it in meetings," she said. "I read massive amounts of memos, a great deal of classified information. I made a lot of secure phone calls. I was in and out of the White House all the time. There were a lot of things that happened that I was aware of and that I was reacting to."

Republicans had wanted to interview Clinton in private, leading to months of negotiations over the terms of her appearance. Her attorneys refused, saying Republicans could selectively leak damaging material from a closed-door session.

Clinton's disciplined performance, command of facts and pure stamina may bear out her calculation that a public performance would work to her benefit, as well as remind her opponents why she is an imposing candidate.

Conservative columnist Byron York wrote in the Washington Examiner that "a hearing billed as an epic, High Noon-style confrontation . . . instead turned out to be a somewhat interesting look at a few limited aspects of the Benghazi affair. In other words, no big deal. And that is very, very good news for Hillary Clinton."

The day began with the panel's chairman, Rep. Trey Gowdy (R-S.C.), defending the committee's mission and motives. Much of his opening statement was spent rebutting claims of partisan bias.
Perhaps the most telling moment of the entire endeavor, though, came after the gavel fell and Committee Chairman Congressman Trey Gowdy was asked what, if anything, the Committee had learned from the hearing and couldn't name a single thing:
WASHINGTON — After 11 hours, three rounds of testimony, and some 300 questions for Hillary Clinton, the chairman of the Republican-led House Select Committee had no answer when asked to name a piece of new information gleaned from Thursday's hearing on the handling of the 2012 Benghazi terrorist attack.

Rep. Trey Gowdy, flanked by the six other Republican committee members who questioned Clinton, told reporters that he'd have to review her testimony.

"In terms of her testimony, I don't know that she testified that much differently today than she has the previous times she's testified," Gowdy said during a four-minute press conference in the lobby of the Longworth House Office Building.

"So I'd have to go back and look at the transcript."

Asked if the marathon hearing had been a waste, Gowdy said again, "Well, I've got to go back and look at the other transcripts to see whether or not she said anything different or not." The chairman noted that his has been the only Benghazi investigation with access to Clinton's records. "You have to talk to the secretary of state, and you have to talk to her after you gain access to her documents."

For Gowdy, the "better question," he said, is "how the previous committees were able to write their reports without access to what we had access to."
From the beginning, it seemed clear that it was the Republicans on the Committee who were on the defensive yesterday rather than the former Secretary of State sitting behind the microphone across the dais from them. To a large degree, of course, this was the case because of the long-standing charges that the Committee's investigation was more a politically motivated witch hunt aimed at damaging Hillary Clinton in advance of the 2016 elections than an objective search for the truth about what happened in Benghazi on September 11, 2012 and how the State Department responded both to the attack and the reports about threats to Americans in the city and elsewhere in Libya. Those charges, of course, were seemingly confirmed by comments by Majority Leaders Kevin McCarthy and New York Congressman Richard Hanna, both of whom had said in recent weeks that the committee's purpose was primarily political rather than investigatory, comments which earned a rebuke from Committee Chairman Trey Gowdy. Indeed, in a poll taken just before the committee hearing, CNN and ORC found that nearly three-quarters of Americans believed that the committee was largely a partisan political exercise rather than an objective search for the truth. Because of all that, and all the questions that had been raised about the committee from the beginning, Gowdy and the rest of the Republicans seemed to have been set back on their heels from the very start as they tried to justify their own existence at the same time that they used largely recycled questions to attempt to pin Clinton into admitting some kind of mistake or committing a gaffe that would cause damage to her political ambitions. To the seeming agreement of pretty much every political pundit who watched the day-long ordeal except perhaps the most committed of Clinton's conservative opponents, they failed miserably.
Perhaps the best example of how the hearing was going during the day was the manner in which the questioning from Republican members seemed to randomly jump from topic to topic as the day wore on. At various times, different members of the committee, and sometimes the same member at a different point during the day, the questioning seemed to wander from one subject to another without any real effort to tie everything together in a way that someone actually paying attention to the hearings could understand. One member would ask Clinton about how she and the State Department responded to requests for additional security from Ambassador Stevens or others on the ground in Libya, then another one would start asking her about emails that she received from former Bill Clinton aide and family friend Sidney Blumenthal, who was apparently regularly sending Clinton information whether she asked for it or not. One member would be asking Clinton about her activities on the night that the attack was happening and who she was talking to, then the next would go off on a tangent about the Administration's initial claims that the attack was primarily related to protests elsewhere in the Arab world that day over an obscure anti-Muslim video on YouTube. One member would ask Clinton about her personal contact with Ambassador Stevens as opposed to her contact with Blumenthal, suggesting absurdly that there was something unusual in the fact that one of the hundreds of American diplomats in the field wasn't communicating with her directly instead of going through traditional channels, then another would move back to asking questions about security issues that were raised in early 2012. The one piece of information that can be said to have been something new the committee uncovered, Clinton's use of a private email server while Secretary of State, barely even came up until the final hours of the hearing and even then the questions were disjointed and didn't really go anywhere, which is indicative of either incompetence on the part of the questioners or the fact that there wasn't much substance to work with. During the day, many observers suggested that the Committee would have benefited by having questioning led by outside counsel in the style of the Watergate or Iran-Contra hearings rather than Members of Congress. That's not an invalid point since attorneys would have likely at least tried to use the questioning to construct a coherent narrative, but the fact that Chairman Gowdy chose not to follow this route is probably more indicative than anything else of the true partisan nature of the Committee's investigation.
If there were any interesting questions asked, they centered around events that were had occurred more than a year before the Benghazi attack when Clinton and others in the Obama Administration pushed forward a policy that led to America joining France, Great Britain, and other European allies in providing aid to the rebels that were fighting the Gadhafi regime in early 2011. As has been noted before by writers such as Marc Ambinder, the Benghazi attack raises several legitimate questions regarding overall policy in Libya that are certainly worthy of examination and discussion. However, none of these questions are likely to lead to answers that would prove useful to Republicans in a Presidential election, and the fact that many Republicans in early 2011 were supporting the Administration's Libya position and even advocating for something greater makes any exploration of whether it was wise to intervene in Libya to begin with something fraught with political danger for Republicans as much as Democrats. So, instead of a serious reappraisal of a foreign policy decision that is likely to have repercussions for years to come we got a partisan shouting match that really accomplished nothing.
By the time the evening was over, it was clear that Clinton had sailed through the hearing completely unscathed. Unlike her last appearance before Congress regarding this matter in January 2013 which was highlighted by  her now famous confrontation with Wisconsin Senator Ron Johnson during which Clinton uttered the now famous line"What difference, at this point, does it make?", there were no real mistakes by Clinton this time and no real moments that could potentially be used against her. Keeping in mind the fact that Clinton had obviously been preparing with her lawyers for this hearing for weeks prior to today if not longer, she managed to handle all of the questions quite well, and didn't cede any ground. The Republican members of the committee, on the other hand, seemed to completely fail in whatever mission they thought they had heading into yesterday's hearing. To the extent they saw it as an investigatory effort aimed at uncovering some truth about the Benghazi attack that five previous investigations, including one by the House Intelligence Committee, had failed to uncovered, they failed in the sense that there was quite literally nothing revealed during the course of yesterday's hearing that was not already generally known to anyone following reporting about the story. Committee Republicans similarly failed to score any real political points against Clinton throughout the day, a fact perhaps best emphasized by Chairman Gowdy's statements after the hearing and the fact that Fox News Channel bailed on airing the hearings live far earlier than any of the other cable news networks did.
Not only is it unlikely that Clinton was damaged by anything that happened yesterday, it's actually likely that the entire affair helped her politically. Among Democrats, Clinton's performance during the hearing yesterday is likely to do much to erase many of the doubts and concerns that Democrats may have had about her based on the news events of the summer just as her performance during last week's debate did. Just as we saw a big poll bump for Clinton after the debate, I would expect we'll see Clinton's position in the race for the Democratic nomination improve significantly after yesterday. Outside the Democratic Party, the hearing likely reinforced the perception among Independent voters that the entire investigation was just another partisan Washington affair, thus undercutting the impact of the Benghazi issue should Republicans try to use it again during the General Election. It was, in other words, a very bad day for the House Select Committee and a very good day for Clinton, and as I said after it was all over, Clinton should probably thank the committee for a free eleven hour campaign commercial.