Nearly Three-Quarters Of Americans See Benghazi Committee As Primarily Political
As the House Select Benghazi Committee continues to question Hillary Clinton, a new poll finds that the vast majority of Americans view its work as political rather than part of an objective investigation.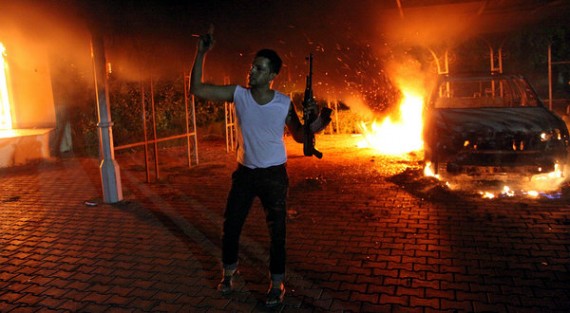 As the House Select Committee's questioning of Hillary Clinton continues, and appears that it won't wrap up until some time after 6pm Eastern tonight, a new poll from CNN indicates that the American people view the investigation to be entirely political, but they're somewhat more concerned about Clinton's use of a private email server:
Most Americans say the way Hillary Clinton handled her email as secretary of state is an important indicator of her character, a reversal since March when it was first revealed she used a private email server to conduct government business.
But a larger majority believe the committee investigating the Benghazi attacks is using that investigation for political gain, according to a new survey.

The new CNN/ORC poll comes as Clinton is set to testify Thursday before the House Select Committee on Benghazi, amid questions raised about the panel's goals after a whistle-blower told CNN's Jake Tapper its primary focus was exposing negative information about Clinton.

While most Americans say they are dissatisfied with Clinton's handling of the Benghazi attack, an even larger majority feels the committee is "mostly using the investigation to gain political advantage," rather than conducting an objective investigation.

Still, asked another way, 51% say the committee is handling the investigation "appropriately" and has not gone too far. All of these questions provoke massive partisan divides.

Overall, 54% say they think the way Clinton handled her email as secretary of state is an important indicator of her character and ability to serve as president, 43% say it isn't relevant. That's a reversal since March, when 52% said it wasn't relevant.

(…)

Despite those concerns, 72% of all Americans say they see the Benghazi committee as mostly using its investigative mission for political gain, just 23% think it is conducting an objective investigation. Even Republicans are skeptical on this measure, with 49% saying the committee is trying to score political points vs. 47% who say it is conducting an objective investigation. Among Democrats, 85% see it as seeking political advantage and among independents that stands at 75%.

On the more general question of whether the committee has gone too far, opinions are more mixed. Women are more apt than men to say the committee has gone too far (48% among women, 31% among men), and Democrats are more likely to say it has overreached than Republicans (71% of Democrats think it has gone too far, 74% of Republicans that it has acted appropriately).

Dissatisfaction with Clinton's handling of Benghazi is widespread, 59% are dissatisfied, 36% satisfied. Among Democrats, 63% say they are satisfied, but large majorities of Republicans (85%) and independents (65%) say they are dissatisfied.
So far, with some three or four hours of hearing left as I'm typing this post, it really appear that there will be anything major coming out of Clinton's testimony today. All that it's likely to do is reinforce the pre-existing opinions of people on either side of the political aisle, although a full assessment will have to wait until the day is over and there's been time to digest the proceedings in their entirety. What this poll suggests, though, is that the American public as a whole likely isn't paying a whole lot of attention to what's going on today. The fact that nearly three-quarters of Americans, and even a plurality of Republicans, believing that the Committee is a little more than a Republican effort to score political points against Hillary Clinton strongly suggests that they are likely to heavily discount whatever might come out of today's hearings specifically or the rest of the work of the committee. This would seem to be especially true given the fact that half of the questions from the Republican side of the aisle so far seem to be dealing with issues that the average voter is likely to find entirely obscure such as the fact that former Clinton Administration aide Sidney Blumenthal was spending Secretary Clinton seemingly regular emails on a wide variety of subjects, but specifically including Libya, despite the fact that he was not a State Department employee or contractor and despite the fact that Clinton didn't necessarily seem to ask him to send anything at all. To be completely frank about, one doubts that the average American even knows who Sidney Blumenthal is, or why it would matter that he was sending things to the Secretary of State. At the very least, the Republicans on the Committee seem to have totally failed to lay the groundwork for many of the questions they're asking today.
It's not entirely surprising that the American public seems to view the Benghazi Committee as a political operation rather than a dispassionate Congressional investigation. As I said when the committee was established, it seemed fairly certain that this is exactly what was going on, especially given the fact that several other Congressional investigations, including one by the House Intelligence Committee, had spent the better part of the previous two years looking into the events of that day and came away concluding that, while the deaths of Ambassador Stevens and three other Americans were a tragedy, there was no evidence of wrongdoing. The partisan motives for the committee seemed to become more apparent when it became clear that the committee wasn't even going to try to issue a final report until well into 2016 when Clinton would presumably be starting her campaign as the Democratic nominee for President. And if that didn't make things clear the comments by Republicans such as Majority Leader Kevin McCarthy and New York Congressman Richard Hanna, and the panicked manner in which Committee Chairman Trey Gowdy reacted to those comments, seemed to confirm that what we're seeing unfold her was little more than a political circus.
If what we've seen so far is all the Republicans on the committee have, then it seems fairly clear that Clinton will emerge from this hearing relatively unscathed and, based on this poll, that the public will largely dismiss the whole thing as just another partisan Washington circus.