Hillary Clinton Takes Defiant Tone On Benghazi In New Book
In her upcoming book, Hillary Clinton strikes a defiant tone against conservative's continued interest in the Benghazi attack.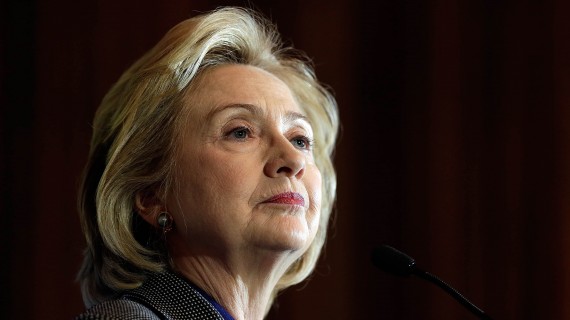 Former Secretary of State Hillary Clinton's new book is only weeks away from release and, inevitably, pretty much everyone is viewing it as the opening for an expected run for President in 2016. Already, Clinton has booked media appearances to promote the book with Diane Sawyer and Robin Roberts on ABC and, somewhat surprisingly, on Fox News Channel later this month. There are plenty of topics that the book is likely to address that will make for interesting political fodder, no doubt, but perhaps none will be more combed over than her discussion of the attack on the diplomatic compound in Benghazi, its aftermath, and the political controversy that has grown up around it in the years since then. Today, Politico is out with an exclusive look at the 34 page chapter in the book where Clinton discusses what may have been the darkest day in her tenure at Foggy Bottom:
Hillary Clinton offers a detailed account of the deadly attack on the American embassy in Benghazi — and a pointed rebuttal to Republican critics who've laced into her over the incident — in a much-anticipated chapter of her forthcoming book, "Hard Choices," obtained by POLITICO.

"Those who exploit this tragedy over and over as a political tool minimize the sacrifice of those who served our country," Clinton writes in the gripping chapter, "Benghazi: Under Attack."

Casting doubt on the motivations of congressional Republicans who have continued to investigate the attacks, including with an upcoming House select committee, Clinton continues: "I will not be a part of a political slugfest on the backs of dead Americans. It's just plain wrong, and it's unworthy of our great country. Those who insist on politicizing the tragedy will have to do so without me."

The 34-page chapter is Clinton's most complete account to date of the attack and its aftermath. Her tone is less defensive than defiant: Clinton takes responsibility for the "horror" of the loss of life in Benghazi, but puts it in the context of "the heartbreaking human stakes of every decision we make" — and she accuses adversaries of manipulating a tragedy for partisan gain.

There has been, she writes, a "regrettable amount of misinformation, speculation, and flat-out deceit by some in politics and the media," but new information from "a number of reputable sources continues to expand our understanding of these events."

The chapter appears intended, in part, to give Democrats a clear framework to respond to Republicans who have raised questions about Clinton's role and what the Obama administration has said about the Sept. 11, 2012, killing of four Americans. The section was obtained and reviewed by POLITICO on the eve of a meeting in which members of Democratic-leaning groups will be briefed by Clinton's team about how she addresses the attacks in the book.

(…)

The chapter is a mostly chronological retrospective of the attack interspersed with Clinton's views. She points out that she ordered an investigation into what happened nine days after the attacks, and that she agreed with and implemented all 29 of the recommendations made by a review board.

While saying that as a former senator she respects the "oversight role that Congress is meant to play," Clinton later adds, "Many of these same people are a broken record about unanswered questions. But there is a difference between unanswered questions and unlistened to answers."

Clinton defends the intelligence at the time preceding the attack on the American compound in Benghazi. An anti-Islamic video that had sparked a protest at an embassy in Cairo was proved in "later investigation and reporting," including by The New York Times, to have been "indeed a factor" in what happened in Benghazi, Clinton writes.

That point is among those that has been debated during hearings into the attacks.

"There were scores of attackers that night, almost certainly with differing motives," she writes. "It is inaccurate to state that every single one of them was influenced by this hateful video. It is equally inaccurate to state that none of them were. Both assertions defy not only the evidence but logic as well."

Clinton addresses lingering questions about how military assets were deployed to try to rescue personnel at the besieged compound, writing that Obama "gave the order to do whatever was necessary to support our people in Libya. It was imperative that all possible resources be mobilized immediately. … When Americans are under fire, that is not an order the Commander in Chief has to give twice. Our military does everything humanly possible to save American lives — and would do more if they could. That anyone has ever suggested otherwise is something I will never understand."

Clinton also highlights some of the findings of an Accountability Review Board investigation into the attacks, including that there had been security upgrades to the Benghazi compound but that they were "simply inadequate in an increasingly dangerous city." She notes that Benghazi compound personnel told the review board that they felt their requests for additional security were not given adequate weight by the U.S. Embassy in Tripoli, a point Republicans have in the past argued does not absolve Clinton since those officials report to the secretary of state.

Clinton reiterates a point she made during congressional testimony last year: that she never saw cables requesting additional security. The cables were addressed to her as a "procedural quirk" given her position, but didn't actually land on her desk, she writes: "That's not how it works. It shouldn't. And it didn't."

Clinton addresses claims that the investigation of the attack was rigged since she appointed some of the Accountability Review Board members and she was not interviewed. The board, she writes, "had unfettered access to anyone and anything they thought relevant to their investigation, including me if they had chosen to do so."

She defends then-Ambassador to the United Nations Susan Rice for describing the Benghazi attack as a "copycat' of the video-spurred Cairo protests when she appeared on Sunday TV shows days later. Rice, Clinton writes, was relying on existing intelligence. The talking points she used were written to help members of Congress address the attacks, and the information began with and was signed off on by CIA officials. Intelligence officials didn't know Rice would use them, Clinton writes.

The talking points have been a focus of Republican critics, who insist they stemmed from the White House as an effort to control a politically sensitive issue — a terrorist attack on the eve of Obama's reelection.

"Susan stated what the intelligence community believed, rightly or wrongly, at the time," Clinton writes. "That was the best she or anyone could do. Every step of the way, whenever something new was learned, it was quickly shared with Congress and the American people. There is a difference between getting something wrong, and committing wrong. A big difference that some have blurred to the point of casting those who made a mistake as intentionally deceitful."
As the article notes, Clinton tones in the chapter, which has not actually been released to the public yet, are obviously far more defiant than defensive in response to what conservatives claim to be the unanswered questions regarding the Bengazi attack and its aftermath. In this respect, she is mirroring her tone in the House and Senate committee hearings she appeared before shortly before she left the State Department last year, as well as the attitude that Congressional and Senate Democrats have taken in recent months regarding the issue. This attitude on Capitol Hill had become so dismissive that, at least initially, there were those who wondered if Minority Leader Nancy Pelosi would even bother to name Democratic members to the House Select Committee recently established by the House GOP. In the end, Pelosi ended up appointing five members to the Committee led by senior House Democrat Elijah Cummings, which was a smart political decision because the alternative would have been to cede the entire stage of the committee hearings to the Republicans. In naming those members, though, it was clear that House Democrats were doing so as much with the mission of discrediting the hearings as anything else. That appears to be the same tactic that Clinton intends to utilize as she heads out into the public arena and, inevitably, faces more questions about Benghazi and other issues.
None of this is likely to quell Clinton's critics, those who have latched on to Benghazi as the supposed key to defeating Democrats in 2014 or 2016, and the Members of Congress who likely see pushing the questions on Benghazi as a way of enhancing their own political careers. Even accepting Clinton's contention that the supposedly unanswered questions have already been answered, and leaving aside some of the unanswered questions that the Select Committee will likely never actually address because they aren't politically "sexy," it is rather obvious what the primary purpose of the renewed Congressional interest in Benghazi is really all about. There's an election coming up in November, and another one coming up in 2016 in which Hillary Clinton herself seems likely to be the candidate of the Democratic Party. Virtually from the moment that it happened, Republicans have believed that the Benghazi attacks were some kind of silver bullet they could use against their opposition that would bring everything crumbing down. Indeed, some of have gone so far as to suggest that it should lead to impeachment if the facts justify that outcome.  More importantly, a perusal of conservative media on the issue shows that, at least on the right, the issue still has the same resonance it had some twenty months ago when the attack occurred. It's unlikely that anything Hillary Clinton writes in her book on the subject is going to bring an end to that.  So, Republicans will push forward on this issue, and the Select Committee will likely continue holding hearings well into 2016 (and if the GOP takes the Senate, you'll be sure to see a parallel investigation there if not a Joint Select Committee.)
In the end, though, it's unclear how much of this is going to matter. I argued earlier this month that the issue of Benghazi is not going to go away for Hillary Clinton if she runs for President and I think that remains to be the case. It will come up in interviews, in debates, and in the arguments made by the candidates running against her and the groups that support them. That's one reason why this portion of her book, which is arguably a preview of how she will respond to the issue on the campaign trail, is so important. The question, of course, is whether any of this will matter politically. Recent polling has indicated that the public does support the creation of the Benghazi Select Committee. At the same time, though, there is no evidence in the polls that the issue is harming public perception of either President Obama or Hillary Clinton, or that it is an issue that will have a large impact in either in 2014 or 2016. Indeed, for the most part, what the polls really indicate is that the public hasn't paid all that much attention to Benghazi and doesn't really care very much about it. It's possible that something will happen in the upcoming hearings that will change that, but quite honestly it seems unlikely. Even if it does, though, it strikes me that the kind of response that Clinton is laying out in her book when it comes to Benghazi is likely going to go over well with a public that, in the end, is going to care more about their pocket books than they are about something that happened in North Africa on a day that will be four years in the past by the time voters go to the polls in November 2016.