Unfortunately For Hillary Clinton, Benghazi Is Not Going Away
If Hillary Clinton runs for President, questions surrounding the Benghazi attack will continue to dog her.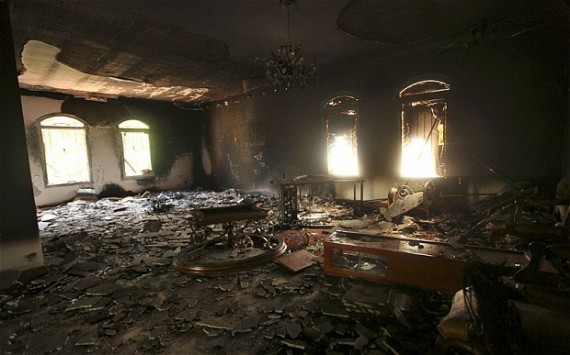 The recent release of new White House emails has, as I noted earlier this week, revived the arguments about the Administration's actions before, during, and after the September 11, 2012 attack on the U.S. diplomatic outpost in Benghazi. Already, one House Committee has issued a subpoena to Secretary of State John Kerry requiring him to appear before the Committee and answer questions about the State Department's cooperation with Congressional investigations in to the attack. Additionally, today Speaker of the House John Boehner has announced that he will hold a vote to form a special House Committee to look into the attack, a move that will actually help streamline an investigation that has resulted in hearings before at least three separate House Committees. While it's obvious that the GOP would have kept pushing the Benghazi story without the new emails, but the revelation of those emails, which the Administration rather obviously should have disclosed sooner based on requests that had been made as long as a year ago, has given the story new legs and, unfortunately for Hillary Clinton, virtually guaranteed that it will become an issue if she runs for President:
Clinton, who has seen both sides of a scanda—first working for congressional Watergate investigators and later as the subject of several probes herself—knows as well as anyone that there will always be new, incremental revelations that can reignite a simmering scandal, as long as partisans have an interest in keeping it burning.

And Republicans clearly see benefits in keeping Benghazi in the headlines. "For Secretary Clinton, Benghazi will be the defining event of her tenure as secretary of State, so if she chooses to run for president, avoiding addressing the questions head on will not be an option," said Tim Miller, the executive director of the Republican opposition-research group America Rising.

The attack undercuts one of her key achievements as secretary of state—the toppling of former Libyan dictator Muammar el-Qaddafi—and, to a lesser extent, her entire tenure. As Clinton herself said last week, the attack is her "biggest regret" from her time at State.

And while it's far from an Achilles' heel for the presumed Democratic front-runner, the vast majority of Americansare familiar with the attack, according to polls, and respondents to a recent Pew survey listed it as Clinton's top weakness.

Most important, it resonates with voters on the right, and Republican leaders will keep the scandal alive if for no other reason than to mobilize their own base.

This week, new revelations include an email from Obama national security aide Ben Rhodes that appears to show that the White House downplayed the possibility of terrorism in the aftermath of the attack, instead blaming an anti-Muslim video that had sparked violent protests in more than a dozen Muslim countries around the attack.

The other piece of news came Thursday in congressional testimony from retired Air Force Brig. Gen. Robert Lovell, who served as deputy director of intelligence for the military's Africa Command, which has jurisdiction over Libya. "What we did know quite early on was that this was a hostile action. This was no demonstration gone terribly awry," Lovell said, undermining the very case the White House was pushing in the initial days after the attack.

Congressional probes will continue, even as Democrats criticize Republican investigators' "embarrassing … conspiracy theories" and bemoan the " millions of dollars" spent. And if the Republicans take the Senate this year, expect the number of investigations to double.
On some level, of course, it seems only logical that the events in Benghazi, and what led up to them, should be a relevant issue in a political campaign that Hillary Clinton is involved in. After all, she was Secretary of State when the United States got involved in the Libyan civil war, and when the attack occurred. If she runs, her campaign and her supporters will no doubt be citing her experience as Secretary of State as an argument in her favor. So for that reason alone, it only makes sense that something as serious as an attack on a U.S. diplomatic compound that resulted in the first death of an American Ambassador in more than 25 years would also become an issue, especially to the extent that it goes to issues over which she had ultimate responsibility such as embassy security. Add in the partisan element, and the general Republican antipathy toward the Clinton's, and it's pretty obvious that Hillary is going to have to answer questions about the events of September 12, 2012 for some time to come.
None of this means that these political attacks will be successful, of course. Given the polling that has been done on this issue and the results of the 2012 Presidential election, as a matter of fact, it doesn't seem that the American public really cares all that much about the "scandal" that the right believes surrounds what happened in Benghazi. It's possible, however, that continued questions about the affair could serve to undercut her efforts to use her tenure as Secretary of State as a launching pad to the White House. In fact, it's hard to actually come up with a list of things that Hillary Clinton accomplished as Secretary of State, something that the State Department's own spokesperson discovered recently:
Did Hillary Clinton accomplish anything as secretary of State? That question is in the news at the moment because an Associated Press reporter asked something like it this week at a Foggy Bottom briefing and a State Department spokeswoman fumbled the response.

The specific subject was the Quadrennial Diplomacy and Development Review, a periodic reassessment of State Department organization that was a particular focus of Secretary Clinton. At Tuesday's press briefing, spokeswoman Jen Psaki announced that the 2014 edition of the QDDR is now under way. So AP's Matt Lee asked Ms. Psaki an obvious question: "Off the top of your head, can you identify one tangible achievement that the last QDDR resulted in?"

No, not really. She punted.

"I'm sure there are a range of things that were put into place that I'm not even aware of," said Psaki.

By Wednesday other State Department officials had made Psaki aware of a number of things. She came to the daily briefing with a new answer, pointing out that the 2010 QDDR under Secretary Clinton had placed a greater emphasis on trade promotion, more fully integrated the concerns of women into the State policy framework, and established three new bureaus within the department, including a Bureau for Counterterrorism.

"I just wanted to highlight that as a follow-up," she said
This exchange caused Byron York to wonder " Will voters care if Clinton reorganized the Under Secretary for Economic Growth, Energy, and the Environment? Or will they be looking for something much, much bigger?"
That strikes me as a valid question. And, indeed, if Hillary does run primarily on her tenure at Foggy Bottom then one has to wonder what makes her more qualified to be President than any of the other potential Democratic candidate. More importantly, it makes her actions, or failures to act, in response to the events in Benghazi an entirely relevant line of inquiry on the part of her opponents in both the Primary and General Elections.