What Did Susan Rice Know and When Did She Know It?
I have for months taken it as a given that she went on five Sunday morning talk shows and lied about what happened there. Did she?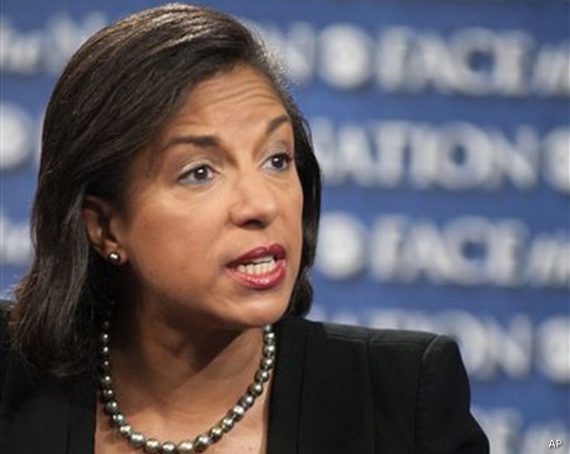 Despite the facts that I have never bought into the tragic attacks on our consulate in Benghazi as a scandal* and that I've always thought it absurd that Susan Rice, the UN Ambassador—now about to be elevated to National Security Advisor—had any culpability for what happened there in any event, I have for months taken it as a given that she went on five Sunday morning talk shows and lied about what happened there. That is, that her declarations that the attacks that killed four Americans were a "spontaneous" outburst from a mob gathered to protest a YouTube video, were known to her, known to President Obama, and known to our intelligence agencies to be false at the time she made them but nonetheless trotted out as "talking points" for various reasons. Some of those reasons, such as protecting the lives of intelligence assets, even struck me as non-nefarious.
I don't get my information from Rush Limbaugh, The Daily Caller, Breitbart, or Fox News. Aside from MSNBC's "Morning Joe," which is pretty much Beltway Conventional Wisdom, and the occasional episode of "This Week," I hardly watched TV news when this was all going down and I get enough diversity in my Twitter and blog feeds that I should have a pretty good idea what the rational thinking is on these brouhahas.
Yet, several liberal foreign policy wonks whom I respect as honest brokers, notably Michael Cohen and Hayes Brown, have been pushing back today at that assertion and I'm having difficulty re-establishing the timeline this many months after the fact.
Cohen points me to an October 2012 WSJ report titled "Early Uncertainty on Libya Account."
The night before Susan Rice went public with the administration's assessment that the Sept. 11 U.S. consulate attack in Libya grew out of a spontaneous demonstration against an anti-Muslim video, intelligence analysts were receiving new information that contradicted the account she gave.

Intelligence agencies soon amended their stance, but it then took weeks longer—until early October—for a new intelligence assessment discounting the protests to make its way into public statements from senior officials in the Obama administration.

Ms. Rice, the U.S. ambassador to the United Nations, based her statements that Sunday on intelligence agency conclusions that the attack had spun out of protests in Benghazi, fueled by anger over an anti-Islamic, U.S.-made video that had sparked protests elsewhere.

The picture began to change over that weekend, according to U.S. intelligence officials, in the most detailed account yet to emerge of a period that has been a focus of controversy over the Obama administration's handling of the aftermath of the attack, which killed four Americans including the U.S. ambassador.

Some intelligence came in on Saturday evening that contradicted the protest claim and prompted the office of the Director of National Intelligence to begin to question the agencies' initial conclusions, intelligence officials said.

Despite their growing uncertainty, intelligence officials didn't feel they had enough conclusive, new information to revise their assessment. Ms. Rice wasn't warned of their new doubts before she went on the air the next morning and spoke of the attacks being spurred by demonstrations, intelligence officials acknowledged.
And Brown has a longish post at Think Progress titled "Republicans Still Smearing Susan Rice On Benghazi Talking Points She Had No Role In Forming." But it doesn't actually tell me why my position constitutes a "smear."
On 16 September 2012–the day of Rice's Sunday show tour, Doug Mataconis wrote a post titled "White House Insists Benghazi Attack Was Not Pre-Planned, Was All About A Movie" noting that "Rice's account is completely at odds with the statements made by Libya's Interim President, who said that the attack was a pre-planned terrorist attack" and observing that,
Given the descriptions of how this attack went down, the idea that it was a spontaneous attack that just happened to pop up on September 11, 2012 because someone in Libya found out about a movie supposedly produced by some guy in America that nobody had ever seen seems kind of hard to believe. According to reports, the attackers used Rocket Propelled Grenades and had established zones of direct and indirect fire designed to make it difficult for anyone defending the consulate to successfully repel them. That's not the action of an angry mob. That seems to me more like the action of an organized and trained paramilitary force using the ginned up protests about this film as cover for their attack. There's also the question of how exactly this attack happened to take place at the same time that Ambassador Stevens, who is normally stationed at the Embassy in Tripoli, was present in Benghazi. Its either a heck of a coincidence, or the attackers had some foreknowledge that he would be there. Coincidence strikes me as an implausible explanation.

Given the fact that the FBI team that was sent to investigate the attack has not arrived in country yet, it's rather hard for me to understand how Ambassador Rice, or the White House, can be so sure that their theory about the Benghazi is at all accurate. It strikes me that it would be more appropriate for the official response to be that the motivation and nature of the attack are unknown and awaiting the results of the investigation. Otherwise, they're going to be pretty embarrassed if it turns out that this was a pre-planned attack and they have to change the narrative.
In a 26 September 2012 posting titled "Report: U.S. Knew Benghazi Attack Was Terrorism Within 24 Hours," Doug passed along a report from Eli Lake at The Daily Beast that,
Within 24 hours of the 9-11 anniversary attack on the United States consulate in Benghazi, U.S. intelligence agencies had strong indications al Qaeda-affiliated operatives were behind the attack, and had even pinpointed the location of one of those attackers. Three separate U.S. intelligence officials who spoke to The Daily Beast said the early information was enough to show that the attack was planned and the work of al Qaeda affiliates operating in Eastern Libya.

Nonetheless, it took until late last week for the White House and the administration to formally acknowledge that the Benghazi assault was a terrorist attack. On Sunday, Obama adviser Robert Gibbs explained the evolving narrative as a function of new information coming in quickly on the attacks. "We learned more information every single day about what happened," Gibbs said on Fox News. "Nobody wants to get to the bottom of this faster than we do."
On 29 September, in a posting titled "Is 'Benghazigate' Hurting Obama?" I passed on a The New York Times news report (not an editorial) from Mark Landler titled "Shifting Reports on Libya Killings May Cost Obama" and remarked,
 I'm puzzled by the administration's seizing so heavily on the "spontaneous response" meme, seeking to blame the attacks on Americans exercising their right of free expression, and continuing to do so even though they knew it was a terrorist attack within 24 hours.

[…]

Additionally, I think the administration quite understandably wanted to quell the outrage in the Muslim world over the video and make clear that the anti-Muslim sentiments in it weren't representative of either US Government policy or mainstream American sentiment. But in doing so it failed at the more important task of helping Americans understand that the outrageous murder of their emissary to Libya was carried out by extremists, not ordinary Libyans. And that, just as kooks making hateful videos shouldn't be how Muslims see America, neither should anti-American violence be seen as representative of how we're seen over there.

As to Landler's suggestion that this may all "cost Obama," however, I'm deeply skeptical. There's actually much to criticize here and in his foreign policy in that part of the world in general. But, to the limited extent that Americans decide whom to vote for as president on foreign policy issues, I don't see how Obama is seriously hurt here. Especially since Mitt Romney didn't exactly distinguish himself with his early reaction to the same crisis.
I largely tuned out of the Benghazi mess after that point because of Republican efforts to gin up a scandal where, at best, a kerfuffle existed. (That's not to dismiss the four dead Americans; I simply have seen no evidence that their deaths could reasonably have been avoided while still maintaining a heavy diplomatic presence in Libya.)  I tuned in sporadically to testimony by David Petraeus, Hillary Clinton, and Gregory Hicks but they all pretty much confirmed my pre-existing notions.
Is there something that I've missed here? Is it seriously in dispute whether President Obama and Ambassador Rice knew that the Benghazi attack was perpetrated by terrorists at the time of the latter's Sunday show appearances but nonetheless kept alive the YouTube and "spontaneous" talking points, even if for perfectly benign reasons?
Well, ABC's Jonathan Karl thinks so. He has a piece out today titled "White House Benghazi Emails Show Susan Rice Got a Bad Rap." I'll quote him in his entirety here (but please click the link, anyway):
If we learned anything in all the back and forth over the Benghazi talking points – the 12 revisions first reported by ABC News, the 100 pages of emails released by the White House, etc. – we learned this: Susan Rice got a bad rap.

First, some background:

Rice, the former U.S. ambassador to the United Nations who has now been tapped as President Obama's national security adviser, came under withering criticism after she famously appeared on five Sunday talk shows Sept. 16, 2012, and proclaimed the attack five days earlier on the U.S. diplomatic facility in Benghazi, Libya, grew out of a spontaneous protest inspired by the protests in Cairo over an anti-Muslim YouTube video.

That proved to be wrong. There were no protests in Benghazi. The incident started as an attack by a large group heavily armed men assaulting the compound.

But Rice didn't invent the notion of spontaneous protest. And although she downplayed indications of an al Qaeda connection to the attack, that wasn't her idea, either. Rice was the White House's messenger on Benghazi, and although she was carrying a message that proved to be wrong, we know now that she herself had nothing to do with the crafting of that message.

It turns out that Rice's comments did come from the now-infamous CIA talking points and, while those talking points were heavily edited, the White House emails suggest Rice had no part in the editing process.

All 12 versions of the Benghazi talking points, including the first draft written entirely by the CIA, use the words "spontaneously inspired by the protests." That mistake belongs to the CIA.

The earlier versions of the talking points did include references to evidence that an al Qaeda affiliate, Ansar al-Sharia, took part in the attack. They also included references to earlier CIA warnings about the terrorist threat in Benghazi.

All of that was edited out. The emails released by the White House show that the deletions were made after State Department spokesman Victoria Nuland asked for those terrorist references to be removed.

But the first time Rice's name appears anywhere ion 100 page of emails is at 1:23 p.m. Sept. 15, nearly two hours after the final edits to the talking points were made. Indeed, that was the first email about the talking points that went to Rice's office. The last edits were made at 11:26 a.m.

In other words, you can blame the CIA for faulty intelligence on spontaneous protests. You can blame the State Department for insisting that references to terrorism be deleted. You can blame the White House for allowing those references to be deleted.
So, I'm honestly befuddled here. Everyone on the ground in Benghazi knew this wasn't a demonstration over a YouTube video gone wrong from the get-go. Presumably, the senior members of President Obama's national security team knew this by the morning of September 16, when they sent Rice on the Sunday shows. But, apparently, poor Susan Rice had no clue what the hell was going on? That's, I suppose, plausible; the UN Ambassador has no reason to be clued in on what's going on in Benghazi. But it's still unthinkable to me that they sent someone who was ostensibly their top choice for Secretary of State—Hillary had long made it known she was out after one term—and sent her out to five Sunday shows to talk about a subject outside her comfort zone armed with talking points known to be highly questionable.
Or am I missing something?
_______________
*See, for example, my May 9 posting "Benghazi: Incompetence But No Cover-Up."