White House Insists Benghazi Attack Was Not Pre-Planned, Was All About A Movie
The White House's theory of what happened in Benghazi is become less and less credible.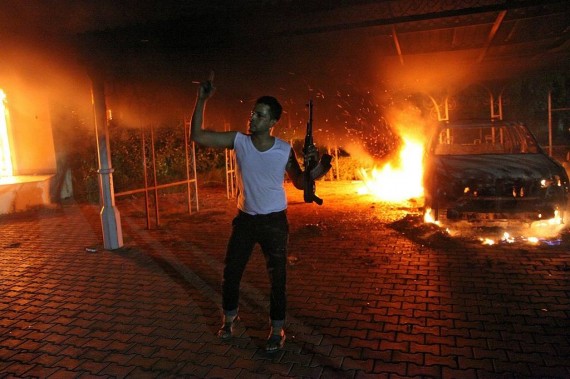 The U.S. Ambassador to the United Nations appeared on pretty much all the morning shows today and continued to push the Administration line regarding the attack that killed Ambassador Christopher Stevens and three others in Benghazi, namely that it was all related to outrage over a movie: 
U.S. Ambassador to the United Nations Susan Rice said the attack on the American consulate in Benghazi was not premeditated, directly contradicting top Libyan officials who say the attack was planned in advance.

"Our current best assessment, based on the information that we have at present, is that, in fact, what this began as, it was a spontaneous – not a premeditated – response to what had transpired in Cairo," Rice told me this morning on "This Week."

"In Cairo, as you know, a few hours earlier, there was a violent protest that was undertaken in reaction to this very offensive video that was disseminated," Rice said, referring to protests in Egypt Tuesday over a film that depicts the Prophet Muhammad as a fraud. Protesters in Cairo breached the walls of the U.S. American Embassy, tearing apart an American flag.

"We believe that folks in Benghazi, a small number of people came to the embassy to – or to the consulate, rather, to replicate the sort of challenge that was posed in Cairo," Rice said. "And then as that unfolded, it seems to have been hijacked, let us say, by some individual clusters of extremists who came with heavier weapons… And it then evolved from there.
Rice made the same claims this morning on Fox News Sunday:
Rice's account is completely at odds with the statements made by Libya's Interim President, who said that the attack was a pre-planned terrorist attack:
Libya's president says he believes al-Qaida is behind a deadly attack in eastern Libya that killed U.S. Ambassador Chris Stevens and three other U.S. staffers.

In an exclusive interview with NPR in Benghazi, President Mohammed el-Megarif says foreigners infiltrated Libya over the past few months, planned the attack and used Libyans to carry it out.

Wearing the traditional long white robe of men in Libya, Megarif is visibly exhausted when we speak to him at his home in Benghazi. As he describes the ambush on the U.S. consulate that killed Stevens and three other Americans, his eyes water and he drops his head.

"Our friend and friend of all Libyans and all residents of Benghazi and we feel very, very, very," deep sadness, he says.

A steady stream of people files in and out of the soft-spoken president's home. This eastern Libyan city was the birthplace of the revolt against late dictator Moammar Gadhafi. Now it is a neglected place, with few security forces on the street and a flood of heavy weaponry.

Megarif says that over the past few months, foreigners took advantage of the security vacuum and flowed into the country from Mali and Algeria. I ask if this attack was over an anti-Muslim film that sparked violent protests across the Muslim world. He shakes his head.

"The idea that this criminal and cowardly act was a spontaneous protest that just spun out of control is completely unfounded and preposterous," he says. "We firmly believe that this was a precalculated, preplanned attack that was carried out specifically to attack the U.S. Consulate."

The attackers used the protesters outside the consulate as a cover, he says.

"The intention was there from the beginning, for it to take this ugly barbaric, criminal form," he says.

Megarif claims evidence shows that some elements of Ansar al-Sharia, an extremist group in eastern Benghazi, were used as tools by foreign citizens with ties to al-Qaida to attack the consulate and threaten Libya's stability.

Ansar al-Sharia rejects the democratic process in Libya, and does not recognize the new Libyan government. Only God's law rules, it says. Still, U.S. officials have cast doubt on the theory, saying they see no links between the assault and al-Qaida at large. The spokesman for the U.S. president said Friday there was no evidence the attack was preplanned. Ansar al-Sharia has denied any involvement in the attack.
Given the descriptions of how this attack went down, the idea that it was a spontaneous attack that just happened to pop up on September 11, 2012 because someone in Libya found out about a movie supposedly produced by some guy in America that nobody had ever seen seems kind of hard to believe. According to reports, the attackers used Rocket Propelled Grenades and had established zones of direct and indirect fire designed to make it difficult for anyone defending the consulate to successfully repel them. That's not the action of an angry mob. That seems to me more like the action of an organized and trained paramilitary force using the ginned up protests about this film as cover for their attack. There's also the question of how exactly this attack happened to take place at the same time that Ambassador Stevens, who is normally stationed at the Embassy in Tripoli, was present in Benghazi. Its either a heck of a coincidence, or the attackers had some foreknowledge that he would be there. Coincidence strikes me as an implausible explanation.
Given the fact that the FBI team that was sent to investigate the attack has not arrived in country yet, it's rather hard for me to understand how Ambassador Rice, or the White House, can be so sure that their theory about the Benghazi is at all accurate. It strikes me that it would be more appropriate for the official response to be that the motivation and nature of the attack are unknown and awaiting the results of the investigation. Otherwise, they're going to be pretty embarrassed if it turns out that this was a pre-planned attack and they have to change the narrative. Could it be that the White House is reluctant to concede that terrorism might have been involved here because they don't want to have to deal with questions about failed intelligence, or why security at the Consulate wasn't ramped up in anticipation of the anniversary of the September 11th attacks? None of us know the answer to that, of course, but the longer they cling to an increasingly implausible version of events, the more that possibility becomes more likely. Obviously, the Administration isn't going to formally label this a terrorist attack until there's been time to investigate the matter. However, to continue to insist that this was all just the tragic outcome of a protest gone wrong strikes me as rather silly.
There's one last point I'd like to float out there about the Benghazi attack, and the embassy protests in general. Does anyone find it odd that all of this just happened to start on the anniversary of the September 11th attacks? It's almost as if someone was sending a message that, for some reason, those in power don't want to admit having received.